tokisays
Cake Pop - Scrog & Rib Cage LST
2020 Quarantine
Cake Pop IH - 3x3x7 tent with 600W LED - 5g fabric pots, soil medium with General Hydroponics Go Box nutrients on schedule
Day 10 of cure - pleased with aroma and smokabikity progress so far. Had to sample and was coughing much More a few days ago. 36g total yield (dried) 👍🤙
3 years ago
Bud is curing and happy to report we yielded 28.9 grams of top quality flower. Didn't weigh the larf but over an ounce for the first run isn't too bad - pictures to follow
3 years ago
Last little pics before she gets harvested! Trying out a new little ASOTV AC unit...hoping to have ability to raise humidity and lower temps once harvest begins
3 years ago
Currently flushing with ph balanced water. Plan on chopping next week. Lessons learned from this grow: -LST works fantastically, will combine with topping on next round and experiment with manifolding with 4 colas -Veg period was too short on this plant and will suffer a smaller yield as such -General Hydroponics GO Box works well -left a lot of larf and popcorn buds on this plant and was nervous to disrupt the natural grow, will keep an eye on removing sucker sites on next round
3 years ago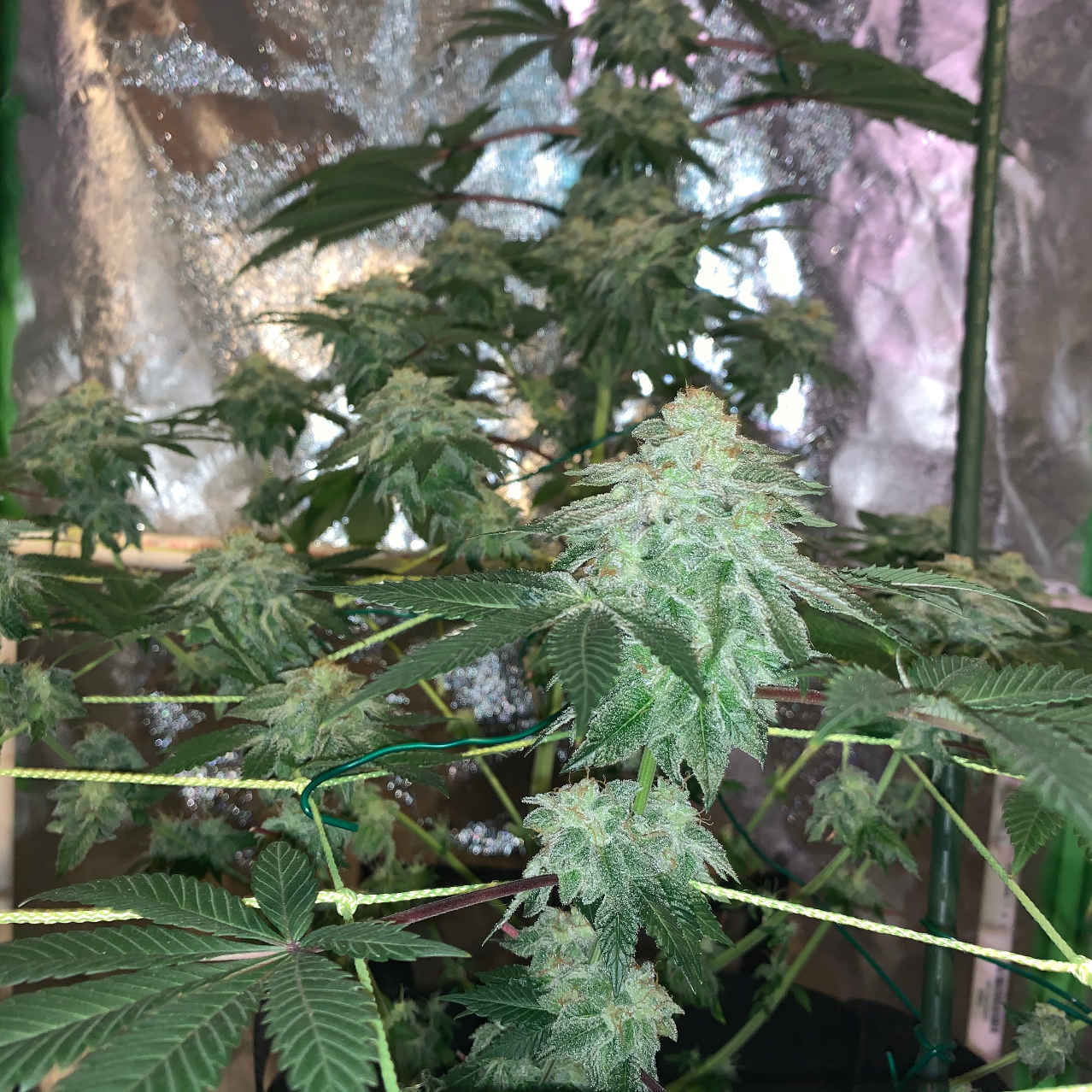 Start of week 7 and concluded feeding this past Friday 7/10 😂 and have started flushing today. Gave her a (maybe) final trim on the leaves today removing all lower growth and any inward along with larger fan leaves. Also doing a little last minute LsT to a few crowded bud sites, trying to get additional light onto bottom right and back bud sites.
3 years ago
Coming through week 6 and buds are super frosty.
3 years ago
Kept up with light defoliating on bottom leaves and any inward growth. Chopped the larger fan leaves and any little lower leaves with discoloration. Top growth is still fresh and thriving so believe that the light periodic defoliation has been beneficial overall for this strain. Dialing back on nutrients for a full flush week 7 into week 8.
3 years ago
Week six of flower, steady as she goes. This has been a dream of a strain to begin with, East to manage and responded well to all my training even as a first timer. Slowly decreasing nutrients and plan on chopping week 8 of flower.
3 years ago
Plant is about 3.5 ft - starting to feed it less nutrient by volume and plan on keeping it going until after first week of August. 21 colas and buds are really frosty - smell is amazing as well. Trichrome maturation is still on the young side, say about 60-40 frosty to glass on all bud sites inspected. Feeding GH Bloom, Bud @ CalMag half gallon 1x per week with supplemental watering of 1400ml every 2-3 days as per the leaves. So excited to try this girl! PS - So many popcorn buds along the larger bottom shoots with even a new branch shoot (with buds!) forming from the bottom of the bottom stem - see pics
3 years ago
Going through week 6 of flower. Buds have fattened up decently but not as big as hoped. that said, all aspects of the plant look beautiful! Keeping up with light defoliation on lower leaves and anything covering colas.
3 years ago
Almost 6 weeks into flower, Amber pistils on all bud sites - around 30% coverage at this point. starting to dial back on the nutes as well.
3 years ago
3 ft and hoping the buds fatten up more
3 years ago
Every day it's looking a little better - though I messed a little hard with it today and hoping I didn't do more harm than good with tying down a branch after failing to tuck it under the scrog net. Note: Use Lemon Juice to lower PH in water. Currently hovering around 7.2 out of the tap - 5-7 drops per gallon should bring it to mid 6 range. Finally got meter to test theory and have seen it works on the forums.
3 years ago
Some more defoliating this morning - have come to realize I've been underwatering her at only a gallon a week - increasing volume to 2.5L every other day as per weight
3 years ago
Rethreaded branches into netting, top cola is about 10 inches away from the light. Bottom branches are still not reaching net level, and did some light defoliation as such. Little concerned about some of the pistils turning brown however
3 years ago
Almost Three weeks into flower 😊
3 years ago
12/12 and getting frosty - feeding every week as per the dosages on GH Go Box with about .5 gallons of water + nutes and another 600ml of water.
3 years ago
Plant is little less than 3 ft
3 years ago
Anxious to determine the sex and have been told to lay off with blurple pics 😂😂 - it has nice growth on both plants and no real signs of any stress and or afflictions
3 years ago
Tokisays The leaves with red stems ended up turning into the female (note) not sure if this is something which occurs with this strain in particular.
LST - no topping but trying an inadvertent flic method, which I'm calling the rib cage
3 years ago
Vegging well 🤙😊
3 years ago
Began feeding schedule and are growing nicely
3 years ago
Few inches tall and new growth beginning - lights are about 7-8 inches away (close still) and currently just giving them water in 3gl plastic containers.
3 years ago
First day of photos under the new lights in the new tent!!
3 years ago