Runtz Original Gen. by Zamnesia #3
Runtz Original Gen. Auto (Gelato x Zkittlez x Ruderalis) #3
Starting in Airpots with smart start minipots placed directly into the soil
Runtz Original Gen. Auto (Gelato x Zkittlez x Ruderalis) #3
Stuned Growth, hope the final stretch will help her
a year ago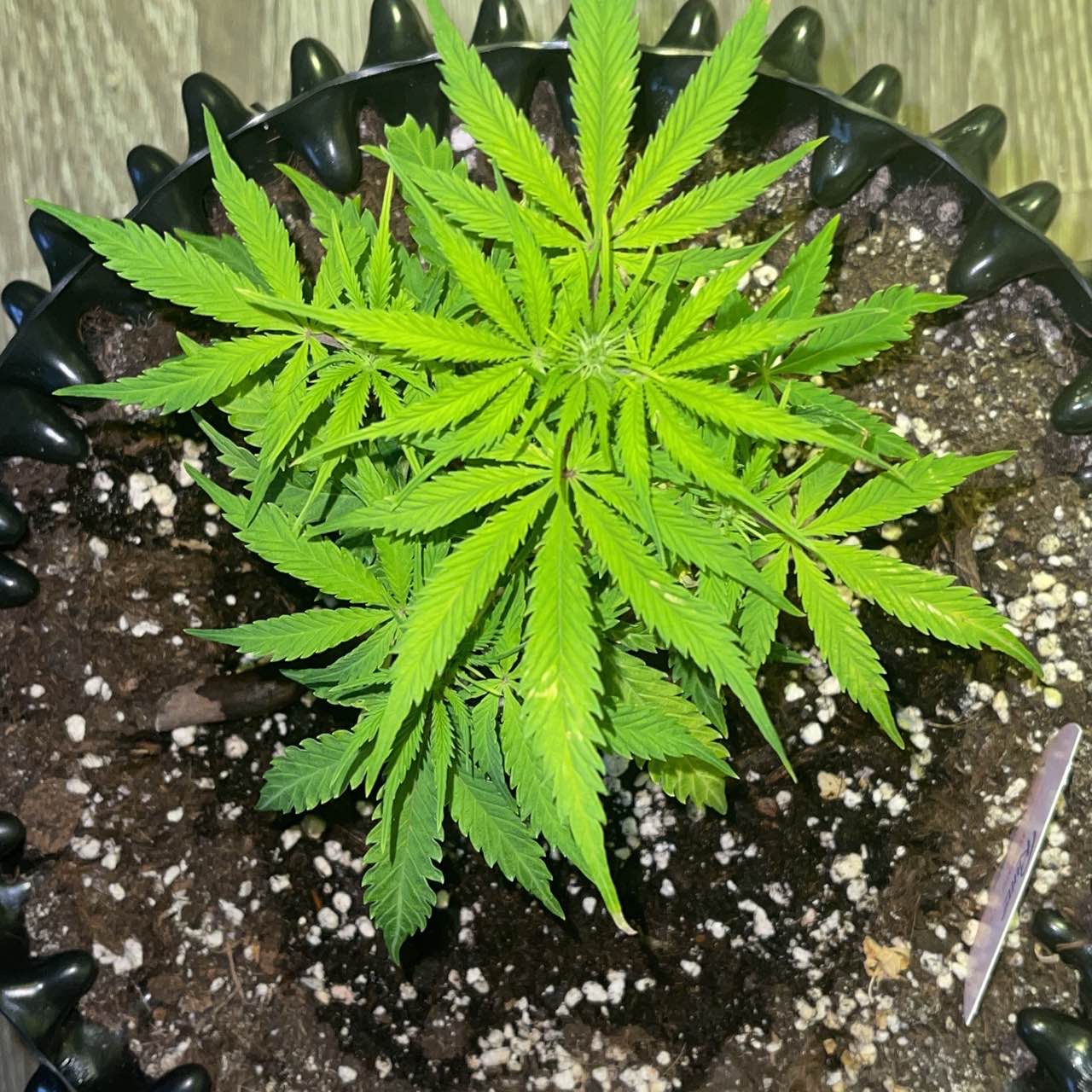 Keep adding Alfa Boost at each Watering
a year ago
Peng How often are you supposed to use it?
CannaRabbit On Watering each time based on the plan, foliar spray 1-2 Times a week till Flower
View 2 additional comments
Update after usage of Alfa Boost
a year ago
Removed the Big Fan leaves, adjusted lst. Just wondering why she starts yellowing so early, soil is Plagron Royal Mix (Flushed once before use ) Watered with pH water at 6.3 hope someone botice the issue as i really want to finish this plant in good maner as im moving spaces to grow perpetual :D
a year ago
BuzzLongLeaf Water in some recharge that shit takes care of a lot. It allows the plant to even out thru microbes. They will buffer every thing that goes into the plant. I don't even ph at all when I run recharge in my soil grows.
CannaRabbit Thank you buddy will order that stuff now i hope it arrives fast enough, shall i add anything else? Like calmag? As i run out also and would buy em together
View 31 additional comments
Started to bend her down again :)☘️
a year ago
CannaRabbit Yeah buddy :) bent her down again, guess it looks good now hehe
Any idea why the leaves yellowing like that? Didn't change anything on the nutrients or light
a year ago
Peng Not sure it's very isolated for nutrients I'd have thought
Removed the clips as they were getting to tight
a year ago
To any LST Expert will this work out if i keep them trained like this?
a year ago
BuzzLongLeaf Forsure man just keep trainings other branch's as they grow out and remove old tie downs after about 3-4 days
CannaRabbit Thank you my friend, any idea what to do with the branch that is upside? Shall i take a clip and tie it down from above? Like in the opposite position?
View 1 additional comment
Adjusted a bit, want to keep her down till she stops producing new branches, need to see how to do that in the next days when she grows faster :/
a year ago
Moved the clip, took 2 leaves off to expose the 4 lower branches (seem to develope well, what do you guys think?). Watered with pH'd Nutrients. pH 6.3 Lineup: Power Roots NPK0-0-1, Pure Zym, Alga Grow 4-2-4 & Alfa Boost as Foliage with 4ml/L and 2ml/L for Watering
a year ago
The lowest leaves are curling somehow, pH is on point soil ppm also. We will see
a year ago
Sprouting☘️ Placed into rapid rooters / easy start plug into soil, no wet towel & no soaking, foliar spray contains; Plagron Seedbooster Plus (NPK 5-4-7 & Alfa Boost (Triacontanol, Vitamins, Enzyms and many more)
a year ago
Soil used: Plagron Royal Mix. Germination Nutes: Plagron Seed Booster Plus, Pot; 12,9L Airpot
a year ago
Peng I've completely changed my plans for next season, gonna try not using bottled nutrients. I'm thinking about buying them bottles of spring water next year instead of using the tap, I gotta check out the mineral contents in the shop. Still figuring a lot out
CannaRabbit Sounds very interesting buddy, keep me updated as i still try to figure out what to do next year :)
Peng I've been learning things about soil listening to some podcasts