Sprinklers + Indoor Soil + 6 Plants
Feminized from Seedsman
1000 Watt HPS 5x5x7 — 6 Plants — i'm using Dr. Benson's natural choice for fertilizer. I am also using super thrive. I am also using Foxfarm ocean forest soil. I am using smart fabric pots that are 10 and 15 gallons. All of the seeds are feminized. I am using 110 gallon power pump and a 15 gallon reservoir. I have a sprinkler system setup.
5x Gelato & 1x Critical Purple Kush
About 2lbs plus .. dry off 5 plants. Not bad.
2 years ago
volcanobag Thanks man — saving me $8,960 at $10 a gram roughly.
View 3 additional comments
5 gal bucket of bud
2 years ago
Chop chop! Presenting .... weed. I'll hang dry it today and 4 more days. Then I'll cut the buds and fan leaves and let the buds dry on a screen and then I'll skip the manicuring process and keep most of the leaves on to protect the trichomes. I am using a vaporizer anyways, not smoking it.
2 years ago
volcanobag Las Vegas is dry as a bone. I may end up doing a slight manicure on it over a screen and glass. Thanks for the tip 💰
volcanobag Thanks brother! We've been rolling it through the volcano vaporizer cutting it right off the plant and damn it's good stuff
Moved the lights to off for the next 24-48 hours. May cut them tomorrow or Monday morning at the latest. They've flowered roughly 65 days.
2 years ago
The bud forest. I'm giving it a week to finish up. Then I'll cut on Sunday probably.
2 years ago
Tomorrow is day 100 the gelato plants have produced buds that are just big buds it different budding sites around the plants with nice thick 6 inch long Kolors however the critical Kush plant has created putting sites that cause the entire stems to be covered by buds and there's not much spacing in between the budding sites and if there is there's bigger buds below doing the same thing all joining together.
2 years ago
hem-p What a Beautiful forest of Beautiful buds , Gelato 😋💯🏆🏆
End of the month and they get the yank. Leaves are being eaten. I'll use calmag next time around day 70 forward.
2 years ago
hem-p Looking Amazing 💯👏🏽👏🏽🙌🏽🏆🏆
Some bud pictures. Another two/three weeks and we're done.
2 years ago
End of the month. The chop comes. They'll swell big the next 3 weeks.
2 years ago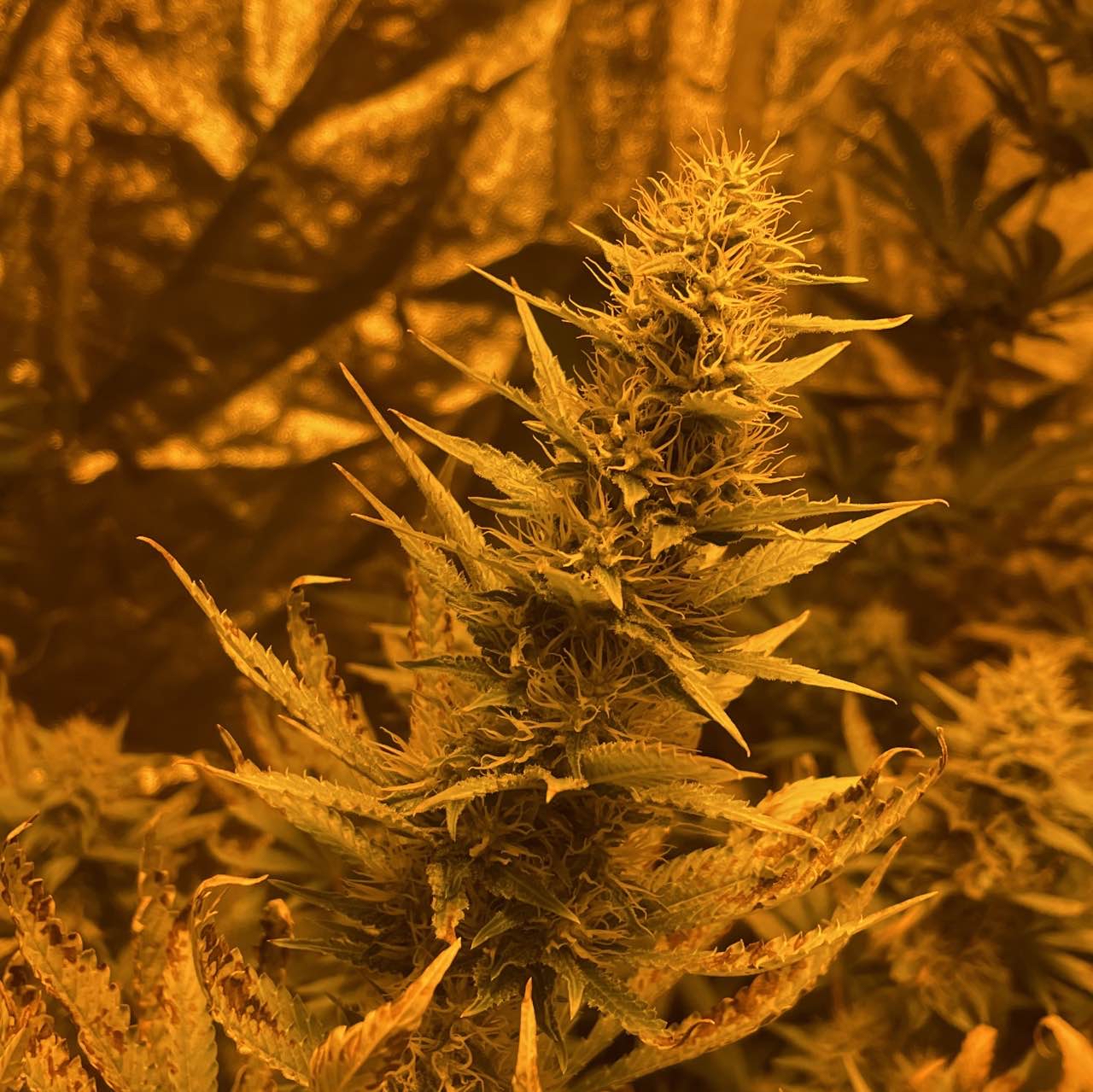 Some of the plants are starting to eat the nutrients in the fan leaves 🍃
2 years ago
Noticed calcium/magnesium deficiency today. This is the critical kush plant. I went an bought Tiger Bloom and Recharge. I'll use both half strength on the drip system.
2 years ago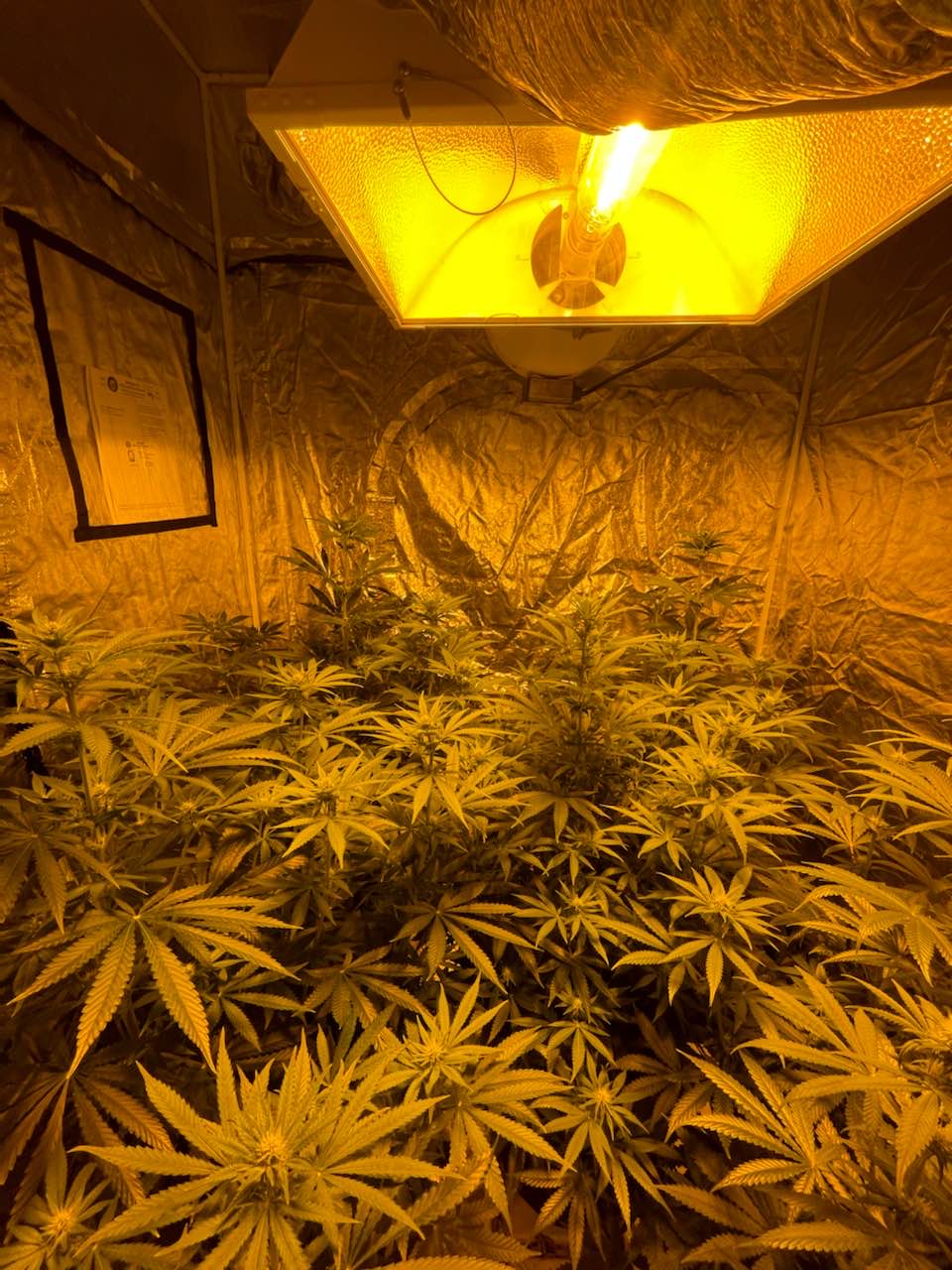 Wow. They're about 5 feet tall. After putting the new drip irrigation system on this. The plants size and growth exploded. There is no run off water. What used to last two waterings and created half of the water to run off; now lasts about 7 days with no run off watered a little at a time for 3 minutes every 8 hours.
2 years ago
I had to raise the light up another 8 inches. The tent is 7ft tall. The plants will probably break 6ft and I'll have to just hook the light and fan on the pole and remove the pulley ropes it's on.
2 years ago
They're all so tall and bushy. Woah.
2 years ago
Good morning. They're started to show the first signs of flowers.
2 years ago
The watering system is beautiful. Works like a charm. It goes off for 3 minutes every 8 hours. No run off, plants are watered just enough and they stay wet enough but not too dry.
2 years ago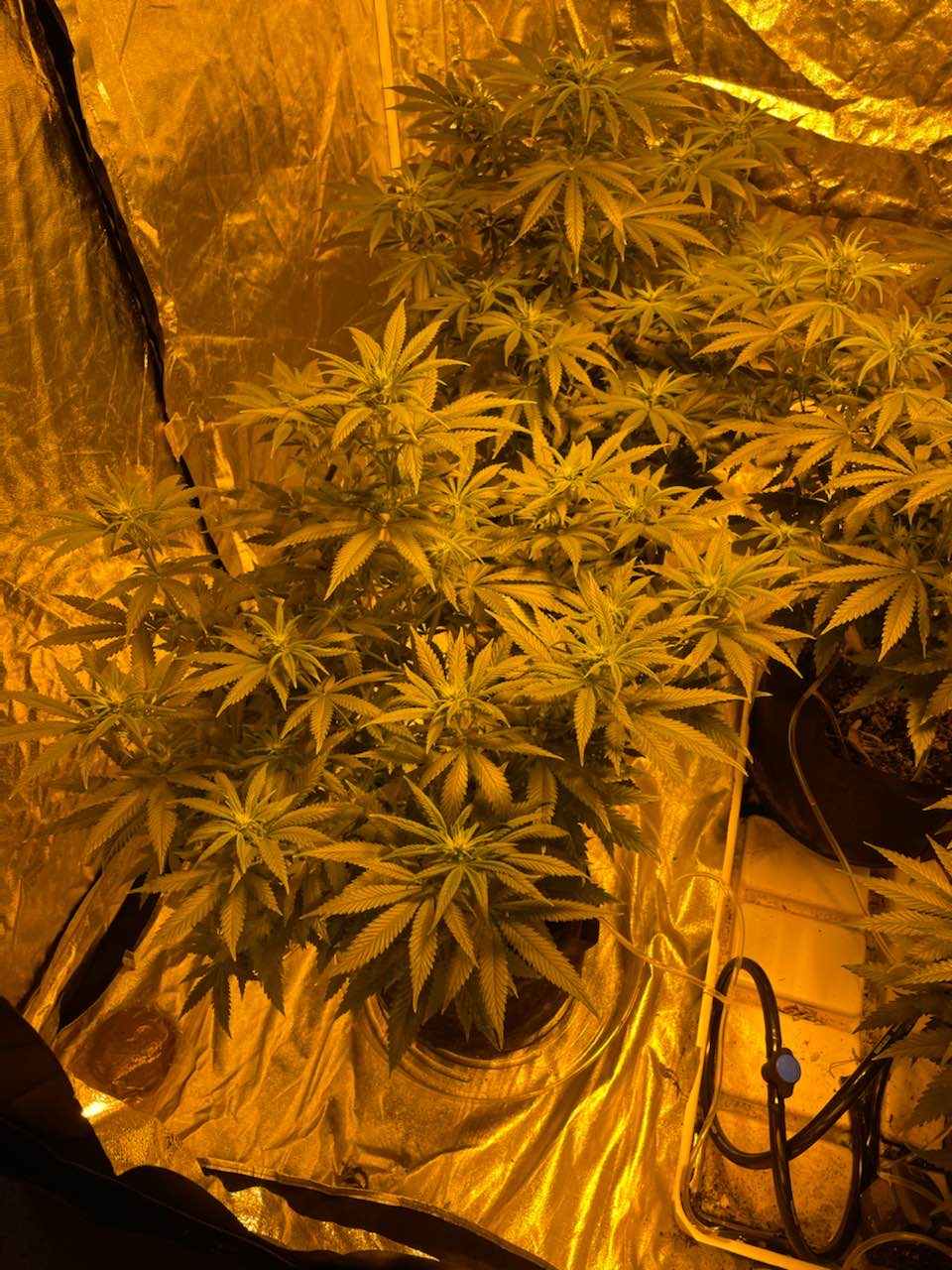 Wow. About a week into flower. They've doubled in size already. I haven't given them any nutrients since the original doses of Dr. Bensons. I've never had better looking plants. Stop over watering and over feeding your plants: they'll get huge.
2 years ago
I got my drip irrigation pump today from Amazon. I originally tried to rig some landscape sprinkler line and sprinklers to a waterfall pump. but this thing works great.
2 years ago
volcanobag It automates the watering. The water out of the hose hooked up to the R/O system is a solid 6.0-6.5 pH and doesn't need changing. I just dump water into this water reservoir, drop a tube in. Set the timer for 3 minutes every 10 hours and it waters the plants for me now on drip irrigation spikes.
The only non-feminized seed is a male. Damn. I'll have to kill it.
2 years ago
Yeaaaaa. Day 2 flower.
2 years ago
volcanobag I'd have to find the box for the bulb. It's a 1000 watt HPS though
Good morning. They saw dark for the first time last night. New buds, new year.
2 years ago
Moving the girls over to 12:12 — the lights just went off. They'll run from 6am to 6pm the next two and a half months.
2 years ago
I will start to flower them in five more days. I've done nothing but give them pH water since Way back when I gave them Dr. Bensons.
2 years ago
Holy super crop guys and girls. These all have a minimum of 12 tops each. I got rid of the drip system and put a 1/2 hose on the pump with a on/off valve that connects two of the hoses. They're growing way better. Way faster.
2 years ago
9 more days until they go to 12:12 they're huge. I only give them pH 6 water. I haven't given them any nutrients since 2-3 weeks back. They're beautiful.
2 years ago
Canopy gang. I'll start flower Jan 1st — I'll just be giving pH'd water until it's time for flower. I have fed them twice since it started. Stop over feeding your plants and stop over watering them. They get huge with less water. I'll be bending back EVERY fan leaf and gently pushing all the branches down again gently.
2 years ago
Cats and weed. Past grows the plants would be very tall by now. But this grow I've super cropped a branch or two every week to few days after it recovers. Every day I gently push all the branches down to allow light to the inside: gently with my open hands. I pinch and pull down all the small and big fan leaves to allow more light or more budding sites. I only super crop branches that are getting too long with only a single top or two nodes. In 17 days I'll flip them into flower. I'm going to stop super cropping then unless necessary for canopy control. I'm watering them all a combined 2-3 gallons on the sprinkler drip every 2-3 days. I moved the tray to the middle of the tent and slid the light forward too. I opened the tent up to allow for sunlight to come in through the sun roof window into the tent.
2 years ago
I pulled some fan leaves back and super cropped all of the tops again. This is the second super crop on the main stem. I turned the plants yesterday to give light to areas that were not filled in with budding sites yet.
2 years ago
They are getting super bushy have been rotating them pending fan leaves down. I've been super cropping one branch every couple of days. I just watered them earlier. I didn't use any nutrients I watered them with 6.0 PH water about 3 gallons and then I drained the pan off and get rid of the runoff water. I have another 3 1/4 gallons in the reservoir I water it again in about two or three days. I won't feed them anymore until it's time to flour them and I will switch the nutrients over.
2 years ago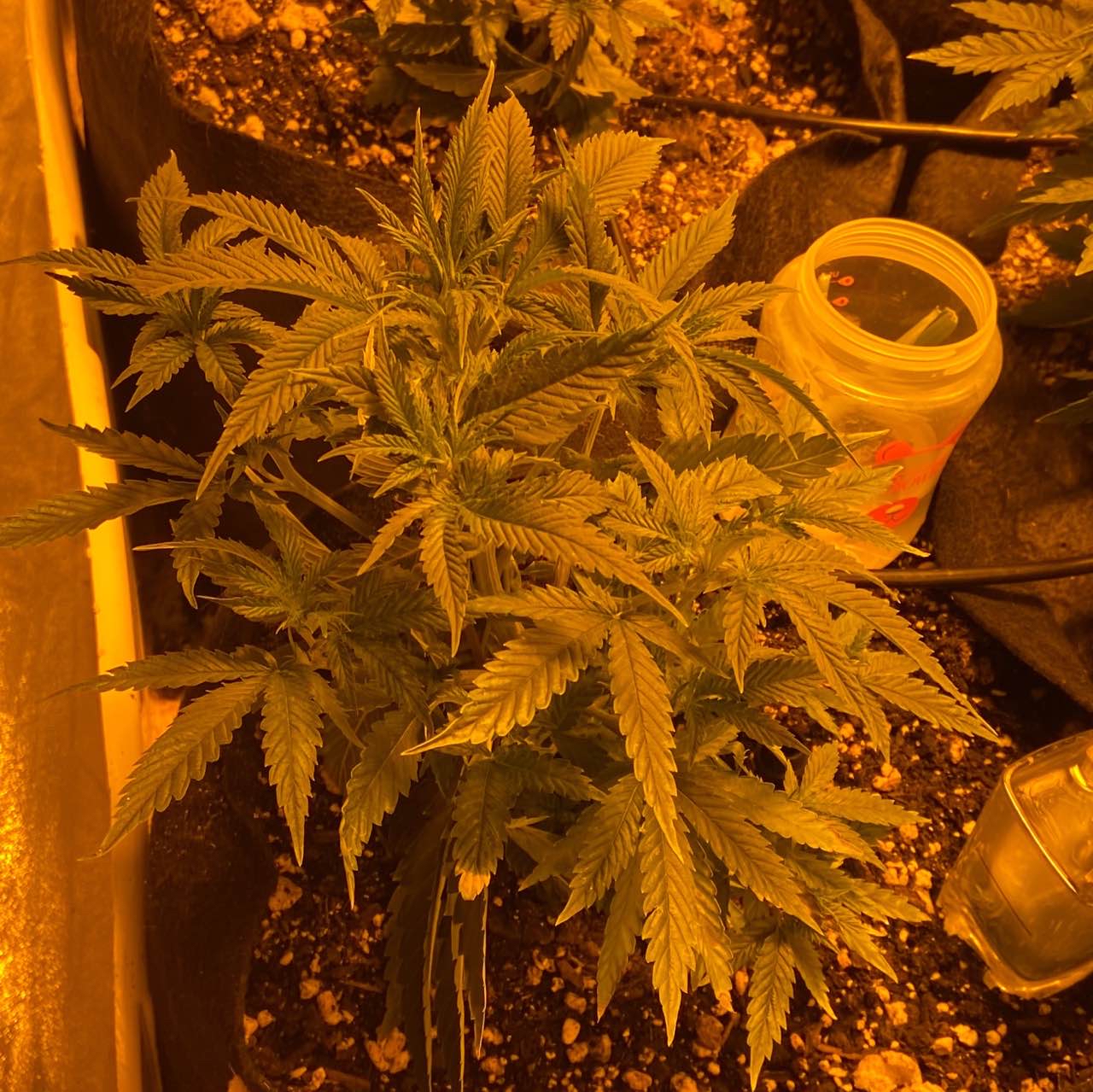 I spent an hour today pinching all the fan leaves stems flat and lose and pulling down the leaves to allow all the budding sites to get light. Removing leaves hurts the plant because this is where sugar and nutrients are stored for growth. I also watered them with 6pH water. Run off is a solid 7pH — I've been draining the water after watering them off the pan using a pump.
2 years ago
I've been letting the pots dry out and they're looking great. All the tops are poking back up and I'm beginning to see multiple tops.
2 years ago
Started the super-cropping process today. Pinched and pulled over all the tops. Super cropped 1-3 other branches and no more. Once these recover I'll super crop 1 or 2 more times before they flower the end of January. Growing from seeds sucks. You never know what you'll get as far as feedback from the plants. Also growing multiple strains in the same tent is dumb. Some get over watered and other strains don't. I'll be making three mom plants out of these.
2 years ago
Letting them dry out the next 3-5 days. Pheno hunting.
2 years ago
CrisCo91 What does pheno hunting mean I'm new
volcanobag It means every seed you plant is going to be different. You'll plant a half dozen or more seeds and treat them the same: watering, nutes, super cropping etc. The plants that do really well from seed to right before flower have clones taken from them. Now with your next grow or next mother plant from this clone, you'll have plants that are predictable and grow like your favorite of the seeds! That the phenotype, the one you chose. In biology look up phenotype charts.
Short thick stocks and super tight node growth. I overwatered them a bit so I emptied the tray after feeding them and watering them really well and I'm gonna let it dry out this week.
2 years ago
matishans What's your drip system look like? I like the idea of automating my feed schedule- are you liking it? Your Plants are really taking off now!
volcanobag Thanks! It's a waterfall pump based sprinkler system and I got tubing for sprinklers down at the star nursery and just used my imagination to put it together with a handful of below and 3 way fittings. I just flip a switch on (could use a timer) once or twice a week with 3 gallons and then use another pump to take the drain water out and I dump it on my plants outside (I could use a timer here too and just drain the water to the toilet or shower or out a window or something)
It's officially the two week mark and they're doing well. I will begin flowering them January 1
2 years ago
They're definitely getting bigger after tying them down they're going nuts. I went ahead and fed them some 200 PPM mix called Dr. Benson and put 12 gallons of it in the feed tray I'll see him blow up.
2 years ago
I went ahead and tied them all down to the sprinkler hoses with some Velcro ties. The goal here is to have huge bushy plants that arent tall and lanky.
2 years ago
The soil is pretty wet. I drained the pan today and gave the water to our outside plants on the porch: should help the flowers and new plants we got form star nursery. The plants are going to grow like a weed this week as I dry out the smart pots and force the root systems to go into over drive looking for new water.
2 years ago
Here is the random seed that was in the Hydro bucket it sprang back to life and is getting huge the past two days. It's going to have clones taken from it because of the super tight nodes.
2 years ago
This is the critical Kush seed I believe. It is far larger than the other four plants. Those other four plants are gelato which are slow to begin. Hopefully with the cut back on the water today they'll dry out the roots will expand and they'll get bigger because at this point they look like they've been overwatered.
2 years ago
You're three of the gelato very very incise but they're all about the same size. The gelato definitely do not like too much water the critical Kush loves it though.
2 years ago
bigern Hey may I ask you growing in a tent but how are you able to feed them with that drip line I love the set up
gloesch83 Get a bucket, with a submersible pump, connect tubes, get some "Ts" to connect the tubing all together, and make sure you have an air stone in the water connected to another pump. There many ways you can connect everything. I do the same thing, I have two types of drips going on, one for my nutrient water that I top drip feed my roots organic soil. And another with plain ph water that I rigged to bottom feed my living soil in fabric pots. As well as top feed my roots when I'm not feeding them. There plenty of videos on setting up top irrigation methods for watering plants. Just need two types of pumps. One for your air stone that sits in water and another that is submersible that is going to suck the water up out of your Res. And ending where you want it. My bad for the comment. I just saw you asked and have a similar set up.
The wrinkle on that first leaf just shows I gave them too much water when they were smaller so hopefully after they all dry out I can feed them and get back to watering them after the roots are spread out from being dried a bit.
2 years ago
They're getting huge! Some of the smaller plants first leaves grow so fast they got bent because they couldn't keep up with their size. The plant that was dying in the Hydro bucket is a seedling has finally got roots in is just going to become a giant stick of bud. The critical Kush seed is outgrowing everything which is funny because that one I got for free. Gelato seeds, we'll see what happens they're pretty small still. I move the circulating pump in the air bubbles pump to the top right of the pan and now the entire pan circulating with oxygen in the water versus just hitting the back left like it was which I felt was causing over bottom feeding of water on the far bottom left plant.
2 years ago
They're growing great! I didn't add any fertilizer to this 6 gallons of water I added to the pan but I did add Hydro guard. The pH of the water and the last pan was getting down a little bit sweet went ahead set it up with only 7pH water.
2 years ago
They're starting to actually look like plants right now. After I popped the HPS to a thousand watts. The plants laid down and now they are starting actually increase in size..The plant that was dying in the Hydro bucket must've finally taken routes cause it's growing.
2 years ago
After kicking the ballast up to 1000 watts. The plants got huge overnight compared to what they were and have fallen over. I hook a hose up to the recirculating pump and use it to water the plants. I'll change the pans water each week from the reservoir I have on the outside where I mix the fertilizers.
2 years ago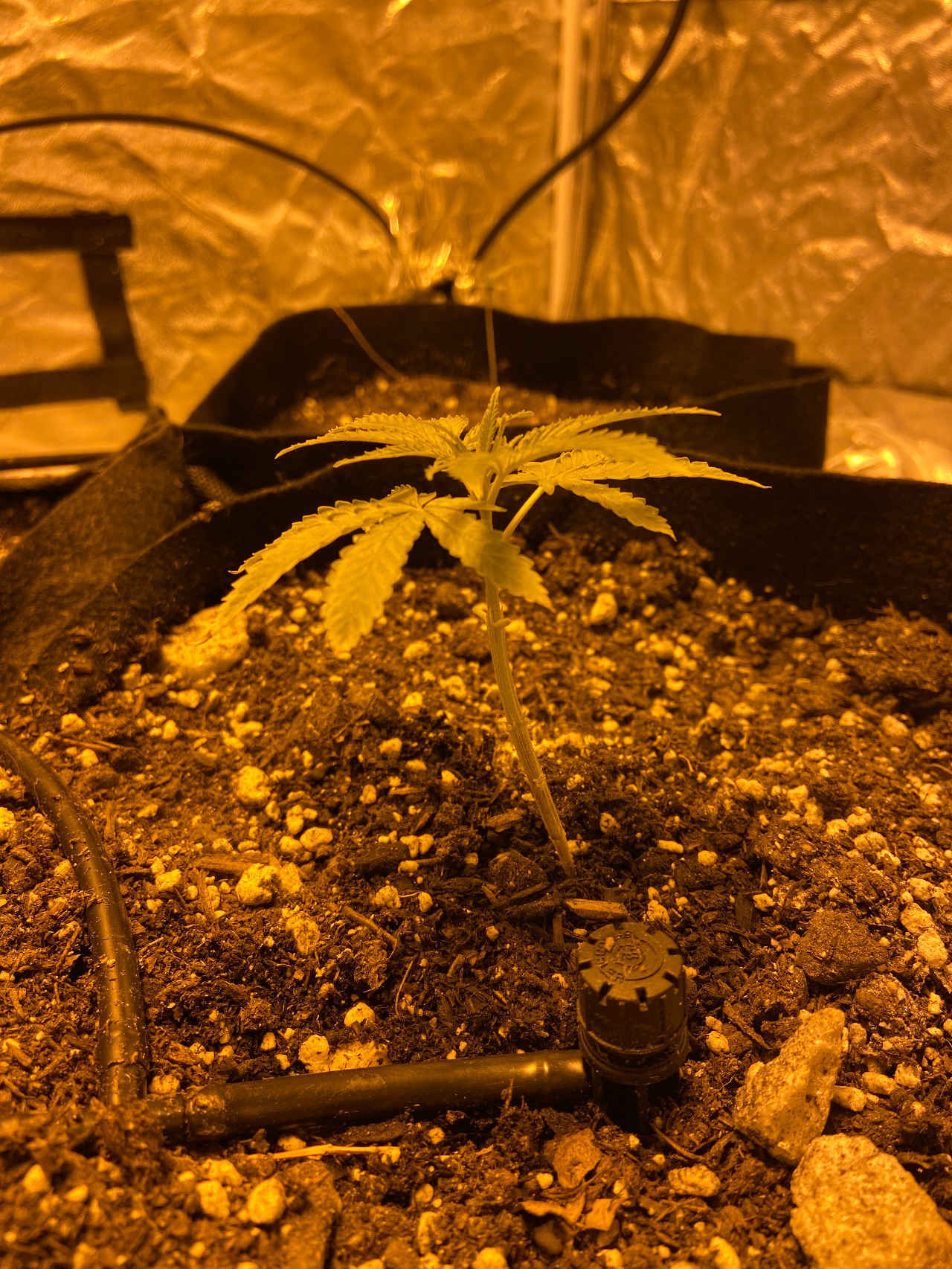 They're growing. I added a recirculating pump into the water pan. I added 2 1/2in of hydro corals and white rock to the bottoms of these pots in the beginning so I can bottom feed the plants and top feed them. The water pH is 6.7 I have been keeping the soil pretty dry. The bigger plant is a random seed. It was dying in a hydro bucket, so I stuck in soil outside and it came back to life. One of the gelato didn't pop so I just brought this back inside to grow in the tent in the failed gelato seeds place. The other gelato and critical Kush seed are all stretching and are about 4in tall. I have been using a 1000 watt ballast that has 50%|75%|100%|110% dim options. I've been running it on 50% but I increased it to 1000 watts today.
2 years ago
All of them popped and they're looking good. One didn't pop so I planted one of my outdoor plants in the tent. The bigger plant is a random seed. I do not know if it's feminized yet.
2 years ago
5 of the 6 have sprouted this morning. The 6th seed was splitting open so I moved it towards the middle of the pot and barely put any soil on it. Then I put a little water on it to secure the soil.
2 years ago
I planted the seed in the dirt after 24 hours in a glass of R/O water. I am using RO buddy from Amazon for aquariums with the 4th stage ionizing filter. I'm running PH between 6.1 and 7.1 One of the critical Kush seeds popped out of the dirt today.
2 years ago