stuffedbubble
OG Kush
February 2021
Two OG Kush indoor, 25% coco/75% happy frog soil.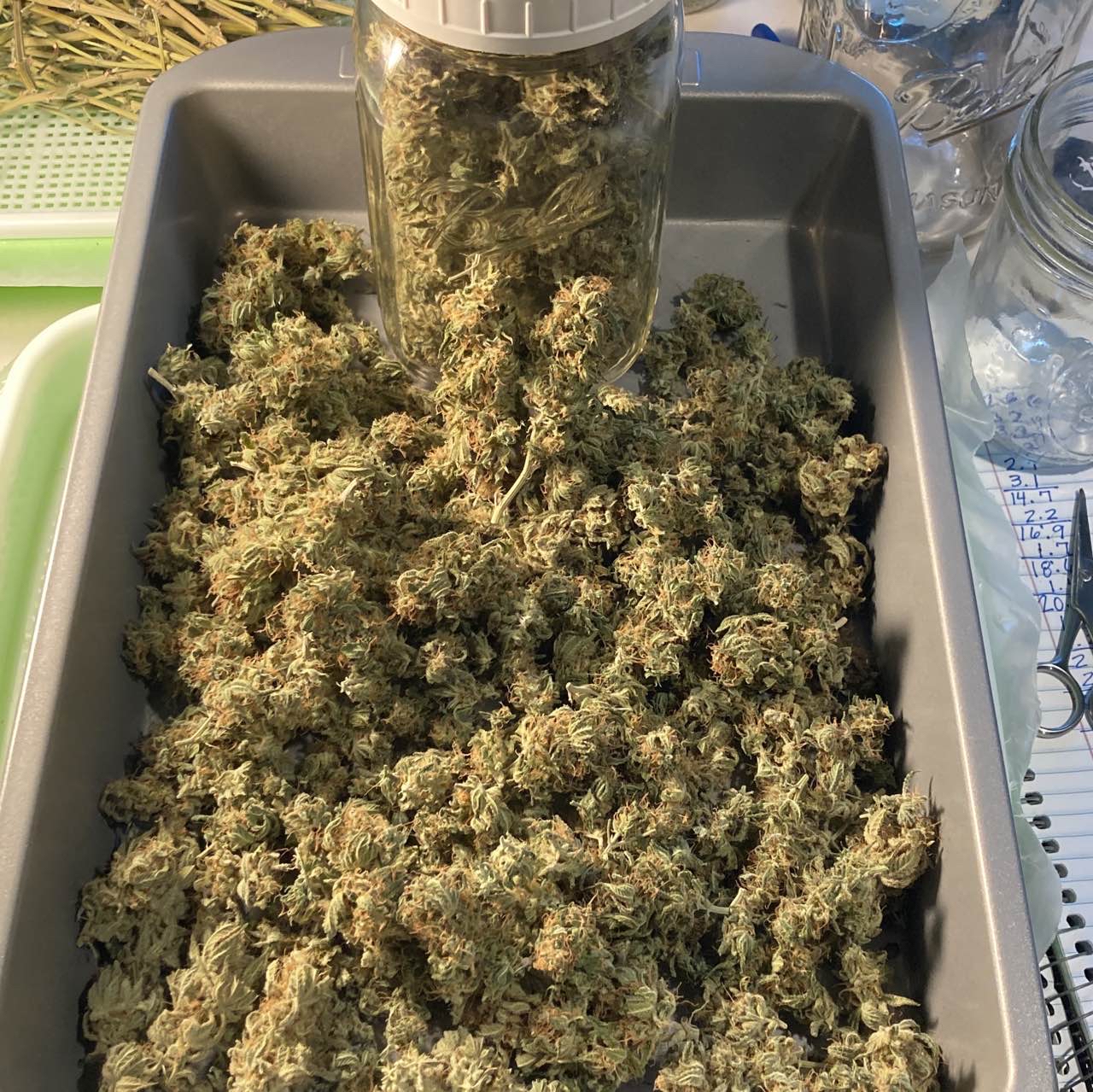 70.8g total, dried and trimmed. Looking forward to the next round as this one cures.
2 years ago
Curing.. 30g trimmed so far.
2 years ago
The big chop, after 9 weeks of flower. Great growing, ladies!
2 years ago
A little leaf discoloration tells me that harvest time is near.
2 years ago
Getting close to the chop. Many things I would have done different, but I'm happy with my first indoor grow.
2 years ago
Getting close to the finish line for these ladies. The waiting is the hardest part right now!
2 years ago
This has been the most challenging week because they smell great, look great, but they're not quite ready for harvest. Still a week or two left. So excited, gotta contain myself!
2 years ago
stuffedbubble Should I go ahead and prune the remaining bigger sun leaves?
ButtBoi I wouldn't, buds need them to continue their development. Just let them finish
Nearing harvest, maybe earlier than expected 🌱
2 years ago
Getting closer to harvest
2 years ago
kevywoods What size bags are those? And do you plan on keeping them that size? I have mine in 3 gallon fabric pots. Wondering if I can grow in those full grown. 2 are definitely staying cause they are Autoflower and I'm not transplanting autos.
stuffedbubble They're 3 gallon bags - so close to harvest, I can't change them at this point. And I've had to lift the light almost to the top, so I think 5 gallon would be too big. Might try three plants with better training on the next go.
Frosty & lush. Still a couple weeks to go!
2 years ago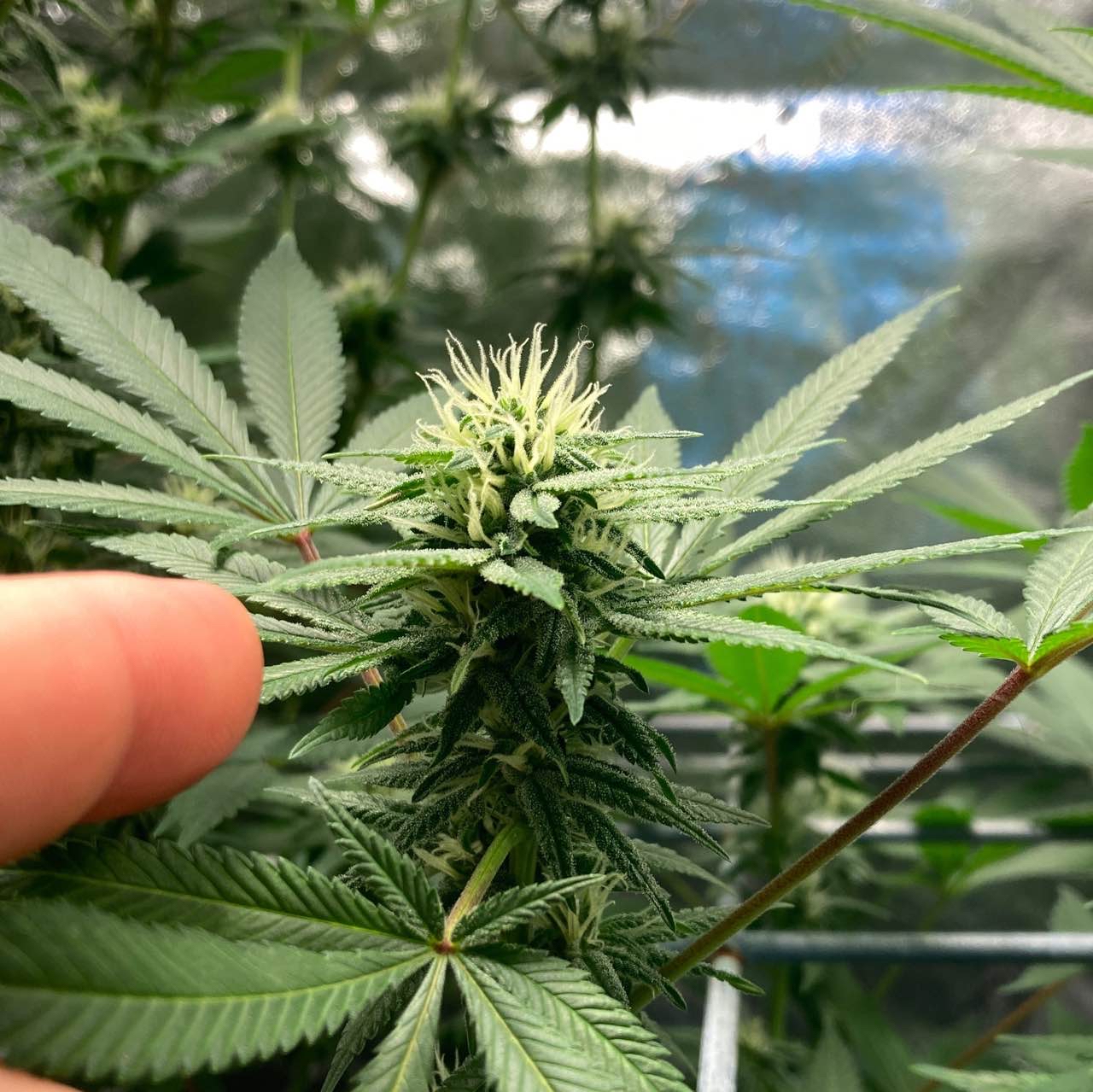 In the fifth week of flower.. buds looking thicc 🍑
2 years ago
Grew up and got a hygrometer - 83° and 55% RH. This has been a really rewarding hobby and I give a lot of love to these ladies. May I suggest reading The Secret Life of Plants.. a bit controversial, but I believe it to be a real insight into how plants are vibrant, living, feeling things.
2 years ago
stuffedbubble Ha! No way, I intend to fully enjoy the fruits of my harvest.. they'll live on in my lungs 🤓
View 4 additional comments
Starting to show a little frost ❄️
2 years ago
Flowers blooming nicely
2 years ago
DannyPH Did you use the scrog at all?
Budding has begun, 15 days into flower 🌸
2 years ago
Day 6 of flower — happy 4/20!
2 years ago
Big day for these beauties. Switching to 12/12! 🌸
2 years ago
Last prune before switching to flower next week. Will start feeding with Tiger Bloom in addition to Big Bloom and Grow Big.
2 years ago
Lots of pruning in the past few days, still looking lush and healthy. Raised the light a few inches. Likely will switch over to flowering in the next week!
2 years ago
Ladies look happy and healthy. They've been on an 18/6 light schedule, moved to 17/7
2 years ago
Topped the taller lady, now calling her Olive. Some light trimming on the shorter one, now known as Angela.
2 years ago
Another light trim, the ladies look happy and healthy
2 years ago
Scrog added, another light pruning. Main stalk is pinky width. Up to 9 nodes on the main stalk, will probably top in a few days.
2 years ago
A light pruning, lots of new growth.
2 years ago
Trimmed lower two nodes of sun leaves. Topped off pots with 1" of soil. Fox Farm nutrients every other day.
2 years ago
Transplanted into 3 gallon
2 years ago