420ninja1031
2nd run
Fall 2020
1 Pineapple Express Auto 1 critical purple Auto
Pineapple express and critical purple
Total weight between both plants 35.71g not bad hoping I can increase my harvest weight next run. Need to get better at the drying process they do seem to have dried a little to much.
3 years ago
volcanobag The hairs still look very light orange and not dark
View 2 additional comments
Harvest day; just hope the drying process goes well. Dry tent environment is 73F 28%Rh I added a humidifier but the RH only rose to 33%. I have an oscillating fan for air movement; along with an intake fan and carbon filter fan(as exhaust) for air exchange. Any suggestions I would greatly appreciate it.
3 years ago
420ninja1031 Thanks for the input TroyFarms I'm going to try those.
Update photos I'm probably going to let these girls ripen for another 10-12 days; I have started the flush from here on only plain water til harvest day.
3 years ago
Update photos; the girls are looking great almost at the end.
3 years ago
Almost there; buds are still fattening up I'm going to give it 1 week before I begin to flush to see if there is any last minute swelling but looking great for my second harvest.
3 years ago
ogeast The pictures are not the best, by the looks of it, you still have several weeks to go. I say about 2-3+ weeks. The pistils are sticking out, and I can't see much pistils darkening yet. Your lady has a lot of time left to go. Don't rush, that's the biggest mistake new growers make. Is rushing the process. Get a jewelers loupe and check trichomes.
420ninja1031 Thanks ogeast I appreciate your input; I have been checking the trichomes with a loop and I have mostly cloudy trichomes with a few amber floating around. I was also taking into account that the breeder info said they were 80 day auto flowers. But I will give them another 3 weeks see how they grow.
ogeast Ah ok. That's good to hear. Best of luck man!!👊
Almost to the finish line; I'm going to let the girls go for another 2 weeks I've got mostly cloudy trichomes with a couple of amber trichomes floating around. Going to start the flush next week. The Pineapple Express smells very pungent tropical and fruity, the Critical Purple is mild in aroma sweet like licorice.
3 years ago
The girls are fattening up looking and smelling 🔥🔥🔥 wondering wether it would be a good idea to defoliate this late into flower? Any one with an opinion I would like to hear it
3 years ago
Cutler Is she an auto? I defoliated two of my red poison auto grows from sweet seed basically all the way through from veg to end of flower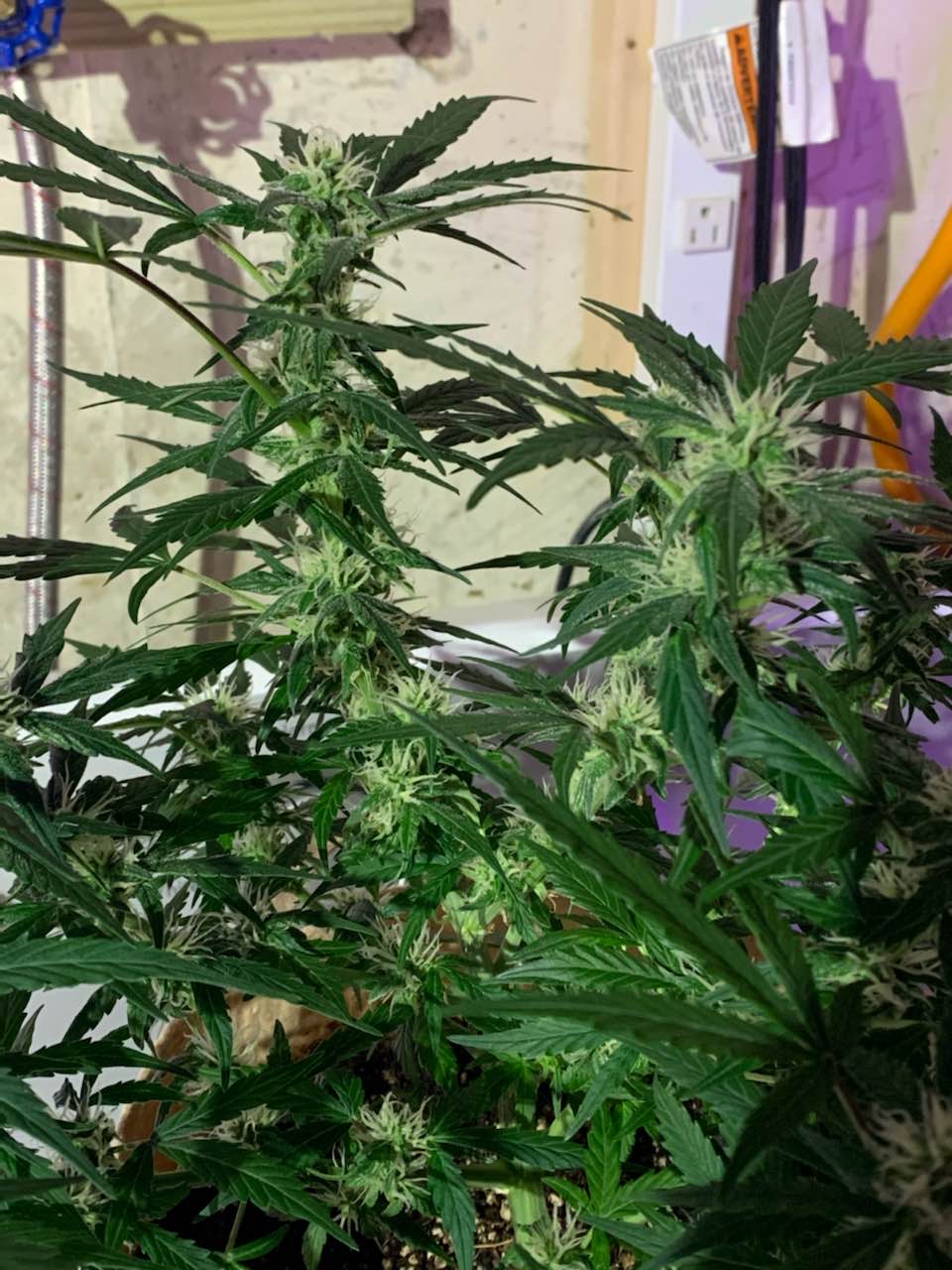 It's been a few days since I posted; progress pic. The girls are doing amazing buds stacking and swelling nicely. The Pineapple Express smells amazing where as the critical purple is lacking in a pungent smell it's more on the subtle earthy side.
3 years ago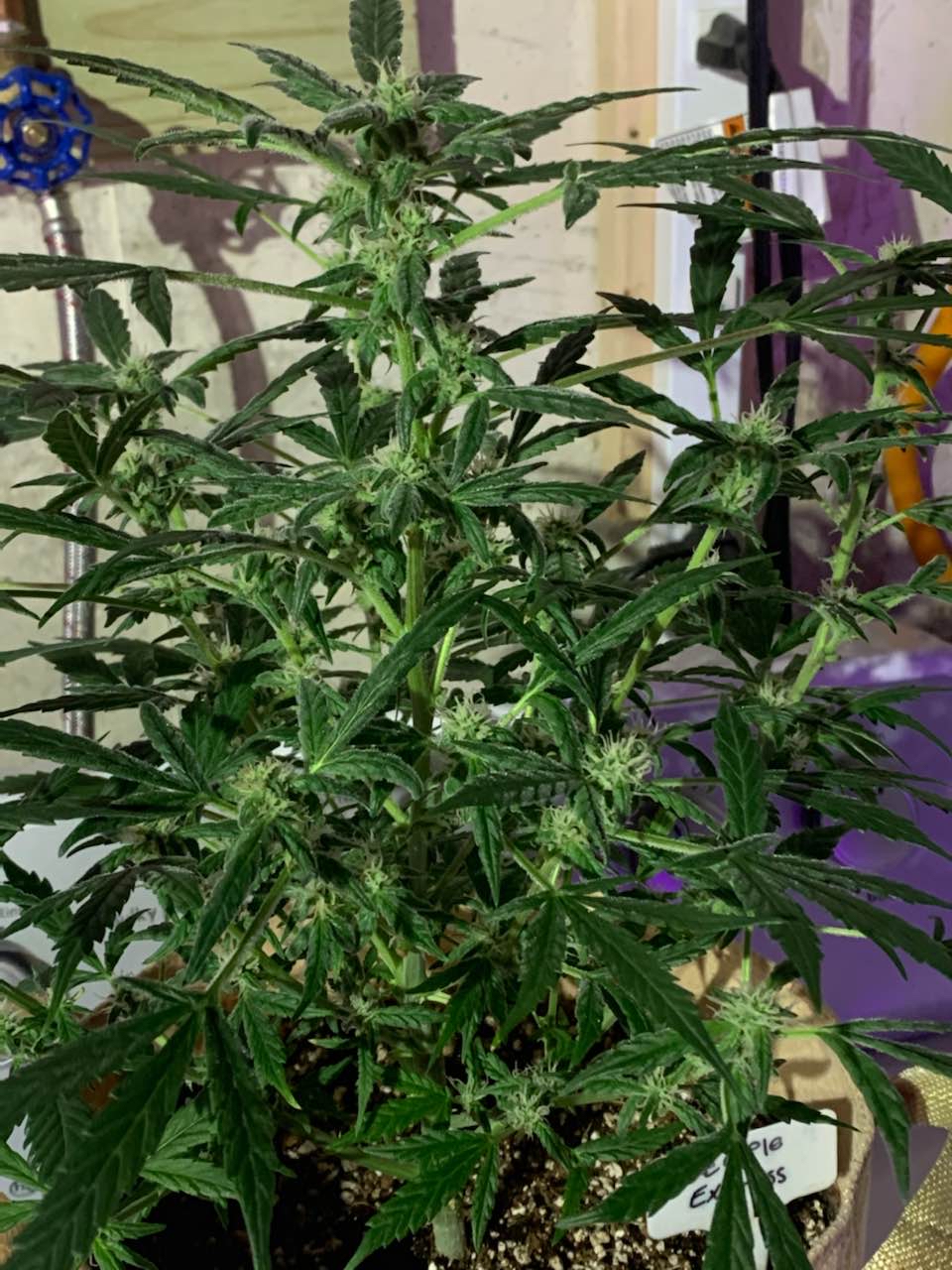 Progress pic; the girls look good although I am noticing some branches turn purple which I think could be a sign of magnesium deficiency. Buds are stacking and swelling still have a way to go; I am hoping to yield 1-2oz per plant this time around we shall see.
3 years ago
CraigBengfort I'm sure that's totally normal especially with a critical "purple" strain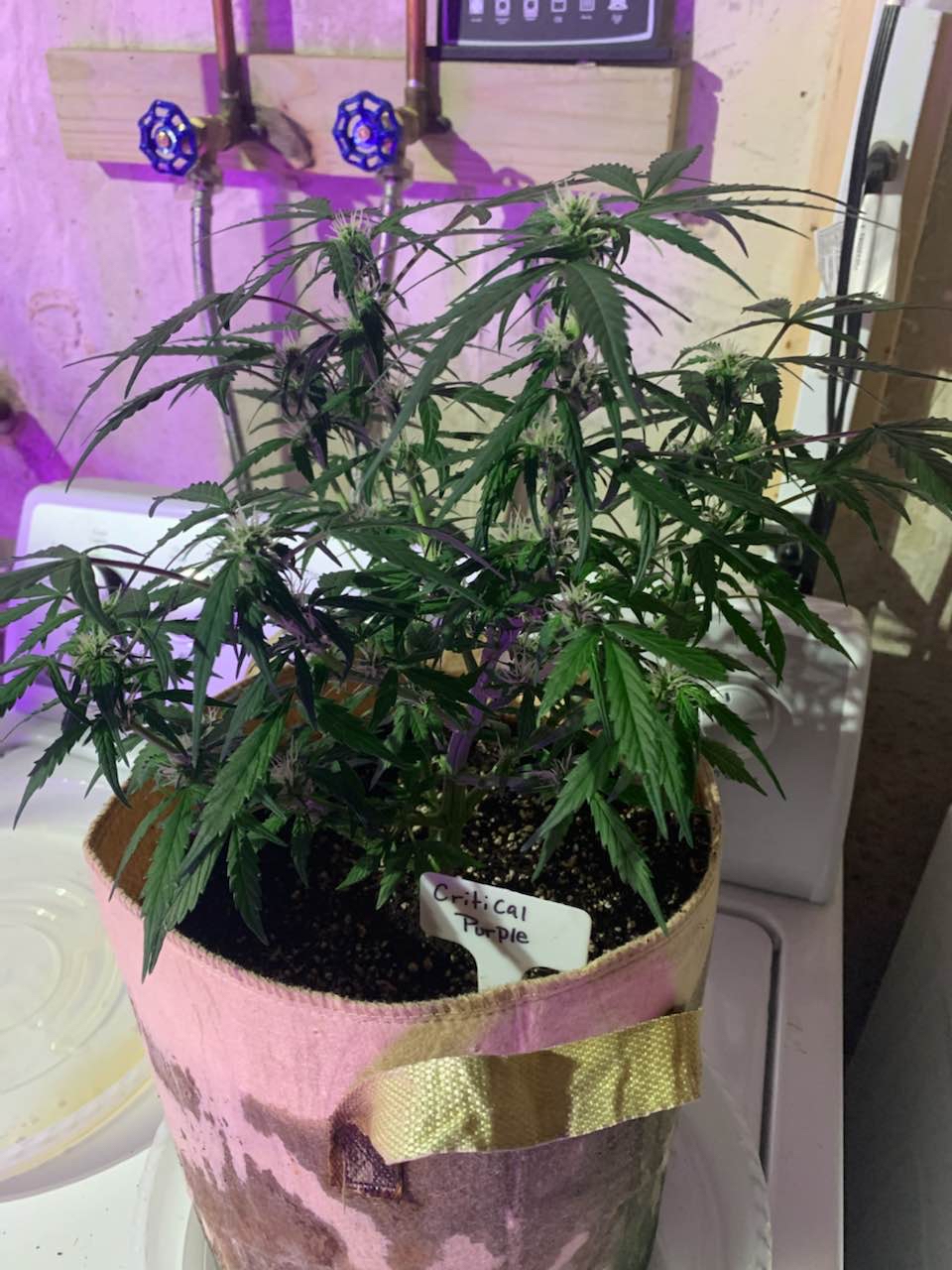 Watered with newts today everything is looking good. I am seeing some of the stem on the critical purple starting to turn purple not sure if it's due to the strain or if it's early signs of magnesium deficiency? Anyone have any input; the last pic I highlighted a couple of the stems with the purple for reference
3 years ago
The girls are working overtime now; pots are drying out daily so I'm watering daily. Today I watered with 16oz Great white solution and 2L of recharge. Run off- 6.1PH/ 630PPM/ 1320 EC. There are bud sites everywhere and they smell amazing.
3 years ago
Update photos; slight defoliation to get more light to bud sites; the girls are happy healthy, buds are growing in well hairs are super white and thick. Smelling super stinky.
3 years ago
Watered in with week 7 newts; the girls have been very happy and growing at a decent rate despite being pushed to the limit early on in their life. Feed- 16oz Great White and General Hydroponics line; 1.5ml Amor Si/ 2.5ml Cal-Mag/ 4ml Micro/ 1ml Grow/ 6ml Bloom/ 1ml Floralicious Plus. Water in- 6.3 PH/ 843 PPM/ 1690 EC; Runoff- 6.1 PH/ 570 PPM/ 1140 EC
3 years ago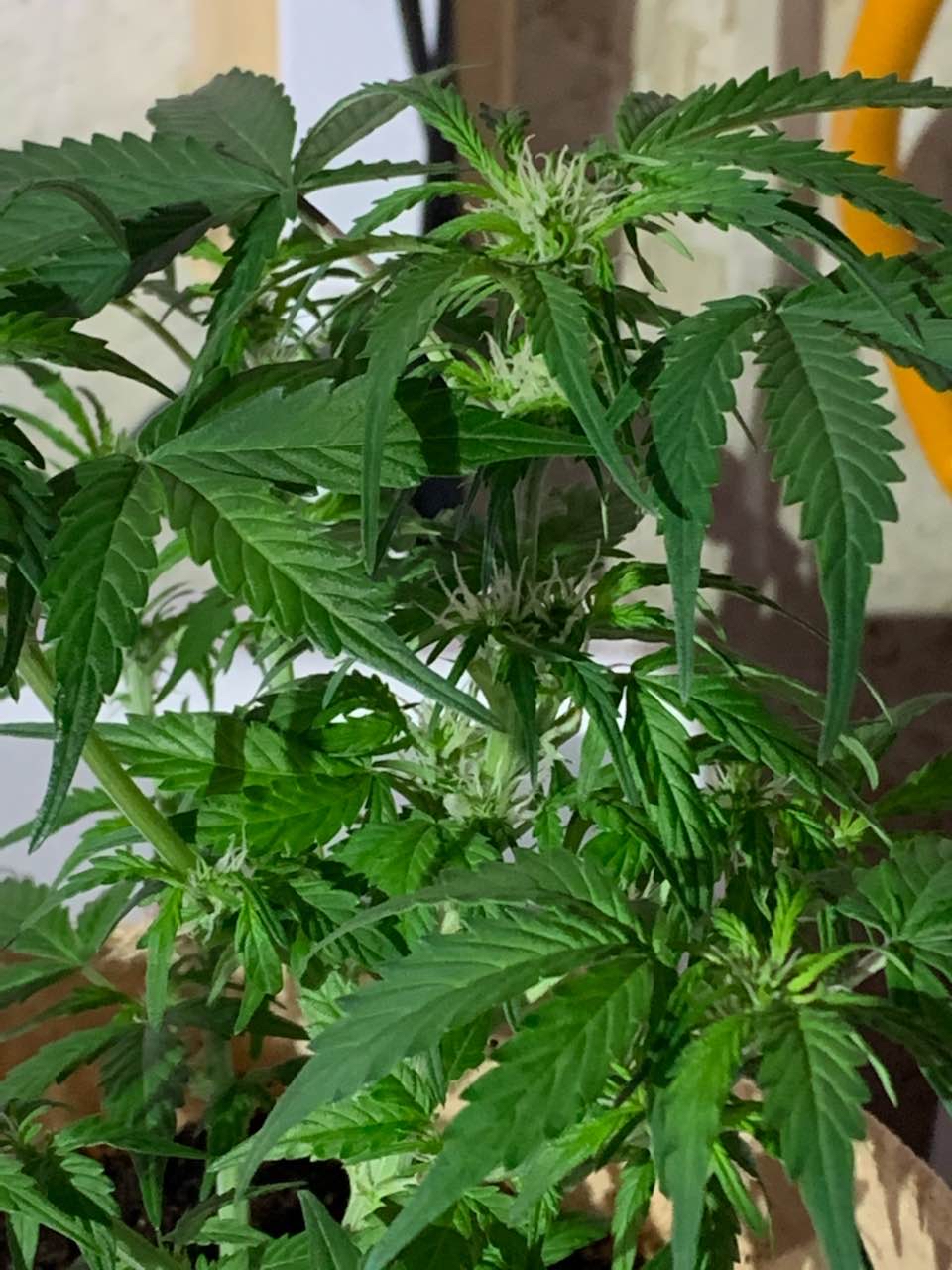 Did some defoliation today to get rid off any fan leaves covering up bud sites; also watered with Recharge and 16oz of great white. Runoff- 6.1 PH/ 750 PPM/ 1560 EC. They are looking great bud site popping up everywhere; thick white healthy looking bud hairs; and the smell 🤤 the Pineapple Express is sweet and tropical and the Critical Purple is earthy and piny.
3 years ago
These girls are blowing up and really hungry checked on them and pot was light and first 1.5" top soil dry had to water again today; no deficiencies in sight, no pests very happy with the turn around after the abuse I put them through in the beginning. More and more white hairs by the day.
3 years ago
Feeding day; the girls are looking happy and healthy. Today's menu consisted of General hydroponics: 1.5ml Amor Si/ 4ml Cal-Mag/ 4ml Micro/ 1ml Grow/ 5ml Bloom/ 1ml Floralicious Plus. Along with the newts I inoculated the coco with 16oz of Great White mycorrhizae solution. Water input- 6.3 PH/ 900 PPM/ 1790 EC; Water runoff- 6.0 PH/ 600 PPM/ 1160 EC. Any one taking the time to read this I have a question; should I continue LST training at this stage? Or should I let he bloom majestically the rest of the time they have left? If you haven't followed this grow from the beginning they are Autoflowers.
3 years ago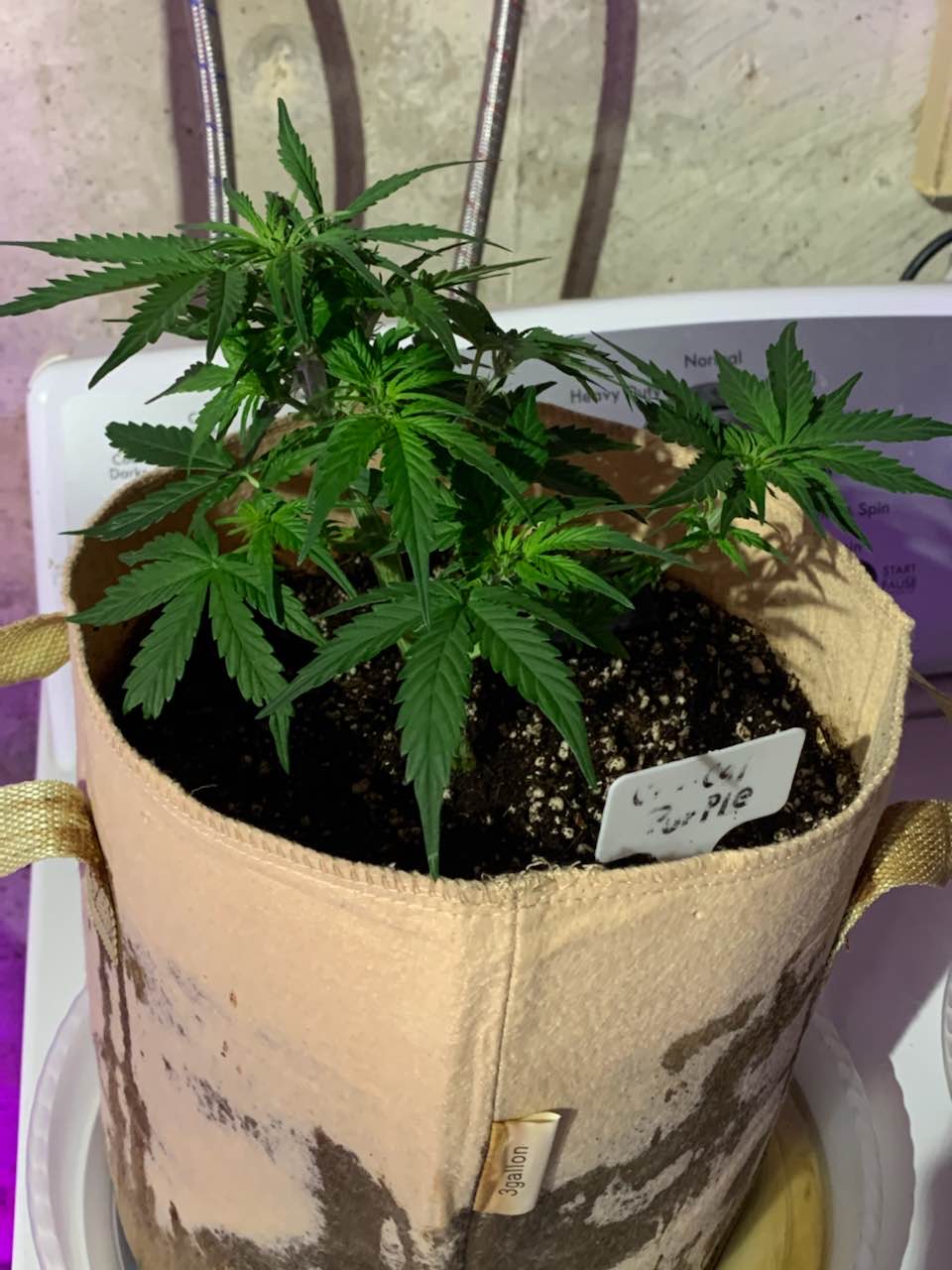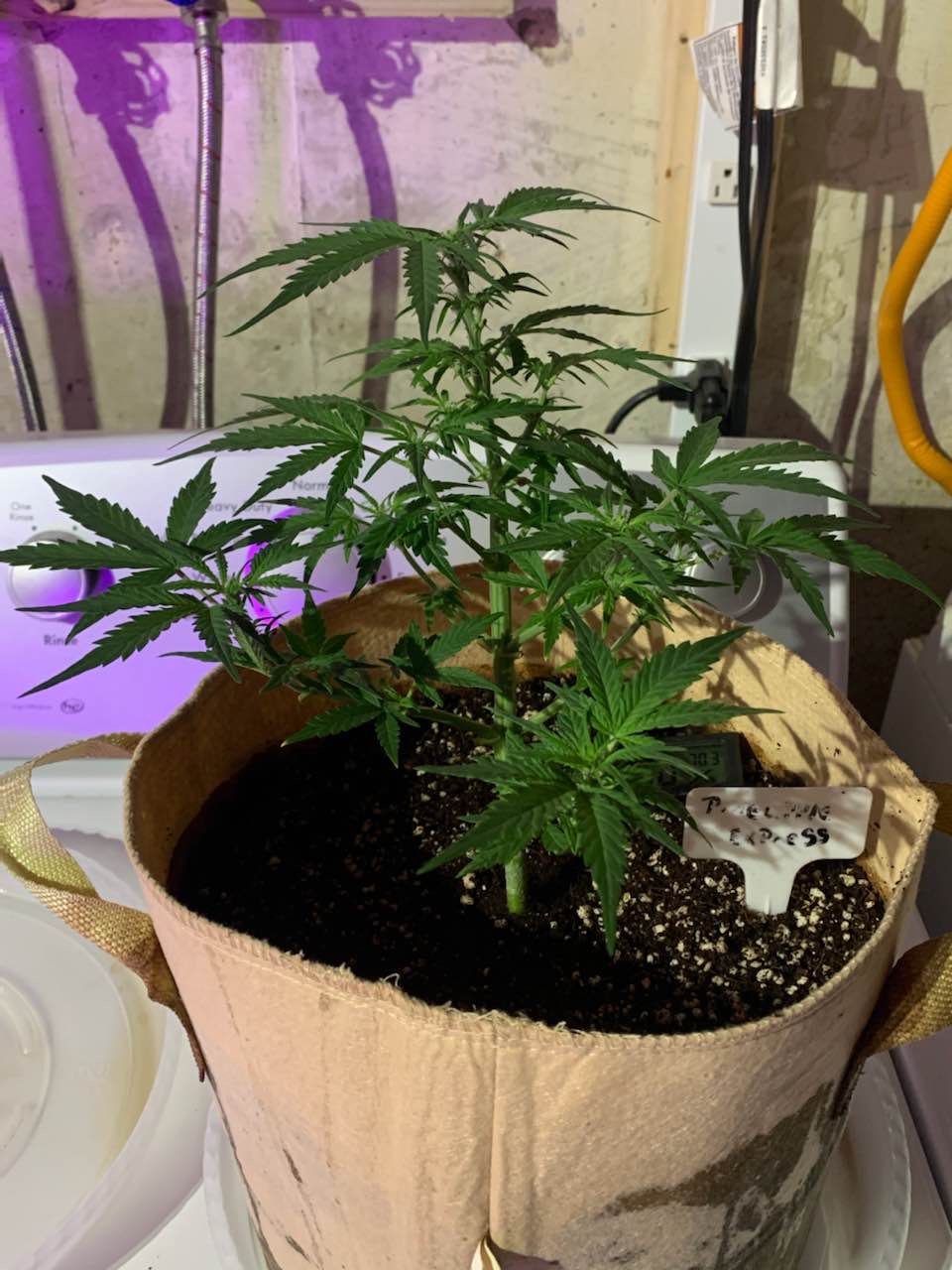 Did some light defoliation; watered with some Recharge and 16oz of great white solution. The critical purple seems to be doing well and recovering after the snapped stem. Both girls have started to flower.
3 years ago
mystrain420 Looking good, like nothing ever happened. 👍🏾
Concerned need opinion; today I was re adjusting the ties for my LST and accidentally snapped the very top of my main stem of the critical purple. I quickly tapped it at the point of the break and applied a garden tie to provide slight tension in the opposite direction of the break so that the stem meets flush as seen in pic#7. Anyone know if she will recover or will I need get rid of everything about the breaking point? I appreciate any input.
3 years ago
tseknoujake Give it a couple days to try heal itself, I did the same thing with my plant about 5 days ago and it looks like she's recovering, leave it for about 2 weeks and it will probably fix itself, otherwise, the plant is looking very good
tseknoujake Also if this is photoperiod it shouldn't be a problem at all, just stunted growth but you can give her time to recover completely before you switch to 12/12
420ninja1031 Thanks for the info and compliment; they are autos I think that's what had me worried the most
View 6 additional comments
The girls are bouncing back thankfully; visible new growth looks healthy no more burnt tips or leaf discoloration. Watered with newts today giving the girls some food after flushing the plant out last watering due to hot soil. Lowered amount of newts I was feeding and dialed in my numbers hopefully they start to take off now. (Feed- General Hydroponics- 1ml Amor Si/ 4ml Cal-Mag/ 2.5ml Micro/ 2.5ml Grow/ 2.5ml Bloom/ 1ml Floralicious Plus) Ph-6.3/ PPM 650/ EC 1200. I watered until 10% runoff and tested the runoff Ph-5.9/ PPM 570/ EC 1130.
3 years ago
Flushed again with plain water brought the EC down from 2200 to 1330; the ppm went down from 1500 to 740; PH went up from 5.2 to 5.7. I also defoliated to get the most amount of light to the bud sites. I'm afraid the girls were stunted due to the soil being so hot hopefully I didn't catch it to late.
3 years ago
ItsMrJones You start nutrients earlier then most ive seen, maybe that could be why?
420ninja1031 When would you suggest I start feeding the next run? Thanks for the input.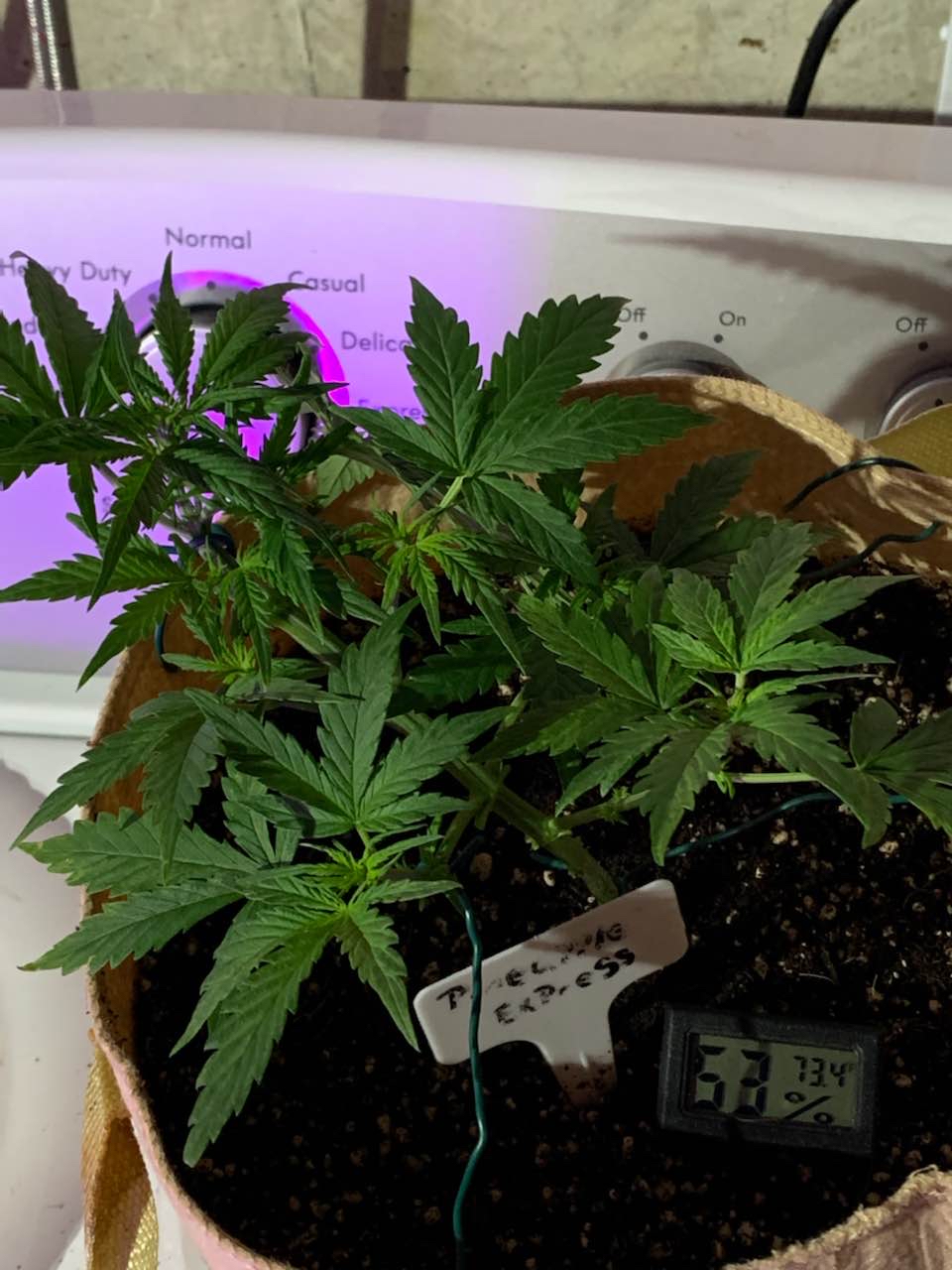 These auto flower girls are showing signs of pre-flowering; I noticed some burnt leaf tips, calibrated my ppm meter and to my surprise my run off showed 2100 ppm in the soil and a 5.2 PH. Immediately flushed with plain RO water and followed up with some Recharge; rechecked and now at 1300 ppm and a 5.7 PH. One more flush should get me to the desired ppm.
3 years ago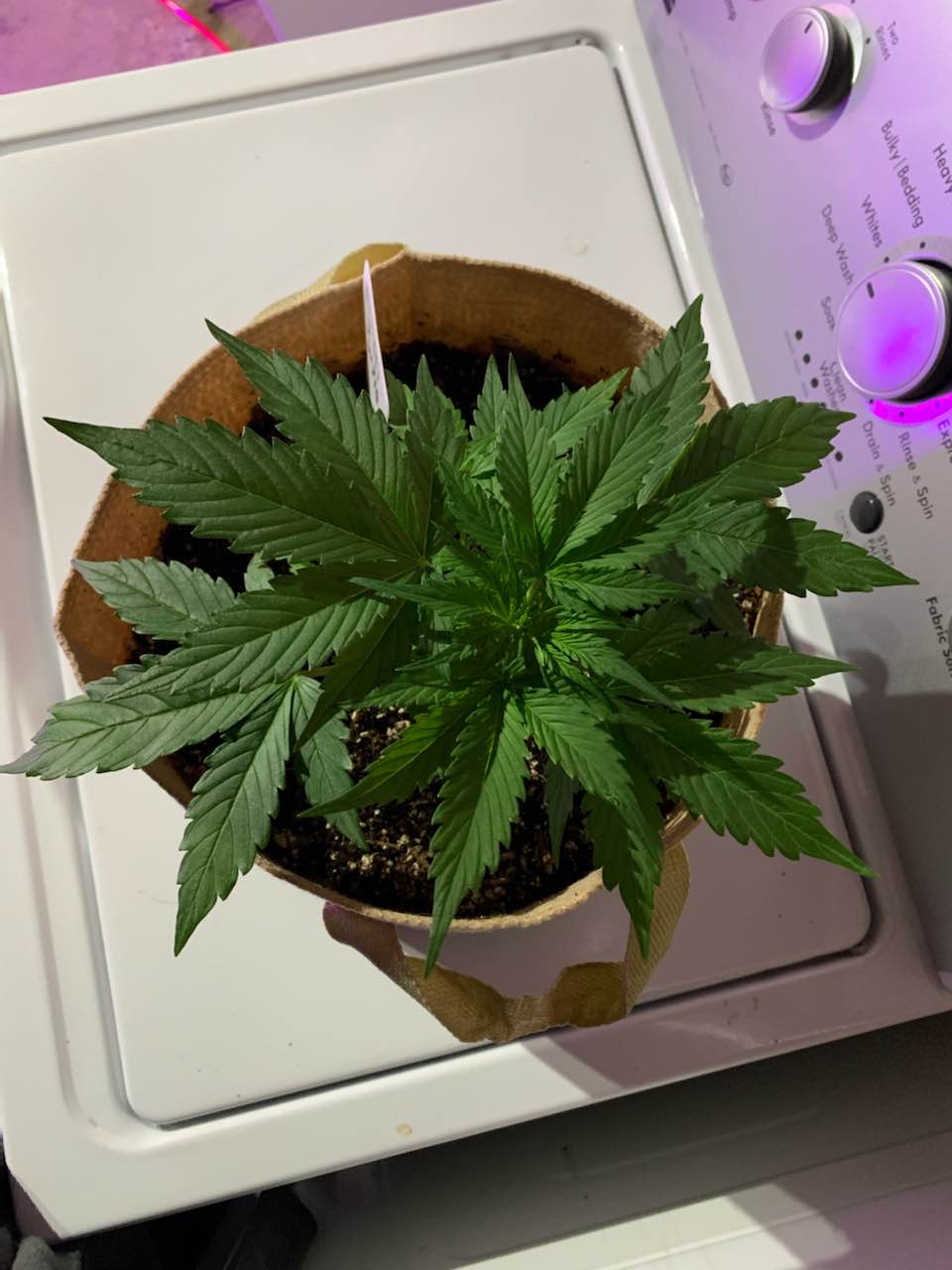 Feeding time; the girls look healthy I'm not seeing any signs of deficiencies. Giving the girls a little break from the LST; feed- 1 gal of water per plant PH@ 6.0. Newts- General Hydroponics 1.5ml Amor si/ 2ml Cal-Mag/ 10ml Micro/ 15ml Grow/ 5ml Bloom/ 1ml Floralicious Plus. 25% run off PH@ 5.3; I'm not sure why my run off PH seems to be much lower than what I put in and lower than it should be if any can help me understand this issue and or possibly point me in the direction of a solution I would appreciate the help.
3 years ago
Canopy is starting to thicken up; the girls are looking healthy and loving life. They are responding very well to the LST.
3 years ago
Update photos; the girls look happy and healthy. They seem to be responding well to the LST. The leaf discoloration I thought was from some sort of nutrient deficiency was actually light bleaching; once I raised the lights from 24" above canopy to 30" above canopy I noticed the discoloration stopped.
3 years ago
Pineapple Express 5". Critical purple 4" The girls look happy and are responding well to the LST; starting to get a nice smell. Feed- General Hydroponics; 1ml Amor Si/ 2ml Cal-Mag/ 10ml Micro/Gro/Bloom / 1ml Floralicious Plus
3 years ago
CrisCo91 The stalks of your girls are nice n thick How do u do that or is it in genetics
420ninja1031 I've be using great white mycorrhizae to build a good root zone; along enriching the coco with recharge microbes. I've noticed the girls are very happy after getting some of those products.
CrisCo91 What kind of light are you running
View 1 additional comment
Pineapple Express 4". Critical purple 3.5". The girls look very happy after the recharge; trying my hand at LST for the first time with this grow.
3 years ago
Critical purple 3" Pineapple Express 3.5" Tested runoff and noticed PH was on the lower side of the spectrum@ 5.2, which I believe was causing the discoloration in the leaves of the Pineapple Express. Watered with some Recharge to get some microbe action in the coco as well as to help combat nutrient lock out; also added some great white micorrhizae to help build a hearty root zone. Adjusted PH to help raise soil PH; water PH 7.4 raised soil PH to 5.49.
3 years ago
Progress pic. Pineapple Express is 2.5" tall Critical purple is 2" tall Both plants are showing signs of some minor taco action which I assume is is due to high humidity; added de-humidifier to help combat. Pineapple Express seems to have some lighter green discoloration in its newer growth not sure why. Any growers out there if you look at my post and know what's going on I would appreciate some help make sure my girls are healthy.
3 years ago
ogeast Oh yeah, slightly high RH, but nothing that can be quicky fixed.
Pineapple Express 2" Critical Purple 1.5". Watered with newts. 2ml Cal-Mag 5ml General Hydro trio
3 years ago
2nd feeding done 2ml Cal-Mag 5ml General Hydro trio
3 years ago
Just a progress pic. Both ladies are growing well and seem to be enjoying they're last feeding.
3 years ago
First day given great white
3 years ago
First feeding and raised lights to 24in above the canopy
3 years ago
The purp is sprouting a little slower than the pineapple but looking healthy.
3 years ago
Seedlings have sprouted
3 years ago