Durban Poison & Jack Herer Hydro
First Hydro 2021
2x Durban Poison started from seed. Jack Herer from clone. Light: AGLEX COB 600 (106 watt?) 18/6 seedlings, Mars Hydro TS 1000 (146 watts)18/6 veg, & AGLEX COB 2000 (408 watt) 12/12 flower. Nutrients: Green Planet's 3 Part System: Micro, Grow, Bloom, + additives Massive, Liquid Weight, & Rezin. Also using Vitathrive, root builder, and cal-mag.
Durban Poison & Jack Herer
Did a heavy defoliation of the leaves. Took another major round of cuttings to clone out. Lost the runt Durban Poison due to what I believe was potentially temp shock to the roots when I changed the reservoir. The roots aren't looking as good as they once were so I'm adding a second air stone into each reservoir. Flipping these girls to flower next week!
2 years ago
mystrain420 _@eaegifts Take clones off the one you're gonna scrap, they're alive technically for like 3 days after chopping if rh isn't extremely low
steezykayla Oh I would have taken clones from her but she fell completely limp within half a day. By end of day 1 it was clear it was clear she suffered fast. Day 2 she was gone. However, I got a shit ton of clones from my other Durban poison and my Jack Herer. Plus a few from LA cookies and a Lemon Tart I've got going. I sell my clones locally so this batch I've got upwards of 70 clones. More than enough to keep growing the Durban awhile longer
View 4 additional comments
Girls are almost ready to flip to flower! The second Durban is still a runt compared to how well her sister is doing. Going to take another round of cuttings before I flip first.
2 years ago
View 3 additional comments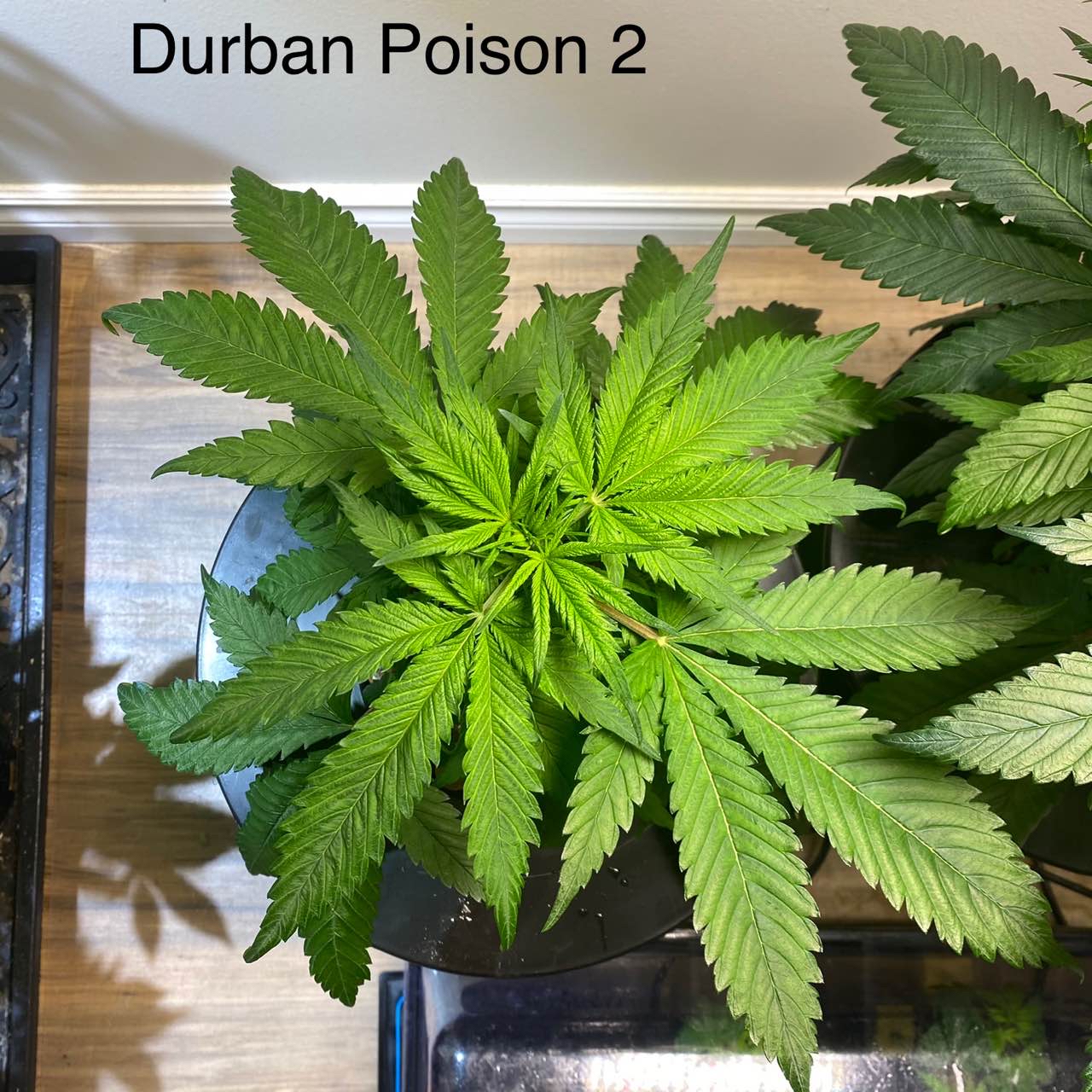 Been going back and forth between doing well and struggling. Such is the life of learning hydro. Roots are looking really good. Not pictured in the photo I removed some of the really large fan leaves and additionally did some leaf tucking.
2 years ago
CannaRabbit The nicest dwc roots ive seen, wish i could trust myself to run one also for a mother
steezykayla Thanks growmies 💚 much appreciated. They're a little on the smaller side as they're probably 2-3 weeks behind from having a few stress weeks. They Keep going back and forth between doing well and having issues but such is the learning curve of switching to hydro! Super excited for this one. I'm very happy with the roots
Tried introducing Fish Sh!t and it did not go over well. Plants almost immediately started drooping and now dealing with root rot. I rinsed the roots and gave them fresh water with their regular nutrients but I was out of micro so they're looking a little deficient. Have since added micro and waiting for them to bounce back from that. I pulled off all the dying leaves and she's perked back up a bit but still need more time as theyve looked better. The older roots are soft and don't feel as healthy as they should, however, there is excellent new root growth happening. So I'm gonna have to deal with the old root so it doesn't takeover the new good stuff. They are looking better than they were
2 years ago
steezykayla Any tips on hydro root rot would be appreciated! 💚
steezykayla My mentor also said to prune it off so I'm thinking that's the route I'm gonna go 👍🏼
View 2 additional comments
Moved these girls from the closet to veg and they're much happier under the stronger light. They were a little light starved but I fell behind in moving them earlier. Oh well. Durban Poison #2 is a bit of a runt compared to her sister (the 3rd Durban seed I planted has genetic issues...way to go cropking 🙄). Jack Herer doing well. Looking forward to seeing these girls grow a bit faster now that they're in their final veg home.
2 years ago
blacksunset I need to get get me some Durban Poison beans! Looking good. 😎
steezykayla Thank you!! It's a beautiful cultivar for sure. I'm starting to see more Durban Poison plants popping up on here 😍😁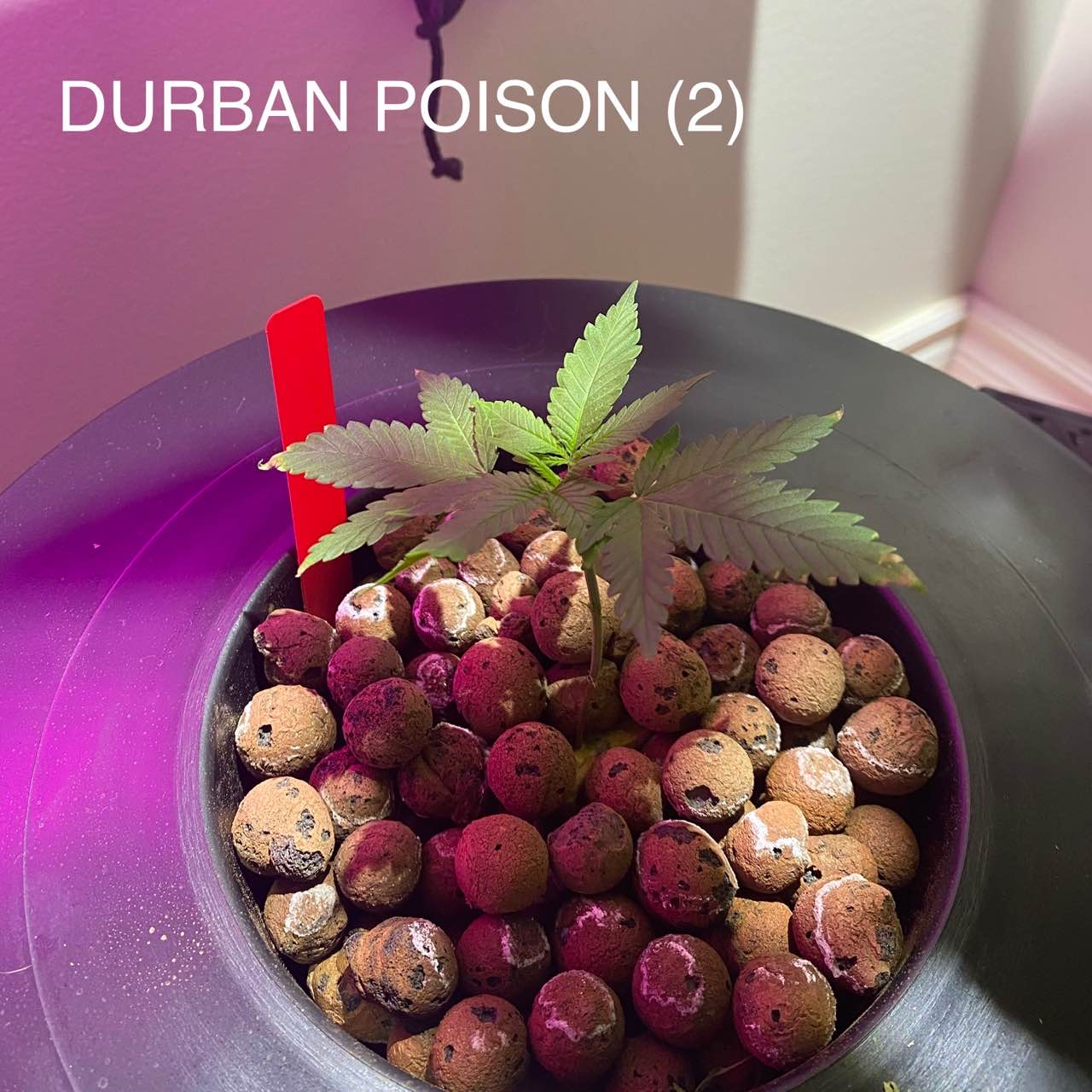 Durban Poison # 2 is a little behind. She didn't take well to the transplant into hydro at first and as per my last update she was completely wilted over looking like she wasn't gonna make it, however, after carefully propping up the stem she managed to thrive back to life (lost all her leaves except top most). The Jack Herer main root looked a little off and it broke off while I was inspecting it but it's since grown new roots and is also thriving. All in all these girls are coming along. They're ready to get under a stronger light as soon as I get I finish chopping/cleaning/rotating everyone else.
2 years ago
2/3 grew fantastic roots, I could have moved these into their buckets days ago but 🤷🏼‍♀️ got to it when I got to it. The third one has genetic issues clearly, after the cotyledon leaves it went 1 blade, 3 blades, and then back to 1 blade. Wasn't displaying new leaf growth after that AND the root growth is very slow. I hate to throw out a plant especially after paying for the seeds but I think she will continue to give me problems.
2 years ago
steezykayla Update: checked on them this morning and one of them didn't make it thru the night. Found her wilting over last night and tried propping her up to support the stem but this morning it was even worse. Must not have been able to endure the stress of the move to her new home. 😢
View 11 additional comments
Officially starting week 3 since germination. Forgot I need to be patient when starting from seed haha. Gave these girls their first round of light nute feeding. (Micro/grow/bloom, Vitathrive, root builder) pH 6.4, ppm 450. Clearly there is a gold, silver, and bronze showing up to this race. Hoping bronze doesn't stay too far behind, her second set of serrated leaves are just barely noticeable in person. Roots have appeared out of bottom of rockwool 🙌🏼
2 years ago
dabsRus420 Nutes already? I guess ya like to waste money lol
steezykayla I said light feeding. 3-5 weeks. I may be on the earlier side but 4mL of nutes used out of my supply doesn't really register as a lot. And even if it were more, I have a hookup on green planets lineup and don't have to pay for my nutes 🤷🏼‍♀️
First sets of leaves in past the cotyledon!! Since moving the light closer she's stopped stretching so hard and started working on roots/leaf production instead.
2 years ago
Third girl finally popped out of the rockwool this morning. Clearly we can see who's taken 🥇. The taproots grew so quickly I had to crack open the rockwool and place between and hold back together with rubber band. Just a low pH water so far (rockwool naturally has higher pH), humidity dome, and heat mat underneath. Also lowered the light so they don't stretch too hard and grow downwards.
2 years ago
Chief Smokalot Congrats, it looks like their stretching high, could you lower your light source so they don't stretch so much. ( your new growth is going towards a longer stem when a seedling will benefit more from leaf production
steezykayla Thanks 😊 yep I lowered the light this morning when I noticed how much the first girl stretched !
After 24 hours these ladies are thriving. Going to get them into some rockwool
2 years ago
Left these girls soaking for 18 hours
2 years ago