Terrapin Farms Ethos Apex
Winter 2022
Starting a winter grow. The usually long wait while the seeds pop and put down roots. Just moved them into my tent from fluorescent to LED at 60%. Cold cellar so heater going at 75f.
Took 3 clones for my buddy.
3 days ago
Caliban The theory is that less leaf surface reduces moisture loss while the roots are growing. Clones drying out is the biggest danger the first week or two.
Caliban The second reason is that clipping the leaf tips prevents them growing and redirects energy to roots which is Job 1!
View 2 additional comments
Added the trellis and positioned a second one higher up for late flower support. Raised the lights too. Flipping to flower very soon.
4 days ago
organic_grower Those plants are going to be beautiful! Nice work Caliban 👊
Alchemist710 Is that a portable heater or humidifier or what
View 5 additional comments
Last week of Veg. Watered this morning ph 6.4. Top dressed with Roots Organic Veg and Foundation Nutes. Basically fish bones and lots of other good stuff. The girls have pretty much only relied upon the soil and cal-Mg supplements. Very much. I'm going to trellis them this week too. Also the M1A1 is going to be a line tattoo. My first.
8 days ago
ZaddyXL What soil did you use? I did a mix of roots organic and fox farm ocean forest and was told I won't need to feed for a long while, maybe till flower. But I see your plants have been showing deficiencies and hunger for specific nutes. Did you use a sterile soil?
Caliban I use FFOF and some coast of Maine compost for the bottom layer. I transplant 3x and finish in a 7G. I start to top dress feed the last 2 weeks of Veg. Early veg they always get some Epsom salts and cal-Mg as needed. And sometimes kelp. The soil typically depletes on 3-4 weeks depending on size of plant. I try not to mix soil brand. FFOF is ph regulated to 6.8 which is perfect. My C deficiency likely came from a me not adding cal Mg in time.
Caliban I feed 1/week roots organic food. FOx Farm soil.
View 2 additional comments
Watering day. About a week or so before flipping.
10 days ago
Mid flower explosion. The plants are really tapping into the deep layer of lobster compost at the bottom of the pot.
14 days ago
Ca deficiency corrected through foliar spraying and watering w Cal/mg. Organic. New growth coming in green and healthy.
16 days ago
Caliban Pic 5/6 shows the Ca deficiency and the new growth coming in healthy.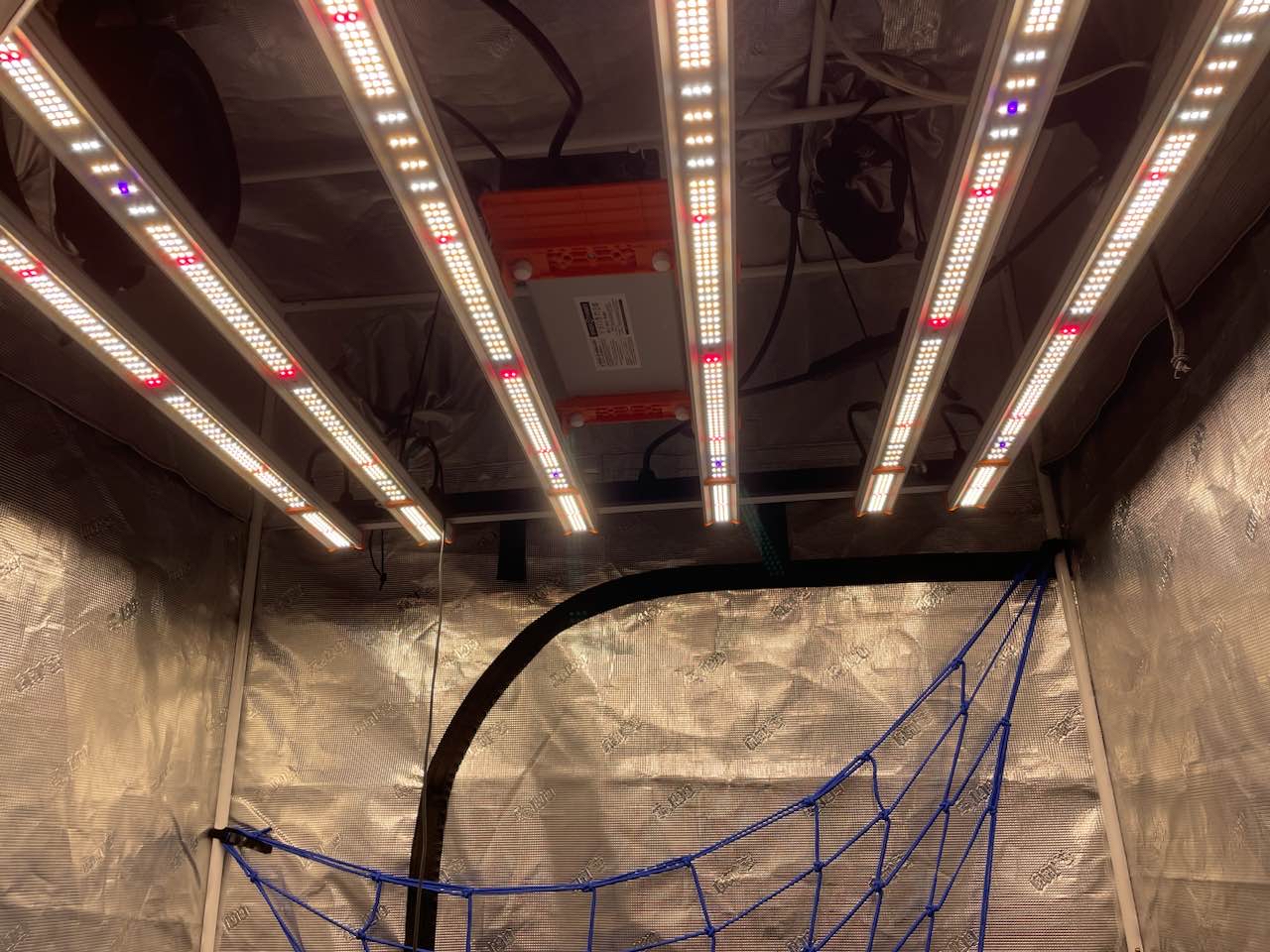 Noticed a Mg deficiency in one plant. You can see it with the leaves praying and the yellowing. Added Epsom salts to the watering.
21 days ago
Transplant to 7G
24 days ago
Caliban Always the big milestone. Now the girls can spread for 2-3 weeks before flower.
Watered after 2 days. Plants doing very well and growing about 1" a day on average. Roots starting to appear at drainage hole's which means transplant time this week. I have to pick up some more FF OF and coast of Maine lobster compost and prep my pots. Otherwise a routine Veg day. Oh and some lobster roles with local caught lobster!
a month ago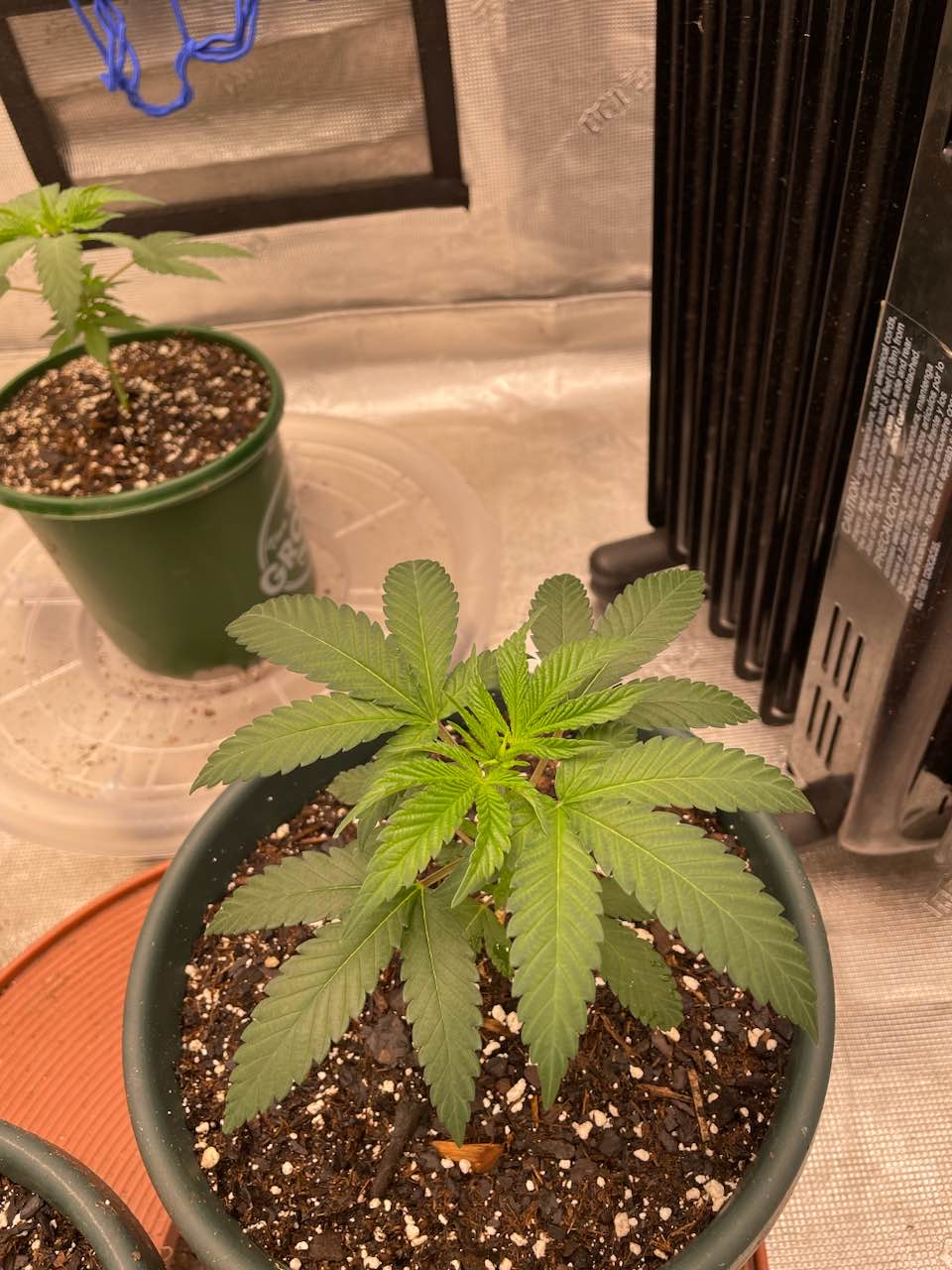 Fed with some worm castings and Epsom salts otherwise pretty much letting the soil work as planned. Probably transplant in another week to final 7G pot. And m rescue Coon Thor on his perch dominating the high ground
a month ago
Caliban Thanks OG. The seedling phase is pretty boring so haven't been posting much until lately.
Doing well in their new soil.
a month ago
Transplant to 1g and put them into the tent.
a month ago
Caliban Hey Stick! I'm doing well. Took a month off before starting my winter crop. How are things Growmie?
IG @stick_e_fingerz That's awesome bro I'm doing great haven't been on budapp for a while more action on my discord but I've been around lately checking things out had a spider mite infestation take out my flower tent so I had to trash it and start over but that's life I guess
View 1 additional comment
Moves from heat mat to tent today.
2 months ago