Purple Punch First grow ever.
Late February 2021
She's already about 60+ days I don't have exact count on her. I do on a few other plants.
Today was the day 😓 wonderful day but at the same time it's so sad 😭
2 years ago
NopeQQ I think it's getting dry a little more. every end also means a beginning 🌱
Mystrain420-@eaegifts She's a beautiful plant, I'm growing an auto of this strain now. I hope my buds come out half as good 👍🏾
kevywoods Thanks guys! I'm thinking about harvesting tomorrow cause I think she's about done… the buds have changed dramatically in the last 2 days. And she's shooting out new clusters of white hairs and I'm thinking it's her last attempt at getting pollinated?? That would be my guess cause I know if you want too too long it could Hermie trying to pollinate itself.. I'm new to growing so I could be way off with those facts 🤷🏼‍♂️ just things I've read or heard. Not always true. But you can see the BEAUTIFUL purple colors coming in. They were not there 2 weeks ago. Another reason I want to keep it growing cause it could get MORE purple 😳
View 16 additional comments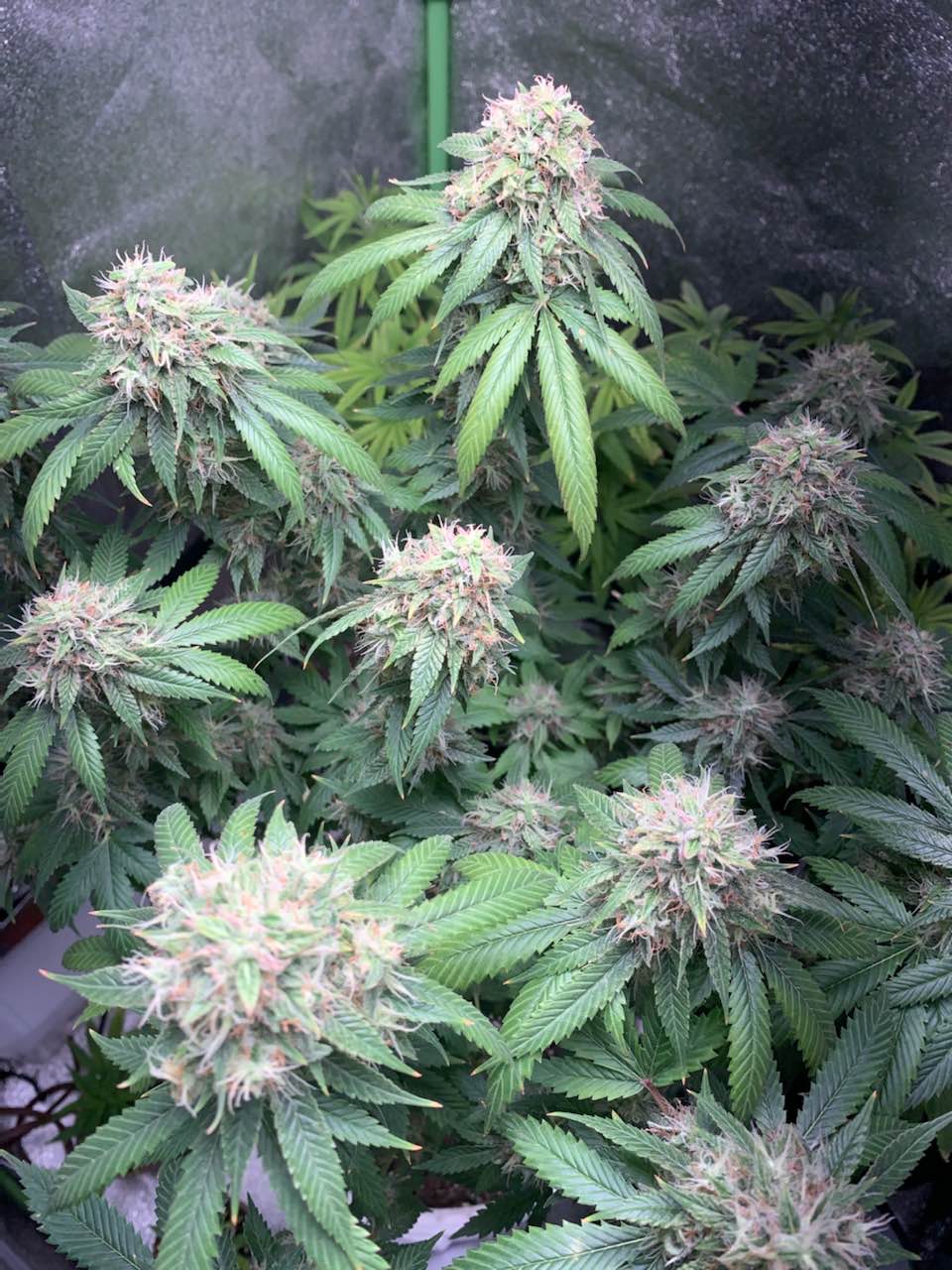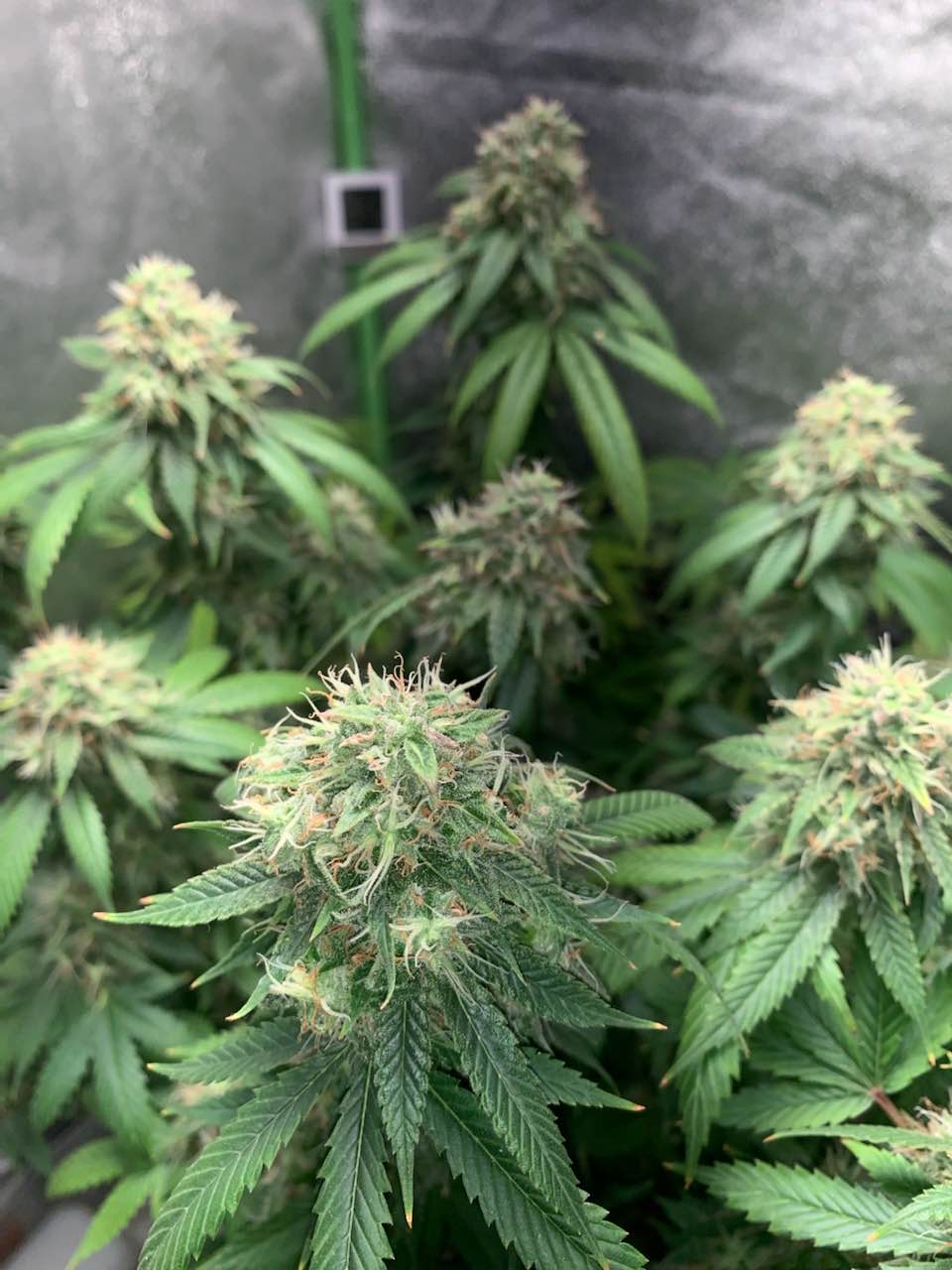 She's not done just yet 👌🏼 close 😳
2 years ago
She's still going!! Harvest is very very very soooon. I've already flushed 3 days ago and her soil is still pretty wet. RH is currently 48% and dropping. Trying to keep it relatively dry but the 5 gallon pot she's in is putting off a lot of humidity… I have a mini dehumidifier that I'll put in the tent from now till harvest to try and drop the RH to 39% by the time I harvest. This is my very first grow so if I'm doing or saying anything wrong I'd love to here opinions or suggestions. Happy Harvesting 😊
2 years ago
Mystrain420-@eaegifts Doing great, usually as the pot takes longer to dry out that means she's drinking less=finishing up. Probably should start checking trichs 👍🏾
kevywoods Check the post I just added on the same grow. Got close ups of the tricombes. Tell me what you think. Very cloudy but not too many Amber's.
kevywoods I actually added the photos right to this post. Check it out
View 13 additional comments
Cloudy but not so many amber ones. All the amber tricombes are either closest to the light or on the sugar leaves. These close ups are closer to the catalyst center of the nug.
2 years ago
Slowly but surely she's getting there ☺️
2 years ago
Filling in very nice since the defoliate. Continue to remove and fans in the way of bud sites getting light.
2 years ago
That's a side shot. She has a lot of legs!! I hope she produces monsters. Such a difference from the autoflowers. I don't like autos very much lol. Not nice to me
2 years ago
Buds everywhereeeeee lol 🥰
2 years ago
More than 30 flower sites all over her.
2 years ago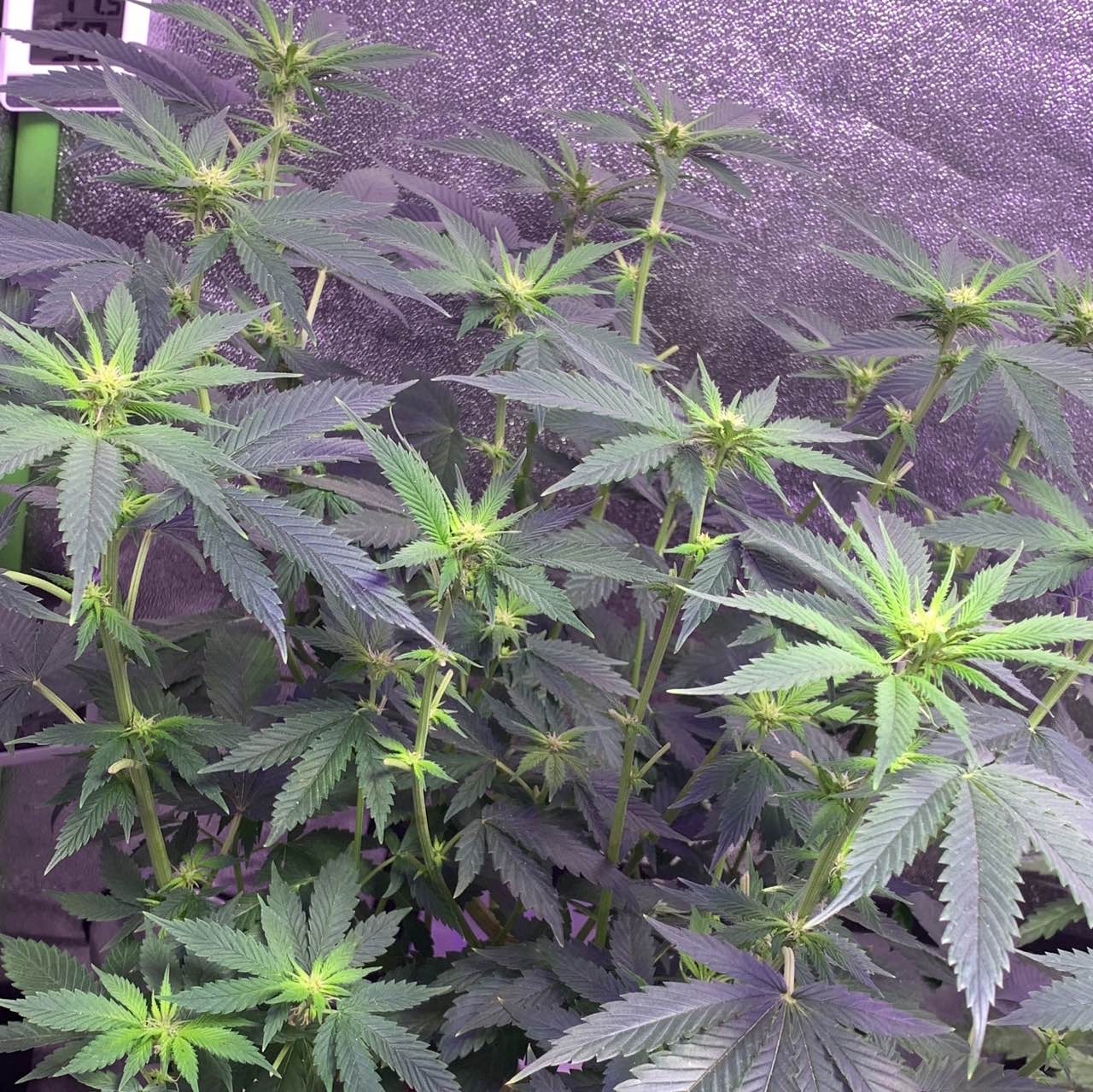 Defoliate, went on the light side. I don't like to take too much off. Just unblock bud sites from the light. That's all I do.
2 years ago
Buds/flowers popping up everywhere. I'm so glad I vegged her so beautifully before flowering. It looks so much more plentiful than the autoflowers that are only 30 days old already flowering. From here on out I'm only growing photoperiods. I cAnt deal with the autos.
2 years ago
Just an update. 12/12 lights now try and start getting some flowers on her. Pistils showing already and she's getting older now so it's about time. As for the other girls. Idk... not having a lot of faith in my autos
2 years ago
Switched 12/12 2-3 days ago and now the new growth is looking really yellow.. anyone know why? It almost seems like it's still vegging and she was pissed I switched the lights? Idk any suggestions why she looks so yellow? The new growth always looked yellow but not this yellow
2 years ago
The one in the middle! She's ready for Flower 🌺
2 years ago
kevywoods Yeah I grew her out a little before I flipped the switch. She would have gotten a lot bigger if I actually knew what I was doing. I've learned a looooot from her and she looks beautiful for my first grow ever. So I'm being cautious.
IGrowHowIGrow Growing & learning and looking good while doing it. Win.
Soooo much new growth. I'm thinking to defoliate once it starts flowering. I'll have a better idea of the bud sites and remove and fan leaves that are blocking the bud sites from the light. Other than that I'm going to try and keep as much as I can. I've only topped her once and that's all I'm going to do. She started showing pistils and signs of flowering so I just started feeding Tiger Bloom. Wish me luck! Any tips I'm open for anything new!
2 years ago
Continued the LST. I'll update pics in a couple days. Gonna grow like crazzzzzy I just know it. Especially after the first flower feed! Fingers crossed 🤞🏼
2 years ago
It's a girllllll. She's been in Veg for a very long time. First grow so she's been through a lot of changes! So happy tho. She smells very dank as well.
2 years ago
Pretty small plant for its age.. just transplanted and Fed along with a defoliation. Got rid of a lot of the lower section as you can see in the pic. New growth seems to be Vigorous which is great! Stay tuned ☺️✌🏼💚🌱
2 years ago
First Pic. I know it's late but I Just joined the App. Hope to get help w my Grow ☺️ I have other babies I'll be posting As well.
2 years ago
Trying to get an Idea of how big she is. She's very small for her age.. but I just transplanted into this big 3-4 gallon pot so hope she starts growing. And fertilized with an organic Burpee Vegetable fertilizer 3-6-4 mixed in the soil. Soil looks dry but it's reading 7/10 on moisture meter so no water yet.
2 years ago