Homemade strain
Winter 2020
Autoflower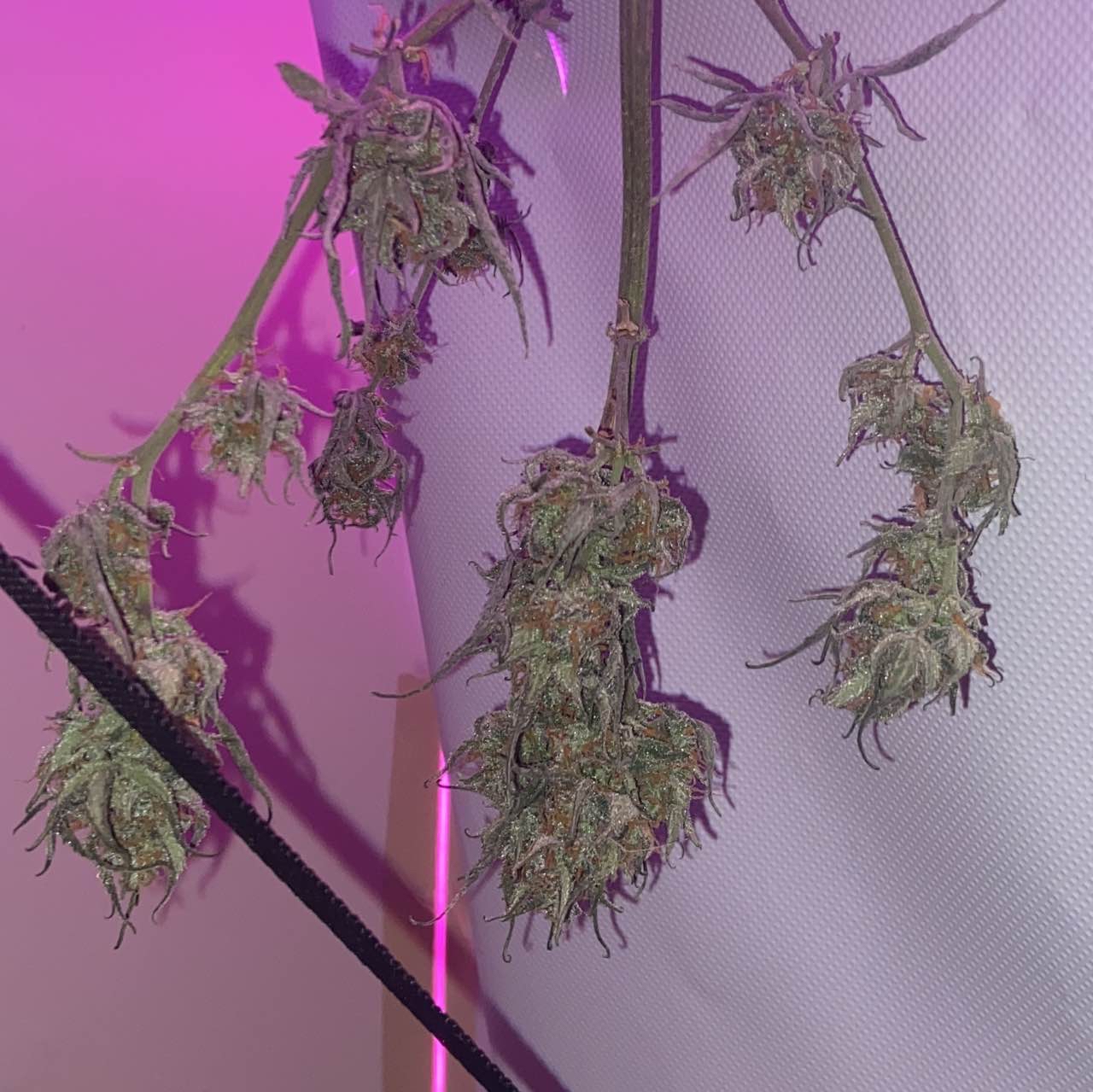 Frosty!! May I add these testers have been on 12/12 since the pheno hunt was switched to flower. Super impressed with these girls considering environment! 🙏🤘
2 years ago
pakalolo Beautiful! It's like looking at candy...lol
View 1 additional comment
She's looking nice 👍
2 years ago
buddykushman Nice!!! Must feel good to make your own strain.
macadelik Thanks! 🙏 It was quite the learning experience. I want do some second crosses, maybe some new combos.
Cris•Co Very nice I'm trying to achieve the same goal Hard long work def pays off Did you use pollen from female to female????
View 11 additional comments
Cutting one down tonight to hang!
2 years ago
710.seth I'd wait longer until the orange hairs recede into the nug more. Like an extra week at least if not more.
710.seth Matter of fact you still have some white hairs on pic 2 I'd say do not chop yet you still got a couple weeks
macadelik I'm only taking one of three. The last two pictures. Just added another. She was a runt.
View 5 additional comments
Coming along. Last water for the one girl. Others still a little behind
2 years ago
Coming along, ones looking like 65 days the other maybe a couple days longer
2 years ago
Getting frosty
2 years ago
Looking good so far
2 years ago
Looking decent so far.
2 years ago
Getting some serious frost
2 years ago
Sad day yesterday. Box fan I had on top of the 2x4 tent inside my 8x4 fell off and snapped one of my autos in half.
2 years ago
macadelik I was thinking since it's already two and half weeks into flower already, taping it would just stress it out and slow it down. I'm hoping the bottom will still produce.
View 5 additional comments
Frost is coming in!
2 years ago
Coming along.
2 years ago
Flowers. Thinking about adding a booster in. Growing these girls in Gaia green organics.
2 years ago
mystrain420 Nice looking ladies👍🏾. Glad to see others breeding, I'm flowering a strain I been working on for a few years now. Can't wait to get into making autos.
macadelik Thanks man! Good luck to you! Hopefully you get a keeper pheno off the first run!
mystrain420 I'm in my second generation with a photoperiod but I wanna get to your level with the auto flowers.
View 4 additional comments
We got some flower starting! A little earlier than I excepted.
2 years ago
Growing. Testing the genetics.
2 years ago
Girls are going now!
2 years ago
Wasn't exactly sure when I started them but I definitely chose the wrong date.
2 years ago