OG Run
OG2 and OG-E
These are two different pheno types (one clone and fresh seed plant ). I am using 4" rockwool cubes for this grow. Using GH nutes. This run is using HLG full spectrum 3000K @ 350w, covers half my 4X4 tent. Light kept about 20" from tops.
She is nearly ready. I'm going to let her go until 59 and start her flush. Planning to harvest on day 63
3 years ago
Filling in nicely.
3 years ago
OG2 is still stacking. Using ripening mix and heavy MOAB for the final week. Tricombs are clear some cloudy. She may need longer than 56 days
3 years ago
OG2 (top) has one more week before flush and OGE is in flush now. Should harvest at 51/52
3 years ago
Girls looking good OGE(bottom) is maturing faster than OG2 but I think I'll just let them both finish after 8 weeks.
3 years ago
Andymac I use MOAB a bloom booster for the last 3 weeks. It does make a difference and will cause foxtails in some strains. I also grow in rockwool and feed them 5 times per day. I have strong LEDs that also boost the growth of my plants. The strain also helps :-) What kind of results are you getting?
Week 6 almost in the books. Will harvest on day 59.
3 years ago
Mystrain420 Looking great, I see the purple coming in 👍🏾
Andymac At closer inspection, OG2 is fattening up nicely and staying green tricombs are clear. OGE -has thinner buds, most fan leaves are yellow or yellowing. Tricombs are cloudy showing some amber. Maybe she had some issues with my nutrient mix. Or she is just an early finishing plant ?? 42 days. Jman420-OGE is from a different seed and first flower cycle with this one. I have a clone of her so I'll see if she does it again. (Finish early)
Girls are doing really well. End of week 5. Time to start bloom boosting.
3 years ago
Jman420 At which week are you chopping, my OG Kush is 6 weeks today and looking ready to chop in a day or two.
Andymac last batch I harvested at 59 days.Tricombes were 70% cloudy 15% amber 15% clear. The pistils were nearly all brown with some new growth. What color are the tricombes on the buds (not sugar leaves)?
View 2 additional comments
End of week 4. Changed nutrients to 1.5-3-6 KoolBloom @ 5ml Waiting till Tuesday to start increasing PK boosters The one OG plant (OGE) has more tricomb production but buds look more spread out than the OG2. In the end, I really only need one OG strain so may the best female show your best ( the mother of OG2 is in the final week of flower and looks awesome. Last 3 photos are OG that's in week 8. I'll be starting her flush in few few days and harvest her day 59.
3 years ago
F18-Reaching the end of weeks 3. Girls looks really good so far.
3 years ago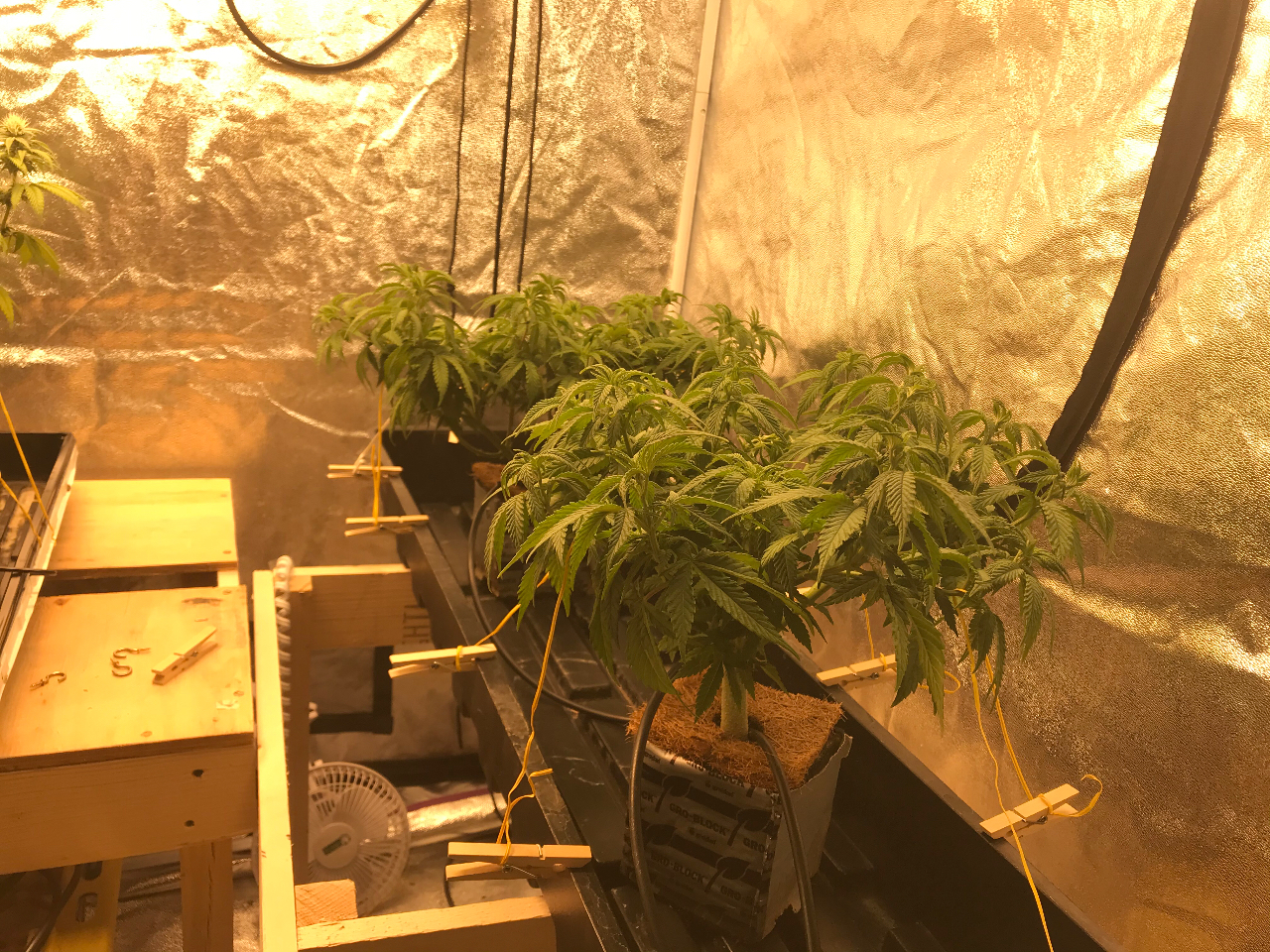 Still in week 2. Been lagging on updates. Watering 4 times 1 min each per day.
3 years ago
F0-11/23/19 Plant is about 12" tall. LST still going on. Added drip system and set for 1 minute twice per day. 3-3-3 plus xtras. I would normally have first week be a heavy PK boost but first plant I did became a hermie. So decided to skip early boost and keep it for late bloom stage. The two plants are both OG but one is a new female and the other is a clone of OG2.
3 years ago
Andymac OG2 (clone) has two stalks growing while OE-E (seed) is a single stalk