ikaika
Northern Lights
Master Sensei
Medium - Roots Organic Lush , Earth Dust Nutrients
Last post, I thought I had about another week. I think I'm gonna let her go a few more days, maybe even another week. Buds seem to still be fattening up, and wouldn't hurt to let the trichs become a little more amber. Noticed a little purpling on the buds/leaves. Gives it a more appealing look.
2 years ago
ikaika No Sir… organic soil amendments. Nothing to flush out.
View 1 additional comment
Maybe about one more week until chop. Buds are decently sized, would prefer a little fatter. Topping helped create more colas, hopefully that helped compensate.
2 years ago
This is gonna be some fire. Keeps getting frostier and frostier. Enjoy the pics!
2 years ago
Beautiful plant, super frosty. Can't wait until she's ready!
2 years ago
Fatman I love me some northern lights
She's coming along well and getting frosty! I can't wait to see the final product. Hoping to get a decent yield, really tried to put more effort than usual into this plant. We'll see if the extra effort was worth it.
2 years ago
alawishes86 Unfortunately it usually doesn't lol but you gotta experiment to find what works for you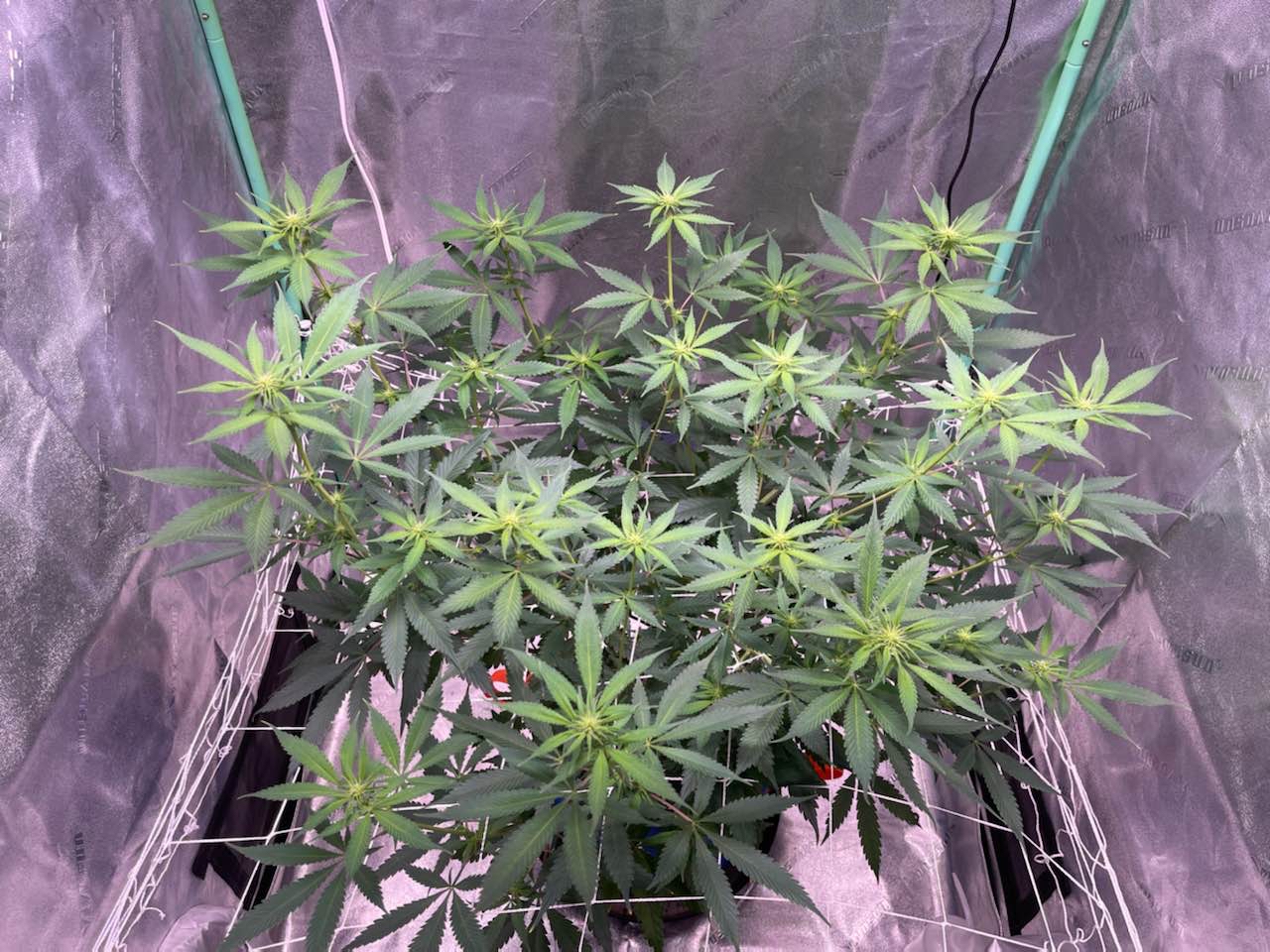 Hella hyped for this one to finish. She doin her thing. Not much to update.
2 years ago
Stretching seemed to slow down. Tucked a few of the long branches into the next square. Helped keep the canopy even. Pretty good amount of Kolas for only 1 topping.
2 years ago
Switched to 12/12 about 5 days ago. Anticipating a crazy stretch. Hopefully I still have room in my tent after.
2 years ago
steezykayla If you have issues with your plants stretching too high there's a pretty simple math calculation on growweedeasy that helps you determine when to flip to flower to allow enough space for the stretch. I think there's some other tips on there as well regarding control of plant stretch https://www.growweedeasy.com/flowering-stretch
ikaika Thanks for the tips! The stretching seems to slow down, I've just continued tucking into the next square, seemed to help keep the canopy low.
Starting to fill in the trellis. Will probably switch to flower within the next couple weeks.
2 years ago
Recovered from topping, starting to hit a growth spurt. Excited for this one.
2 years ago
Did some LST and put up the Scrog net.
2 years ago
Quick photo update. Turned lights up slightly. Been having issues with my light burning my plants in the past. So now I got it raised about 36" above canopy, at about 1/2 power.
2 years ago
Looking good. No major stress from transplant.
2 years ago