Frozen Bag AutoPot
Robinhood Seeds 🧬
2.2gal AutoPot feeding cropsalt line and PowerSI.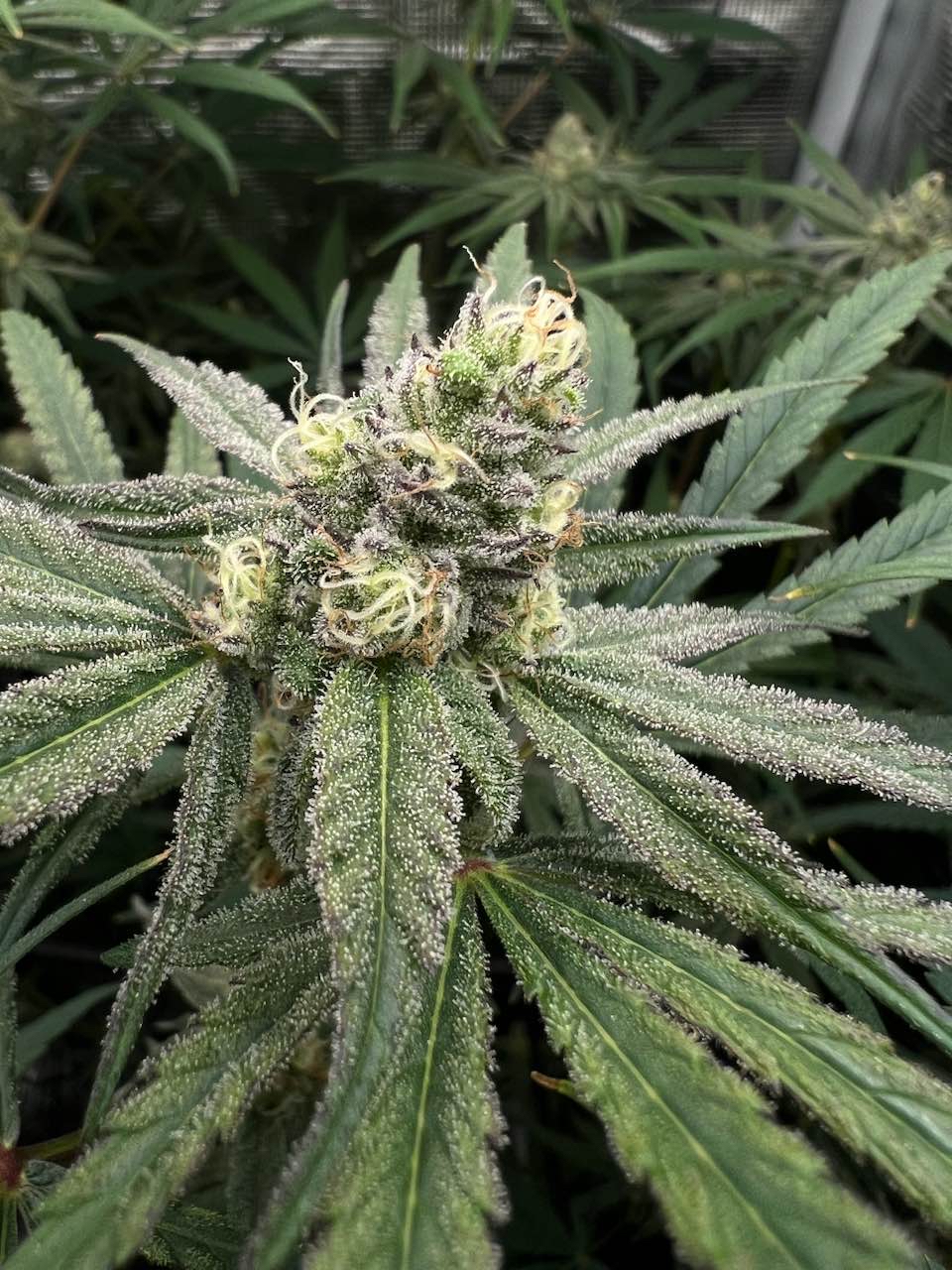 Curious what these will swell into
9 hours ago
Literally looks and smells of berries.
a day ago
Little berries…
3 days ago
Frost is ehhh but color and terps are showing a little promise. Feeding just Crop Salt Bloom until I hit it with the cake in a few weeks.
5 days ago
She's not the frostiest (for my grows) so far but she already has some colors showing.
7 days ago
Stretch is over and these girls are ready to sunbathe.
12 days ago
loudpak23 Do you foliar spray the buds also ?
TheChroniking 👑 Nope no spraying. All I use is Cropsalt, PowerSI and Mr Fulvic.
Pinching 🤏 to keep these in check now haha
14 days ago
Just pruned her up and then I'll switch nutes to bloom either Monday or Tuesday next week.
15 days ago
loudpak23 Yea about to do the same thing you pruned her to the max Huh trying to figure out how much to take back
TheChroniking 👑 Only the best flowers will make it, it's a battle up to day 21 lol
TheChroniking 👑 Since this is my 2x2 and the colas usually reach the light I take off as much as possible for light penetration.
View 2 additional comments
Turned the light down a tad as I got some super high readings and she's about to break through the 3rd trellis. I'm going to prune her up in a day or so most likely and switch the nutes to bloom.
16 days ago
At the 2nd net now
22 days ago
No flowers just yet
a month ago
loudpak23 I have a 5x5 tent but a 3x3 net should I upgrade to a 5x5 net??
TheChroniking 👑 If it's shock cord then it mayyy fit. If not you could use that plus bamboo stakes, or buy the correct size net if you plan to scrog.
2nd net is in and waiting for some flowers and stretchin.
a month ago
1st day of 12/12 in the books…
a month ago
Flipped to Flower 12/12. Pic is from yesterday.
a month ago
Heavy defoliation. Almost time to shine.
a month ago
Probably flip her on Monday.
a month ago
Just waiting on a few lower branches to catch up and it's flower time. Nice thick branching though.
a month ago
Another week maybe and I'll flip her to flower
a month ago
Just turned the water on for the first time.
2 months ago
loudpak23 Do you find it better circulation putting your filter and fan inside tent or outside
TheChroniking 👑 I keep my filter/fan outside due to space constraints. If I had the room I'd just leave it in the tent. Don't think it matters too much either way.
Pinched main stem and topped. Media still relatively wet. Should be about 2-3 more days before turning the water on.
2 months ago
TheChroniking 👑 Thanks. Love growing from seed, can't wait to see my prize haha.
About to kick veg off in the 2.2gal AutoPot. Saturated the entire media with 2.3EC of crop salt, PowerSI and MrFulvic. Will turn water on in roughly 5 days. 20/4 light schedule and at 250 PAR until she roots.
2 months ago
Almost time for her to go into the 2x2 AutoPot.
2 months ago
Getting close to veg…
2 months ago
Rise and shine. Fed tap water. Next will do 1/2 strength crop salt.
3 months ago