Nirvana Original Glue & Seedsman Northern Lights
Germinated and just planted
I did these two at the same time as my Auto Lemons, but being a novice I well an truly ducked them, so 2nd attempt fingers crossed 🤣
Original Glue & Northern Lights autos
Gorilla glue, ooooh all those tops 😋
2 years ago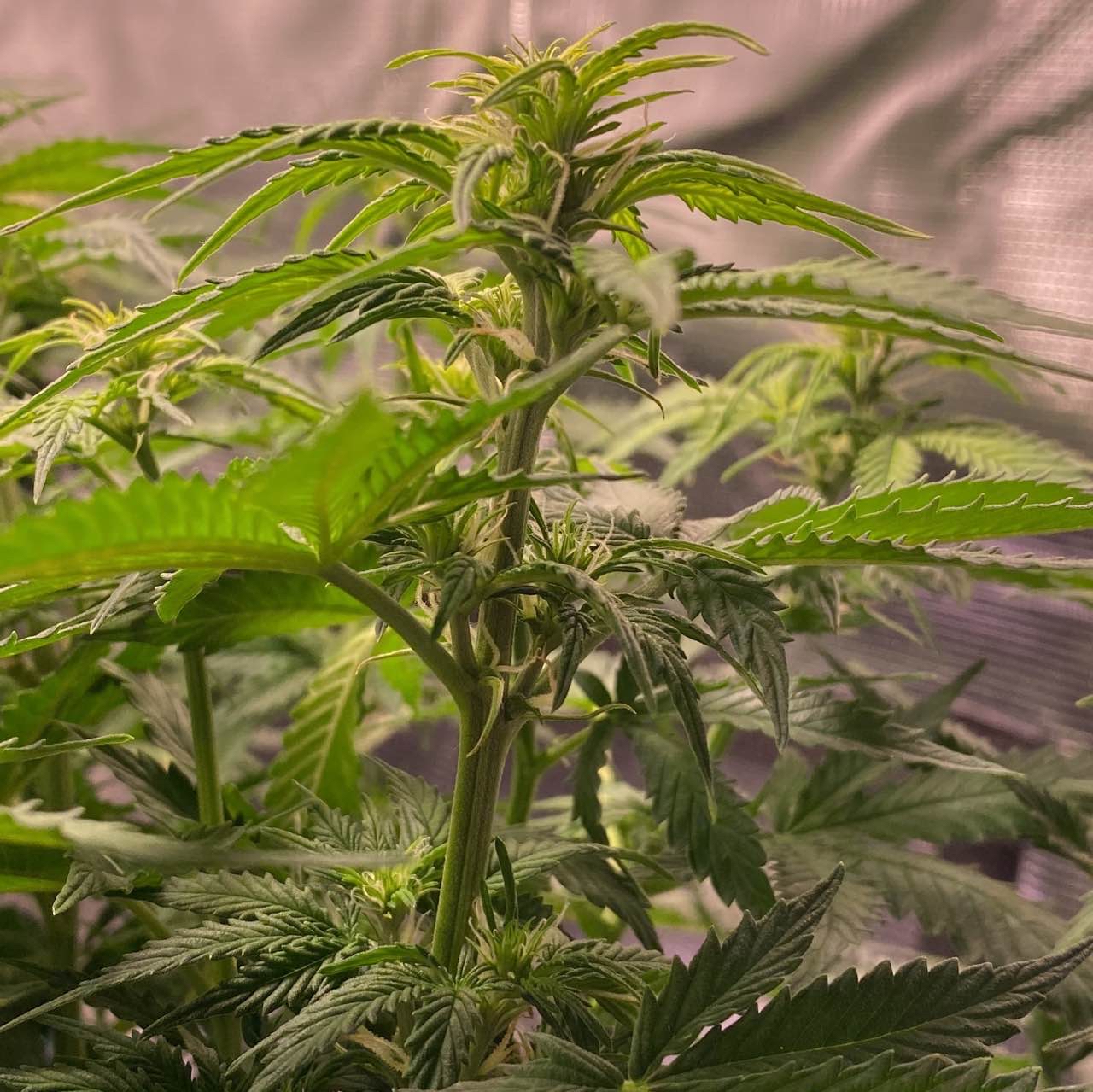 Northern Lights Auto, she's getting there.....slow and steady wins the race 😉
2 years ago
Gorilla Auto, some lst adjustments and all is looking well 👌🏽
2 years ago
Northern Lights Auto, she got a foliar spray earlier today of CalMag and boost
2 years ago
Glue, she's going strong 💪
2 years ago
Northern Lights, upped CalMag again in yesterday's feed. She got 3ml in 500ml's of water she got 2.5ml the two feeds before last. Her colour is definitely improving, well I think so lol
2 years ago
Gorilla glue is just going about her business, enjoying life..
2 years ago
Northern Lights this girl hasn't had the best starts to life either but she's trying her best. I deffo think the up in CalMag has done something! I'm going to just give her a ph feed tomorrow.
2 years ago
mystrain420 Looks like coco. If it is coco they'll need calmag every watering. I been playing wit wet/dry cycles in my current coco grows. Doesn't seem to be beneficial to let coco dry out
mystrain420 Calmag should be part of your feed and it should be added to the water first before nutrients.
Kushinator I feed CalMag every feed mate, she's just been more needy from the start!!
View 9 additional comments
Gorilla Glue, some more lst and I think she looks good for it!
2 years ago
Northern Lights, no extra lst for her, just readjusted the original one! She's still a little stunted and still looking this yellow colour!! Upped her CalMag to 4ml per litre! Hopefully I'll see some change in her 🤞🏽
2 years ago
Coming along nicely, going to lst later. She's gorilla glue
2 years ago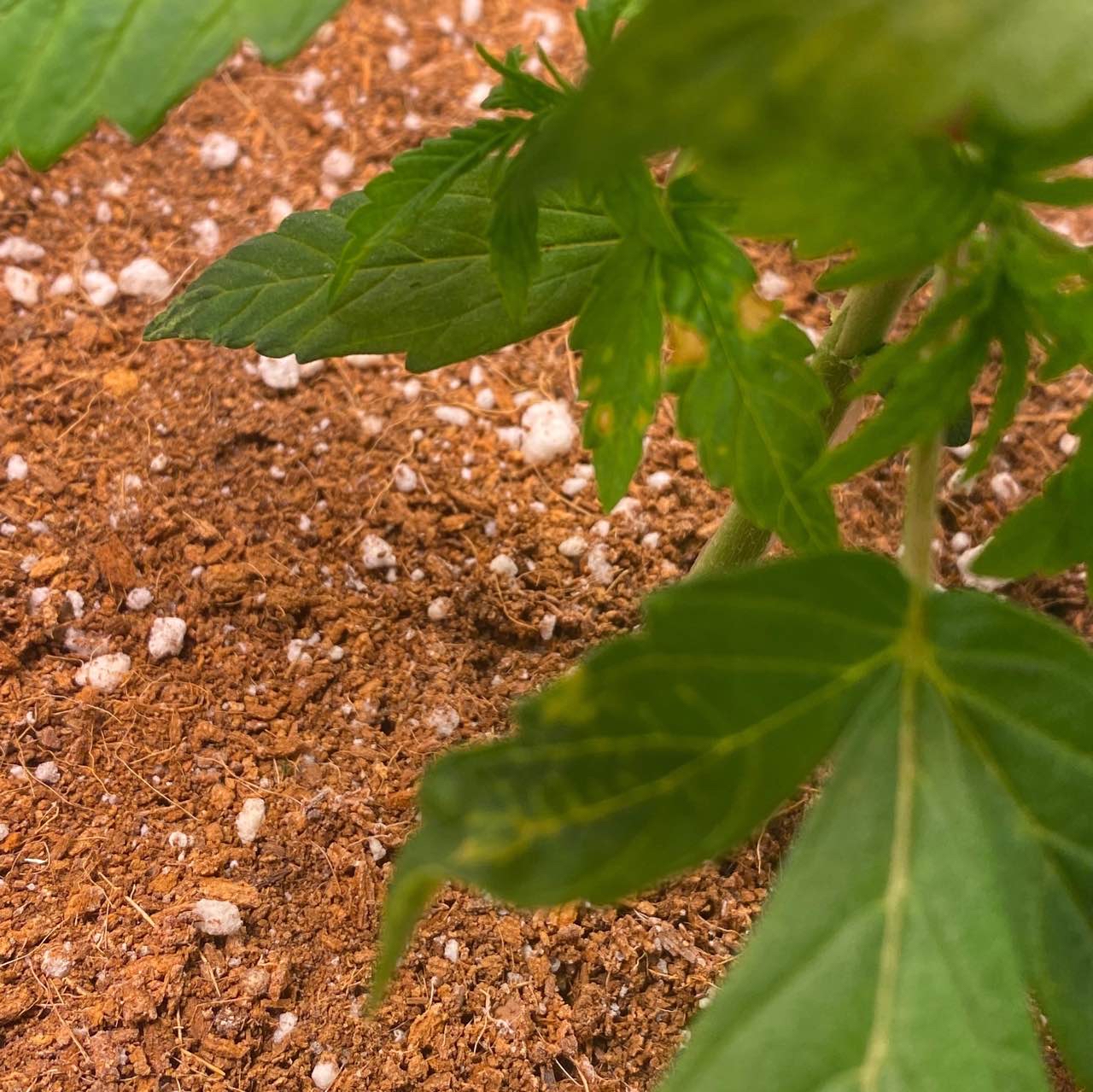 This one has been this colour since she popped, I've upped her CalMag, and will again next feed. Any ideas peeps? Northern Lights!! Also just noticed this happening, really not sure why this girl is behaving like this, HELP please...
2 years ago
CraigBengfort What's your water ph and are you feeding any phosphorus/potassium
Kushinator Hi mate, I'm ph'ing to 5.8/9. I'm feeding Canna Coco A+B 3.0ml, CalMag 3.0ml, Cannazym 1.25ml and Rhizotonic 4.0ml (per litre) at the moment. Is this ok?
CraigBengfort Weird that sounds perfect but it's looking like it has some deficiencies
View 12 additional comments
Going to get her first feed today, Northern Lights
2 years ago
Kushinator It's 80% Coco Coir growing medium, with 20% perlite added to it 👌🏽
This little girl had a little deformity (her leaf was stuck inside, she forced her way out the little warrior) Original Glue
2 years ago
Looking good, they got 250ml of PH 5.9 water and 0.5ml of Rhizotonic each
2 years ago
Fingers crossed 🤞🏽 I better be more patient this time 🤦🏽‍♂️🤣
2 years ago