The Re-Veg
2 Harvests 1 Girl
Unknown Photo is from a great bag. Hope it's a she! Sprouted- paper towel.. Medium- happy 🐸 soil…. Lights- LED 18/6… 12/12 flower… South Valley Albuquerque New Mexico
Unknown Photoperiod Chronic Bag Seed
Re-vegging spectacularly 😁
9 months ago
NMcannabisGarden So re-veg is when you completely harvest on 12/12 cycle and then put it back under the 18/6 light cycle. This starts new growth and second season on the same roots/stem system
Lots of new revegitative growth.
10 months ago
June 29, 2029 Partial harvest. Plucked the colas
10 months ago
Final harvest July 4th🇺🇸 🎇. Left a nug or two to try my first re-veg experiment 🔬
10 months ago
Re-veg experiment has lots of new growth
10 months ago
Day 60-62 of flower. Plucked some nanners this morning. I think I'll chop tomorrow morning
a year ago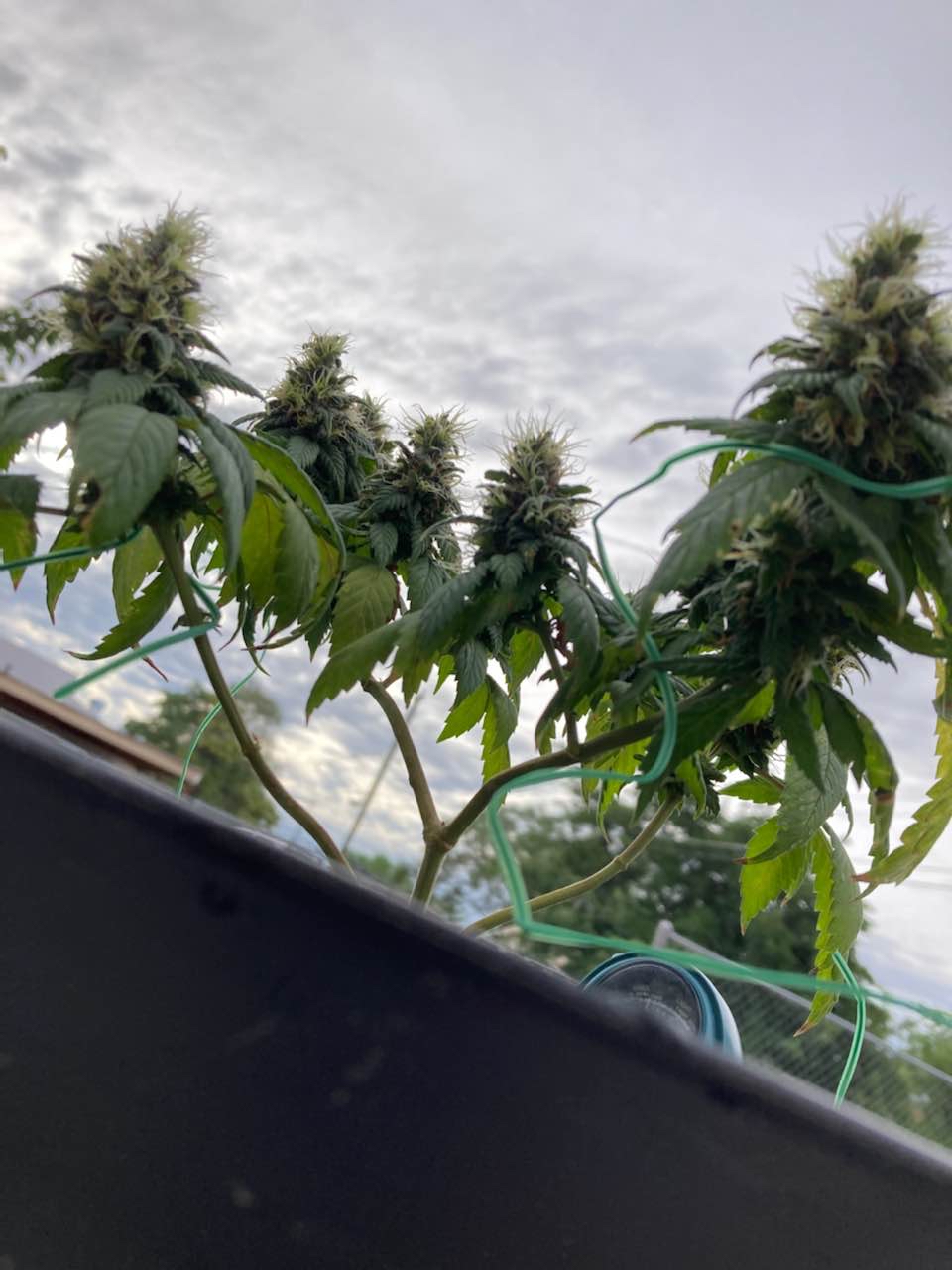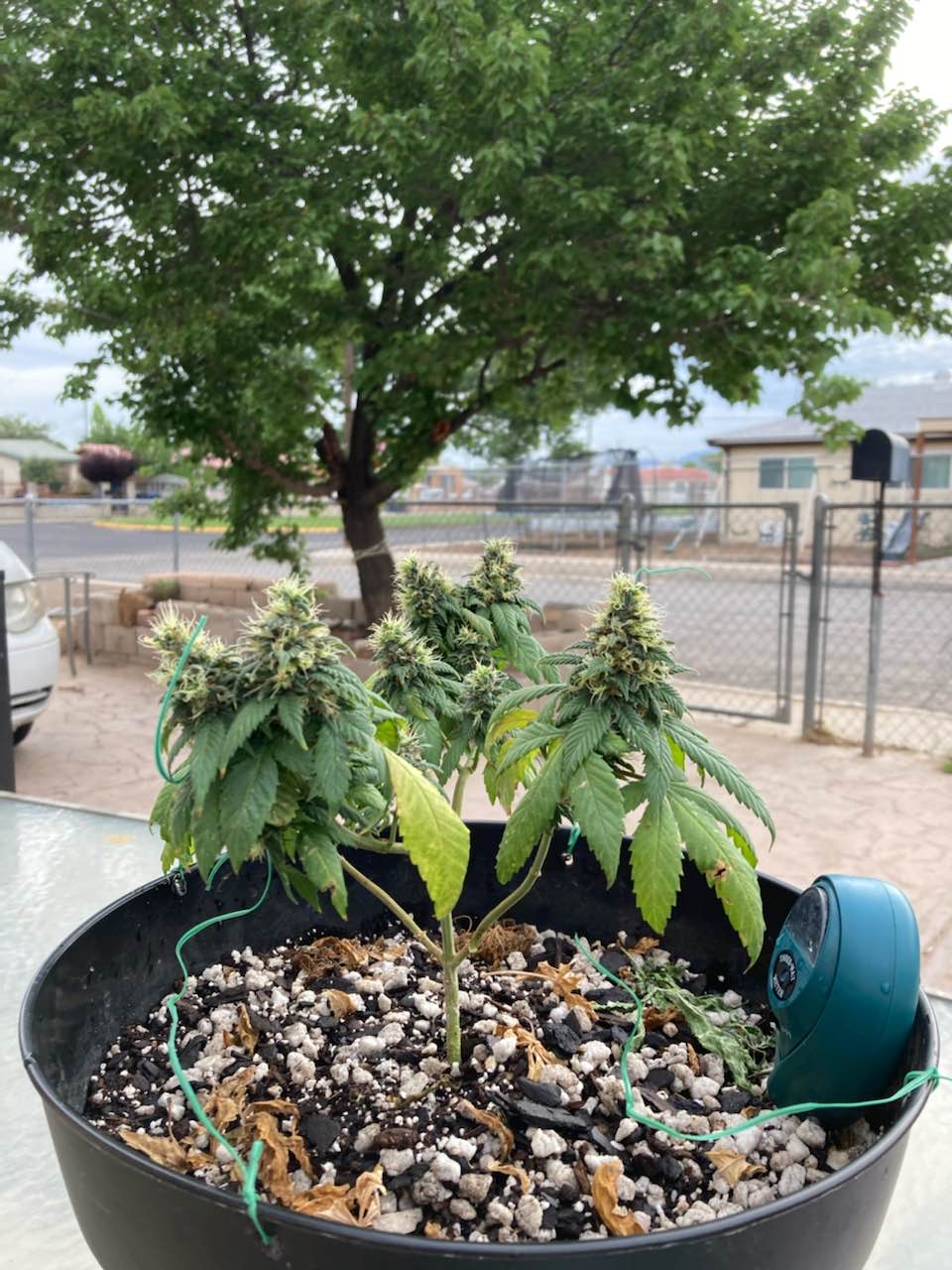 Day 54-56 of flower… Natural light deprivation. Flush flush flush
a year ago
I was ready to harvest almost but buds are really swelling still.
a year ago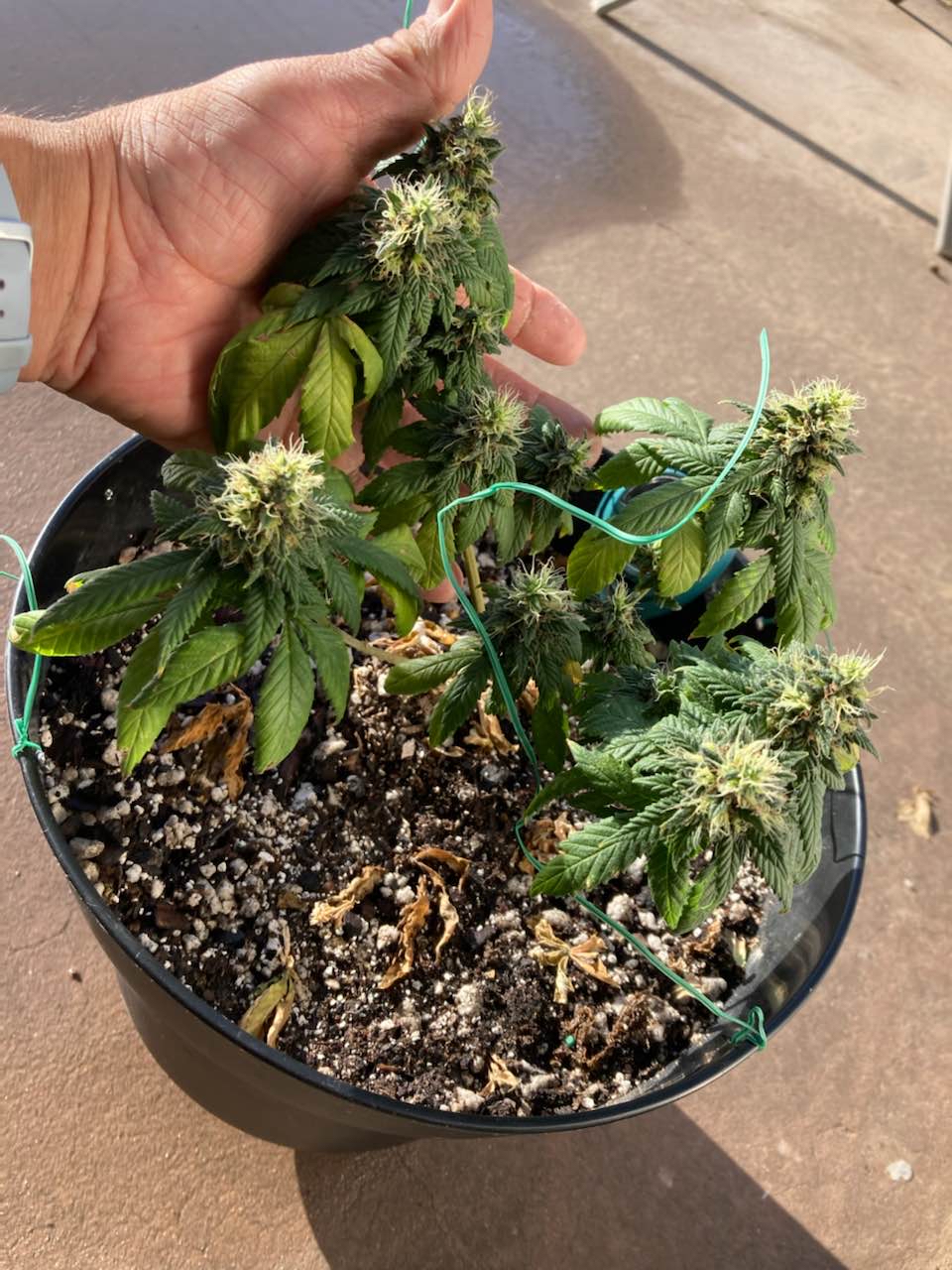 Day 49-51 of flower. Flushed with plain filtered, ph'd tap water. Gettin some good light today. Trichs are still slightly clear and too many white pistils to pull her.
a year ago
Day 35 of flower. Top dressed with ocean Forest. Gave very light dose of enzymes and overdrive by advanced nutrients.
a year ago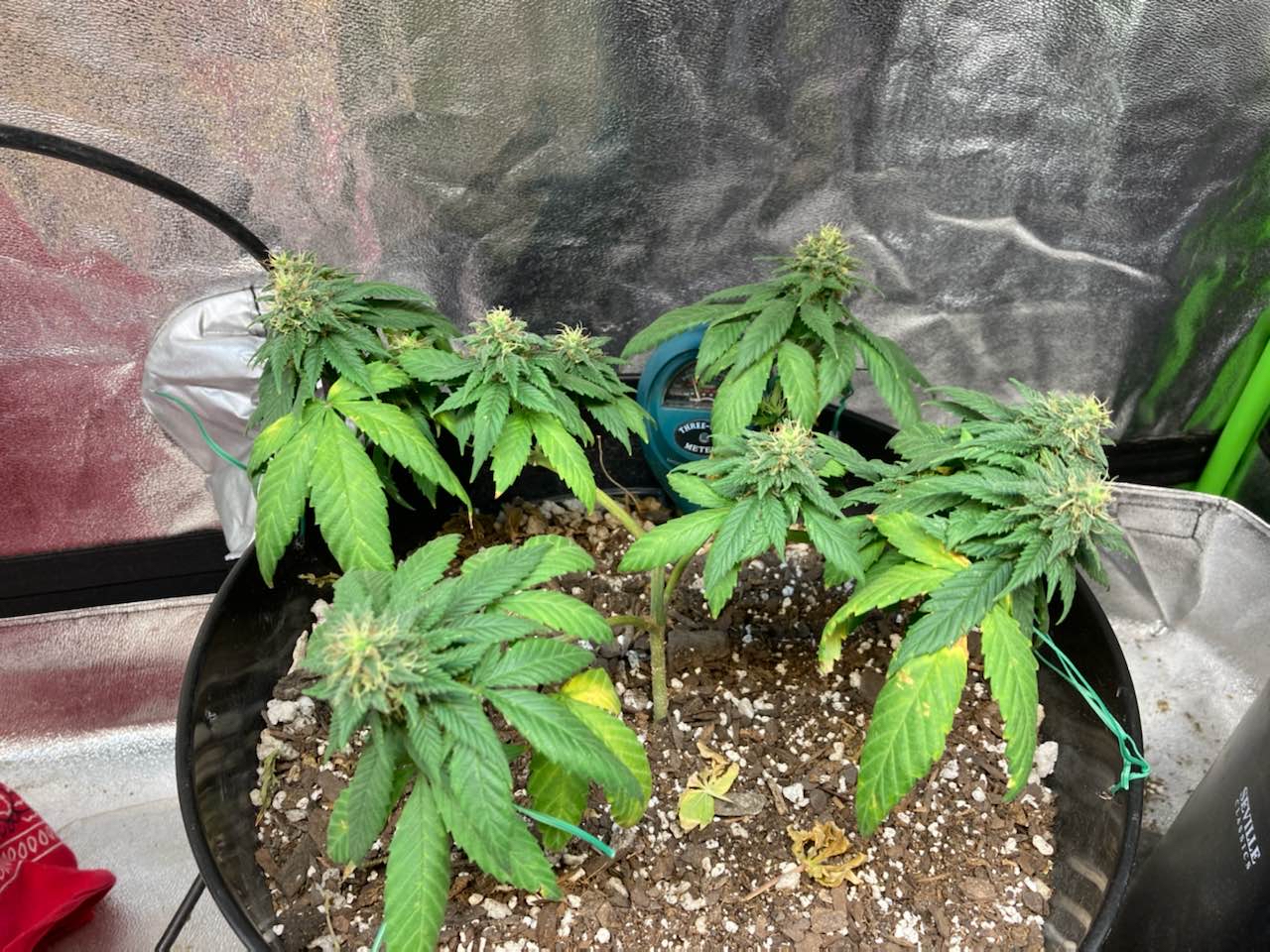 Week 5 flower. All organic at this point. Feeding banana, eggshell, enzyme, worm casting, Epsom salt tea once a week
a year ago
Tea brew last watering. Plain ph'd filtered water with enzymes today. LST to help center buds develop
a year ago
My light's no competition for the sun. She's outdoors now. Perfect New Mexico mild spring day to start her off.
a year ago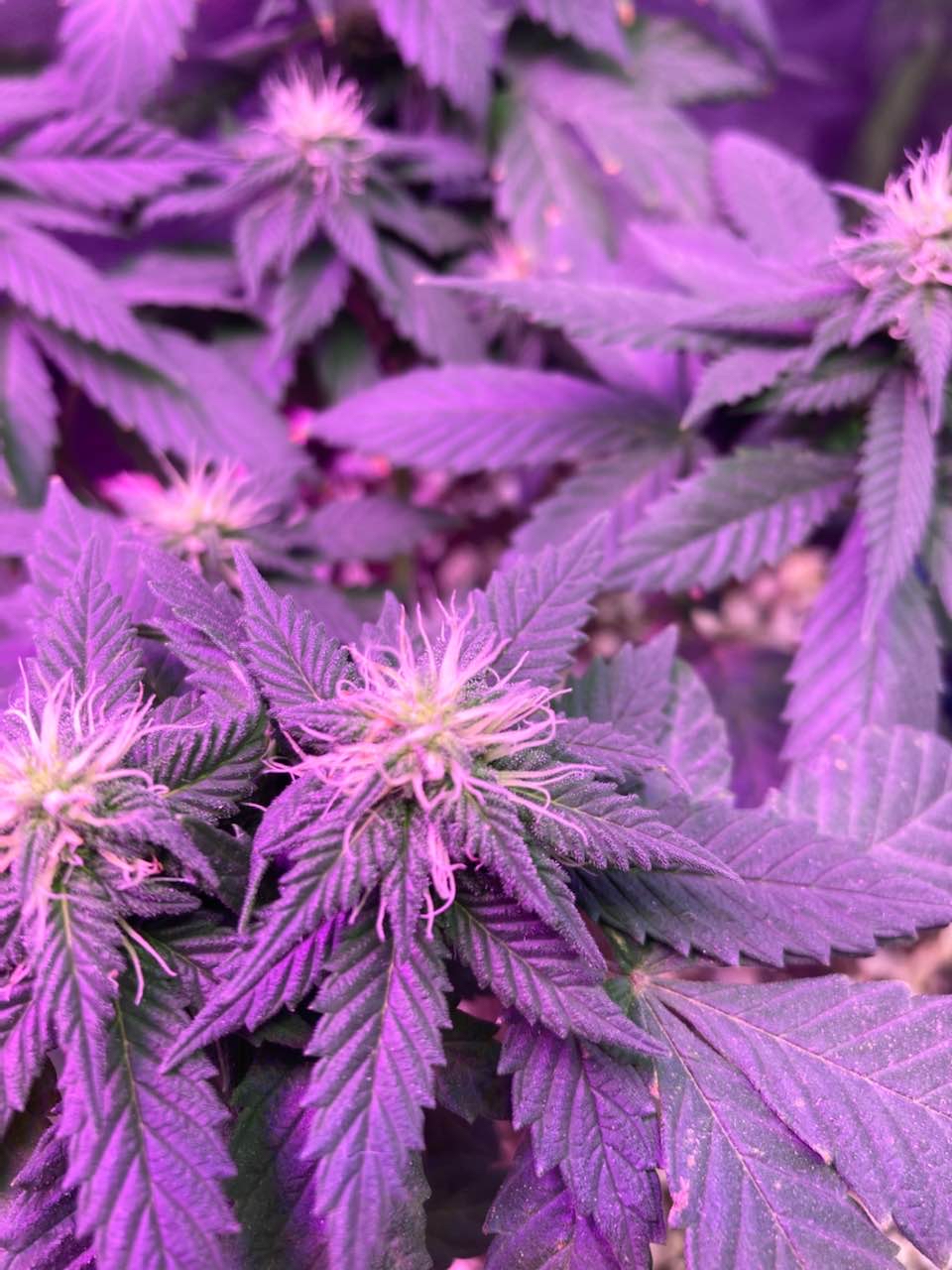 Beautiful sweet smelling bouquet. I'm pretty sure I severely overwater her in the beginning and her pot may be kind of small at 3 gallons. Nxt one I'll transplant before the flip
a year ago
Small but gorgeous. I luf her😍
a year ago
View 3 additional comments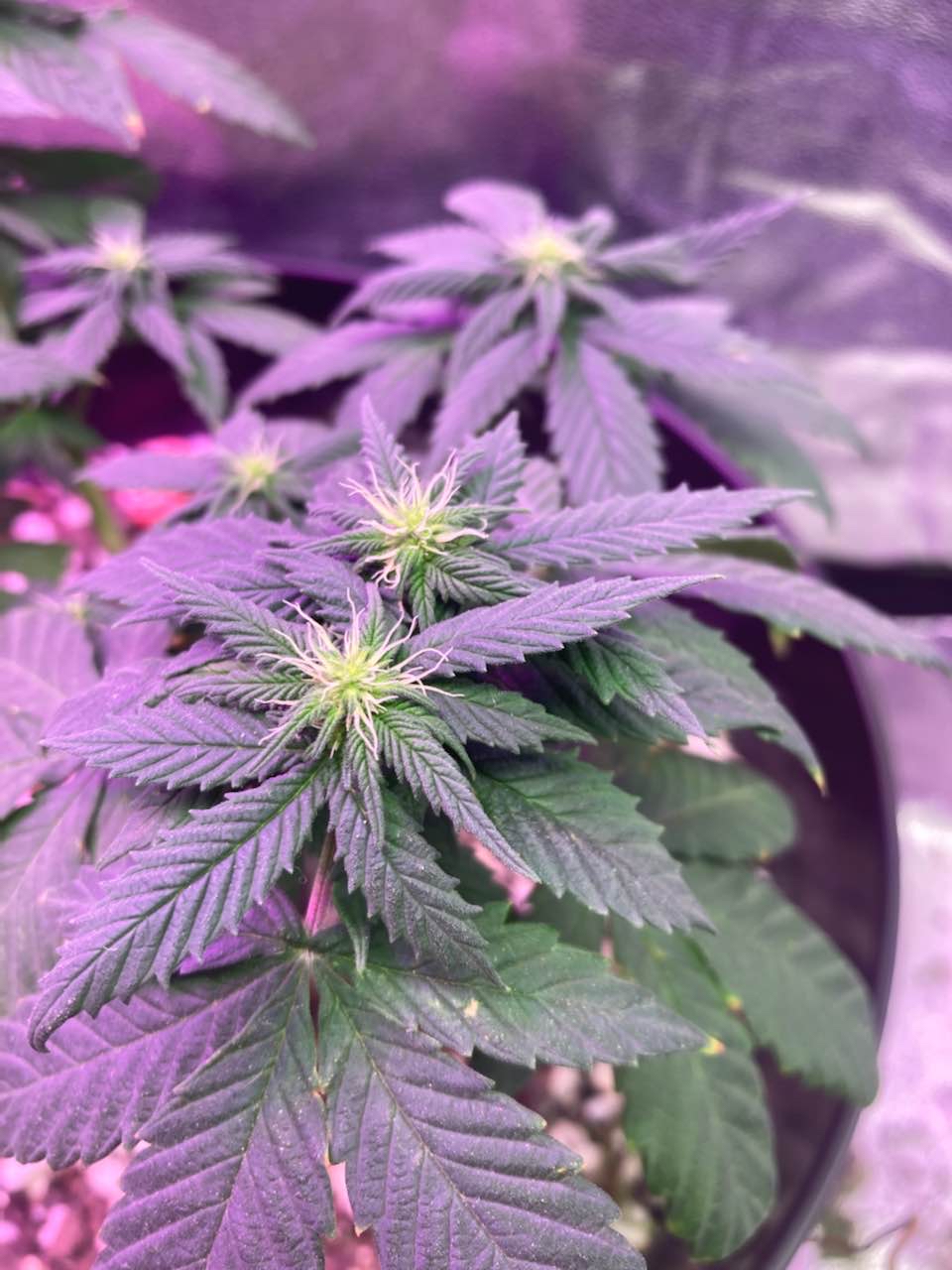 She's asking for water again. Drinks way more than the others
a year ago
Day 12 of flower
a year ago
Took off all her LST to let her flower in peace. She's definitely a girl🥰
a year ago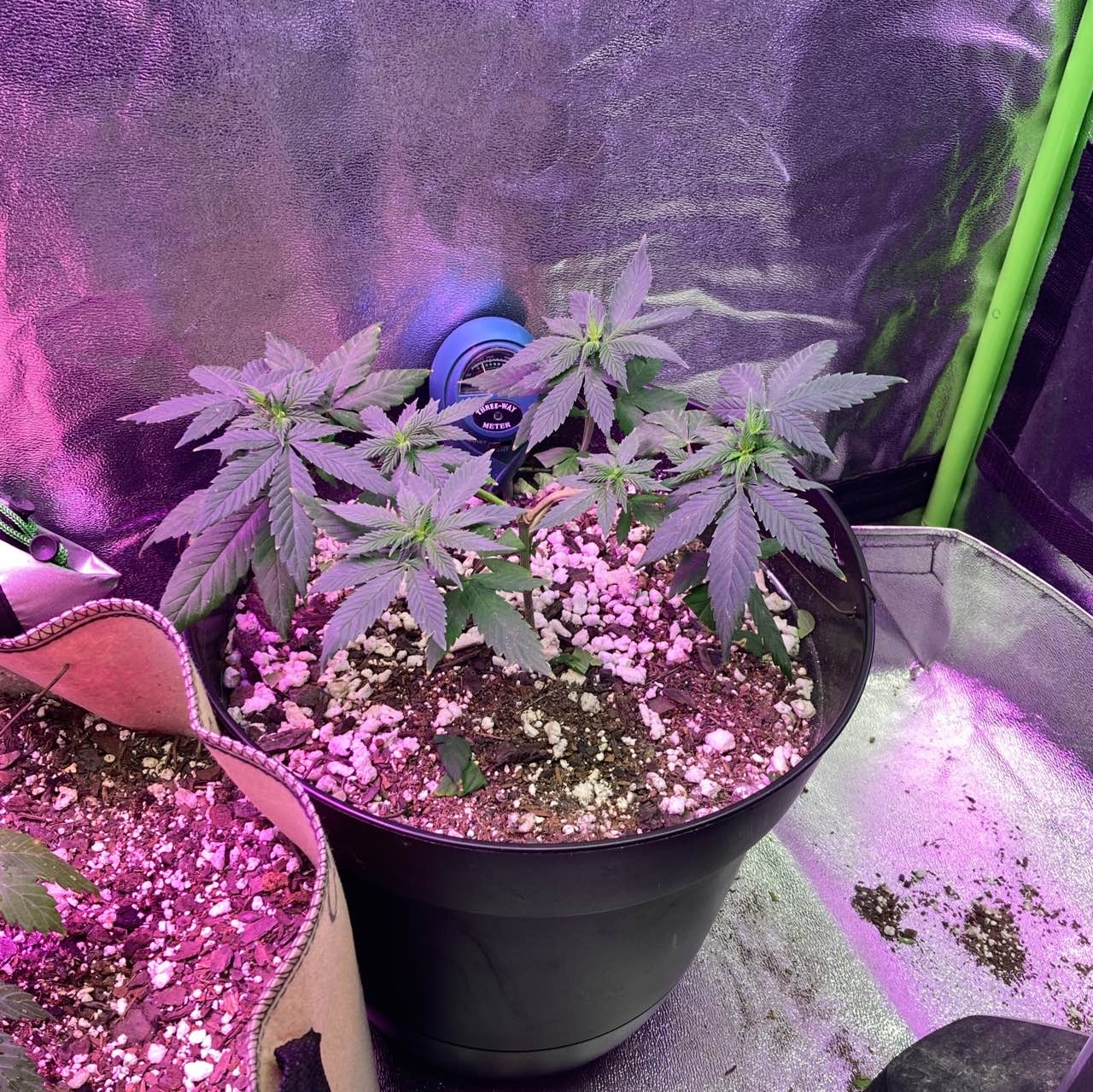 Watered about 1 cup. Still no sign of flowers. Going on 2 weeks of 12/12
a year ago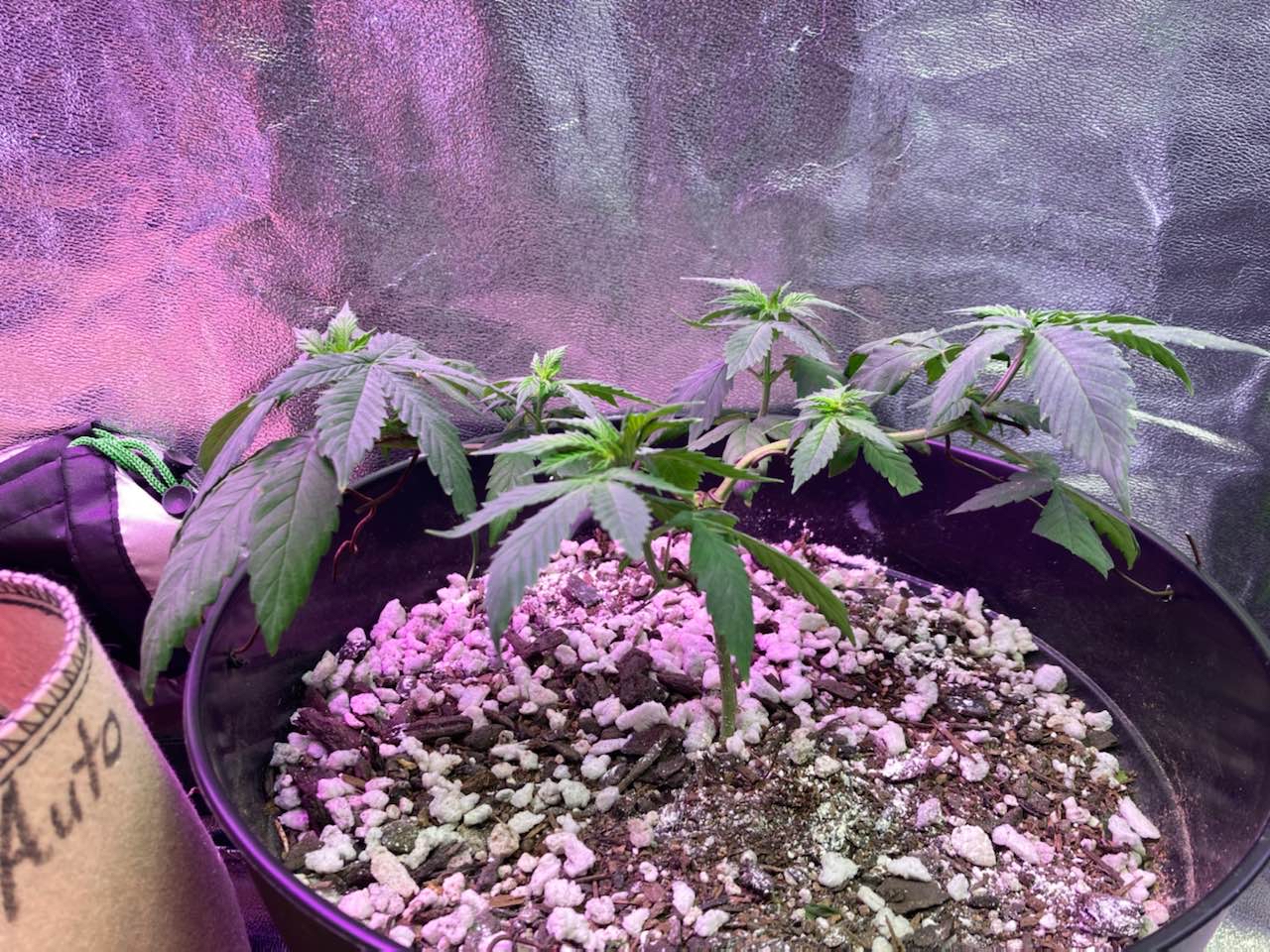 My first trained plant…. Very light defoliation today
a year ago
Female pre-flower?🤔 I put her in complete darkness the last two nights in a row. If she's female I'm gonna set up the 12/12 tent
a year ago
NMcannabisGarden Thanks for the second opinion! It will be my first regular seed female if it is!
Canopy is fairly even. Thinking of flipping
a year ago
Best lighting ever😎
a year ago
I topped both larger branches again. Continuing LST. Minimal transplant shock. She (🤞🏽) looks happy again.
a year ago
Transplanted to from 1 to 3 gal. Watered with ph perfect. Continuing with LST. Cleaned out under foliage. Gonna flip soon to figure out it's fate.
a year ago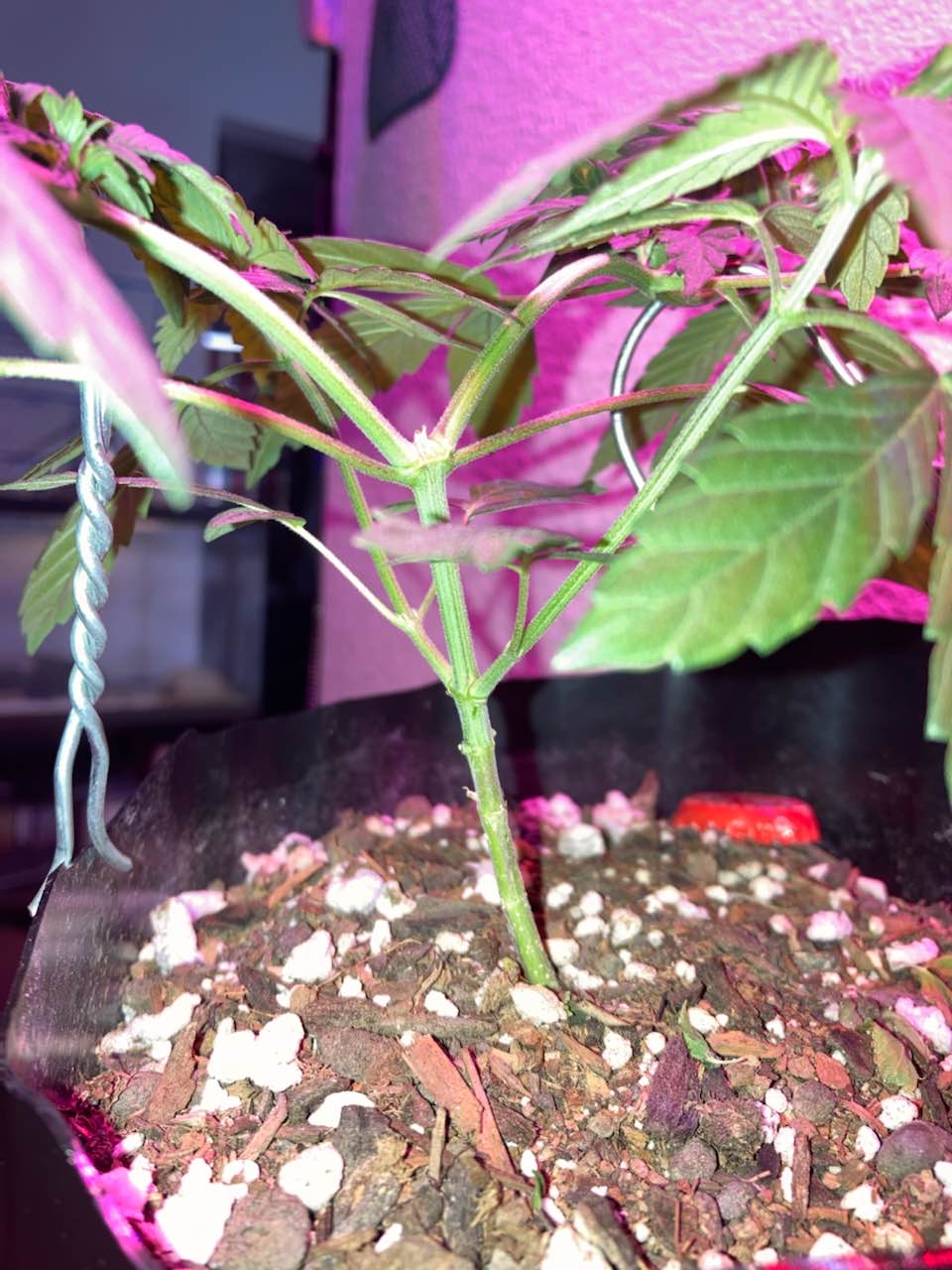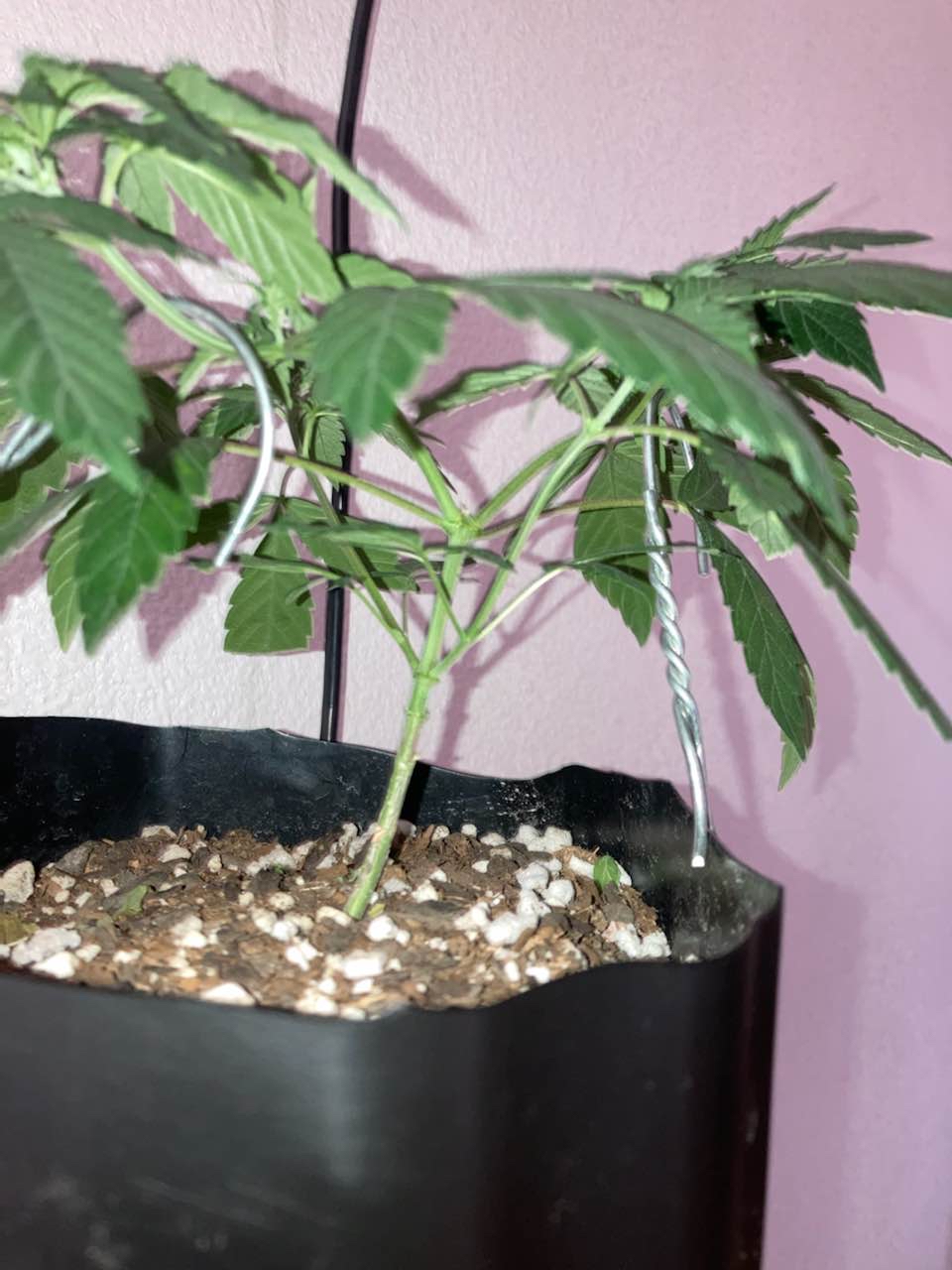 Watered about 1 cup w/ nutrients and fed soil. She's drinking fast with small pot size time to transplant her
a year ago
Day 1 & 2 of LST. I'm so proud of her tops turned back up quick.
a year ago
April 1st 2022 first legal sales in New Mexico!!!!!! Watered 3/29/22 w 1/4 strength nutrients
a year ago
No sign of deficiency 🐸👍🏽😌
a year ago
God is great. Growin' is good 👍🏽. Trying the "no nutrients transplant method" on this one n so far so good.
a year ago
Topped and transplanted yesterday. Looks good today. In hindsight, I probably shouldn't have done both on the same day though. I put a lot of stress on her but looks like a strong strain 😁
a year ago
Steady growth. Nice n green. Small amount of nutes on the last water seems to be helping. Added humidifier RH up to 45-55. RH was 35 before
a year ago
New growth between nodes
a year ago
budman0211 Better check the under sides of the leaves! Kinda looks like ya might have mites. Unless it's just me cause I found out this am I got them! 😢 😢. Gonna spray tonight
indogardenmann Those white spots and specs you see are dried water from me misting the plants n my water is not softened. Before I got my humidifier I was misting constantly to keep humidity up.
budman0211 Right on! Just looking out bro. First time I've ever dealt with these little fuckers!! Hopefully the neem oil works like they say!
View 35 additional comments
Blades are getting nice n fat but light green n probably need a little nitrogen since the medium drains really well. Amended top soil with mealworm castings and very little coffee grounds.
a year ago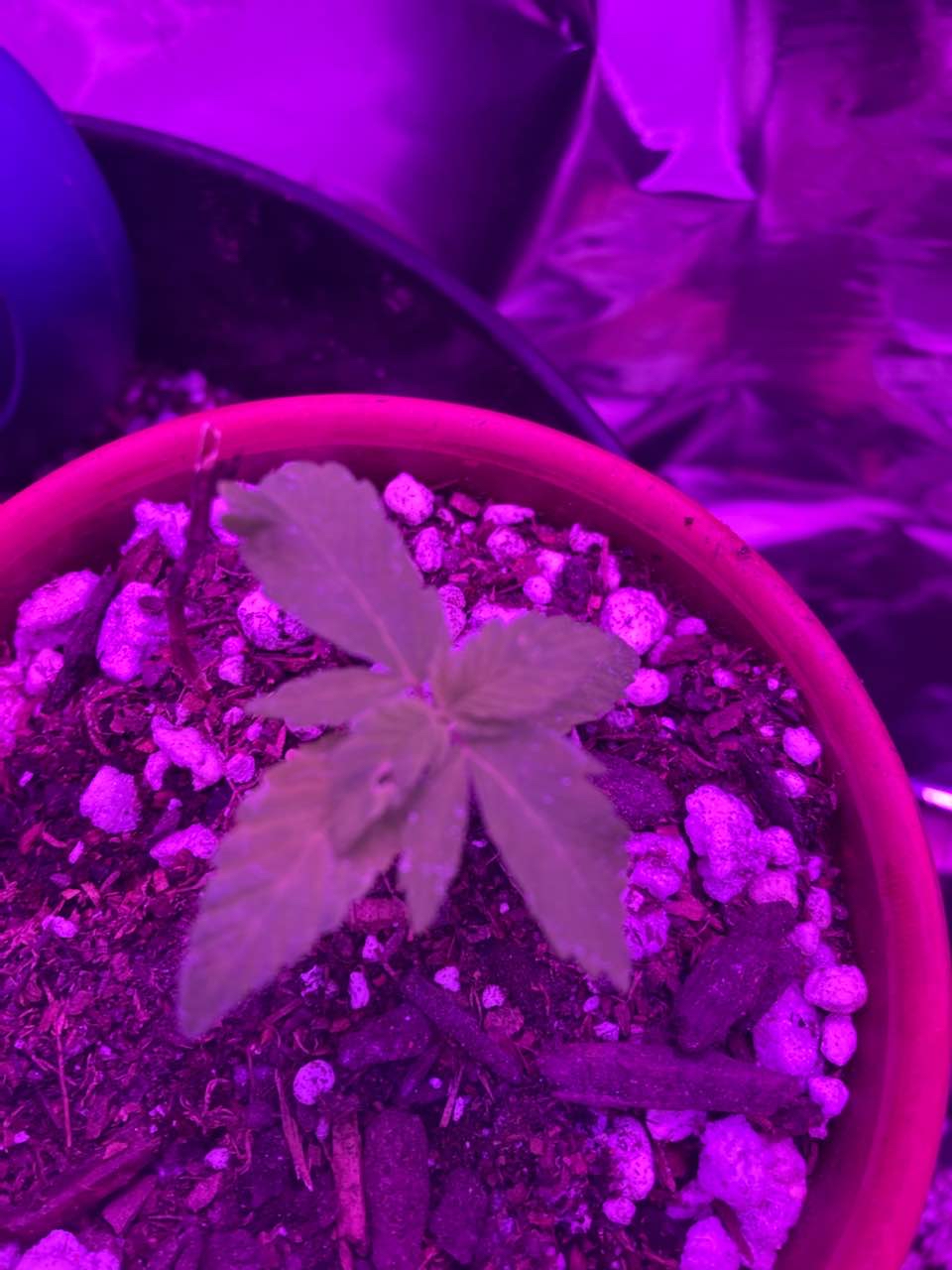 Gave very small amount of nutrients (tiny amount of miracle grow is all I had on hand) to help the yellowing.
a year ago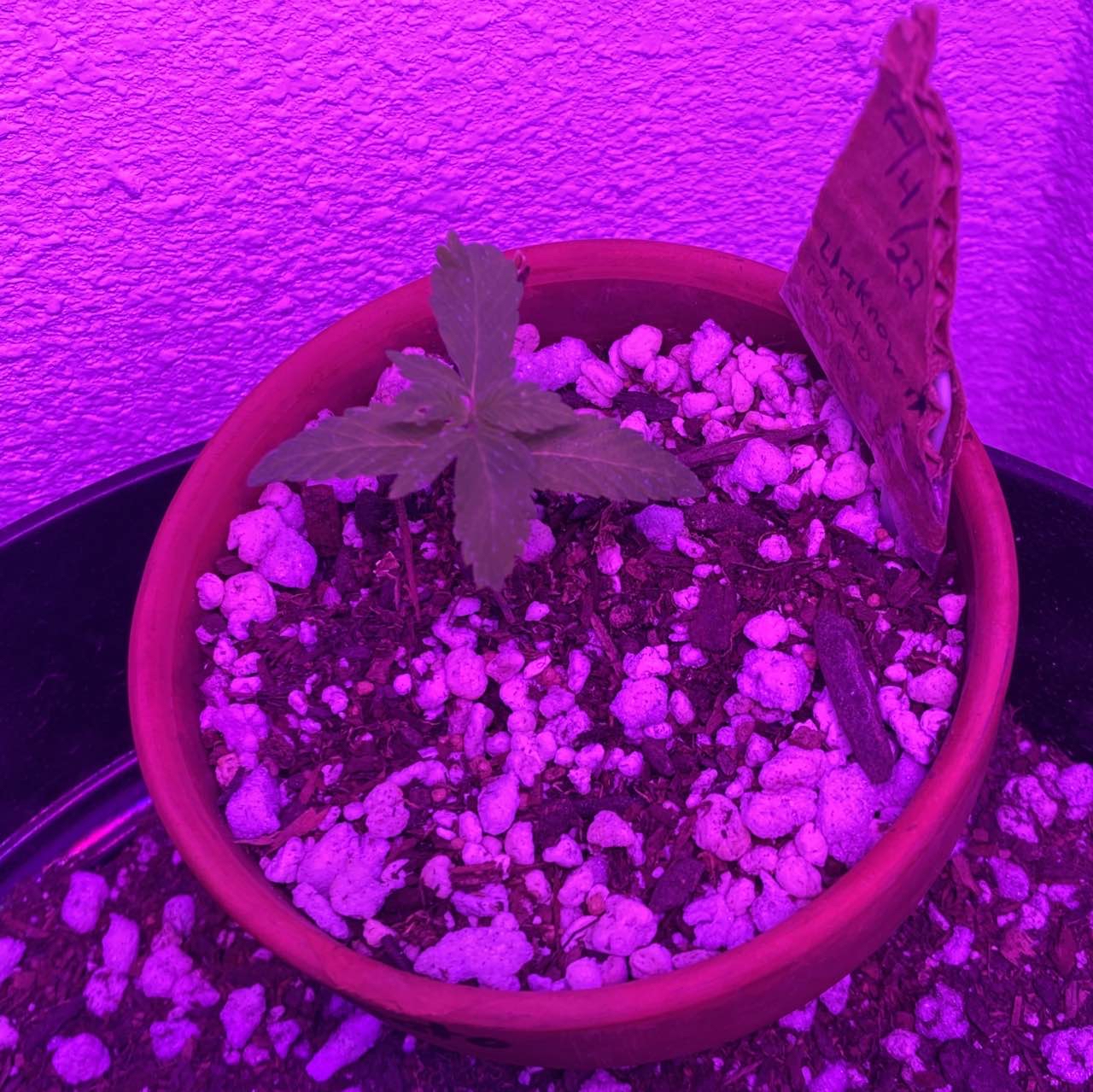 Switched lights from cheap to intermediate
a year ago
Mutated leaf. Seems fairly healthy despite my overwatering.
a year ago
Hope it's a she!
a year ago