First Grow (literally going with the flow)
Indoor Cheap setup
All 3 pots are Vivosun 3 gal, soil is Fox Farm ocean forest with added perlite, currently using Cal-Mag and fox farm trio nutrients (Big bloom, Grow big, Buds & Bloom) I created a grow tent from a Tall wardrobe box(24"Wx24"Dx44"H)- I lined the walls of the box with the heavy duty aluminum foil shiny side out, and cut necessary holes! Currently using 3 Great Value LED 65w light (3 are more blue spectrum and one more red spectrum, but all 4 cover necessary parts of the spectrum. And finally for fans, I ripped out a cooling fan from a computer tower and sliced the cords with a old u.s.b cable and I use that for induction(fresh air). Had a blower fan before but kept getting too hot, so I bought a clip on desktop fan(way better)
3 unknown Seeds(from random bags I've saved)
4x2 vivosun, extra support bars, two 1200w bestva dc series, T4 cloud line series by Ac Infinity, 1,875w surge protector, 1,875w grounded timer...Finally saved up enough for the setup I've been wanting for soo sooo long!! Might use old cardboard box grow tent for hanging them to dry
2 years ago
Cris•Co I love it so far! Only problem I have is temperature. I can only run one of my 1200 watt lights, temp likes to hover around 80-81 degrees! I put in a clip on fan and opened the bottom right vent...
Cris•Co Do you think it's possible to add a mini ac unit outside facing through the vent. Only thing I'm worried about is it raising the humidity levels to high
View 3 additional comments
First plant is doing great, definitely gonna get bestva 2000w rather than 4 65w grow lights!!! Second plants spots are getting worse but plant is still moving along just fine! Have her extra cal mag hopefully that solves the problem
2 years ago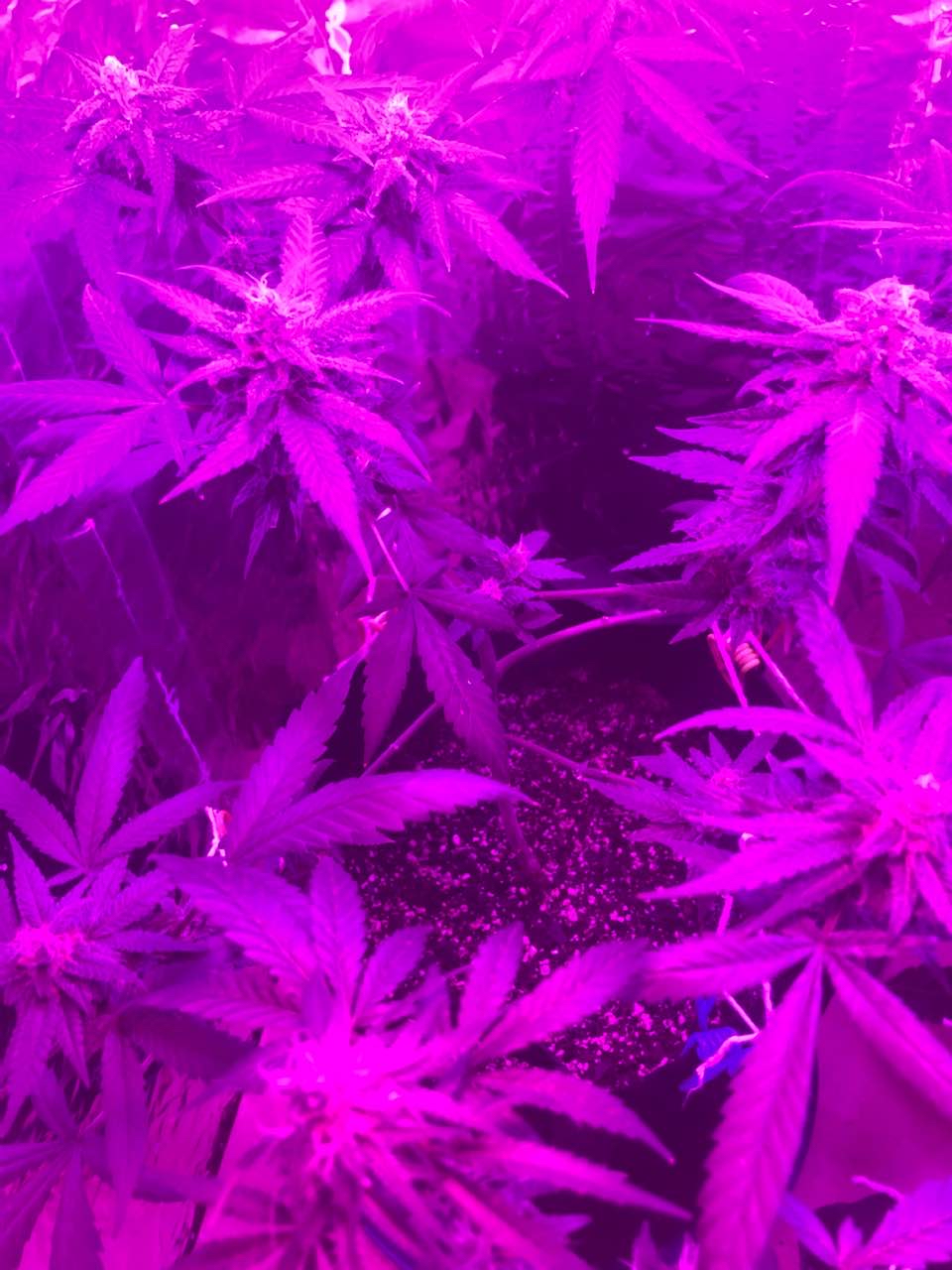 So first plant is moving along perfect! She is focusing on buds. Second plant is moving along a little slower n starting to worry about it. About 3 days ago these tiny brown spots started popping up on all of the leaves. The plant is acting healthy but these spots are making me nervous and I want to chop it down n harvest before it gets too bad! What should I do???
2 years ago
Cris•Co So it's come to my understanding that these brown spots is calcium deficiency. SO! with that being said gonna go 5 maybe 6 ml on her separately
So both of them definitely slowed down on the stretch and leaf growth. Plants are focused on bud growth. Got jewelers loupe in and took some rookie shots! Will have better shots next update!
2 years ago
Soo white hairs are starting to turn orange! Buds are starting to grow in size! Trichomes are super heavy on bud and moving down leaves on left plant. Right plant is not as bushy nor does it compare in trichomes! Left plant developing a cheesy earthly smell and right plant smells like purp not sure how else to describe it other than purp lol... oh added dual light sockets, love them
2 years ago
Long White hairs everywhere😁! Not stretching as hard anymore, bud sites are increasing and getting bigger, hairs getting longer! Leaves are starting to get frosty! Kind just letting them do their thing, going to water again 6.0 ph cal-mag bloom n buds
2 years ago
Buds sites are coming in, nice long white hairs! Went a little hard on the nutrients so I'm going to give straight ph'd 6-6.5 water. The bigger of the two has some tips burning on leaves! Also- chopped down the male! Starting getting nervous! Sacs was getting huge could not risk pollination
2 years ago
What Is This!?!?! From a distance it just looks like a white tip but up close it's a bunch of tiny sacks. I'm completely lost help!?!?!?!
2 years ago
blueherbalist Looks like either a male plant or a hermaphrodite. Be careful those could release pollen and cause your other plants to produce seeds. I would recommend killing the plant if you can
Thank you BlueHerbalist!! Moved this guy into old box. Really don't care if he lives or dies just want the pollen honestly!!! These other two still are not showing sex, but all 3 where put on 12-12 at same time.. kmales definitely show faster and get bigger , only took one week on new light schedule for him to show
2 years ago
Moved the lights to 12:12 about 5 days ago now. The biggest is starting to look white on the very top of the cola ( not sure if it's starting to bud or I'm missing something). The growth since the switch has been very vigorous! Also still don't know the sex of any of them!
2 years ago
TwoScoops152 Your are going through what is known as the stretch. Sex of plants should be soon! Stay patient
CrisCo91 Cool so anxious lol But thanks TwoScoops! Hopefully I will see what they are by next week.. there are nodes there but cannot tell if it make or female yet, too small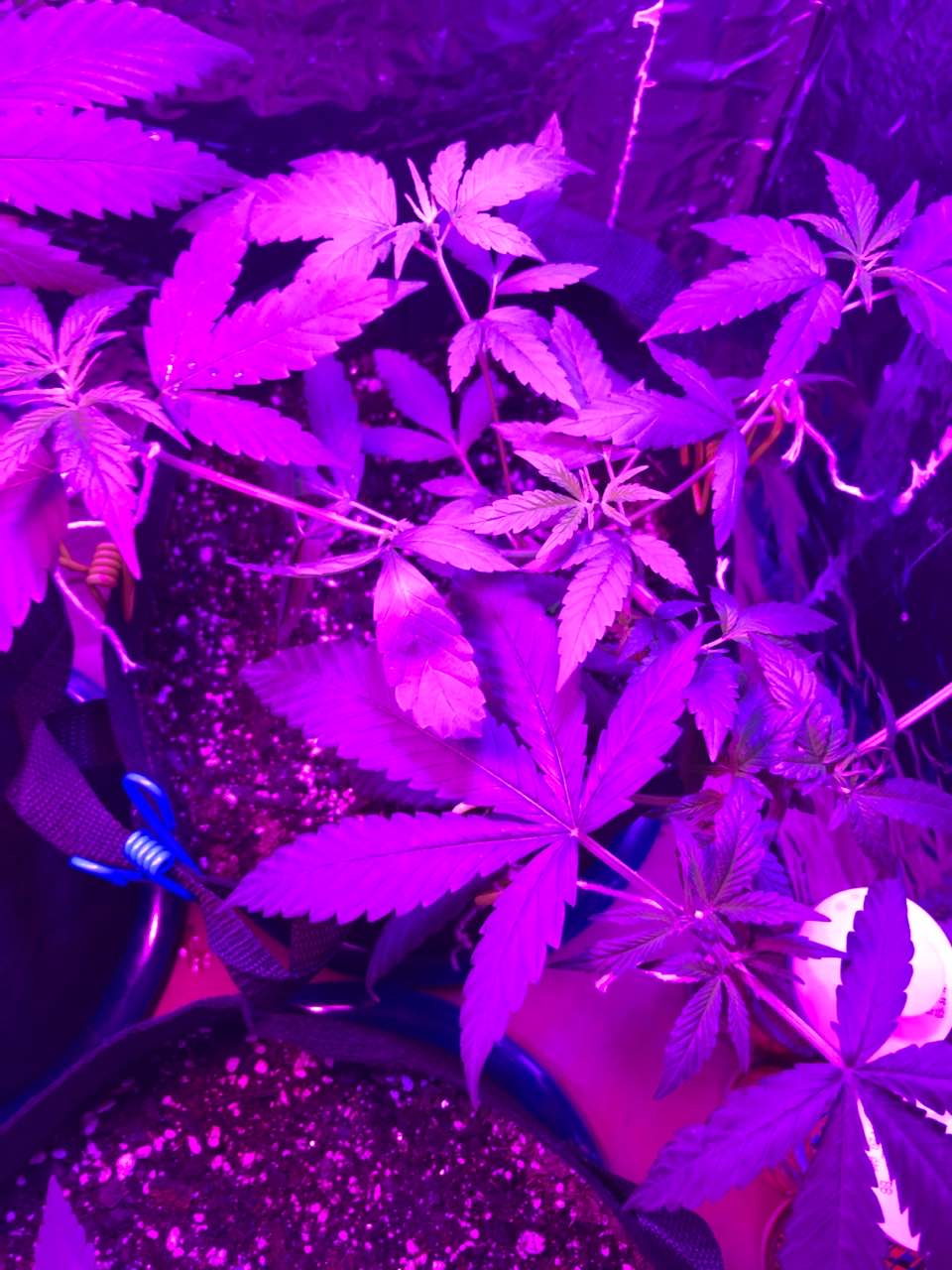 Last of l.s.t! Just switched light timer to 12-12... still don't know the sex of them, but new cola sites everywhere and canopy is starting to level out
2 years ago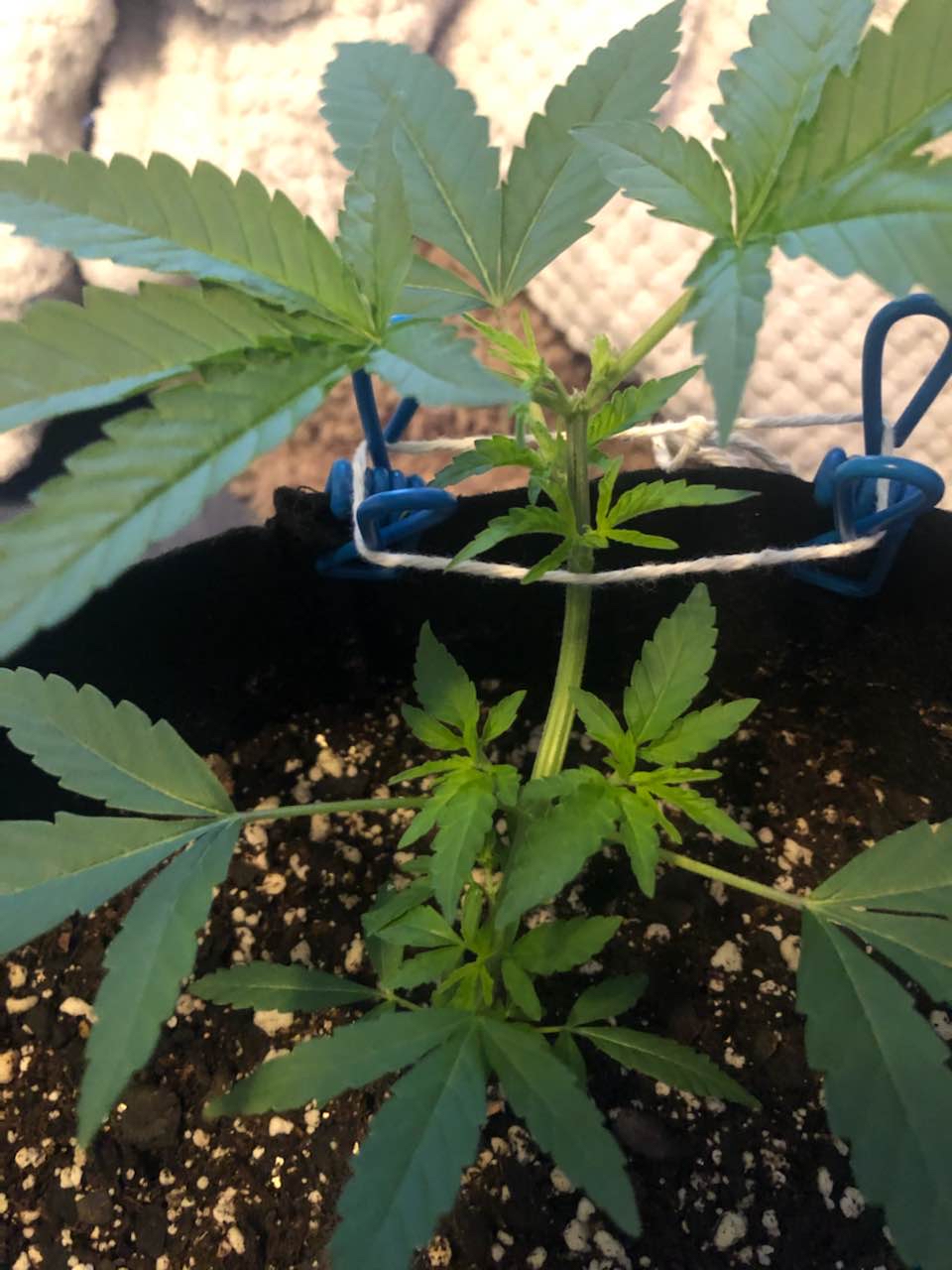 New growth after topping!!! Plants reacting great after L.s.t😋😋
2 years ago
Decided to buy some clips and dye-chemical free string. Gonna try some LST(light stress training) I have absolutely no idea what I'm doing, literally hrs of research online and going with my babies flow
2 years ago
jlieffering Try using a pruning method on one!! You'll see a big difference. LST is goo if you have the branches to pull it off. Aim is to make the plants lower so they have more height to grow and to spread of the vegetation so the plant absorbs more light. Looks good so far to me!!
CrisCo91 Thanks but pruning?!?!?🤔 what exactly would I cut off All of the lower smaller leaves 🍃
jlieffering If you cut the peak leaves about 3-4 down, leaving just the lower section of the two leaves. (Small ones coming right out the top) you will make the plant produce another branch, instead of coming to a peak with 1 bud, you'll have a peake with 2 buds. And you can do it more times, which gives you more branches.... which gives you more buds.
View 2 additional comments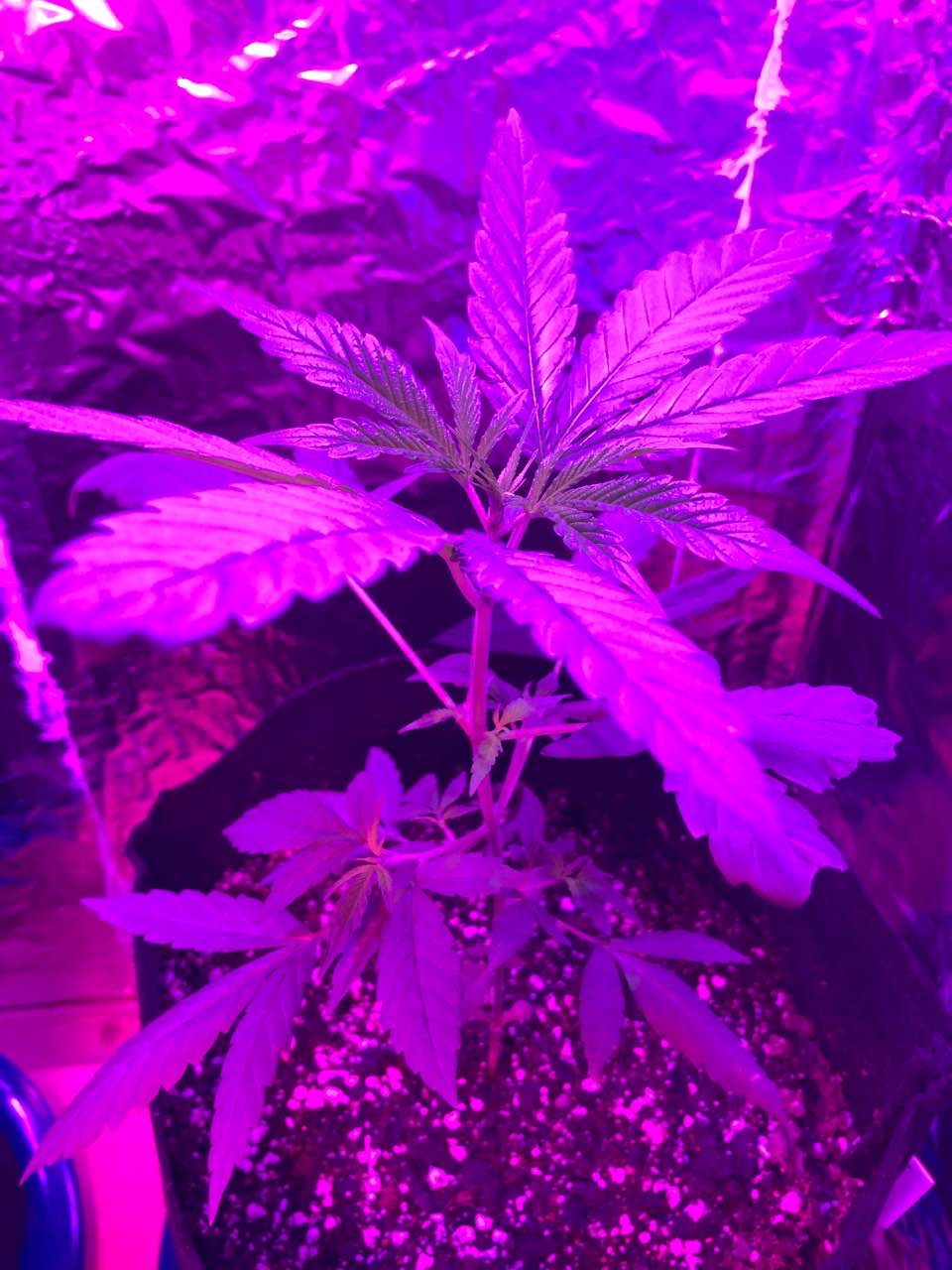 They are thriving. About to top them
2 years ago
Didn't like old box! Basically a prototype. Upgrade box and bought another grow light. I planted them in the new buckets and new soil with perlite. Started fox farm trio
2 years ago
CrisCo91 Well I already had a lot of the material just laying around besides the box pots soil and nutrients And this is way cheaper until I can buy the tent I want This set up would never work in a decent tent lol I'm trying 😁
ogeast Although this is not the ideal growing environment, i gotta commend you for being so crafty. You went through a lot of trouble, my good goodness. Best of luck 🤞
View 2 additional comments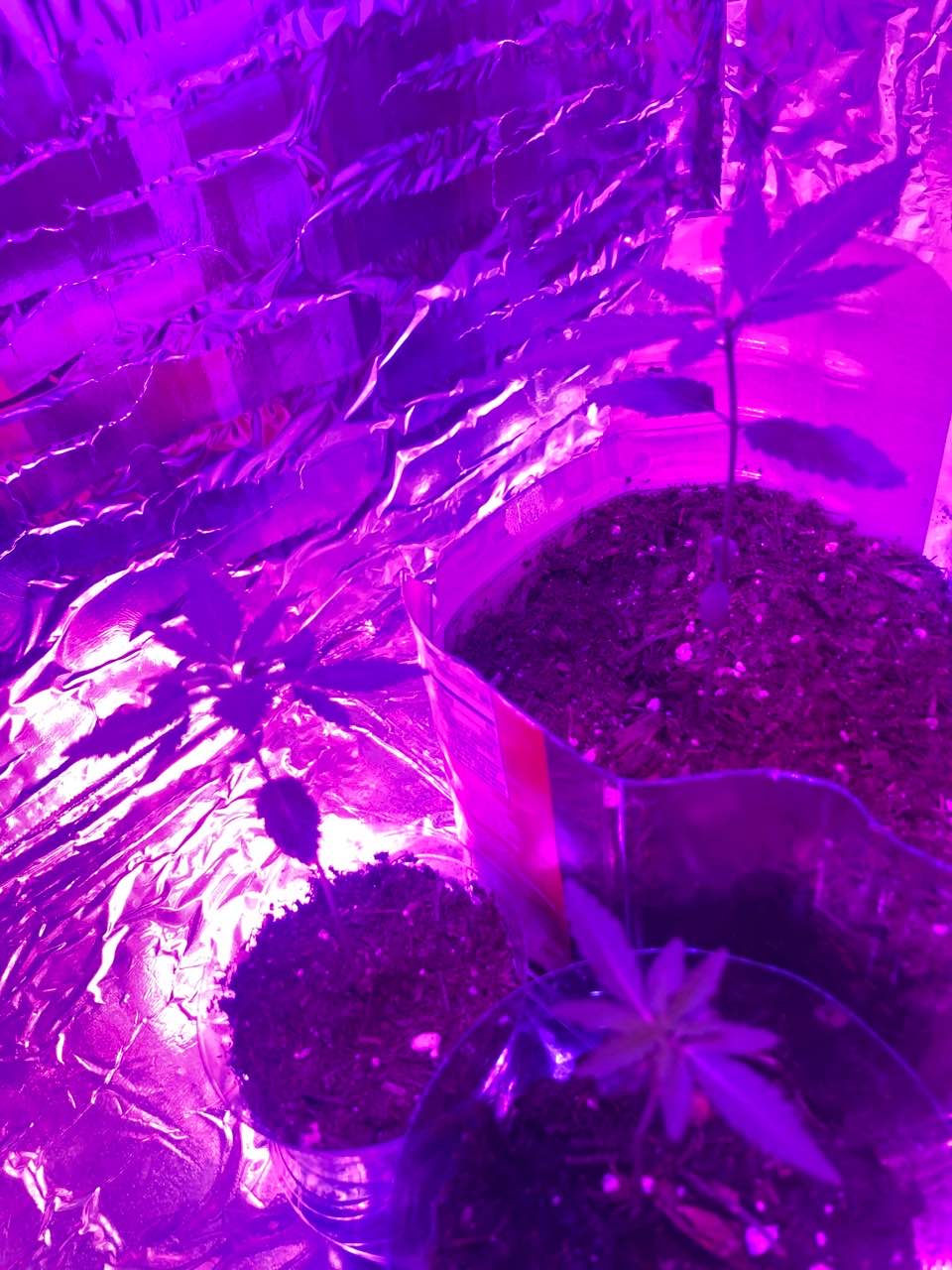 Girls are loving new lights. Big difference...... OOOH btw started in miracle grow
2 years ago
Ripped out cooing fan from computer tower and sliced the ends with old usb cable
2 years ago
Created new box and bought 2 new lights. Girls got new home
2 years ago
mystrain420 It's great your such a craftsman/woman 👍🏾. Try the $1 pack of solo cups, roots die from light so the clear pots will hurt in the future. U also need stronger light also or bring it a lot closer the node spacing shows.
CrisCo91 Thank you soo much And definitely going to get some solo cups for future And there is a light I want to buy but money isn't balling lol Using 3 great value 65w grow lights Thinking about adding one more But next month I will be getting a 2000w can't wait
Added foil to line box
2 years ago
Moved into box for indoor grow(had cheap led bulbs) too intense
2 years ago
CrisCo91 Thanks Look I was stuck on filling it all the way up to right under those first two leaves or not Lmbo now I know thank you for the knowledge
Started in window sill
2 years ago