Critical x CreamCheez (4 plants)
1000w / 3x3
4 CxCC in 3-gallon iPower fabric pots, 1000w 3-channel Erommy LED, FoxFarm OceanForest soil, eggshells (for Ca), Epsom Salt (for Mg and SO4), bonemeal/bloodmeal later if necessary. Will LST and tip leaves. GERMINATION March 17... 4 sprouts March 19. 🌿🌿🌿🌿🤞
Critical x CreamCheez — HomeGrownCannabisCo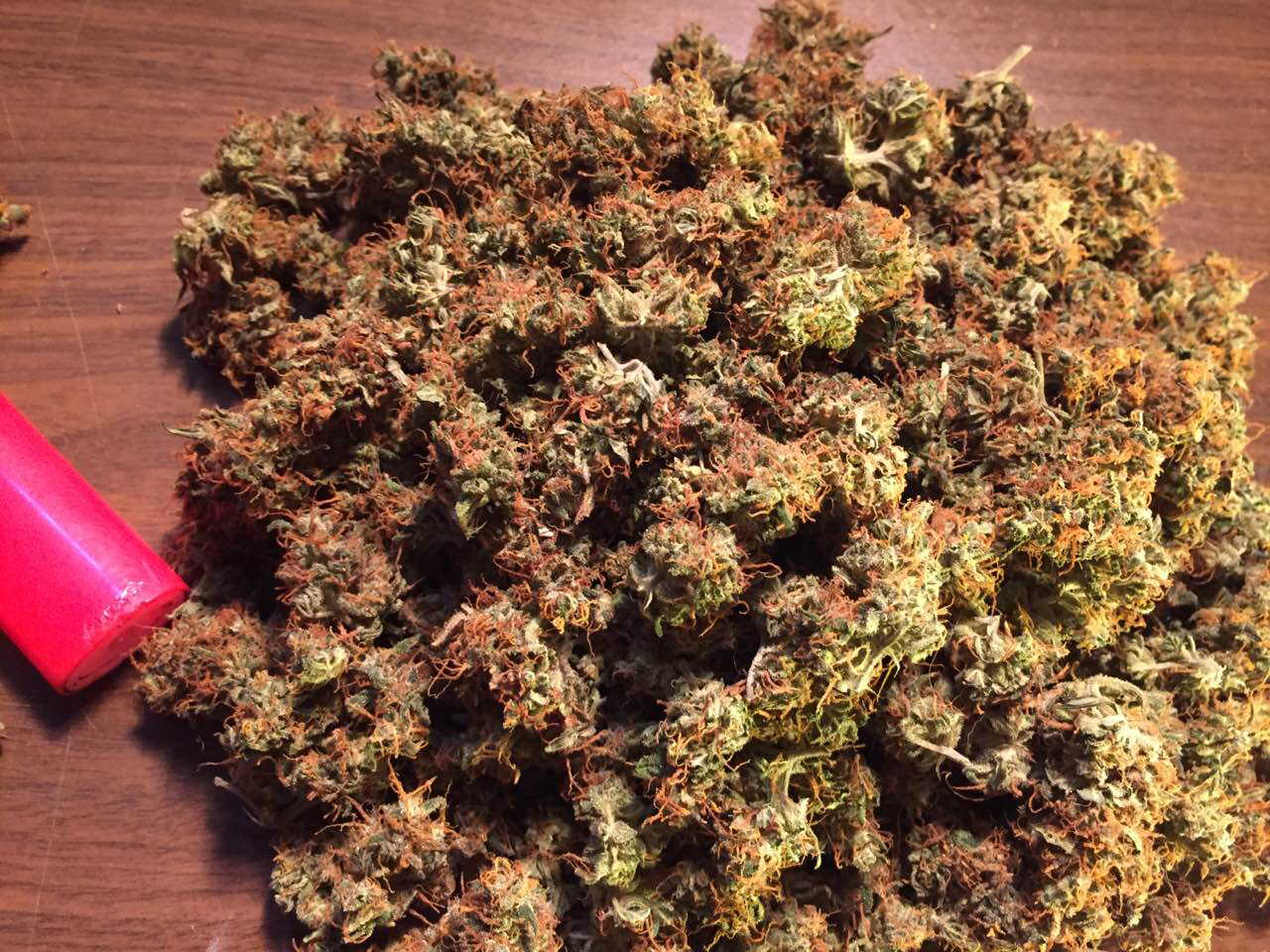 Chopped, cured, jarred. 8.75 ounces from four plants.... over cooked the last two a little, but they still look good. Not much effort in this grow, but pretty happy with the results. It smells great and I'll throw a smoke report in a few weeks!
2 years ago
Been growing... not showing. 🤷‍♂️. 10 weeks in bloom— these are pretty dense and the smell is crazy. Amber trichomes starting to appear on 2:4– they come down in a few days. Other 2 still have a good week or so!
2 years ago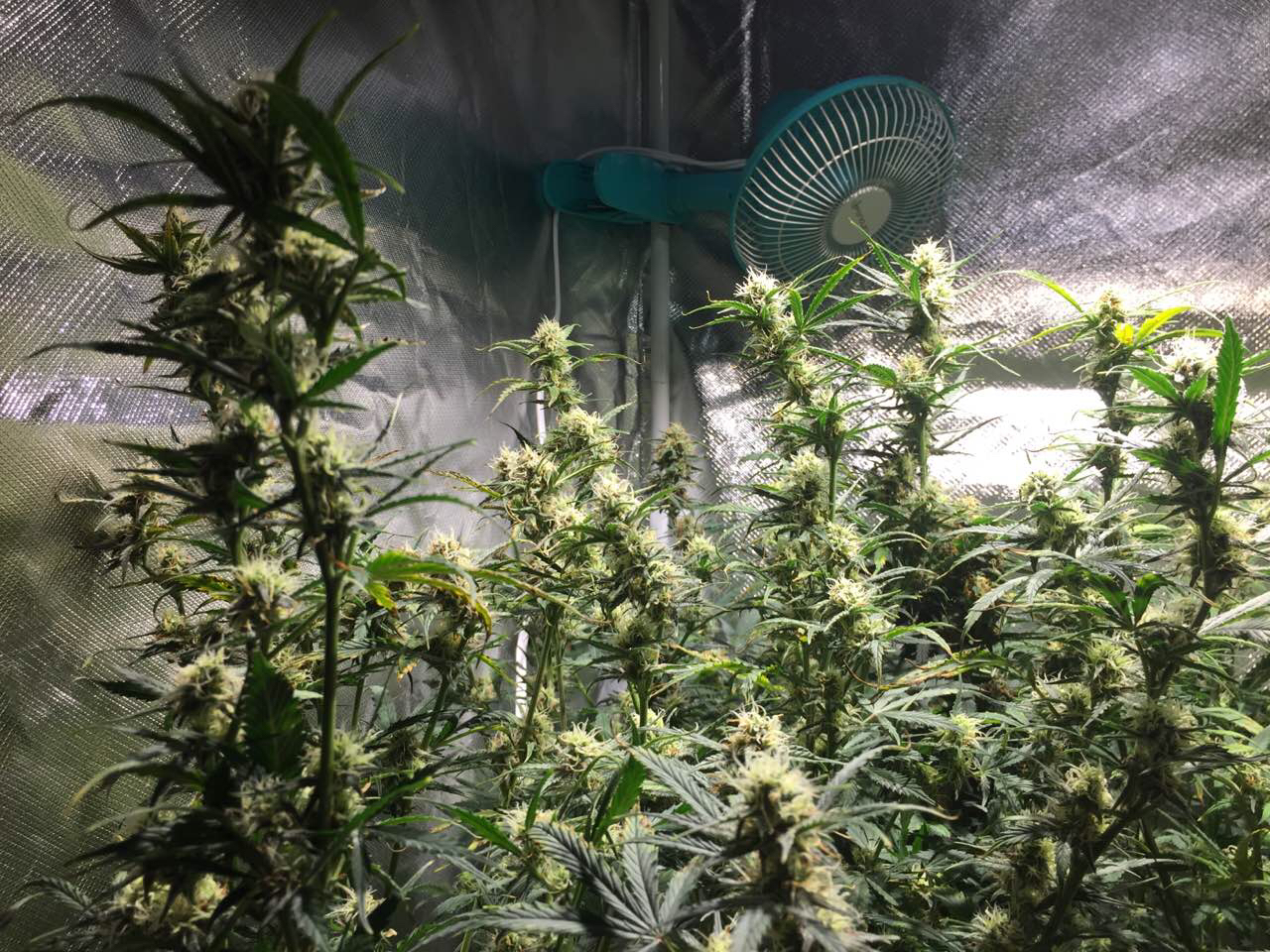 Been watering and watching.... defoliated a bunch of yellowing, curling, browning or otherwise unhealthy foliage... and all I have left is all this bud!! Trichomes forming nicely and buds are filling in. Light change from 22-2 to 18-6... all seems pretty okay. 👌🌿💚
2 years ago
When you break a (MAIN) stem during early LST, but find your successful splint 2 months into the grow... 👌👉🧠💨
2 years ago
4 days without the net and there has been only minimal stretch. Buds are everywhere and the canopy is pretty level overall. Will defoliate again in a few days... and re-rigged the light to gain 6-8"... makes a big difference.!! ***newbie cheat code: Double-up the supplied light hangers to gain 4"..... smaller pulleys with smaller hooks equal more room for single lights. ***. 🌿👍💚
2 years ago
greenmeanie_420 And thanks for showing me how to get the light all the way to the top 🤦🏻‍♂️ I've tried every way but that
nobuddyatall It's my third grow with this brand of 1000w LED.... I'm happy so far. Definitely grows enuff for my purposes!
View 3 additional comments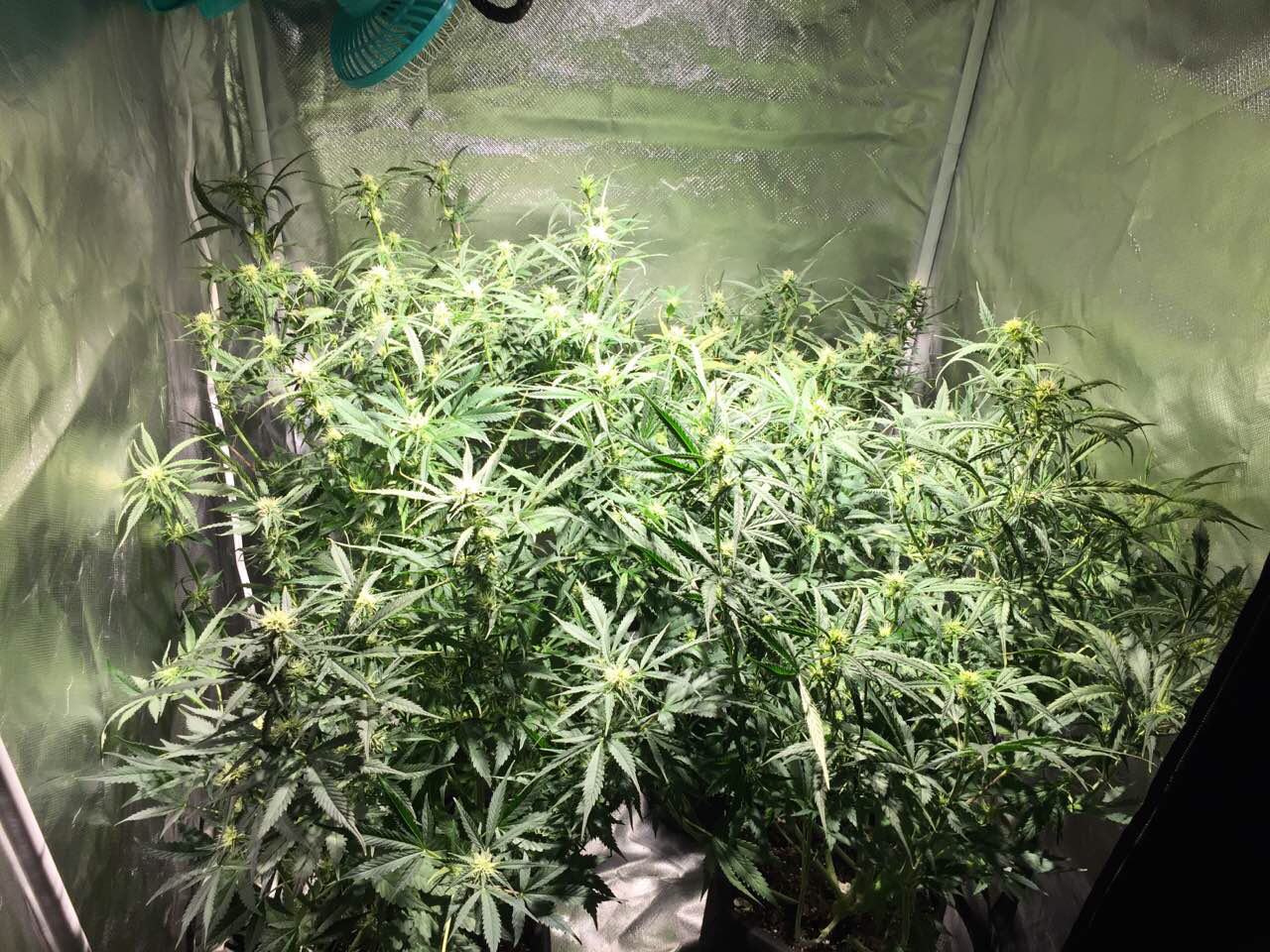 Pulled the screen ... defoliated anything not healthy/wilted/yellow... got buds everywhere!! 🌿🌿🌿🌿👍👉🧠💨. **** newbie cheat code: Pic 4– notice the rolled pot edges.... im gonna add bone/blood meal & soil in about a week.... I have room (2-3") to add medium later in my grow and cover the base and encourage root growth...). 😉
2 years ago
nobuddyatall Check!!! Doing the work thing now.... I'll be in touch. 👍
View 5 additional comments
Day 30 of flower ... still filling up the square footage!! Buds are developing nicely... will trim for more light gain tonight. Need to re-rig the light (maxed out now)... pretty sure the stretch is almost over— so the screen should come out soon. Lookin good, Ladies. Lookin good. 👌🌿
2 years ago
Mystrain420 Looking like a jungle in there...a bud jungle 👍🏾
nobuddyatall Thank you. I'll have a better inventory once I defoliate tonight!! ✂️🌿😂🤣😅
Canopy looks great!! Scrog is doing its thing. MAJOR defoliation of lowers....it was getting tropical and wet down there. LST paid off as the stalks are multiple and strong and healthy. One Lady is filling in with pistils super thick already. Raised screen to allow them to stretch after the trimming... and they'll get a good water tonight. I have high hopes! 🤞🌿💚
2 years ago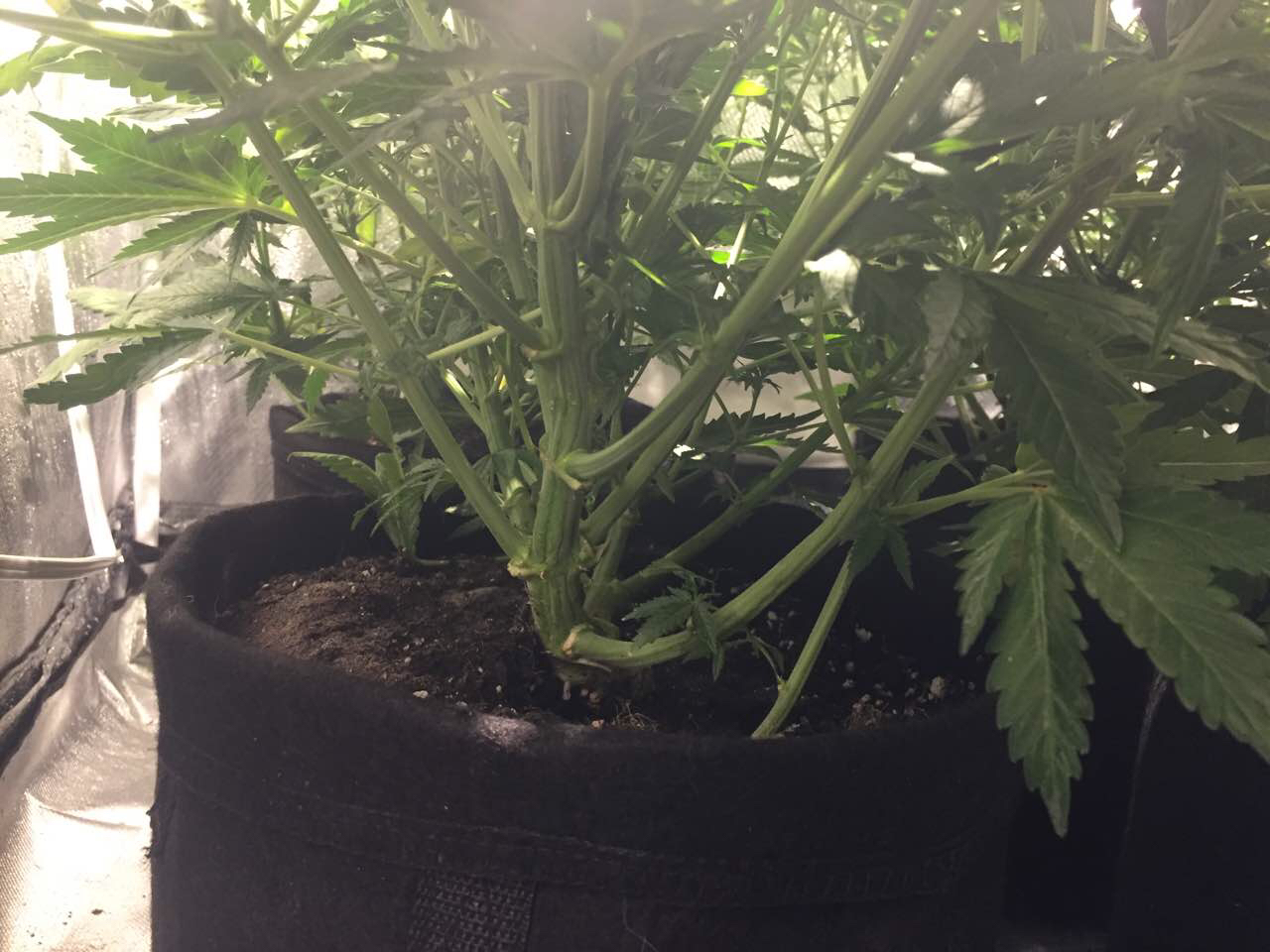 Six more days of scrog... not much excitement except the light is maxed out in height.... need to relax-rig that. Will defoliate lowers tomorrow morning. They need it now that they've bushed out!! 🌿👍💚
2 years ago
More canopy, more nodes, more Scrog !! The LST paid off and the stems are strong and numerous. The Ladies are filling in their square footage, and everything looks good. 🤞🌿🌿🌿🌿
2 years ago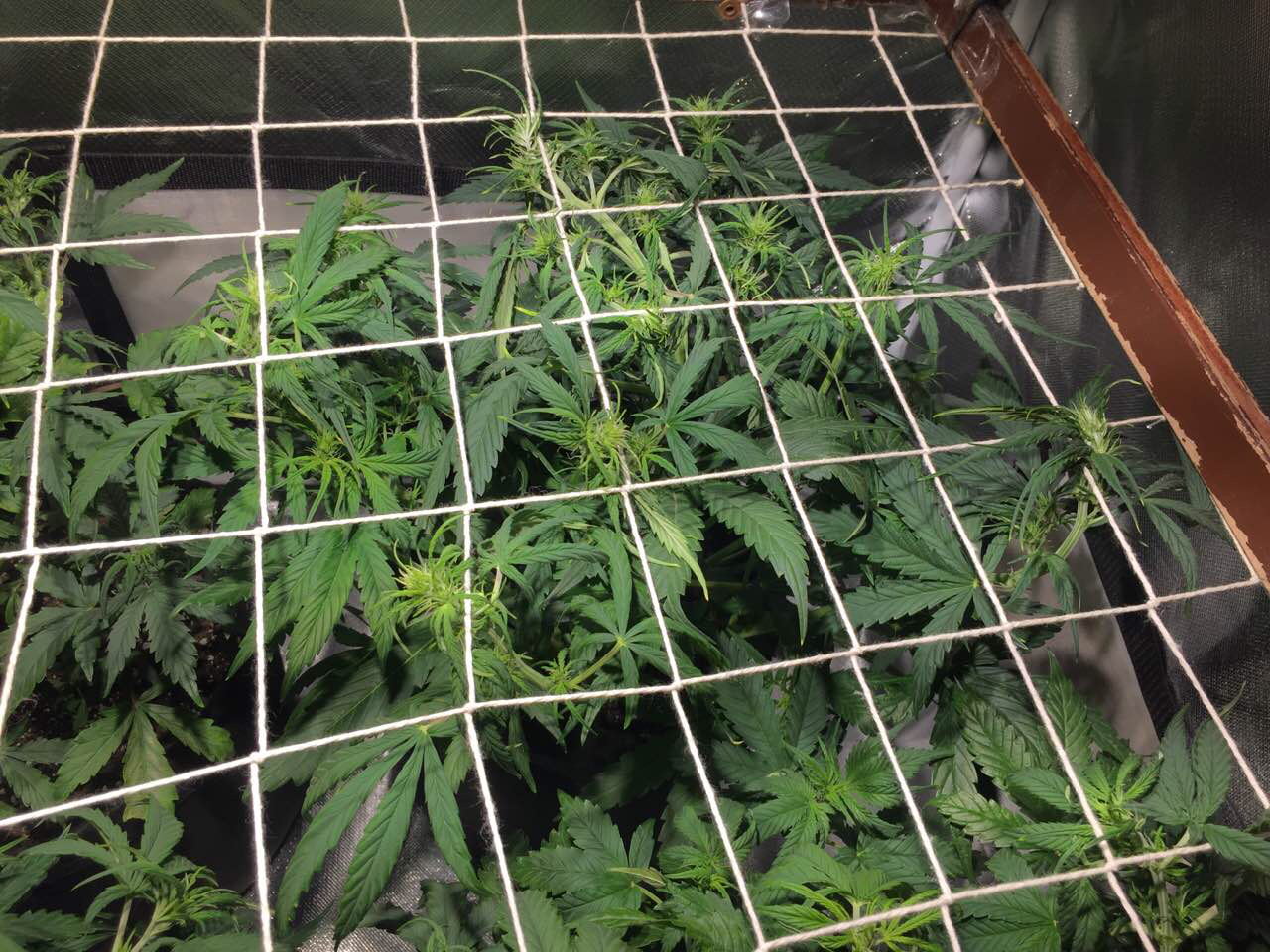 Not much to report except consistent growth. Plants are spreading nicely and the foliage is getting bushier. A little lower defoliation and light allowance last night. Temp & humidity are good... moved light up a few inches (noticed some scorching on top of a few leaves). Big water tonight, and more of the same. 🌿👍
2 years ago
Day 10 of flower. Starting to fill in the screen. Watching, tucking, watering & waiting. 🌿👍
2 years ago
Scrog seems to be doing it's thang. Everyone is reaching for the screen, and then getting tucked back down. I have a new hobby! 🌿😅😂🤣
2 years ago
Why not SCROG... sort of?? I made this screen a few grows ago and never really used it. Got all stoned-d-d-d and thought of a way to make it a "floating canopy restriction apparatus".... ie- I can adjust it. 🤷‍♂️. I feel pretty proud.... and baked. 👍. I can just slide it up and down the corner poles as needed, and the tension keeps it in place, and I don't need to attach any plants to a net.... seems legit!
2 years ago
mystrain420 That's still a scrog even if it's adjustable lol but nice 👍🏾. U smoking good over there 🔥
nobuddyatall Thank you! I have spinal arthritis and fused hips— I can't crawl around a permanent garden. This allows me to scrog and then move it and feed/water/trim and then put it back to work. I hope it works in real life like it does on paper. 🤞
nobuddyatall ****and I'm in VT—- we been smokin good since forFKNever!!! #BRNLOCL #FKNLOCL #420in802
It's been a week and the LST has paid off. Stalks are hearty and thick and I'll add more medium to bury them again. These girls are getting bushy. Keeping the light around 12-14" up... 22-2 light cycle.. bloom lights have been on for 6 days.... exactly 3 weeks veg (easy to keep track of). First dose of bone meal 3 days ago... and water. That's it. May try a floating scrog in near future to keep these bushes at a consistent height. 🤷‍♂️🌿👍
2 years ago
(Farmer)John Nice bro! Come check out my recent post. I need answers.
3 weeks in. LST is going great— plants are recovering from each phase perfectly... more and more nodes and branches!! Still running veg lights only— will turn the blooms on after the weekend. Then we really go!! 💚🌿👍
2 years ago
More LST adjustment and progress. Almost three weeks in and were less than 3" tall and BUSHY. Preflowers showing up and will hit the bloom light in a few days. Light still 20-4, still 14" above Ladies. Nodes are exploding and everyone seems healthy & happy. Water tonight. Keepin on keepin on!! 🌿🌿🌿🌿👍💚
2 years ago
LST adjustment happened 12 hours ago.... this is the recovery. All is looking good. Temp & humidity are consistent.... light is still at 14" up... 20-4 schedule.... veg light at 1000w full... another 10 days of this is gonna make ridiculous results!!! 🌿🌿🌿🌿👍💚
2 years ago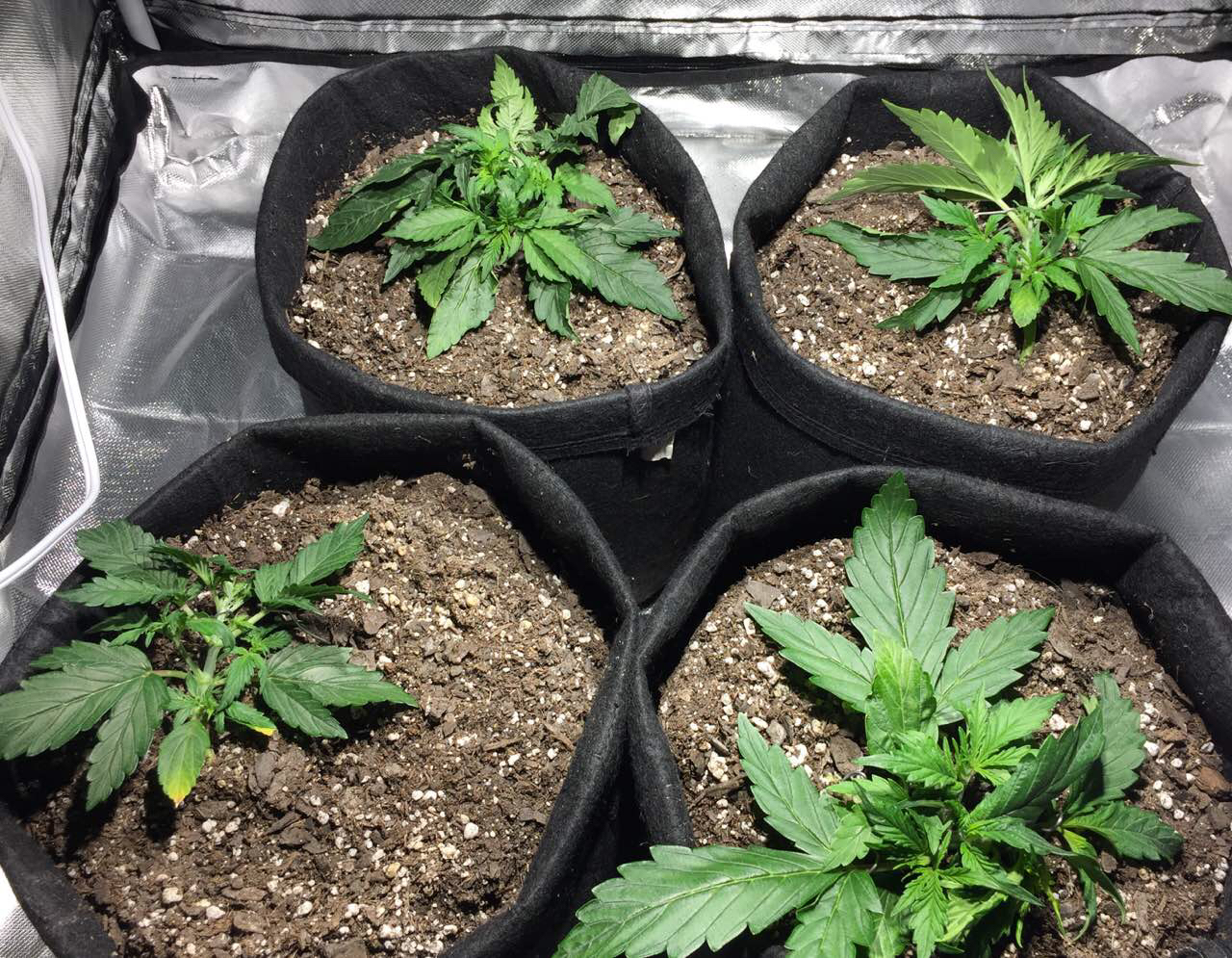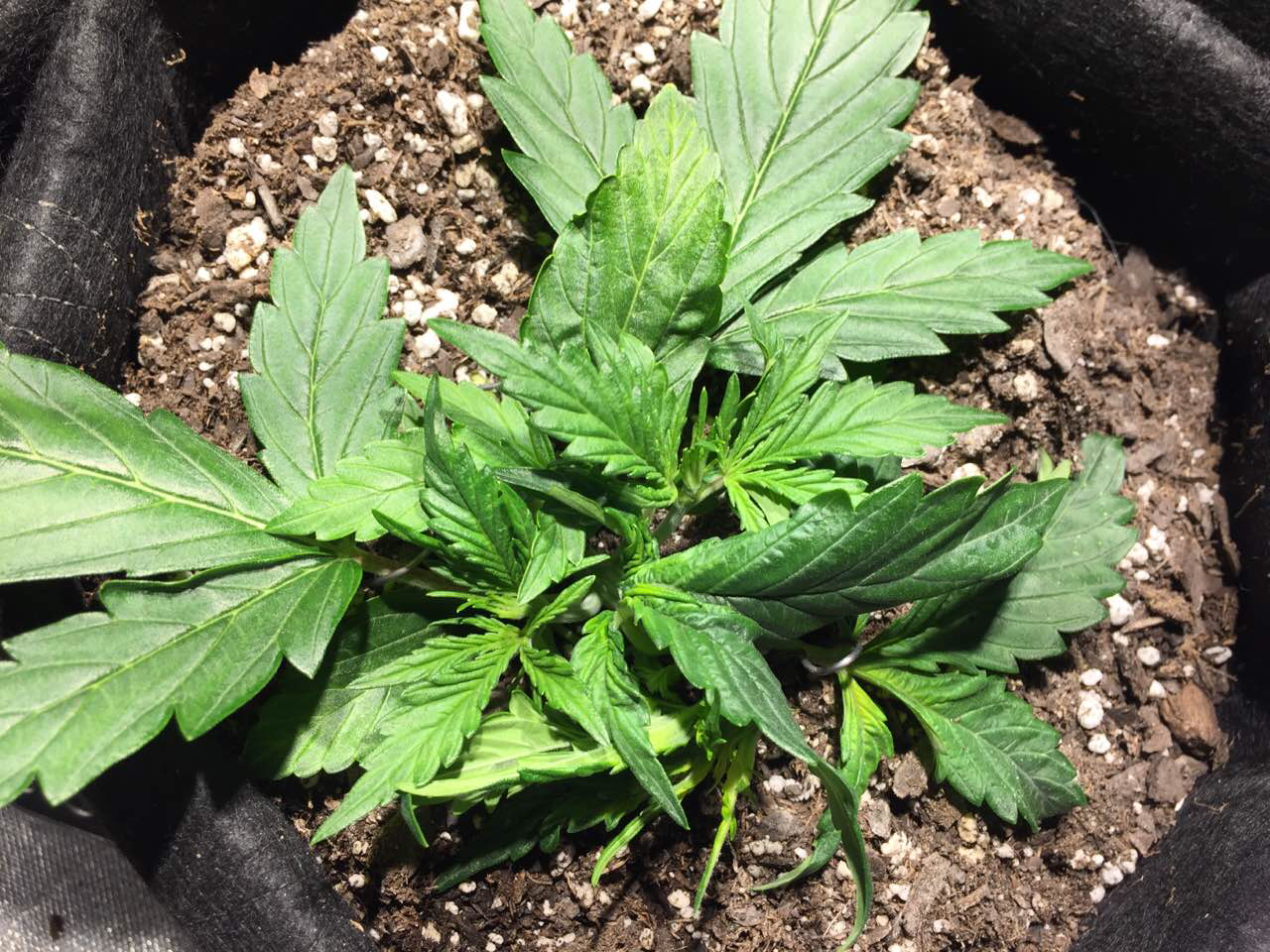 More LST is causing more growth! Just an adjustment in anchors and more spread. Nothing too exciting. Watching nodes show up. 🌿👍
2 years ago
Queenfox Not super experienced but I've always been told don't allow your plants to be touching the soil like that.
nobuddyatall Correct. But—- its been 4 hours and all leaves are pointed up and off the soil. I got this!! 🌿💚👍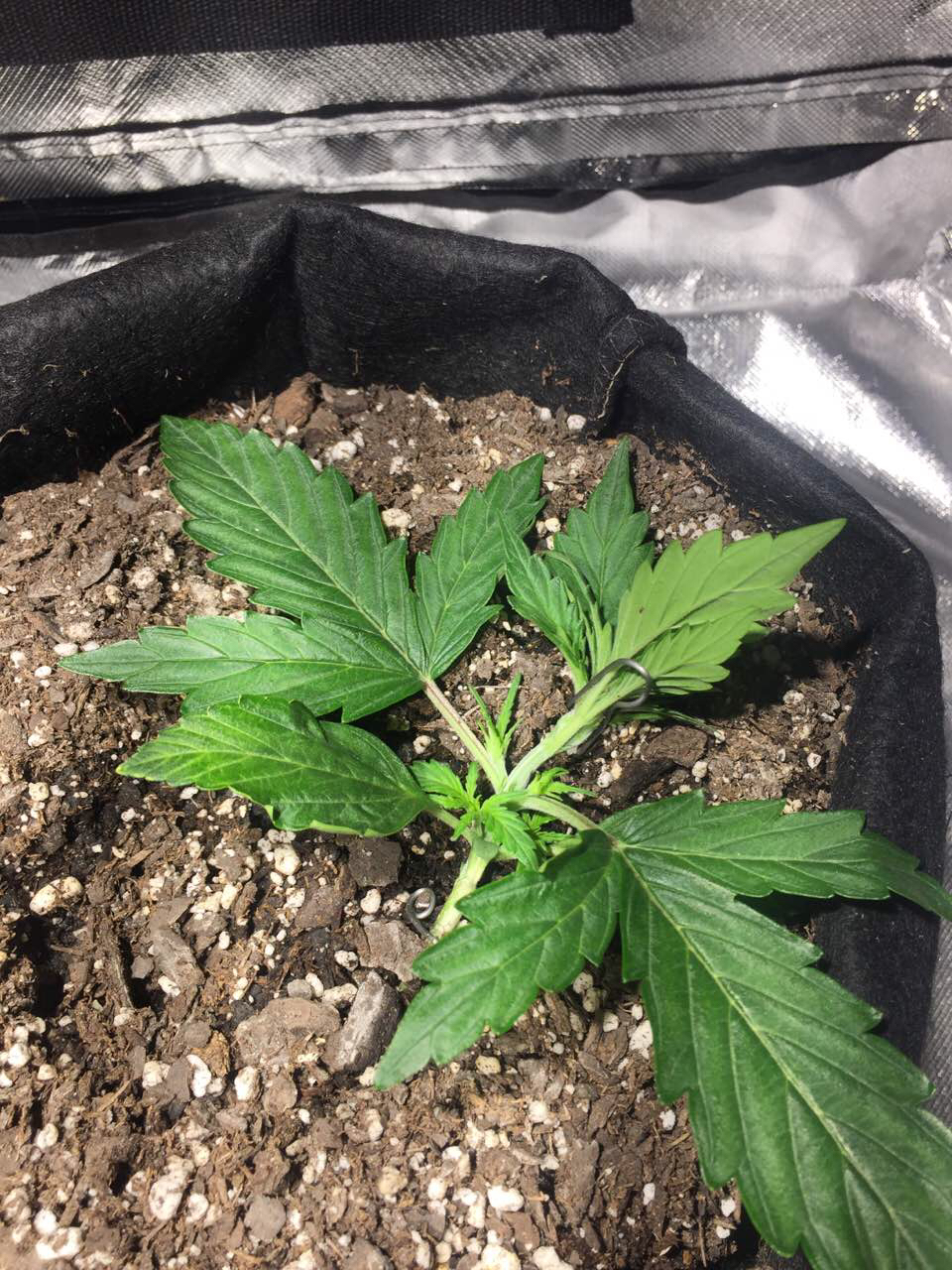 LST again. Going slowly this time. Training on a schedule so they can flex and recover. 🤞. I love this stage cuz there's stuff to do— and stuff to learn. 😋🌿👍.
2 years ago
LST continues. Added second pin to everyone. 🤷‍♂️. Not much going on. 20-4 light schedule, 1000w at 14" from Ladies, temp at 76, humidity at 36... pretty consistent. Water tonight. 🌿👍
2 years ago
Day ONE of LST.
2 years ago
STILLLL in that waiting stage. A few more sets and then LST begins. Keepin on!! 💪🌿👍
2 years ago
At that WAITING/WATCHING stage... 🤨
2 years ago
Critical x CreamCheez is now on the farm! They may be small now, but I got high hopes!! 🤞🌿🌿🌿🌿
2 years ago
nobuddyatall UPDATE: all 4 sprouted within 24 hrs of each other. No need for pics. 🤷‍♂️. That is all. Carry on. 💪🌿👍