Op. #1
Inside
Happy Frog 🐸 soil, & 100R SPEC light 💡 is working its magic 🪄 on my little ladies. Vivosun 4x4 tent 🏕 has stabilized humidity 50-60% & temp 70-75F.
Ready for harvest… finally 😂. The trichomes are milky and 95% of the hairs are red/amber. Ima string em' up for 3-5 (longer if needed), then cure in jars.
2 years ago
Sativa357 No, my Blue Dream autos. I currently have 5. But I was informed not to transplant after they're so old.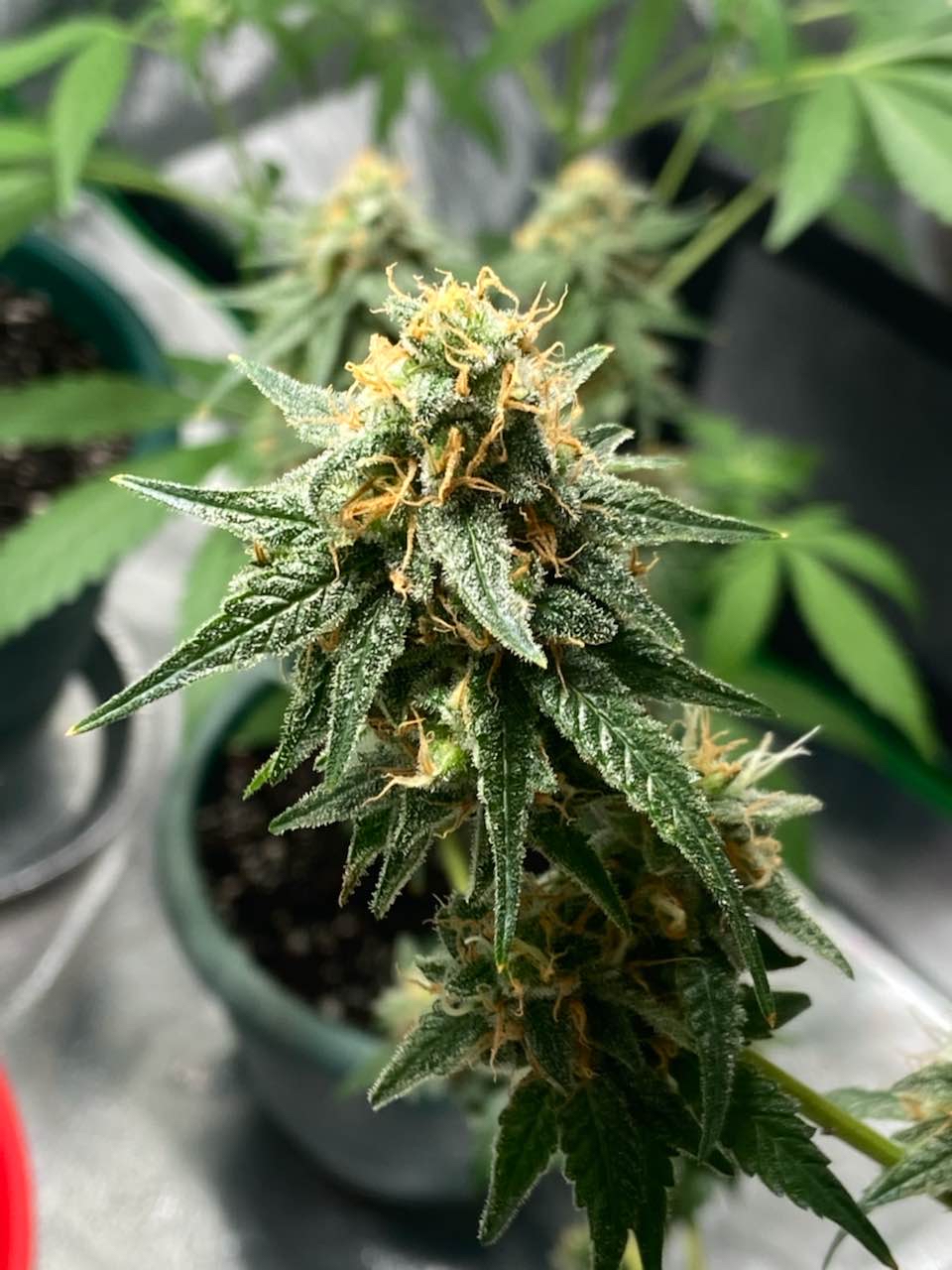 Almost harvest time. However, pic #3 & #4 I'm afraid I may have harmed this plant due to accidentally splitting the stem like 2 1/2 weeks ago. Hopefully she isn't hermit! I see some new growth and trichomes still forming… so idk 🤷🏻‍♂️ any and all advice or input welcome!
2 years ago
Looking good, smelling even better! Trichomes & buds coming in nicely. Defoliated a little bit today, as opposed to dry trimming I am trying to stay on top of "wet trimming". Getting REALLY close to harvest, Can't wait! 😜
2 years ago
Flower mode going strong, waiting for the hairs to turn that amber red color and then going to check the trichomes again next week. I've been having an airflow problem that has been leading to the soil staying wet for up to 5 days at a time! Since noticing this, I turned the fan up & leave the tent unzipped all day. Never had this issue until like a week ago. I'll be damned if I get root rot or mold! I'm letting them dry out REALLY GOOD before next water 🙏🏼.
2 years ago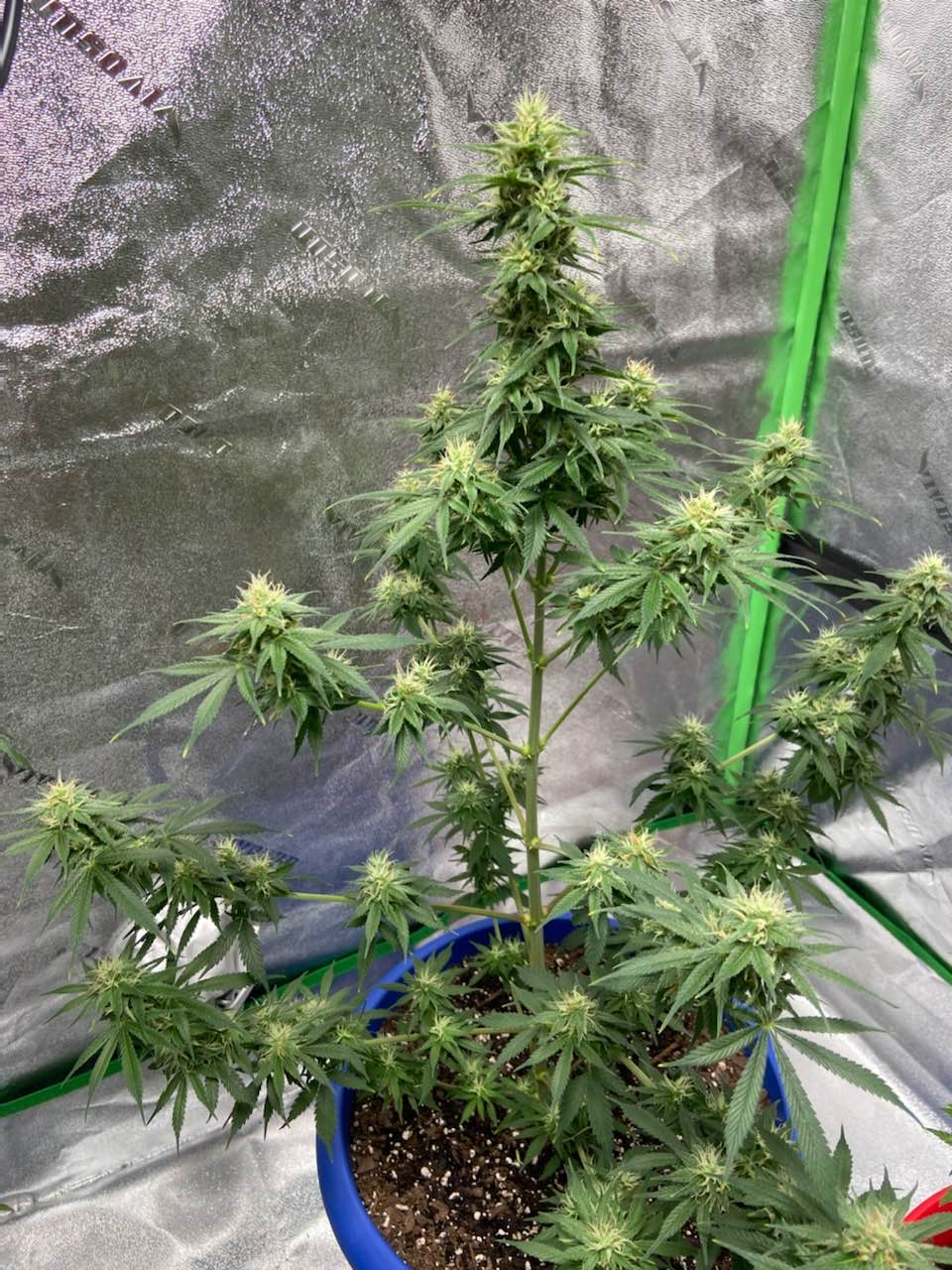 Nutrients are starting to regulate deficiency. Leafs are turning back to their healthy dark green origins. Super sticky buds with incredible trichomes. Pic #6 filled out nicely, pic #4 is a little airy. I'm hoping it fills out over the next month or so. However long it takes to reach their full potential.
2 years ago
Got some fox farm Tiger bloom Buds and Blooms 2-8-4 & my nutritional issues are slowly getting better. Then, I accidentally split the stem in picture 4. I was told to just use tape to tape it back together it's not too severe, so I pray that it doesn't kill the plant or stunt the growth. I'm doing the best I can. Any suggestions (all suggestions are welcome) for the split stem?
2 years ago
NV_Bubblegrow I don't think this split will harm or stunt the plant if taken care of properly. I would do a more study tape job to help stop the split from getting worse. Also try to support the branches of each side of the split, if possible to stop from getting worse.
Spoke too soon about not having nutritional problems… going to get some calmag & bloom plus ASAP. Looks like a calcium deficiency. Looking super frosty ☃️ and smells super Dank. I'm going to add some new soil & try to compensate for the deficiency. Doing my best, given it's my first grow I think they're pretty impressive.
2 years ago
These trichomes tho! These seeds came from some very low grade bud. The turnout thus far has highly exceeded my expectations as far as quality goes. Ladies are still working on them buds to fill out entire plant. Decent progress since they just started flower about 10 days ago.
2 years ago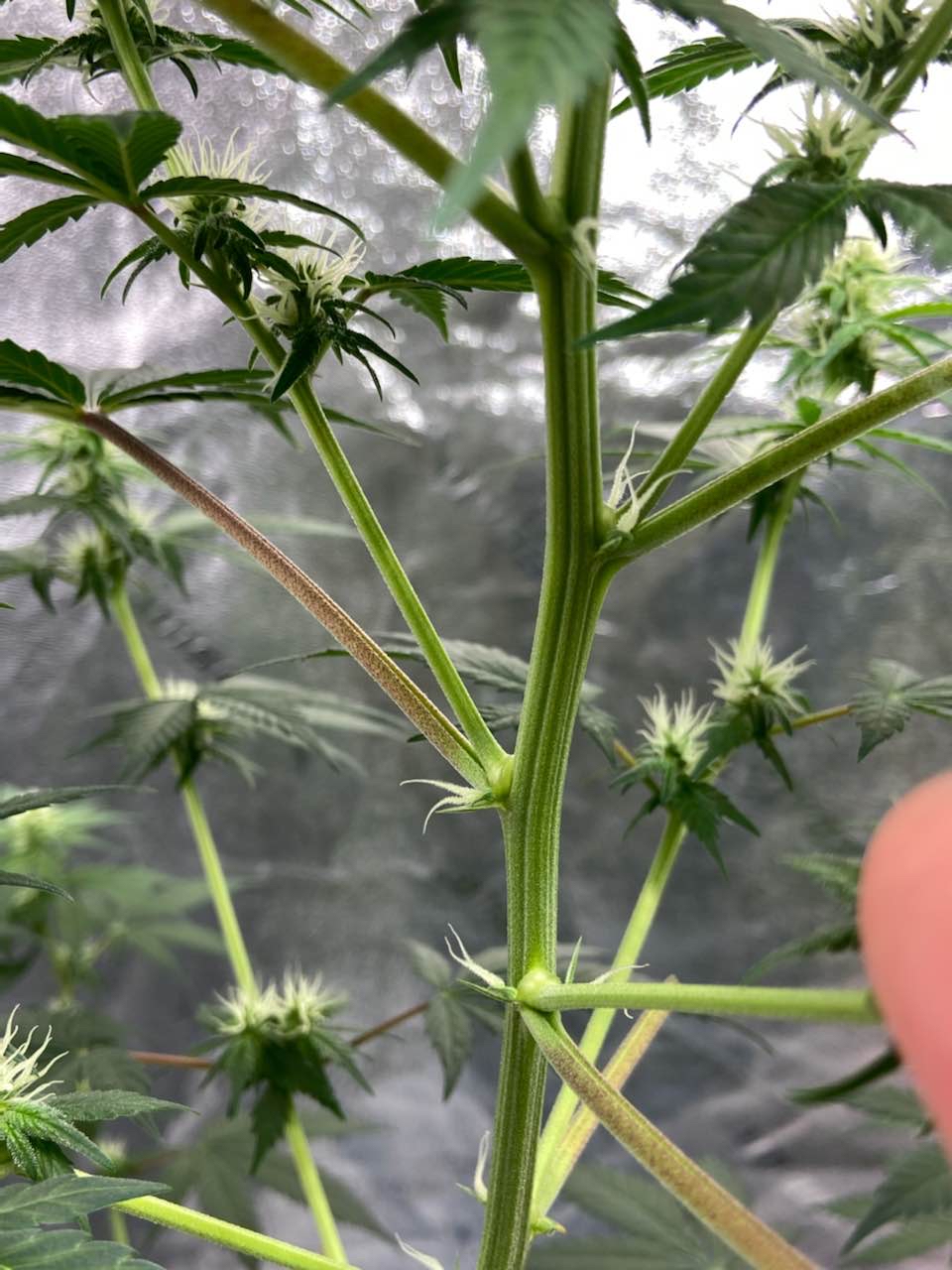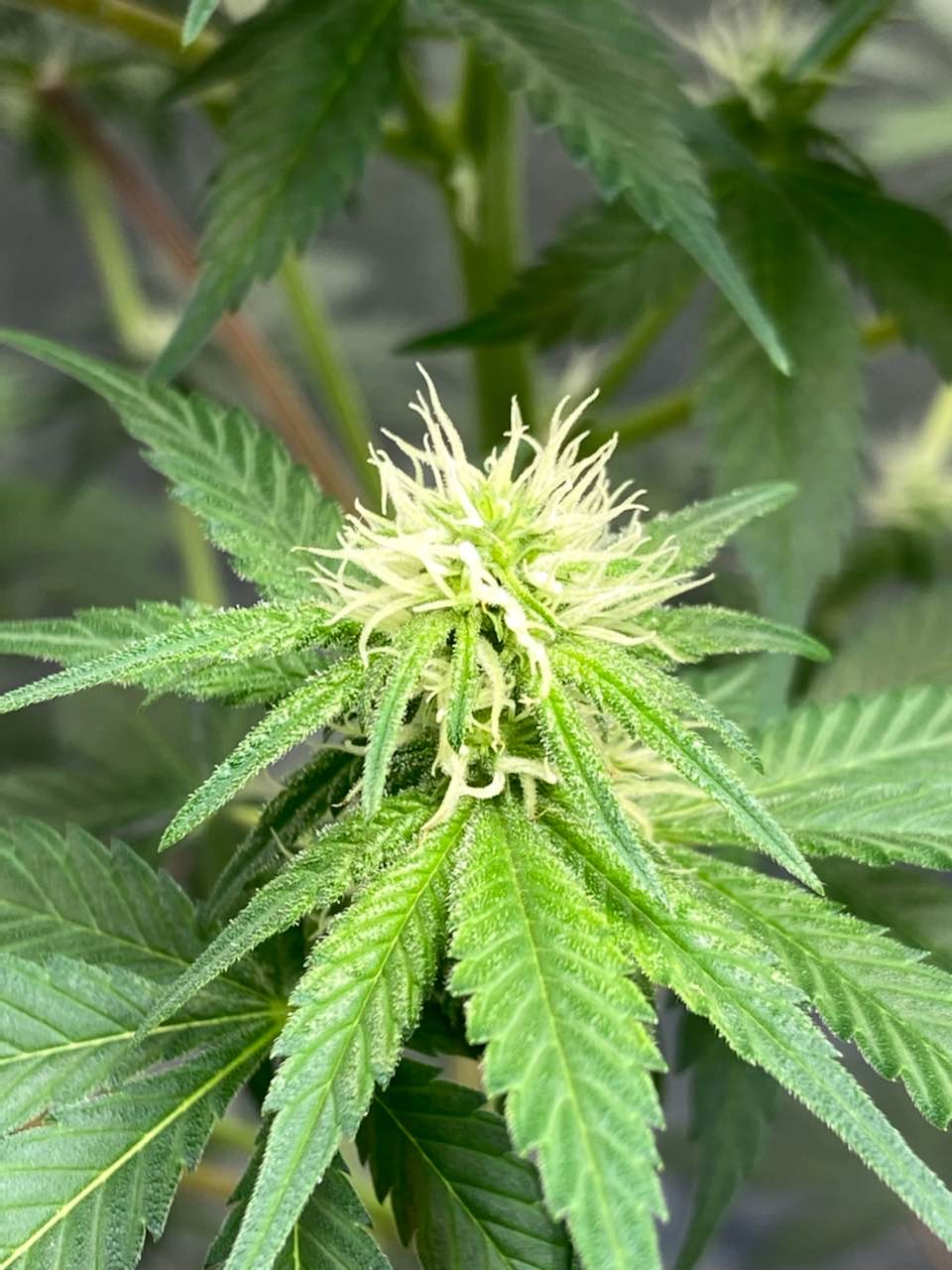 Trichomes starting to form, Looking frosty ❄️! Smelling great as well. No pests, no nutritional problems. Don't want to speak too soon, but this whole grow I had zero pest & very minor nutritional issues.
2 years ago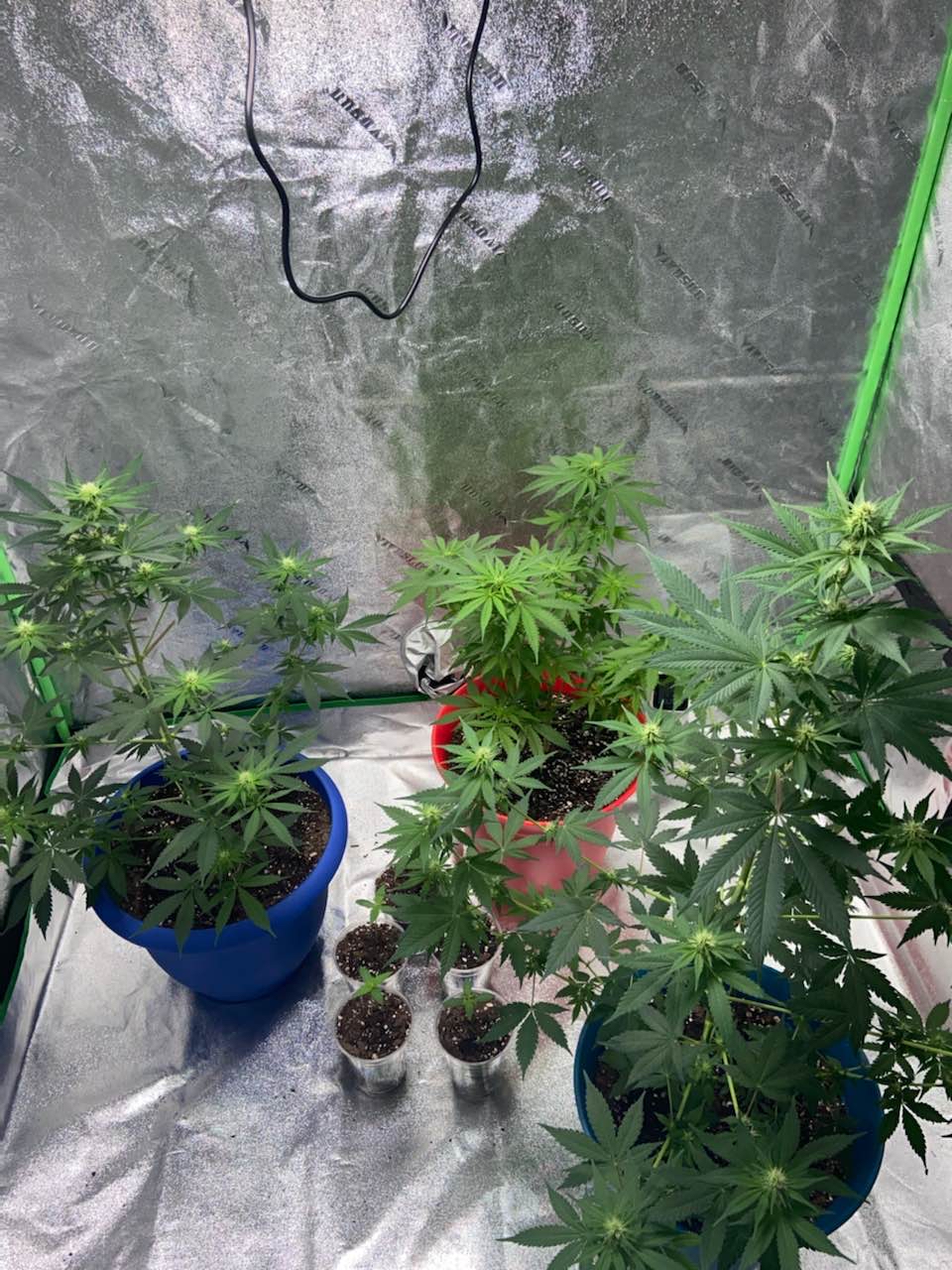 The Fruits of our Labor 🤗🥳
2 years ago
Flower mode, going strong 💪🏼
2 years ago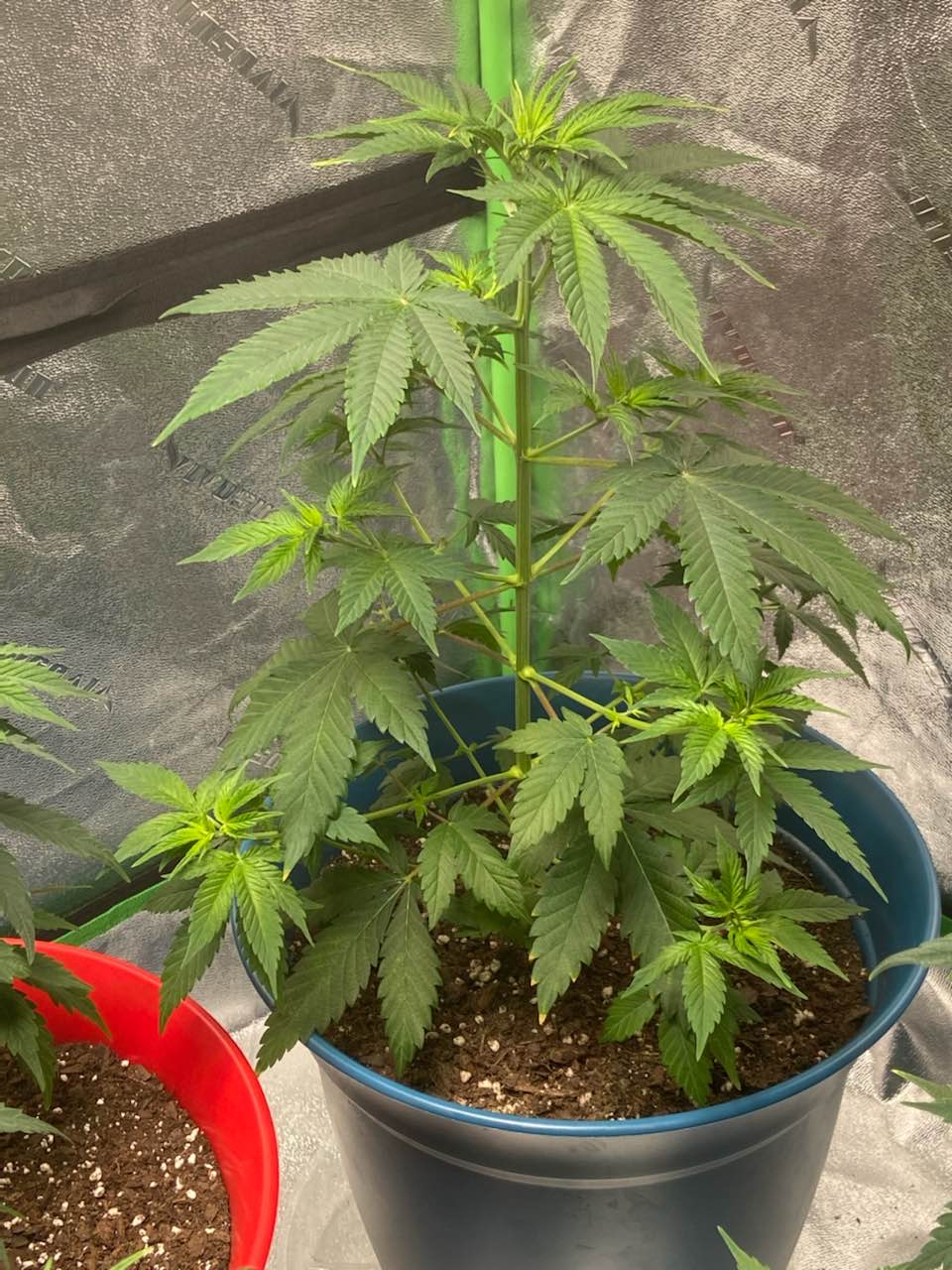 As you can see, in pictures 7 & 8 the pistils are forming…. Such a beautiful sight. The tent is starting to smell like fresh flower 👍🏼. This is week 8 of grow. 1.5 weeks into 12:12 lighting. The growth is ABSOLUTELY breath taking since I switched the lighting from 18:6 over to 12:12. Also, got my Blue Dream Autos in the solo cups, they should be breaking ground any day now.
2 years ago
Finally got all my girls transplanted. Happy healthy 😊
2 years ago
Waiting for this Fox 🦊 Farm Happy 🐸 Frog to arrive on Thursday so I can transplant my other 3 ladies. These girls have some Huge leafs and no sign of stress. Switched light to 12:12 last week. I'm already seeing & smelling the unmistakable aroma of this majestic plant.
2 years ago
Got 3/6 transplanted into much bigger, deeper pots. In which they will live the rest of their lives in. However, perfect example of WHAT NOT TO DO, do not wait too long to transplant! As y'all can see, 2 of my ladies are still in tiny pots (waiting on soil to be shipped).
2 years ago
Got the girls some new water, they're loving it. This week I have to transplant all plants into bigger pots & reuse ♻️ the 12" blue pots, just fill them all the way up with soil this time... 🤦🏻‍♂️ noob mistake lol. As y'all can see in pic 8, there is swelling occurring between the main stem and branches. Is this normal?
2 years ago
diablo The swelling is normal, I'd be more worried if there was no swelling. The plant is preparing to support larger leaves.
Getting ready to transplant a couple of my ladies into a bigger, deeper 12" pot. In pic 4, is that a Male!?
2 years ago
Just another daily update. The plants that I topped are healing nicely. I can tell at least 4/6 plants are female. They're starting to smell already 🪴
2 years ago
Steven Growsmith Those babies are healthy they going to break out of those pots quick I bet they are already growing in a circle around the pot or even worse they grow out your drain holes and if you can't wiggle em out you're screwed happened to me on my first grow
Did some more under canopy pruning. I can officially tell that at least 4/6 plants are female. 👏🏼 about to flip from veg to flower within next week or 2 for sure. Looks like a couple girls already started to flower.
2 years ago
Topped and pruned some under canopy discolored leafs. I only topped 2 of my plants. Sorta experimenting since it's first grow. Might leave 2-3 topped and the other 3 free to grow vertically. Also considering adding soil to some of these 1/2 filled pots since they're growing fast. Also, watered a little bit.
2 years ago
medisweetzfemnautogrows I'm doing experiments right now also I just topped 16 plants I'll top 4 of them 2 more times anthoer 4 1 more time and with the other 8 I'll be playing with lst and mainlining
Sativa357 Very nice, I have bonsai trees (juniper) that I trained. However, Since this my first grow, I want to see the different in a plant that is "topped", and a plant that is free to grow vertically.
medisweetzfemnautogrows Yes it's very interesting to see how one little thing can change a whole plant and they way it grows
View 2 additional comments
Room mate almost drowned my plants by turning the humidifier on full blast and left the house for 2 hours. 🤦🏻‍♂️ when I got home the relative humidity in the tent was over 90%!! I aired the tent out and used a paper towel to dampen the leafs that were SOAKED. All in all, I think It's going to be a couple days without water, soils so saturated.
2 years ago
CAS2o U would've been good small plants love humidity....
Showing some good growth. Thinking about what nutrients to purchase in order to give them a little boost. Any suggestions welcome.
2 years ago
kevywoods Looks good so far. What have you given them so far?
kevywoods I've noticed some are just smaller than others, even the same strain. Almost like dud genetics. That's why people keep "moms" to clone off cause they have good genetics.
kevywoods I'm just speaking in general not about your specific plants.
View 5 additional comments
I find that all though soil may look & feel dry on top layer, I usually scoop about 1 inch and check moisture level. This way I don't over water.
2 years ago
Growing strong 💪🏼!
2 years ago
Watered my ladies thoroughly. Trying to do a process of elimination for why these leaves have discoloration. Originally thought it was the solo cups I had over them, but I do see "yellowing" on some new growth... any ideas y'all?
2 years ago
📀Golden Ratio 📀 It looks fine, maybe a bit of nutrition burns or cal mag deficiencies. Some know more will guide you 😊
Sativa357 I have been feeding them bottled water since I have a water softener (salt) for my house water. I am waiting on a ph meter now from Amazon. Very possible it needs Calmag...
📀Golden Ratio 📀 It does need cal-mag , grind some egg shells and mix with 2 liters of water a cup of vinegar and some Epsom salts - should sprout back to normal in no time - cheapest way works every time 👍 good luck man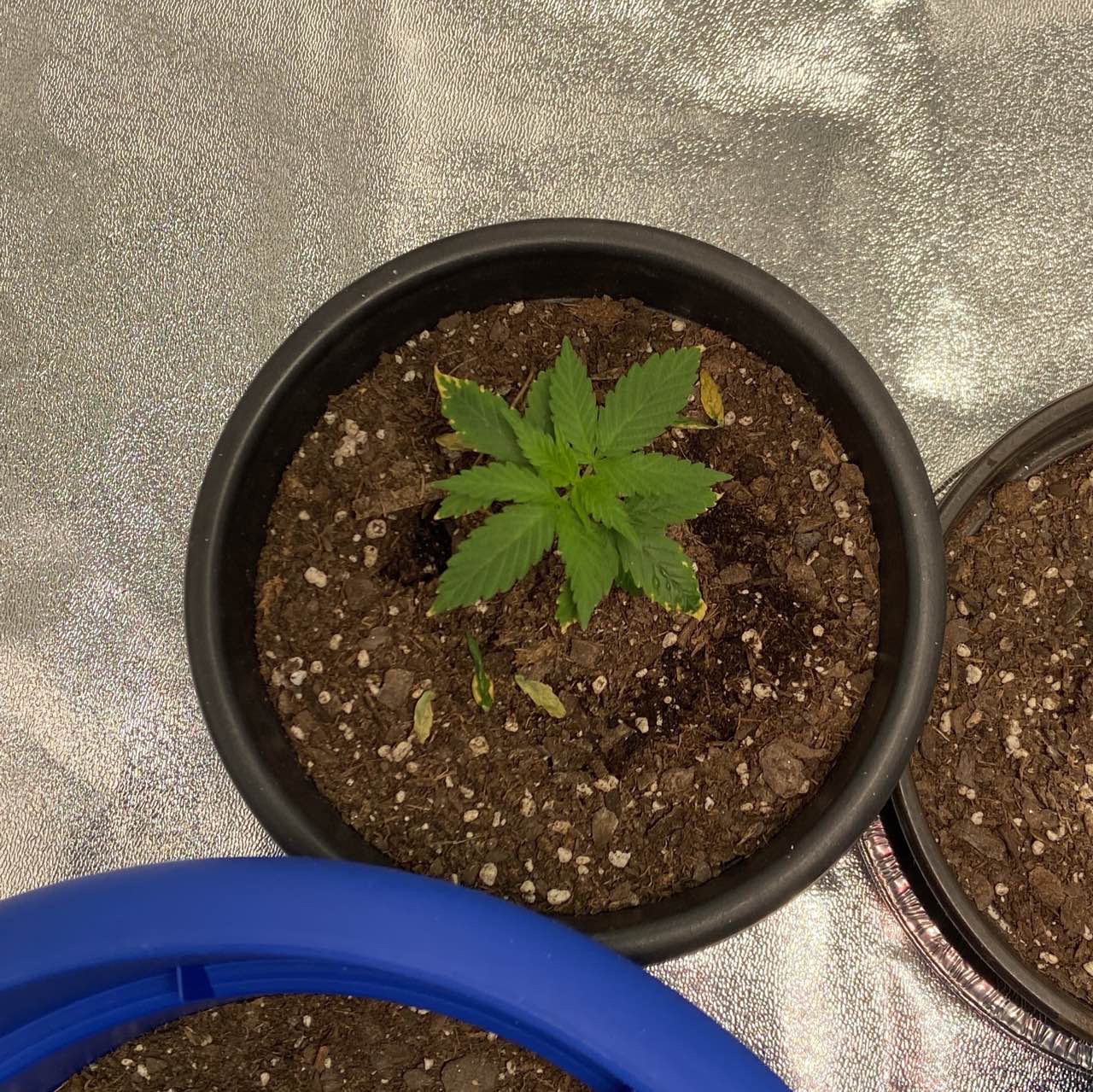 Raised the light 3 inches to keep at 30". Was blessed w finding a blueberry 🫐 seed in my bud last night so I got her germinating and ima look for more seeds in this Natures Grace Blueberry bud!
2 years ago
moneymike1983 You must have some strong lights. Furthest mine get from my plant is 18 inches. What are you running?
NorthernGrow Looks like you have some decent nutrient burn going, have you been giving extra nutrients this early? If in soil no extra nutes for the first month 👌. If that's not the case, sorry for the accusation. Cheers
Sativa357 No nutrients, they're in Fox Farm Happy Frog. Running a HLG 100R Spec.
View 3 additional comments
Some Incredible overnight growth.
2 years ago
Transplanted my last 2 ladies from seedling cup into pots. Feeling stupid for buying 12" & not 8-10" pots. Cutting it close on room in the tent. 6 plants, all veg stage.
2 years ago
Growing Fast!
2 years ago
Sativa357 I had a solo cup over then until I got my tent and these discolored leafs are the only ones that touched the cup and they Got soggy. Someone said looked like they're were burnt but why wouldn't the other leafs be discolored if it was burnt?
Some incredible growth over the last 2 days since they've been in a stable environment.
2 years ago
Assembled tent today and stabilize humidity and temperature.
2 years ago
Growing Strong 💪🏼 tent will arrive tomorrow. They will have a new home! With a stable environment (humidity/temp) surprised they've grown this big on a fold out table in a spare bedroom!
2 years ago
Growing a little, everyday. (Status)
2 years ago
Applied a humidifier to my green room. My ladies are growing STRONG!
2 years ago
Still reaching for the sky! Growing fast, happy, & healthy!
2 years ago