Second grow, onward and upward!
Winter 2022
2 plants. super soil custom mix. 6 gallon fabric pots.
ILGM Feminzed Auto flowering RUNTZ
Watering day! Straight water today to start the countdown to harvest. Sugar leaves showing lots of amber, buds are still milky. As soon as the start to turn, they're going into darkness for 48 hours and then get the chop! Smelling so fruity! Loving it!
18 hours ago
Watering day. Sea-90 and epsom salt.
4 days ago
Alchemist710 Beautiful work! Did you incorporate any training tactics?
CannaMed79! None. I just let 'em do their thing. I tried training with my first grow and stressed them out and got a mutation so figured out that I should just let autos do what they do.
CannaMed79! My next grow I got some photos and I will be training those to do a big SKROG and see how much weight I can get per plant
Watering day. Added monosilicic acid and cal mag today.
8 days ago
CannaMed79! This will be my last Autoflowering grow. I've got 2 under my belt now and I feel I'm ready to go photo!
SnowDog_X1 Nice! You definitely have the space and equipment. You'll just have to figure when you go from 18 hrs down to 12 hrs, fun. ✌🏻
View 1 additional comment
Straight water today
11 days ago
MaryJane22 That looks amazing! What size pots are those ?
Another gallon of water each today. Used banana peel water. Something new so we'll see what it does.
17 days ago
Watering day with cal mag, silicic acid, and molasses.
20 days ago
Watering day. Moved to a gallon of feed water every 3 days. Seems to be what they want. Added some fish fert this feed. And some molasses. Added another bazooka fan for air flow under the canopy and moved the lights up. I think day 90 is realistic to harvest on for this grow. Went quite a bit over 100 last time. I like the speed of autos, but I'm leaning towards progressing to photos for my third grow. I want to get into lst and vegging until I get them how I want.
23 days ago
Olenonok hi, what's is power of ur leds?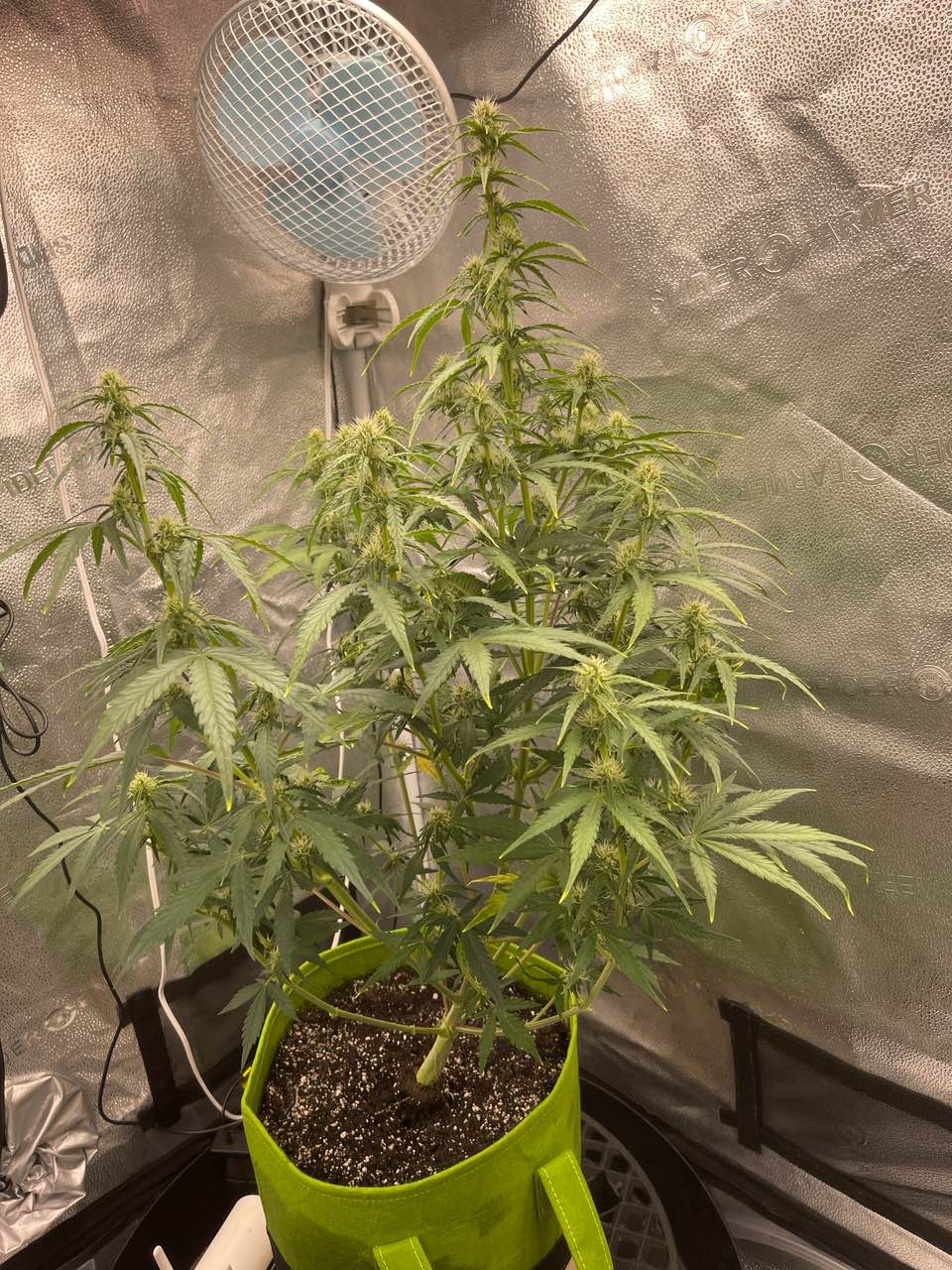 Watering day. They got a half gallon a piece. Looking good so far, stepped up to feeding cal mag every watering and my deficiency seems to have gotten taken care of. Fingers crossed. These two are definitely looking different than my first grow did. These girls are tall and lanky compared to short and bushy like the first grow. Starting to stink like what I can only describe as burning rubber with skunk smell. Hoping this grow is 🔥🔥
a month ago
Can someone help me diagnose this deficiency please?
a month ago
Watering day. They both started flowering. Love autoflowers, they just do their thing. I fed with some cal mag today since I use RO water.
2 months ago
CannaMed79! I'm curious as to when it's wise to start defoliating?
Moved the lights up and watered today. Girls are getting big! Happy Saturday y'all!
2 months ago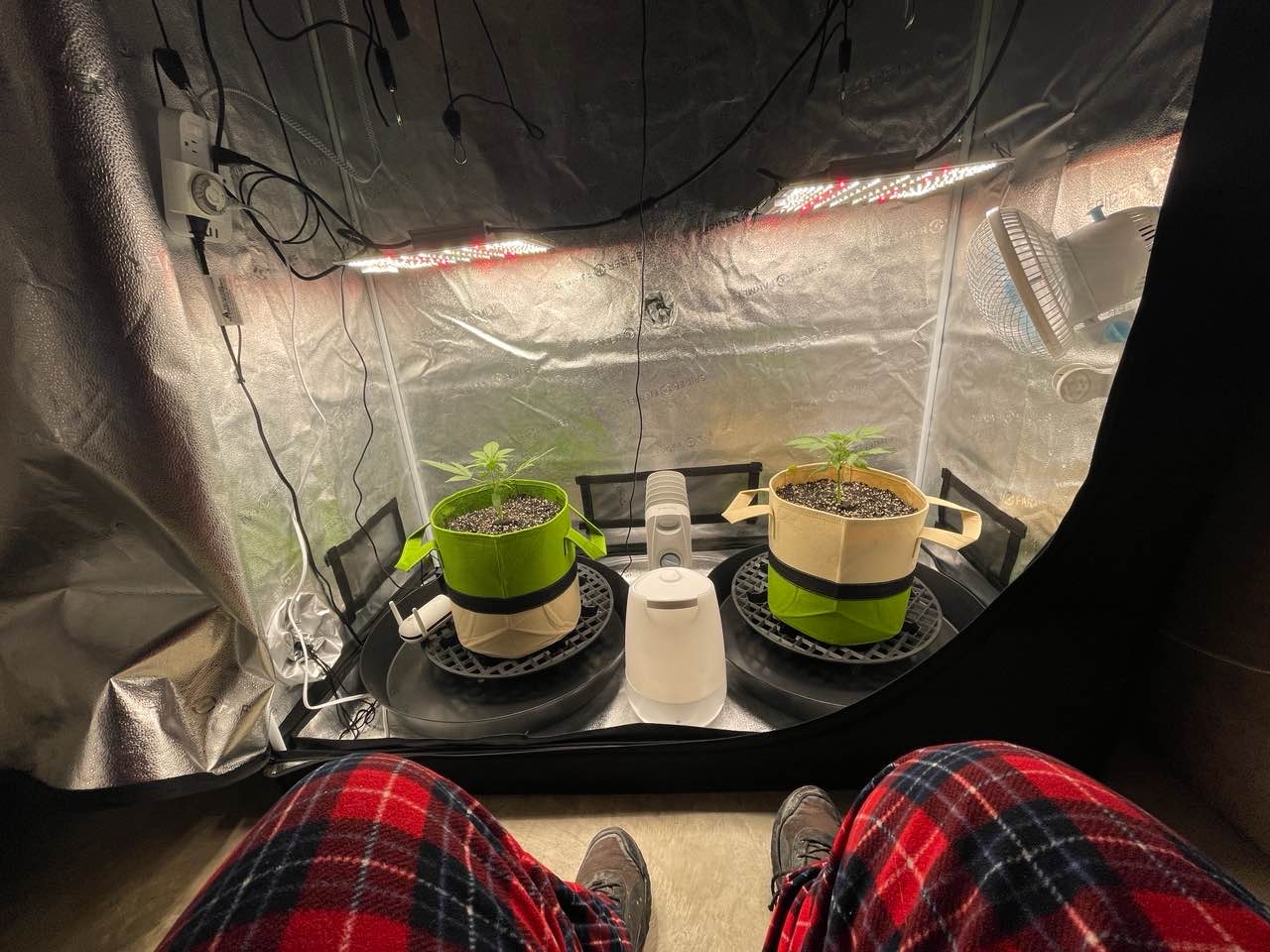 Watering day! Anybody else use this monosilicic acid?
2 months ago
I don't want to jinx myself, but these are way bigger and in better shape than my first grow was at this point. No deficiencies or other symptoms yet either! I'm keeping my fingers crossed and going to continue to pay close attention and be vigilant to their needs. I'm hooked, and I'll grow cannabis until I die!
2 months ago
All green, no stress.
2 months ago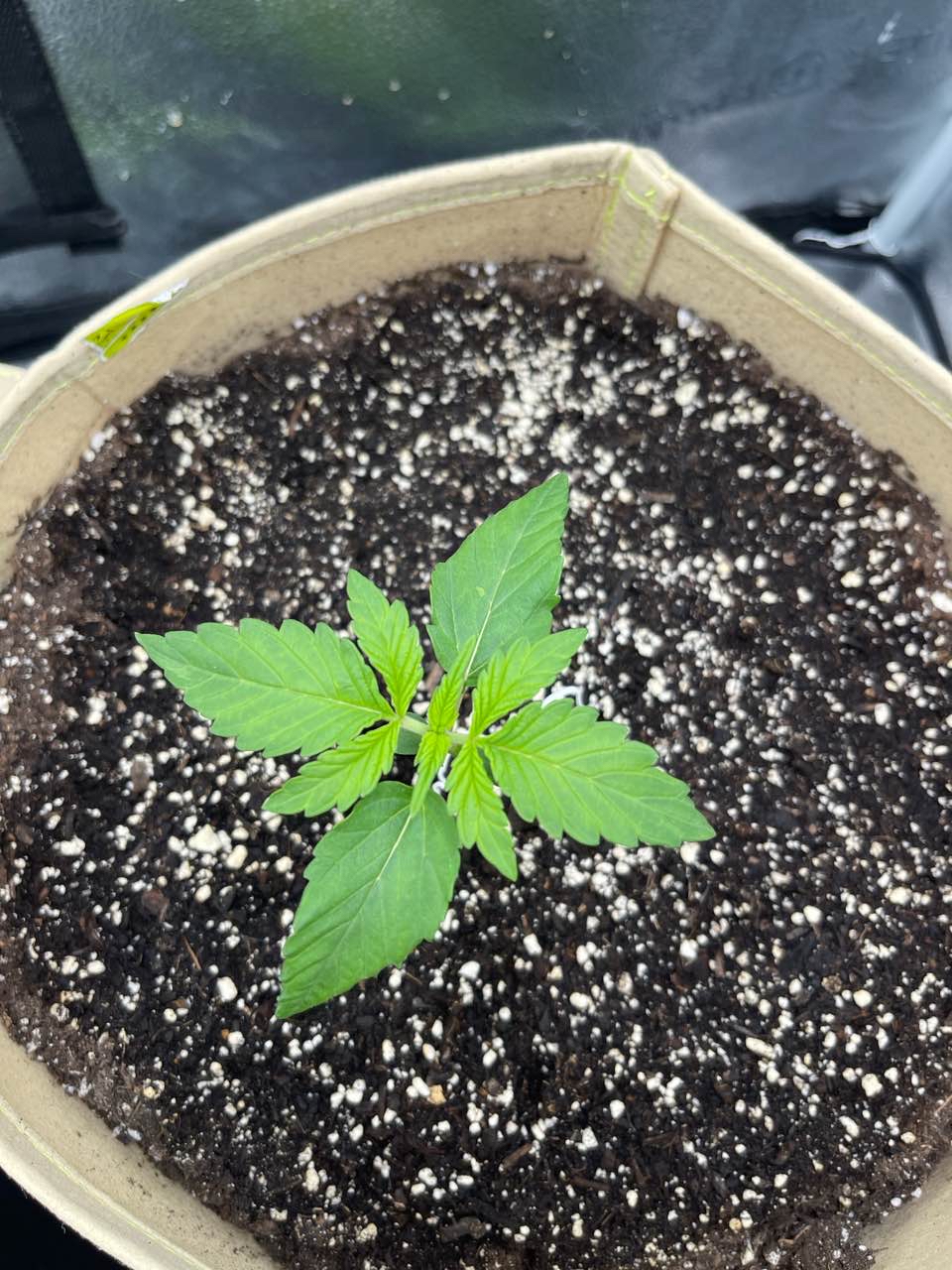 Much better this time. No problems like I had first grow with watering and ph issues.
2 months ago
Watering day, added some monosilicic acid @ 3 ml per gallon of water.
2 months ago
So far so good
2 months ago
vespathekid On my 2nd grow as well in your neighborhood! 🌃 Best of luck on this one!
Set it up with super soil so all I have to do is water until flowering starts. Watered today with 150ml of water.
2 months ago
Popped seeds Monday, tap root exposed Tuesday, put in rapid rooters Wednesday, put in seedling tray in tent on Thursday.
2 months ago