Purple Punch - by RQS
Sativa 20%, Indica 75%, Ruderalis 5%
Type: Autoflowering THC: 19% CBD: Medium Height Indoor: 60-100 cm Height Outdoor: 80 - 120 cm Flowering time: 7 - 8 weeks Harvest Month: 9 - 10 weeks after sprouting Genetic Background: Purple Punch x Old Skunk Auto Type: Sativa 20%, Indica 75%, Ruderalis 5% Effect: Physically Relaxing Climate: Long Summers Flavor: Candy, Fruity
Purple Punch - ( Purple Punch x Old Skunk Auto )
Ready to trim :)
2 years ago
bigsammy Professional at work Merry Christmas 🎄 happy 😆
View 2 additional comments
Chopped, got 20% Amber Trichs, ultra hyped on this strain!
2 years ago
View 3 additional comments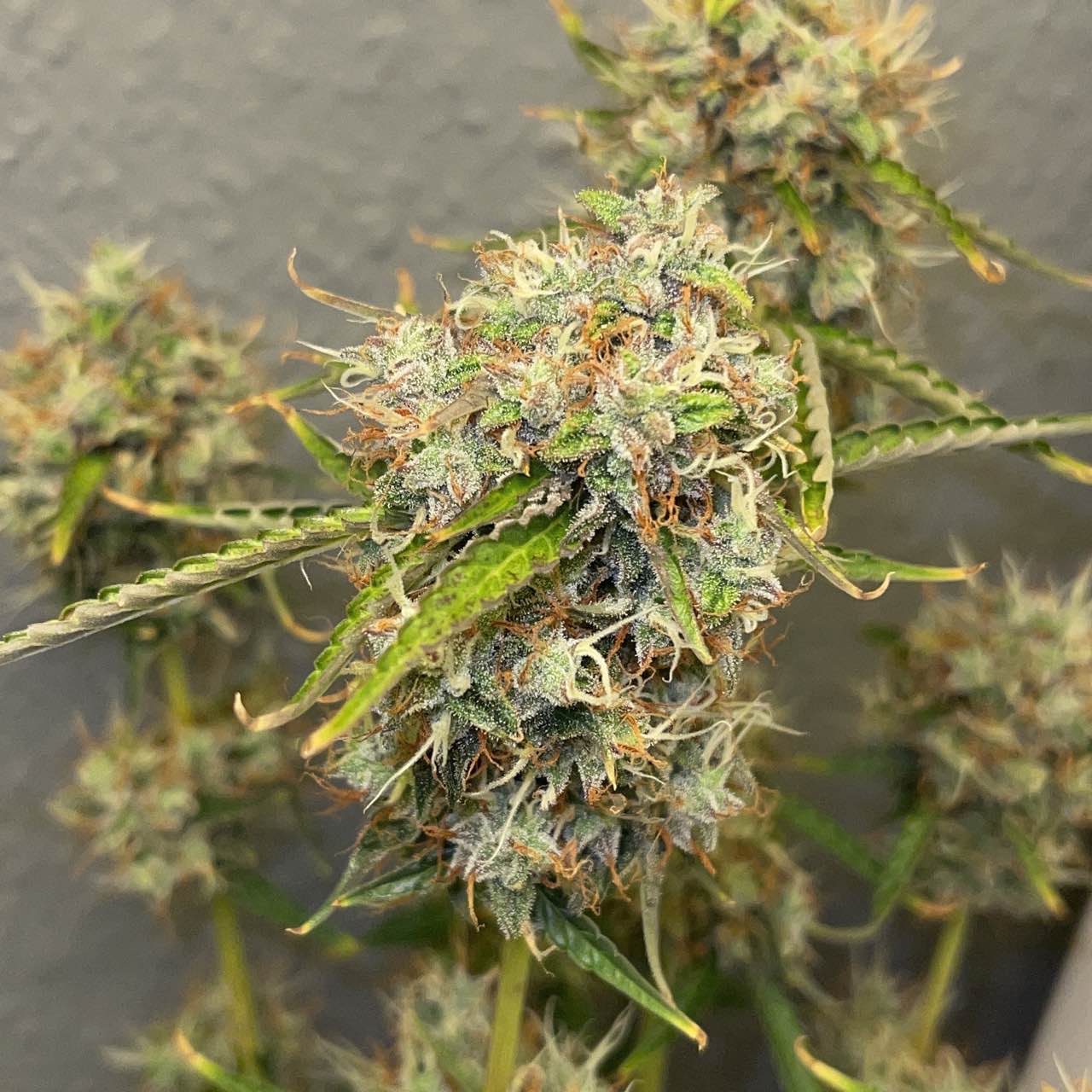 🌺🙏 Flushed the third time
2 years ago
CannaRabbit Thanks buddy, this one looks more "common" than the mimosa i have, one of them turned black which is amazing, hopefully this one stacks on more & shows some purple :) RQS is so far good, gonna try them in air pots next, without toping only lst, seems to be the better way with them
keithlovesrach I'm not an expert but from trying a mixture of topping, fimming, lst, super cropping, I find autos sometimes seem to have faster more vigorous growth when left alone with just leaf tucking and maybe removing a fan leaf blocking a lower bud site. Still testing the matter myself as there are a whole bunch of factors: strain, phenotype, etc. I believe that each person has a preferred method and I've seen successes from every version. Whatever works best for each individual grower is the way to do it.
keithlovesrach Schwazzing would prove everyone who says don't remove leaves wrong, as I've seen huge yields from friends with the technique, even on autos. Although I've seen equally huge yields from people who grow them naturally. Too many factors to say one, or anything in between, is better than the other.
View 3 additional comments
Trichome Check
2 years ago
MrStopPlayin How much percent of amber would u call that askin for myself?
CannaRabbit Uh i would say max. 5%, its really hard for me to take a good picture but when checking them live but from what ive seen on all buds id say its 5%. Most of them cloudy only a few clear
CannaRabbit What's your speetspot on harvesting? I try to hit somewhere between 10-20%
View 4 additional comments
Trichome check
2 years ago
Trichome Check
2 years ago
Comin along. But i guess atleast 3 weeks from now
2 years ago
PP still slow but stacking up, tweaked the feeding shedule now; (Alfa Boost 8ml/l, Alga Bloom 4ml/l, Green Sensation 1ml/l, Power Roots 1ml/l, CalMag+, Pure Zym 1ml/l)
2 years ago
View 11 additional comments
Nutes Day, this time only organics, Power Roots, Green Sensation, Alfa Boost (organic PGR and triaconthanol) Pure Zym, Alga Bloom. pH solution from Amsterdam Hydrophonics
2 years ago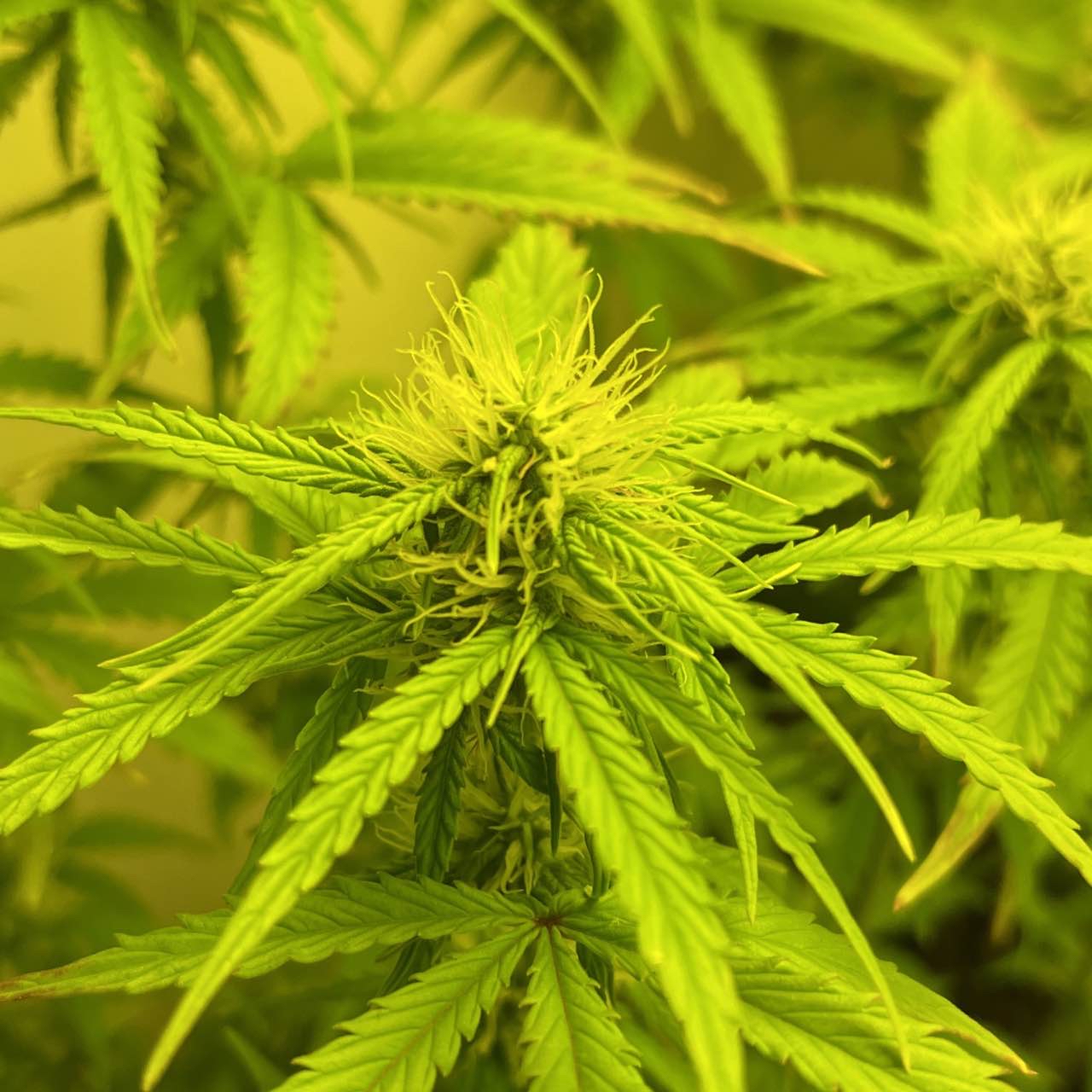 Whitewidow83 Do you trim your shade leaves off or something? Lol never seen pot grow like this besides on here …. I'm new at this I was just wondering why they don't have the larger leaves towards the bottom and does this help the plants at all doing this ? Thanks
CannaRabbit I trim them indeed, to get better light and air penetration, so far this worked out for me on topped plants very well I leave only the top leaves on the bud sites
CannaRabbit Better said i cut all leaves that blocks blocks the light to the lower branches but i only do that so heavy when i have had a nutri burn going, after flushing the medium. I try to let as many as possible still
Tucked some leaves & flushed with 6.5 pH'd Water, slight nutri burn 🤦🏽‍♂️
2 years ago
Nutrients Day: Plagron Terra Bloom initially > Plagron Alga Bloom, Pure Zym, Alfa Boost, power Roots. Colors started to show off on the stems also :)
2 years ago
Peng Nice one, I'm thinking of using plagron nutes next season, the batmix worked well I wanna try the all mix.
CannaRabbit Thats great 💚, but i got again a nutri burn on 5 from 13 plant's even after i used only the half dosage's, need to flush them with pH'd water today and tuck the damaged leaves. Plagron seems to be very concentrated the nutri plan they offer is def. way to much. On my next grow id go back to plagron soil (bat mix or royal mix) as i felt the last time that it was way better than biobizz soil
Peng Might be from the terra cus it's mineral based?
View 4 additional comments
All Topped, and allready recovered and growing, any ideas whats the best way to handle the budsides on a SOG? Tried the classical net buts to big for this box
2 years ago
Happy Hippo😹 recovered from topping looks like growth push will happen soon
2 years ago
Peng Yo, what lighting do you have these on? I always want lights, but they are never as good as the sun
Peng Cus you're getting really good growth, I'm limited by daylight hours, I'm being curious about how much light they are getting
CannaRabbit I did a light upgrade buddy, made a journal about it, it's an bloomstar\ Samsung H One 3500 K Rio Board 140W Dimmable, the Journal is called Hardware, I was at an expert grow store and got teached about lights and such, and got rid of the first blurple light I had
View 2 additional comments
Rain Day with a small dosage of alfa booster 🃏
2 years ago
Kuramamama23 Purple punch hasn't been in circulation in a minute now so I hope it's real purple punch but good luck on your yield buddy
CannaRabbit Buddy i added a picture of the seeds and packaging, on booth posts, you may need to zoom in but is tgere really fake seeds to fear from a huge company like royal queen seeds? Anyways thank you buddy lets really hope that it turns out to be the real PP
Kuramamama23 Yeah I hope everything works out didn't mean to sound smug or anything just was concerned some one just had a long lengthy conversation about that lol that's why
View 7 additional comments
Booth ☘️, one is late
2 years ago