Almost to harvest
1-2 weeks from harvest
Miss B, Strawberry, Dr. Cheddar, Northern Lights, Harlequin These plants were grown out by our partner farm to help our facility hit the ground running the day it was ready. In this timeline, you will see our journey of getting the plants and bringing them to our store/indoor grow facility and them flower out. Aug 13 is the day we moved the plants here Aug 18 is the day we initiated flowering (day 6 and on is flowering time)
Started trimming some of the Harlequin. She is a beauty!! Stay tuned for the website release of all our strains. We ship nationwide. Lab samples for cannabinoids and terpenes pesticides and heavy metals were submitted today for every strain. Hopefully one of them comes up in the 20's!!🤞🏽
a year ago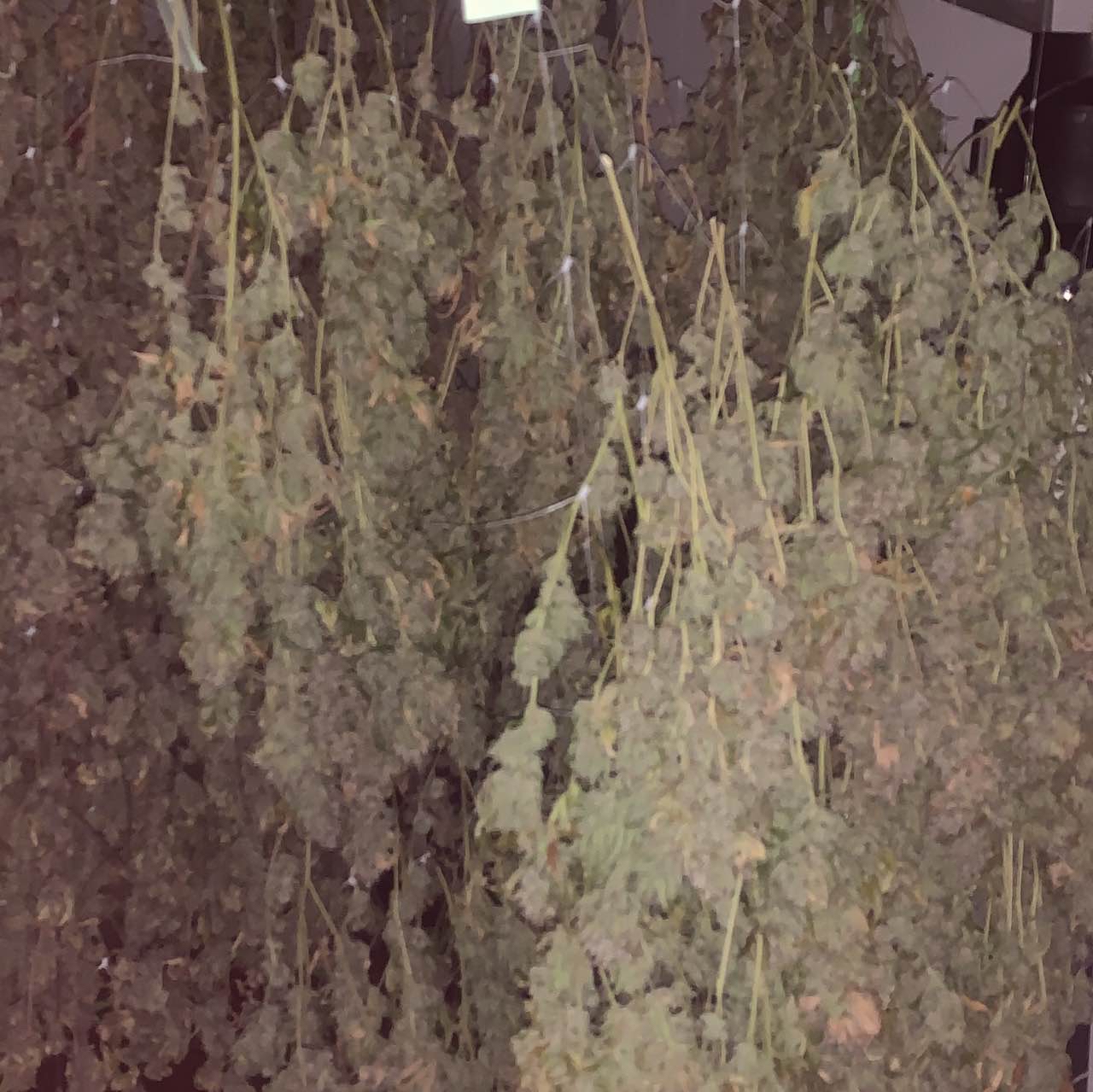 Terrible picture. They're in the dark and was hard to get a good picture. They've been drying for about 5 days
a year ago
mikki1time Looks like a curtain of weed, awsome harvest
hempgeneration Thanks!! You should be able to buy some of this awesome harvest on our website in a few weeks!! HempGeneration.com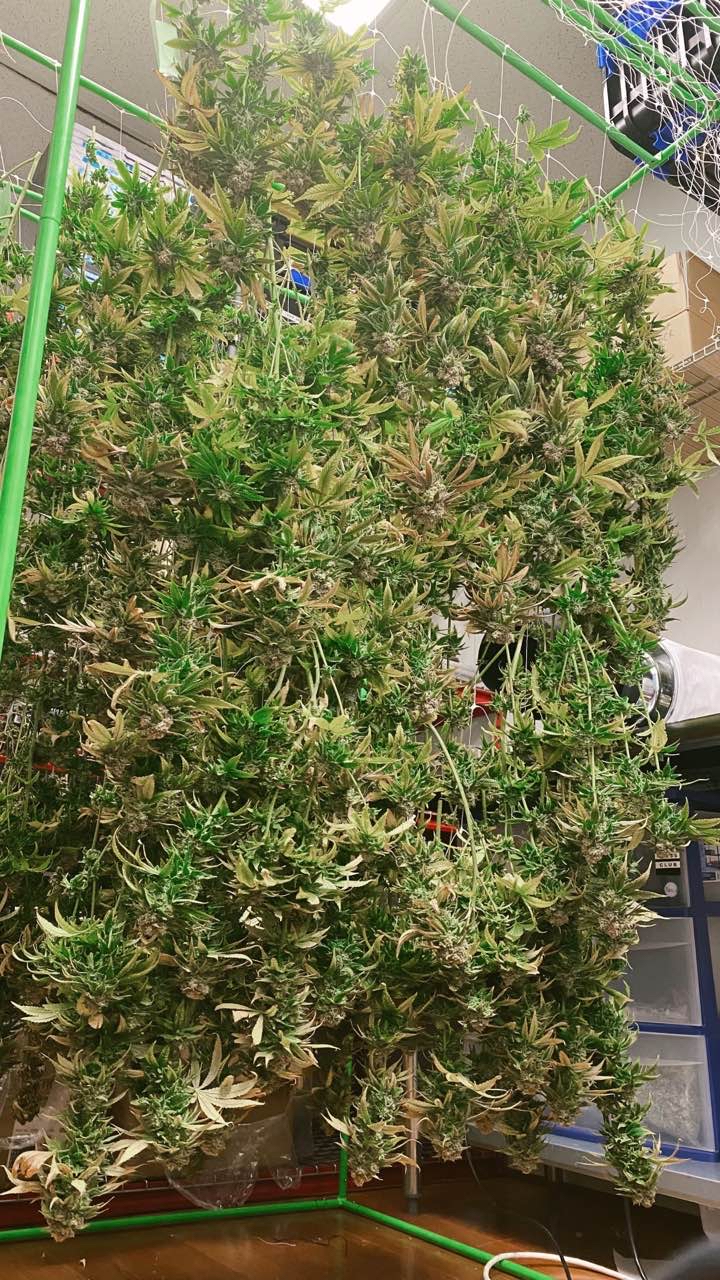 Today we harvested the CHC (Dr. Cheddar) and the CH1 (Cheese). Hung dried with minimal pruning mostly just dead leaves that picked and fell right off. Found a good 5ish cluster spots of little mites that look like aphids. I will post pics of them in tomorrow's harvest. Update: didn't quite get pics of the next days harvest but the day after today we cut down the rest of the plants and hung them up to dry
a year ago
Rest of the buds are approaching full maturity. Some are past maturity but am waiting until Wednesday to cut a lot of stuff down
a year ago
kylerb23 Looks like your rinsing perfectly
This is the day strawberry came down! She was pretty small in bud structure but really does smell like strawberry
a year ago
I took pics and labeled each different strain. Still not the finished product. Flush is starting tomorrow for all but harlequin and Miss B pheno B
a year ago
jdanza25 Wow looking great ✊🔥 I bet it smells like heaven!
1-2 weeks from harvest
a year ago
A little nutrient burn on the buds won't hurt. Next round will be better though
a year ago
Still battling remnant damage from nutrient imbalance. Buds are growing fine though. Last pic is showing how I check my runoff water for ph and EC to make sure what's coming out is close enough to what's coming in. My trolmaster system tracks this data for me
a year ago
Just over 2 weeks into flowering. I spotted a little possible nitrogen toxicity? Rolling with the punches
a year ago
Discovered a spider mite infestation. Well I knew they plants had spider mites. I've been spraying the hell out of them and knocking them back intensively. Using pure crop 1, suffoil, oxidate/zerotol, and at one spray I used some tetrasan early on. Also sprayed some grandevo before releasing predator mites (persimilis for active infestation and californicus later for a timed release
a year ago
growin4thepham Man those fuckin mites have made me lose sleep. Once they are there u won't eliminate them. Not when u are as deep into the grow as I was atkeast. So take the time and effort to literally wash ur plants man. I was well into flower and could control them but they keep coming back.
grindhard508 Fuck them little bastards. May the battle be in your favor
Day 15 of Grow. About 10/11 days into flower
a year ago
Here one of the plants was showing some kind of nutrient deficiency. I looked it up and looks like a general imbalance. I adjusted my fertilizer to be more balanced. I thought I needed to add compost tea and a lot of extra stuff that was throwing my ph off. All I need is my nutrient A&B solution mix and it works like a charm. At first I tried increasing cal/mag and it worked out but ended up going back to A&B mix
a year ago
Finally put the trellis net on them. I think we flowered them out by now and have been pruning
a year ago
Day 4 continuing veg until a nice transition has occurred. Our chiropractor who sells the products we make came by to show some support and pick up more tinctures and gummy's!
a year ago
Stopped by Whole Foods to get some water after we left the farm
a year ago