Cheese
Cheese
1st time grower
They grow up so fast 1st time growing
a year ago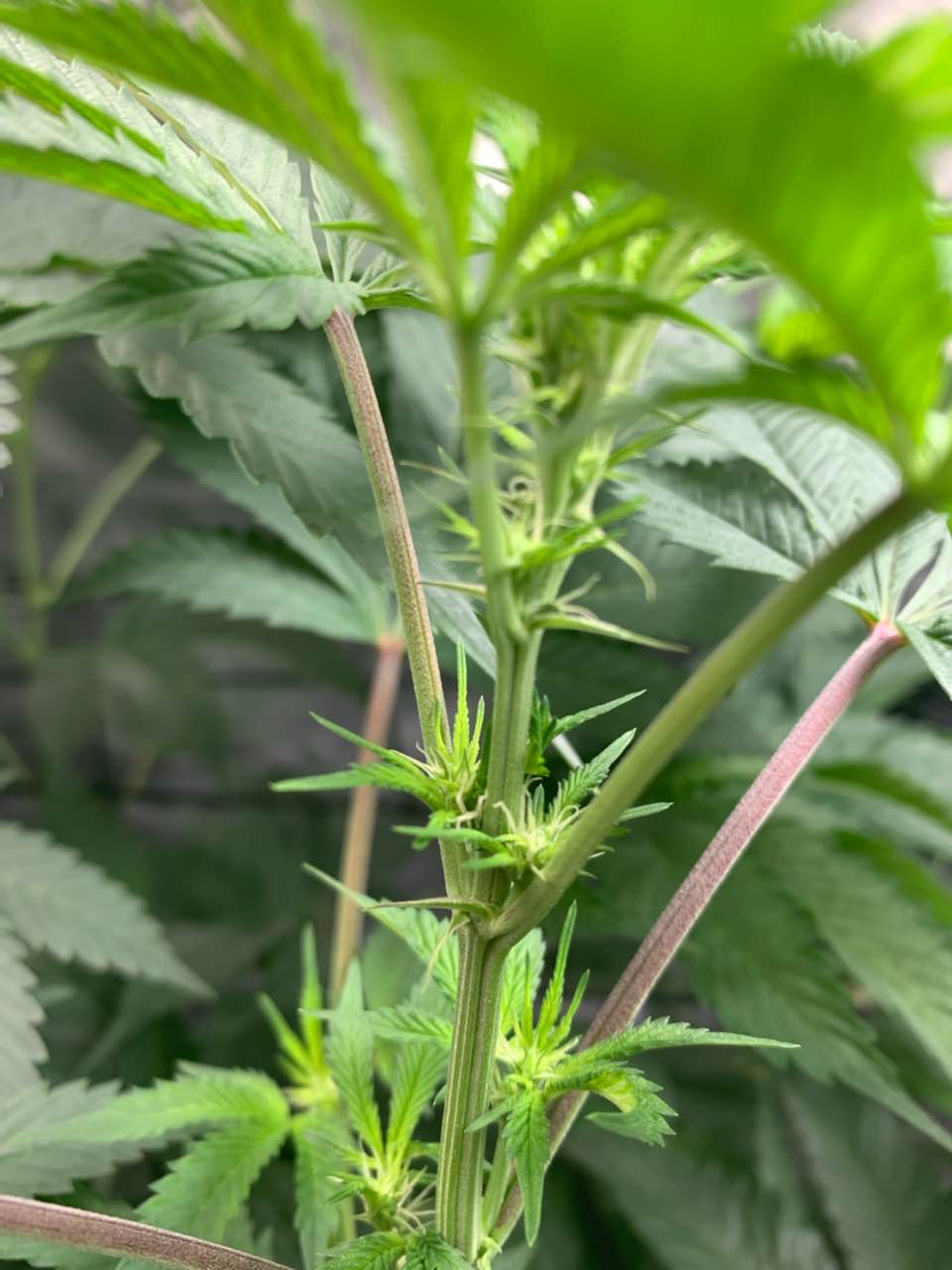 Look at all them white hairs 💪
2 years ago
Well we are getting some where
2 years ago
Is this signs of preflowering?
2 years ago
kaylinicole Yayyyyyyy I had to change to 12/12 light cause they turn out to be auto I didn't think this would ever come lol
View 8 additional comments
Moved to 12/12 light an they are officially taller then my kid 👧
2 years ago
kaylinicole So that was a question previously I was wondering if I should tie lower branches or move the net up these where suppose to be autos but turn out not so I just flipped to 12 as of like 4 days ago
kaylinicole @troy.farms I'm trying not to let her outgrow my tent it is 8 ft but she getting close
kaylinicole Yes thank you this is my actual 1st time ever growing I just did a lot of research an took off with it learning as I go so any advice helps so I appreciate it
View 1 additional comment
Speeaded them out an now they are even curious to see how they will react
2 years ago
kactai Saw your previous post! This looks ok and you did the right thing by being gentle and bending. My only additional suggestion would be to point the tips of each branch in all different directions and Ideally as far from each other as possible! Looks great for a first grow!!!
kactai It's actually looks like that's what you've already done. Good luck!
Lower leafs looking alil yellow why is this?
2 years ago
View 7 additional comments
Am I doing this ticking thing right?
2 years ago
combatmedic81 Try to spread them out as much as possible, you want it wide so it fills up all the space
Should I tie the lower branches for support?
2 years ago
In 2 weeks they have started to stretch but this is week 8 an still no sign of pre flowers for these autos what am I doing wrong 😑
2 years ago
Does this mean they are females?
2 years ago
kaylinicole I'm having the hardest time sexing these plants
Blazin Fiend Wait till you see what looks like white hairs and you'll know because more and more will pop up . If it's a male it won't have white hairs but lil like balls lol
Gave them so cal-mag an they are already starting to look better
2 years ago
Top leaves turning yellow why can someone help
2 years ago
Sweet & Sour Chicken Are you giving them nitrogen? Magnesium and or cal mag? What type of nutrients if any are you giving your plant?
kaylinicole They are auto so they go on there own an I feed them big bloom by fox farm every other feeding
View 29 additional comments
Moved them to a bigger tent They are happy
2 years ago
Week 6 an still no sign of male or female am I doing something wrong?
2 years ago
rykardawg Sorry about the questions back to back but what is your light cycle
View 21 additional comments
New tent coming tomorrow can't wait till they start to flower
2 years ago
Sevenleafs In this pic you can see some leaf deformities, which can be symptoms of cal/mag problems. Have you checked this?
Help 1st time grower when will I be able to tell if they are females
2 years ago
kaylinicole Thank you I thought so but I figured why not ask lol
kaylinicole They are auto I bought Feminized ones but they got mixed up with my other ones and I'm not quite sure which ones these are 😂
Starting to smell amazing
2 years ago
kaylinicole Thank you I order a new one coming in Friday