PES Hawaiian
Winter
Not for human consumption
Sitting pretty with a nice sore print for future use!
2 years ago
Vgrow I was really wanting to get into growing mushrooms. Any advise?
Pinning and growing
2 years ago
So every tub has sprung pins. We'll see what we get? The class is getting excited to see the difference in strains!
2 years ago
Hoping for pins
2 years ago
Little Nicky I might attempt to grow some this year. I've never tried to grow them, but always wanted to. Are they hard to grow ?
trichometheatre Ya it is! Need lots of patience! Takes a few months to get rolling but you can do it!
trichometheatre @littlenicky I would start by going on the website @future4200-this site has all the techniques to do simple births, as well as bulk spawns! Just do a search for mushroom tech. There is no better place to get the information! You can get quality spores from @sporeworks.com for excellent prices! Go get em!!!
View 2 additional comments
One more week of colonizing-maybe less?
3 years ago
trichometheatre Pictures 3 and 4 is a bulk spawn I was experimenting with by only using one BRF cake with chunkier pieces of spawn. Just curious on yield and reaction to environmental conditions-comparisons and contradictions.
mku7tr4 That would be the starting stages of magic mushrooms.
trichometheatre This is a bulk spawn of psilocybin Cubensis (p.e.s. Hawaiian 🌺) The white stuff in the photo is mycelium, which is now colonizing the sterile substrate (cow shit, cocoa husk, vermiculite, and perlite). Once fully colonizing, the tub will be introduced to light and fruiting will begin! 🍄☮️💚🌊
View 2 additional comments
Colonizing very quickly
3 years ago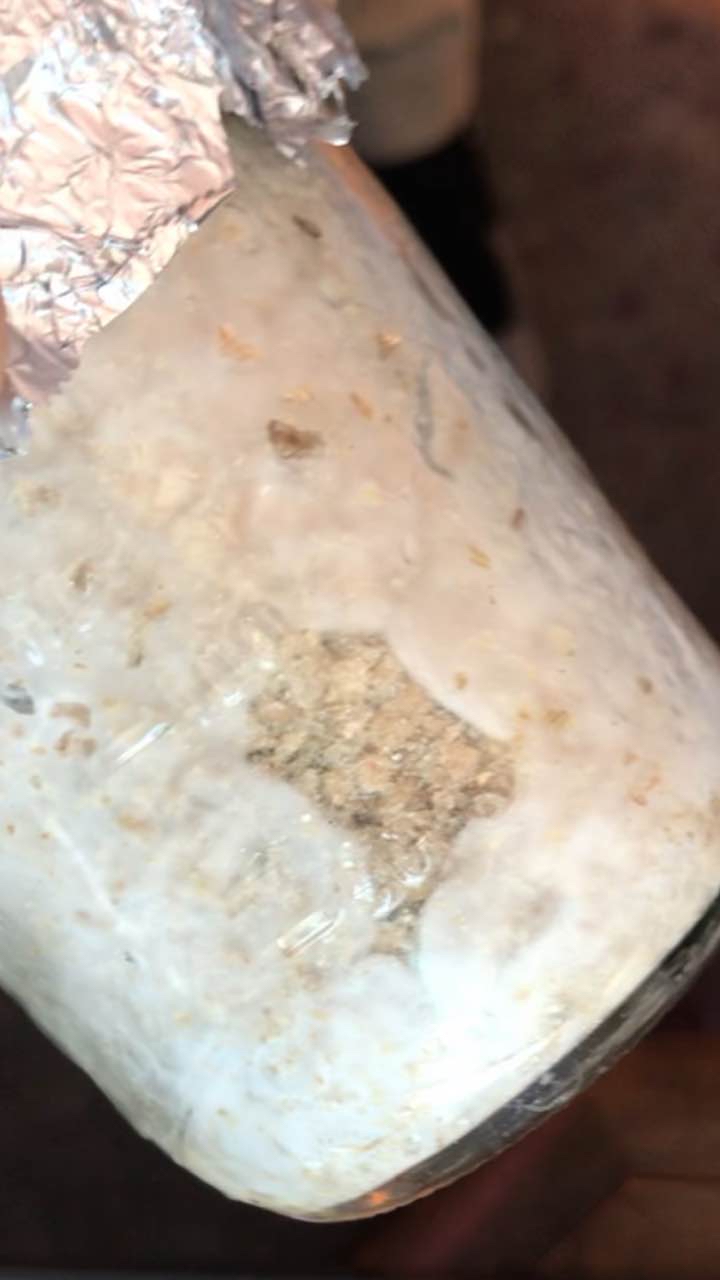 Ready for bulk in about a week. Total of 4 jars-two are in sterile area ready to go!
3 years ago
View 1 additional comment
About ready for bulk
3 years ago
Almost done colonizing
3 years ago
Waiting on two jars!
3 years ago
Almost fully colonized
3 years ago
Getting there-NO RUSH
3 years ago
Almost fully inoculated
3 years ago
Looking great!
3 years ago
Colonization occurring in all cakes 🎂
3 years ago
The class is seeing their first glimpse of mycelium! They are very excited about how this whole process works, and just how important mycology is in the scheme of life! Without mycelium we would have no trees, without trees we would have no air to breathe!!!
3 years ago
The class is gonna love this project🙃
3 years ago
mystrain420 Please give lots of details. The class is watching 👍🏾😊