lizenbee
First Grow
Summer 2022
White Widow clone, outdoor grow zone 7b, 25 gallon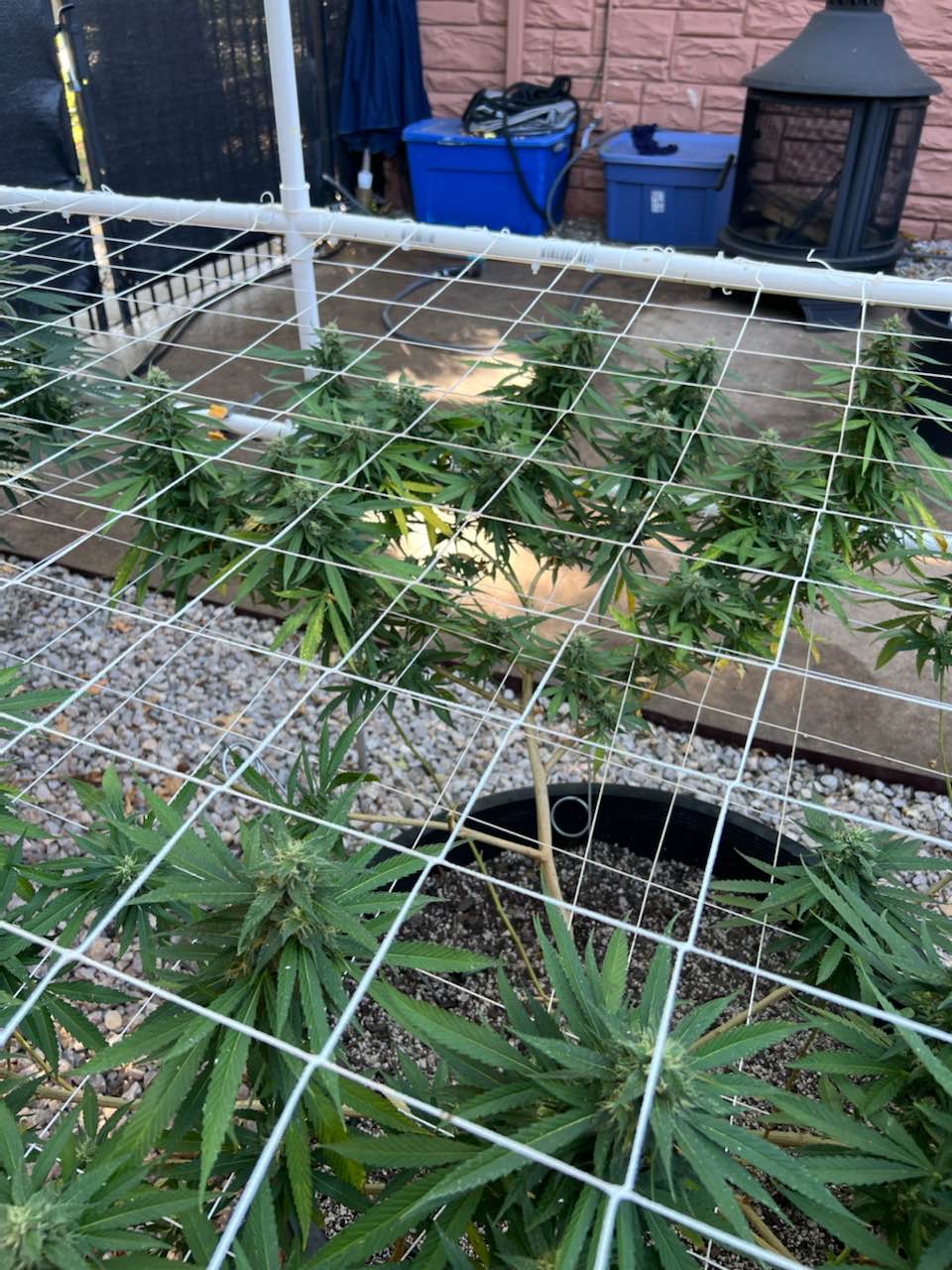 Losing one half of the plant slowly to Fusarium Wilt slowly branch by branch. So far I have lost a couple of smaller branches and a medium branch. The main stem snapped in two during SCROGing a couple of months ago, But I moved quick and mended it and it seemed to recover well. Only one side seems to be affected. The other side of the plant looks healthy and the buds are denser and thicker. I'm wondering if I should sacrifice the other half of the plant in remove it now so the other half can get all the nutrients. Or leave it to continue to grow, There are no other branches currently suffering the wilt but that can change overnight.
3 months ago
Looking good. Colas are getting fatter, no height growth, So this one won't make it through the second SCROG . Shares a space with Donkey Butter Strain. The donkey is making it through the second screen. The white widow clone is quite a bit further than the donkey butter which I started from a seed.
3 months ago
I have a question for anyone who has more experience than I. My buds seem to be doing well. But I can't seem to stop the bottom fan leaves from turning yellow. Is this natural as the buds grow? I know that plant takes nitrogen from the lower leaves but it have been feeding every 4 days or so. The ph of the soil is 5.7 currently. Should I be feeding at a higher ph to raise the ph of the soil or keep them in the recommended range.
3 months ago
Seeing some bud development! Into the flower stage. Bumped up feeding and water. Keeping things within 6.-7.0
3 months ago
Just stretching and growing. Waiting to come through the second layer. This is now 5 foot round!
3 months ago
Looking good I think, it's my first grow, so learning. Bottom leaves keep yellowing out. I know this can happen when the plants goes into flower.
3 months ago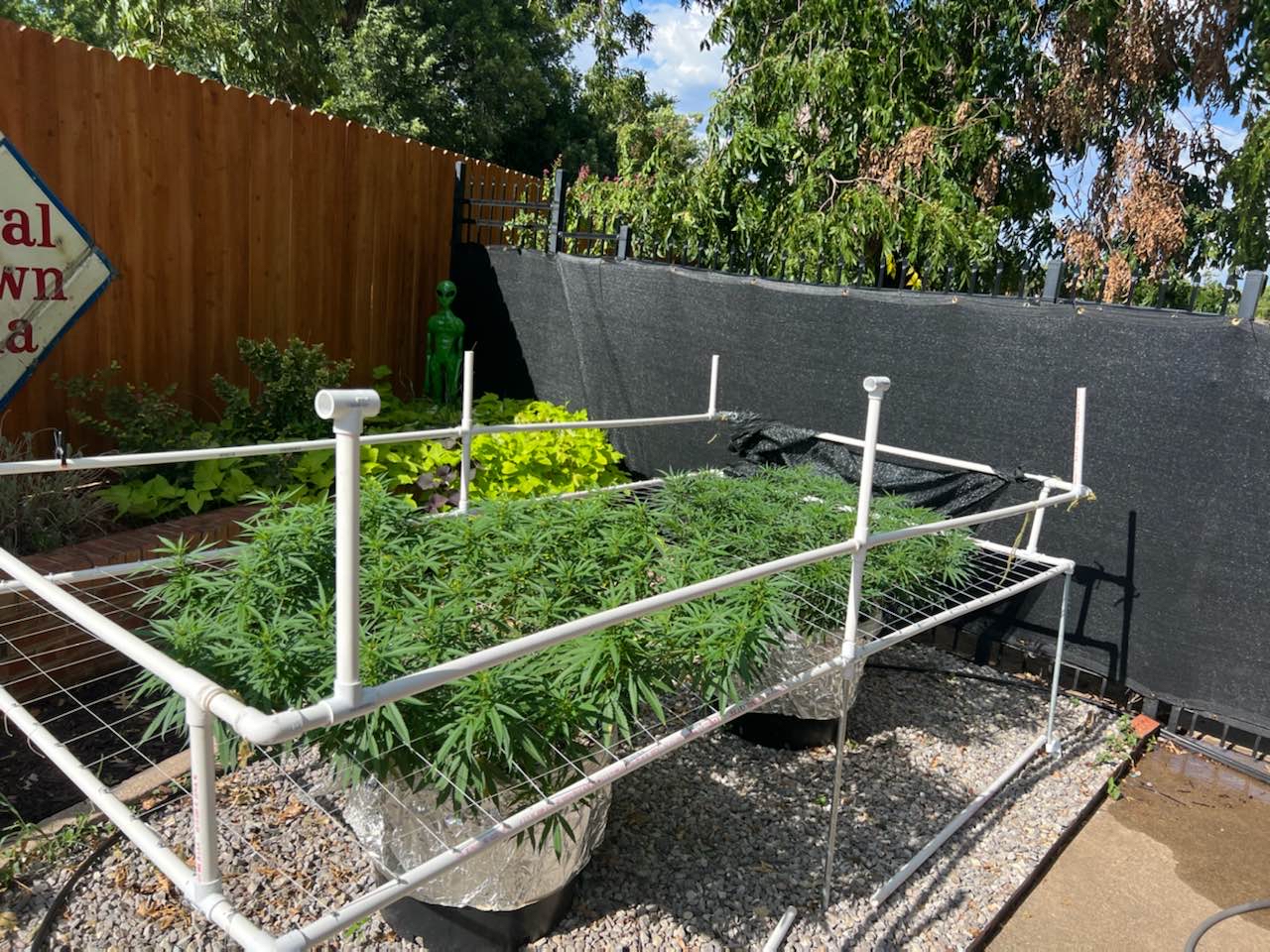 Added second layer of SCROG. And then added 40% sunblock fabric, that easily slides to cover when the afternoon sun is intense but also helps with a little light pollution at night. I've designed it so all I can go taller on the top cover if the flowers need it once they are through the next layer of SCROG.
4 months ago
lizenbee Thanks guys for the positive feedback. Just trying to fight this Oklahoma heat, temps over 100 have been stressing my plants a little. I'm about to plant 2 autos and two more clones.
View 1 additional comment
Growing well
4 months ago
SirSmokesAlot69 Great progress! Love that SCROG trellis setup. Can't wait to see more updates!
View 1 additional comment
Growing well and now fast! Realized my plant need ph adjust and food. Lower leaves were turning yellow. So paying closer attention to nutrient and watering with lots of Castings tea. Trying to keep up with the losing leaves because I know the plant is trying to take it from the lower branches to feed the tops and they are starting to grow so rapidly. That I need to bump up that food and water. I have to 25 gallon pots. And they need water every day and a half now I'm giving them half in the morning half at night.
4 months ago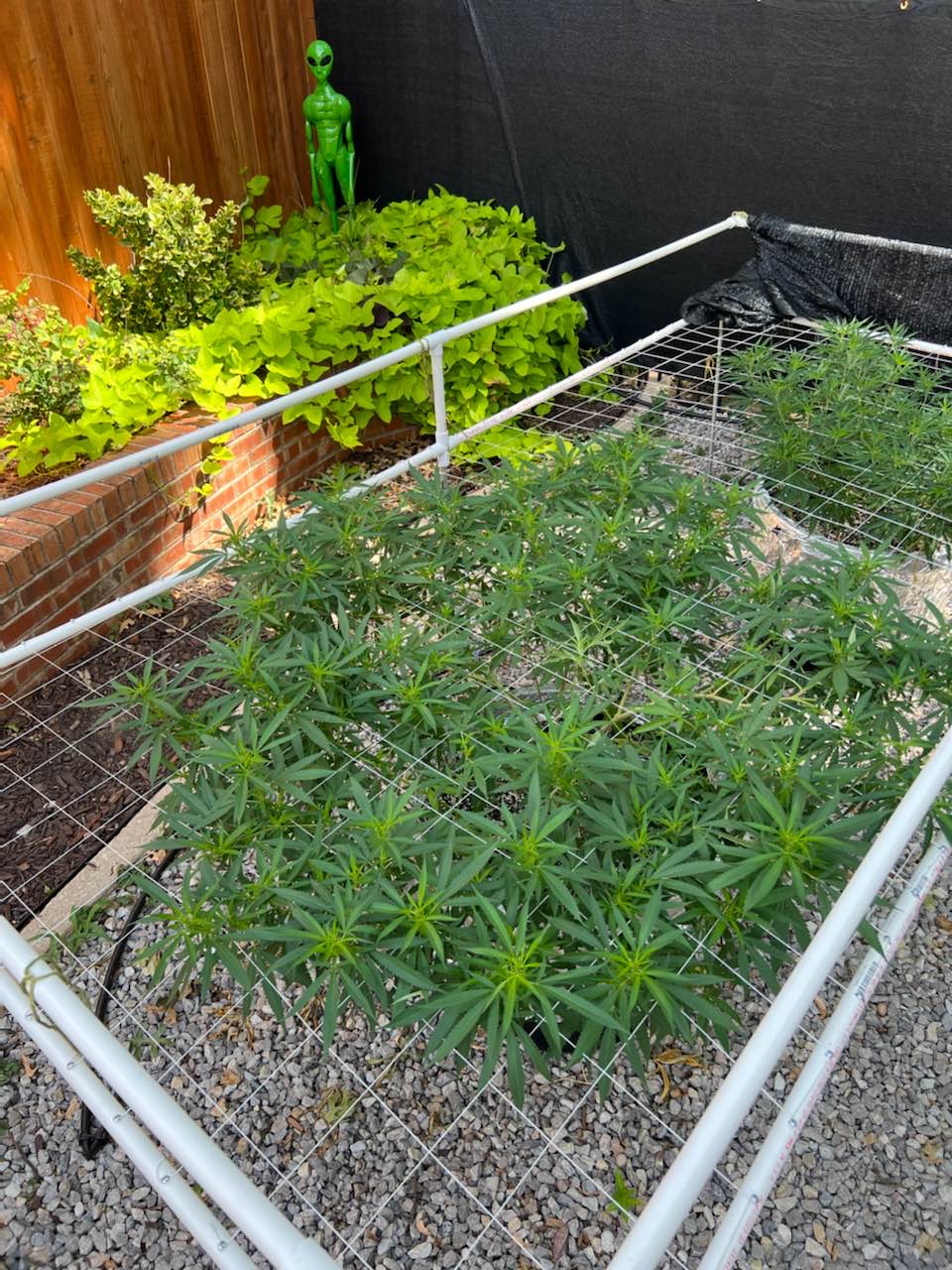 Seems to be looking better. I believe she was experiencing nutrient lookout. Did a ph flush, feed casting tea. Removed yellowing foliage. Letting her stretch for a while then second net.
4 months ago
A little advice from anyone who has more experience than I would be great. I have been noticing the lower leaves turning yellow quicker on the bottom of the plant. Worried about nutrient lockout knew this could possibly be a problem because I wasn't really paying attention to pH as much as I should have in the beginning, but I'm learning as I grow. I have flushed the plant out and will add nutrients back in. I tried to get add good pictures of what's going on so if anyone has an idea. It Has also been over 100° here with some intense sunshine. so I put a sunscreen on top of the plant it still allows a lot of the light to come through. It could possibly be stress, but I would figure that would show up in the tips not the lower leaves. But I'm not sure. So here is one question I can't seem to find and answer for. When I'm watering now I add my nutrients to the water then I check my pH and adjust if needed. The thing is when I add all the nutrients it drops the water pH down to about 4.2 or 4.0. So I've been bringing the water /nutrients back up 5.8-6.1. Before feeding. I've only recently started doing this because I've noticed how much the nutrients have been dropping my pH and I had only been balancing my water before the nutrients. What is the proper way to deal with pH and nutrients at the same time when you're feeding? I also have a new soil ph pen coming in today to better monitor the root ball ph. And while this is a learning plant, I would love to actually get decent flower.
4 months ago
Close up shots of the plant today. I'm trying to tell if it is beginning to flower, or just growing and showing sex. Harvest shouldn't be until October here.
4 months ago
shiz Yup looks like it's turning over to me
Looking good after SCROG. Filling 5'x5' well. May need defoliate, everything seems to get sun at this point. Adding second layer of netting soon. I keep tucking under as they get taller. At what point do I stop tucking and let it grow through the net to the next layer of net? Any advice is appreciated.
4 months ago
FatBuds101 If adding a second layer once your happy with how it filled is when u let it start growing through, with all those tops I'd start letting her grow up and do the same thing until the stretch comes which is beginning of flower it can double to triple in size depending on strain, might not stretch much. So I'd let it start growing up now and stop tucking. Unless u want more top and wider then keep tucking. That's just what I would do.
trichometheatre The only advice I would give you is to just keep in mind that you don't need to defoliate any further than you have since in nature lower branches seek the sun so natural stretching will occur, you should look into crop steering for an area of study. Do you only other advice I would give is, I am not sure if you are using living soil or salt base nutrients, but get some sort of fertilizer/compost to begin your flower cycle! Last, but certainly not least, get microbes 🦠, Silica, and Kelp in your soil before flowering begins and/or two weeks into flower! I would just keep in mind that everybody grows differently and more importantly every strain is radically different other than that everything looks great great job man I love to see people putting their soul into the seeds, or the clones!!! Haha☮️💚🧬
FatBuds101 Yes living soil is best imo, I layer worm castings, fish bone meal, gypsum, insect frass, kelp meal, kashi, then cover with build a flower compost then water with a compost tea or fungi dominate tea. I do that twice in flower and just water the rest keeping soil moist never dry and I either use a cover crop of straw to keep sun from direct contact.
View 11 additional comments
First SCROG set up. Now let's hope those leaves catch all the days sunshine!!
4 months ago
View 1 additional comment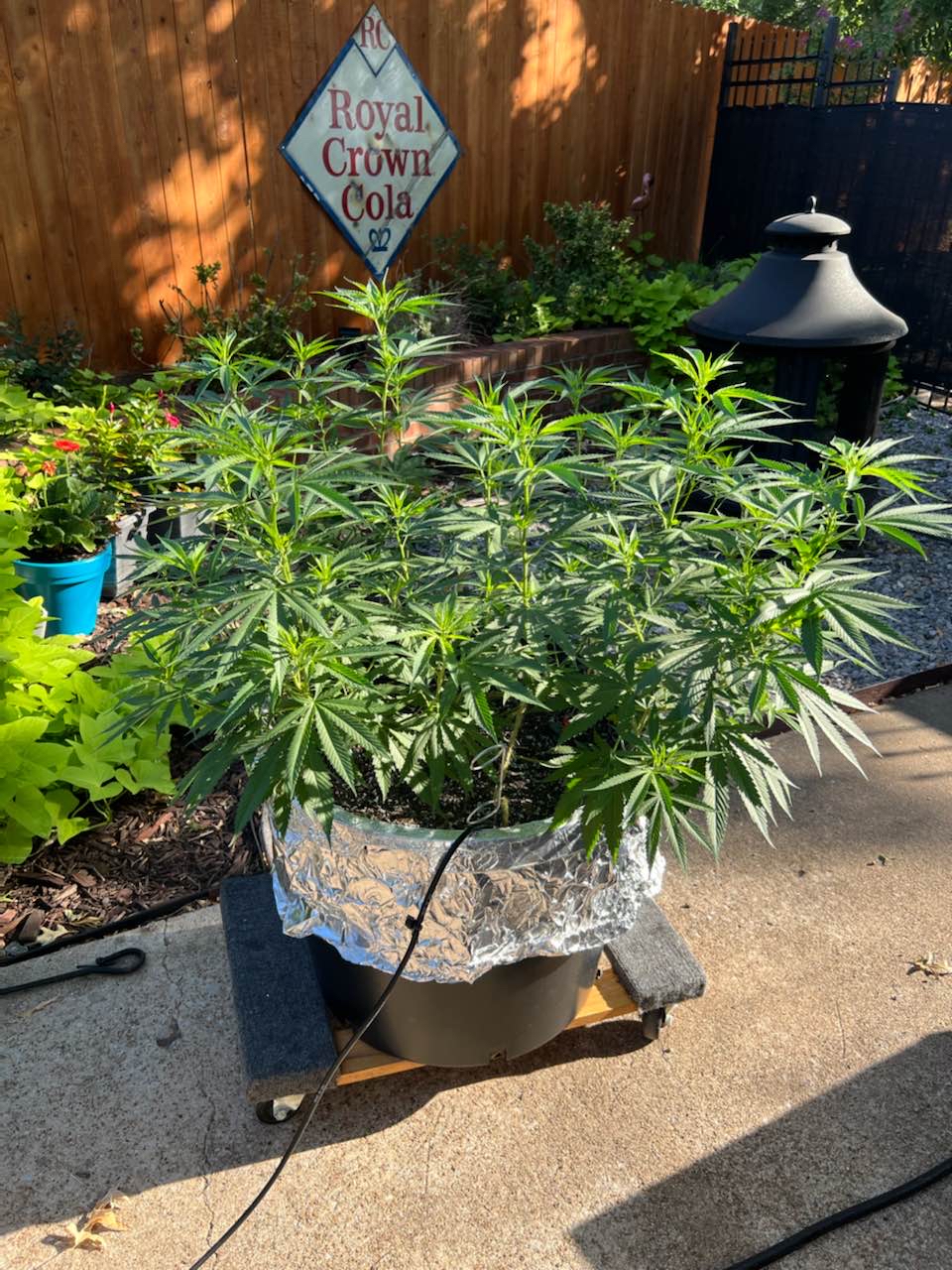 This is my first grow, seems to be going well. Started with a clone and Outdoor grow in 25 gallon pots. Not sure what my next step should be. Do I need a SCOG? Not flowering yet, and still a couple, few weeks away I believe. They seem to be doing well in the heat of Oklahoma. Our Zone is 7b, so should be great for growing outdoors.
4 months ago