jenga94
Power plant first seed
First hydro set up
1 power plant seedling using spider farmer led lighting system auto watering hydroponic system 100% pearlite and professor nutrients
Well that's it lads cut her down because the leaves were starting to die off
2 years ago
One of the buds should be a good smoke
2 years ago
No massive colas like I was hoping for 😢 looking good though harvest on the 4th of jan will be flushing with water next week
2 years ago
alawishes86 If you want massive buds I suggest you give your plants a good flush!!! Then next feed back to regular schedule. Your plant is probably in Nute Lock. This exact thing happened to me. I Literally flushed yesterday with spring water until the run off was no longer green (fox farm trio). Seems like overnight the buds fattened up a little because whatever nutrients I didn't wash out was finally available for the plant to take in.
jenga94 Did you just keep running fresh water through until it was clear or did you run you fresh water for a week thanks ghee
alawishes86 Flushed until clear! Next feed Is back to regular scheduled programming.
View 1 additional comment
Hey pistols are starting to turn amber brown
2 years ago
She's had a prune
2 years ago
Buds are getting nicer
2 years ago
Added the scrog net amd trimmed up
2 years ago
She's getting out of control not sure if I can still prune her
2 years ago
Grown 2" over the last several days looks like buds are starting to form
2 years ago
No buds forming yet
2 years ago
jenga94 Thank brother she's starting to get some of that good stank to her too
Changed over to flower
2 years ago
Thinking about turning her tomorrow
2 years ago
Done some pruning of the big leaves and also tied down the stems
2 years ago
Moved light up another 2" she's sitting at a 10" height at the moment worried she might not be as big as I want when I turn her next week
2 years ago
2 weeks from turning
2 years ago
mystrain420 _@eaegifts I grew this strain from growers choice and it's super dank. Hopefully she puts on a show also, happy growing growmie 👍🏾
Continue to train her outwards will remove more shad leaves in afternoon
2 years ago
jenga94 ILGM seed mate I'll keep growers choice in mind for next time cheers
mystrain420 _@eaegifts Oo either way she's looking good, Idk about all their strains but I grew pp and it came out great. Happy growing growmie 👍🏾
View 1 additional comment
Replaced water last night
2 years ago
Done some trimming off the bottom
2 years ago
Getting bigger trimmed the bottom 3rd yesterday
2 years ago
jenga94 She's me second plant my last one I grew in soil so far this has been a dream of a set up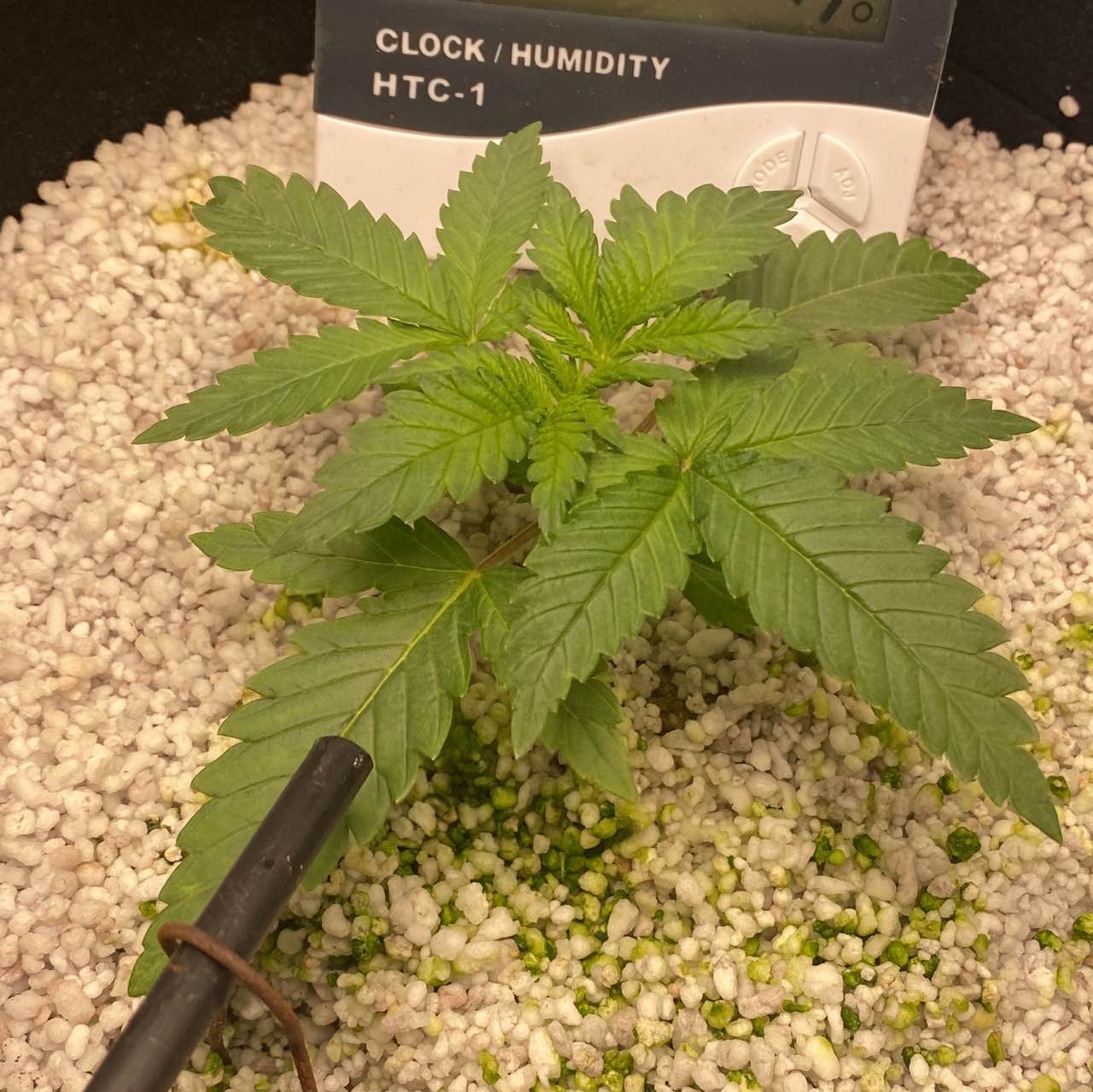 Water change and added a fan
2 years ago
Light 85% week 2 of veg chemicals
2 years ago
Moved light to 18" light is set to max need to change water
2 years ago
Light moves to 12" still at 40%
2 years ago
jenga94 Moved from germination to seedling stage
Looking healthy and looks like the first set of 5 is about to come through
2 years ago
Her serrated leaves are out and she's looking healthy everything else is unchanged
2 years ago
Day 2 of hydro part a and part b with grow fast and go roots. She's just poked her head up through the pearlite today lights are at 40% 18 on 6 off exhaust fan and water pump run for 20mins every hour
2 years ago