3rd Auto run
300w
White widow,has been my personal favorite out of all I've grown; hoping to recreate and improve upon. It's 60Sativa 40Indica. Also read SSOG X FS is 60/40 crossed with 50/50 .I'm hoping I'm right about this being my sweet spot . I tried 85/15 and did not enjoy as much as the 60/40 widow. Maybe 50/50 is where it's at. 🔥
White widow, samsquonch og crossed with forum stomper
They ain't looking so hot middle ones tester piece was alright but I don't think it's ready yet got like 50 -% white hairs . 2 more weeks for middle and right one. Watered tap water 1.25L each ph was 6.5 on the dot
7 months ago
Fed heavy yesterday 1.25L each ph 6.6 . Middle ones almost there hope the other 2 make it also.
7 months ago
Fed 1.25 L at 6.5 Ph hope they fatten up a bit .
7 months ago
Finally started feeding wayyy late . But better late then never . They small.. ph 6.4 gave 1.5 tsp of bloom 1 tsp of tiger .
8 months ago
Went from .5 L to just now 1L each at 6.5-6.6 ph lights went from 50% to 100% dries out faster so added more water . Begin feeding soon .
8 months ago
Recalibrated pen . Ph was at 6.5 in distilled gave about .4-.5L each . Will begin feeding next water 4 days or so day 41 also will add cal mag and recharge in small amounts . I plan on flushing 1 gallon through it before I feed it ! Been having ph lock out past few grows .
8 months ago
.25L tap water
8 months ago
Used metal clothes hanger cut in pieces to stake them down and start LST. Don't think I'm gonna top this time but I'm gonna try lollipoppping the bottom 1/3 or whatever . 1 tomato plant is growing the other 5 did not .
8 months ago
First real watering and not spray bottle didn't measure straight from tap so 6.6-6.9 ph a lil high but I keep having low ph problems so I'm trying this .
8 months ago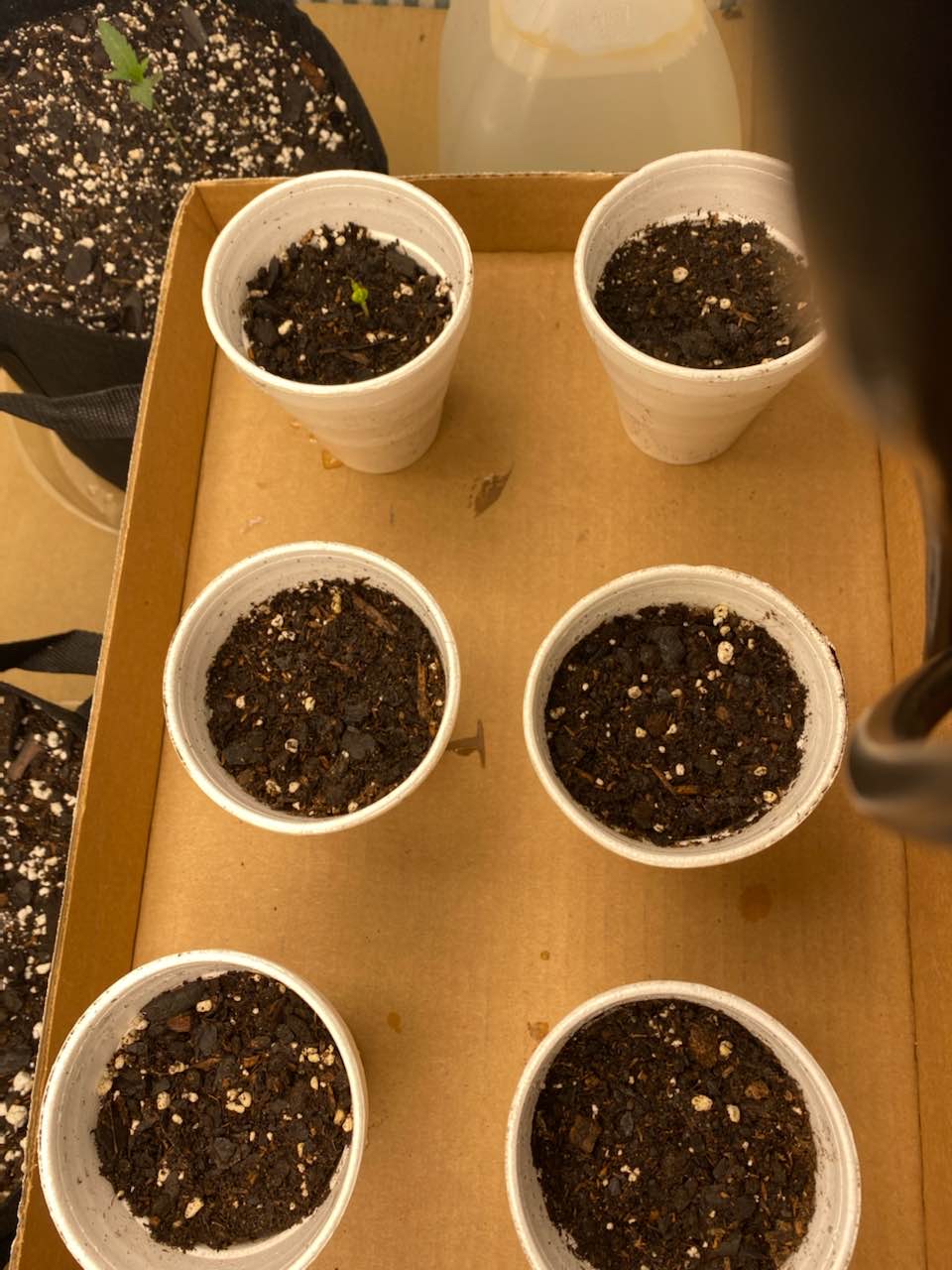 Still only using tap water ph is 6.6-6.8 out of tap lil high I guess but debating weather to try tap all the way through or use distilled water and get ph to about 6.4 like I usually do .
9 months ago
Blazin Fiend Oh and only 1 tomato seed seems to be sprouting . They all where germinated and had tails inside the tomato so I planted them .
White widow is on day 3 other two are 7 days sense sprout. Tap water ph 6.6 and also got one tomatoes sprout . Gon garden onions and potatoes to I believe 🧙🏻
9 months ago