Auto blueberry
Fall 2021
Auto blueberry in 4 gallon pot
101.5 grams 3.625 oz not too bad off 2 ft auto blueberry
2 years ago
View 9 additional comments
Got a new loop today she's looking good
2 years ago
She needs a little help to stay up 😂
2 years ago
Hopefully another week till the nutes are flushed outta the leaves still not as light as I'd like but the trichomes are turning amber a good amount but will be better in a week
2 years ago
Caliban Curious why you are flushing?
Happydazzee420 Well you see non flushed outdoor weed non flushed taste like trash even after months of curing . I've always just fed water the last 2 weeks but doesn't get light enough so I went back to the old method of flushing with 3x the pot size. I know a lot of people say to flush or not to flush but I like flushing an also like when the fall colours come out near end of plant cycle
Caliban Thanks. Was just watching Dr Bruce Bugbee today and he pretty much debunked flushing for organic and says Inorganic should only be flushed if salt lockout. He data show that leaving lights on until the end and no flushing is more natural and results in good buds. He says denying the plant light is reducing the potential and flushing is myth. 💁‍♂️
View 3 additional comments
Amber is appearing! 😋
2 years ago
She can come down anytime after this Sunday
2 years ago
She's getting close
2 years ago
End is near🥳🥳keeping a close eye on the trichomes this time . Also leaves are starting to lighten up and turn yellow so I'm thinking the flush went well 10 days or more to go
2 years ago
Happydazzee420 Thank you!😊 so far so good quite impressed with how big she got for only 3.2 gallon pot
Happydazzee420 Thanks battling with trying to keep cat hair outta my tent grrrr 😖 gonna have to get a air filter or something rather then pulling it through the screen in the side of tent
View 1 additional comment
Getting so close 11 days roughly give or take , flushed 4 or 5 days ago now just giving ph'd water
2 years ago
Happydazzee420 Thanks!! 😊Buds from top to bottom on this auto . Best fat dense buds I've got in a long time from autos . Might invest in Mars hydro FC-E3000 for the whole 3.5ft x3.5ft x7ft tent
Happydazzee420 Yes that it should haha can't do photos with these lights my mars ts1000 has a defect won't shut off fully only goes dim other led shuts off completely on same plug .
Happydazzee420 And thank you 😊 hope to invest in a better set up soon so I can run autos or photos
View 1 additional comment
Getting closer to harvest 45 days in flower 15 days left might push it a week longer but only feeding ph water with run off here on out
2 years ago
keithlovesrach I'm running one of these and when I pinch a sugar leaf it smells like blueberry pancakes. Does yours smell that way also? Just wondering if there's a major difference in phenos since it's a very old, stable strain.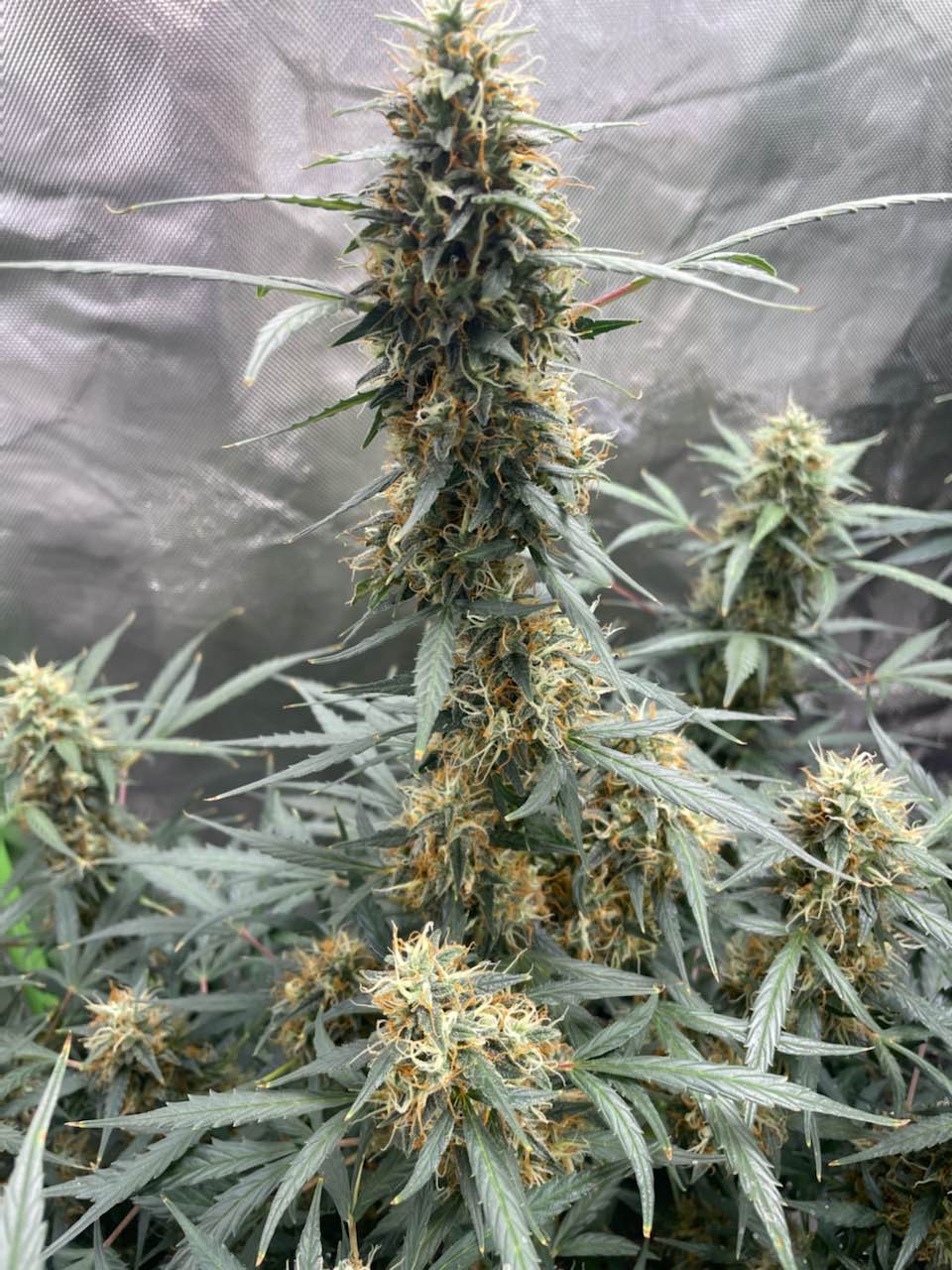 Pistils are turning amber quick! Got 2 weeks to go gonna get the jewellers loop out and keep an eye . Want a nice couch lock. I like a strong Indica
2 years ago
The hairs are turning already still have about 22 days left
2 years ago
Just under a month to go 28 days give or take but I'm not harvesting too soon I want a nice good couch lock 🔒
2 years ago
Happydazzee420 Keep forgetting I have to feed less nutrients I'm feeding too high
more than corn Just started germinating a Blueberry auto from Crop King.
View 5 additional comments
Buds are forming quite nicely
2 years ago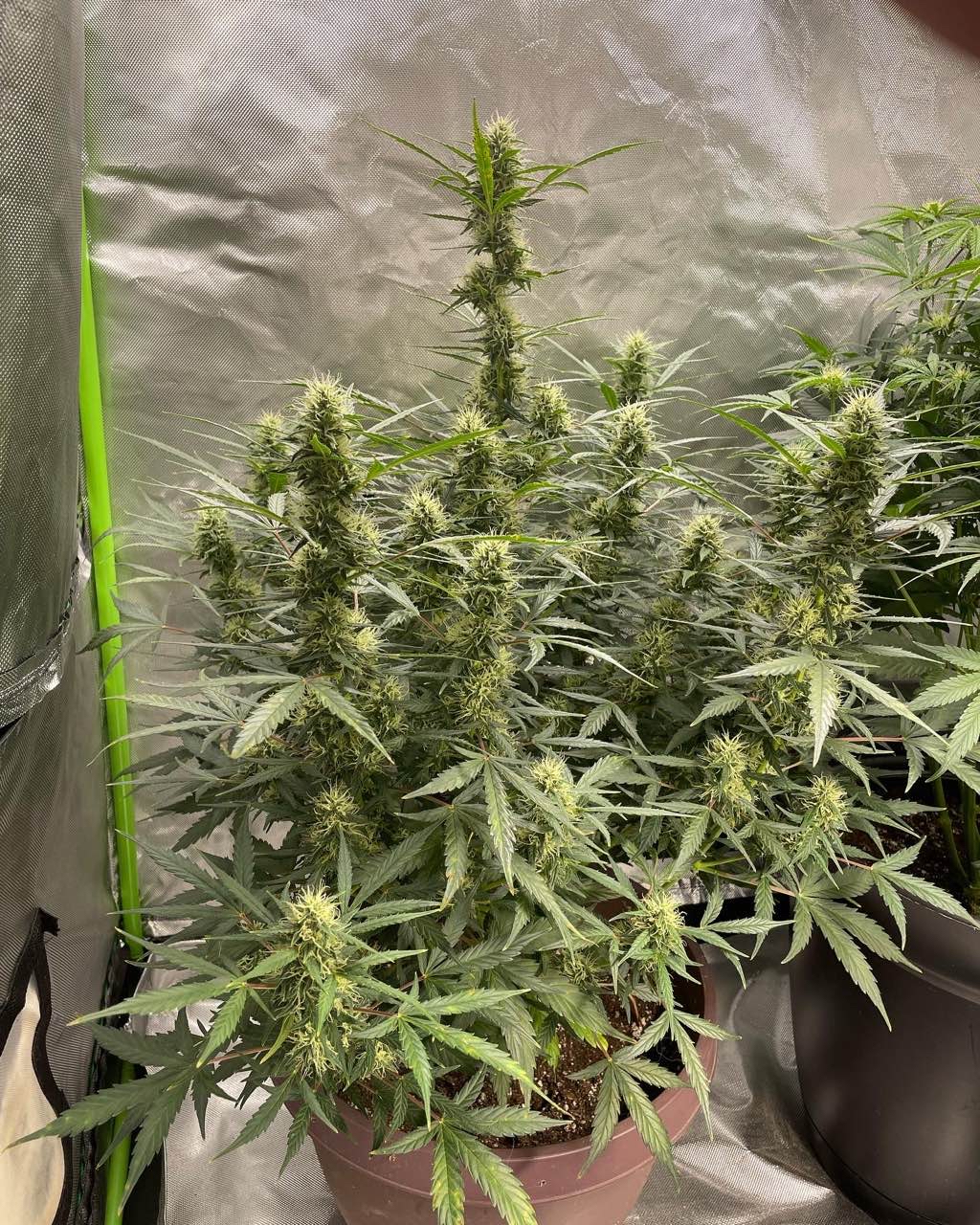 Looking good for 30 days in flower should be done in 30 plus days . Got my jewellers loop and pocket microscope but I'm still a ways out
2 years ago
She's fattening up by the day think I corrected the ph issue
2 years ago
Got a good feeding yesterday 12 days in flower give or take
2 years ago
We have a while to go yet .
2 years ago
Happydazzee420 Oh shit yeah my bad haha I'm pretty stoned atm 🤣🤣 yeah so it's only on like day 12 or so in flower
Happydazzee420 I think my feedings a bit high . I started the early flowering chart on the box but it came out to like 1450 ppm and 6.5ph
Took 4 bigger shade leaves off to let more light down lower not sure how big this auto is gonna get but I'm sure she will be a decent size
2 years ago
Just topped up the soil as she's going into flower already .
2 years ago
She looks like she's already going into flower . Hope not if so I'm done with autos for a while 😂 I like photos better anyways
2 years ago
jjensonseven13 What are you feeding them for nutrients??? Ive got white widow auto that isnt being too forgiving...
Happydazzee420 Just started feeding them emerald nutrients tonight . First feeding
She's looking pretty healthy can't wait to see how she turns out
2 years ago
CannaRabbit Blueberry is love, and can take a lots of stress without to die :)☘️
Cats got a hold of it before I got the tent. Hope she turns around fast
2 years ago
Just planted in soil 100% germination
2 years ago