BasementBuds
First grow.
Started indoor moving outdoor.
Green mountain genetics forest fire. Feminized photoperiod seeds purchased from Vermont grow supply. Strain made by crossing Yeti OG and Fire Alien Kush. THC heavy hybrid with a moderate yield. Mother tested at 23%THC 1%CBG
Well…they made it. Harvest day is upon us. Not sure of yield amount yet. Will report back when dried and cured.
a year ago
Getting closer and closer to harvest. I'd say about two weeks left judging by the trichome development and color.
a year ago
We've got buds and trichomes. Very early stages but progress is being made. All four are at this stage. Didn't see the point in posting individual pics.
a year ago
Too dense for morning dew to burn off. Had to throw nets over to open them up a bit. Days are getting shorter. We're in the very very early stages of flower!
a year ago
Nothing horribly exciting to speak of. They're still doing well. Been trimming along the way. Days will be getting shorter soon. Going to be time for flower. Can't wait to see what that brings. Last photo for size comparison.
a year ago
I didn't forget about you guys, nothing horribly exiting going on. Still in veg. Still growing.
a year ago
Been ridiculously hot and humid 90° and 90+ humidity outside. They love it. I don't. All between five and six feet tall.
a year ago
Nothing new to report. Ladies enjoying the recent sunshine.
a year ago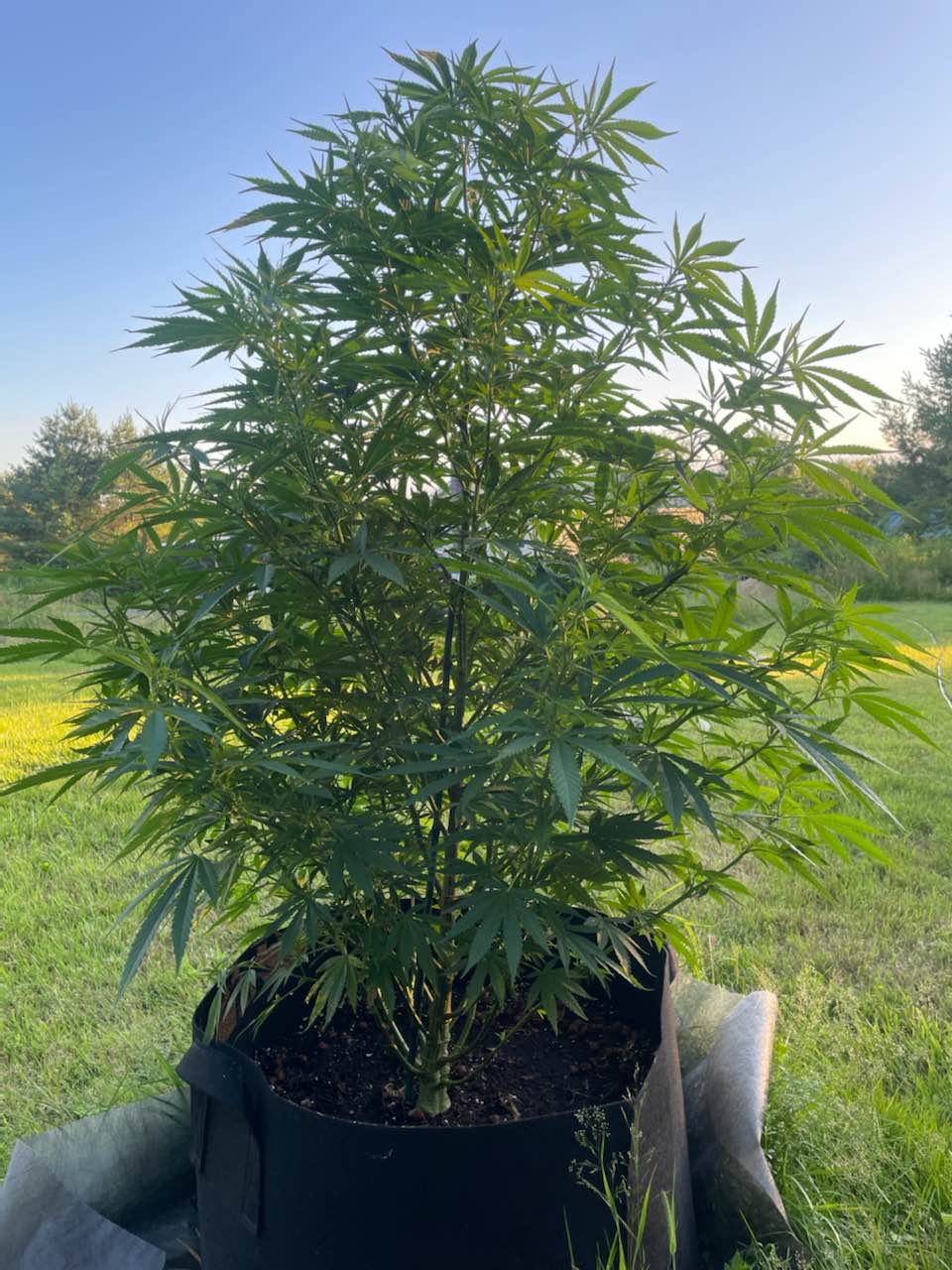 Nothing too exciting going on…Did some "light" defoliation of sucker leaves on the lower stem. They're still in veg.
a year ago
HeritageSecretGarden Fantastic brother looking amazing 🤩 and who said money doesn't grow on trees 🌲 lol awesome bro 👏 😎
Loving the sunshine, they're all between 3 1/2-4 feet tall.
a year ago
organic_grower These girls are turning out to be beautiful! Nice work!
BasementBuds Thank you! It's just good soil nutes and water. Lots of sunshine
View 7 additional comments
Mother Nature is being exceptionally kind to my ladies. Shortest one is about 3 foot tall and the tallest one is up to about 4 foot tall. They were planted a month apart. These ladies are on track to be monsters! I'm so excited.
a year ago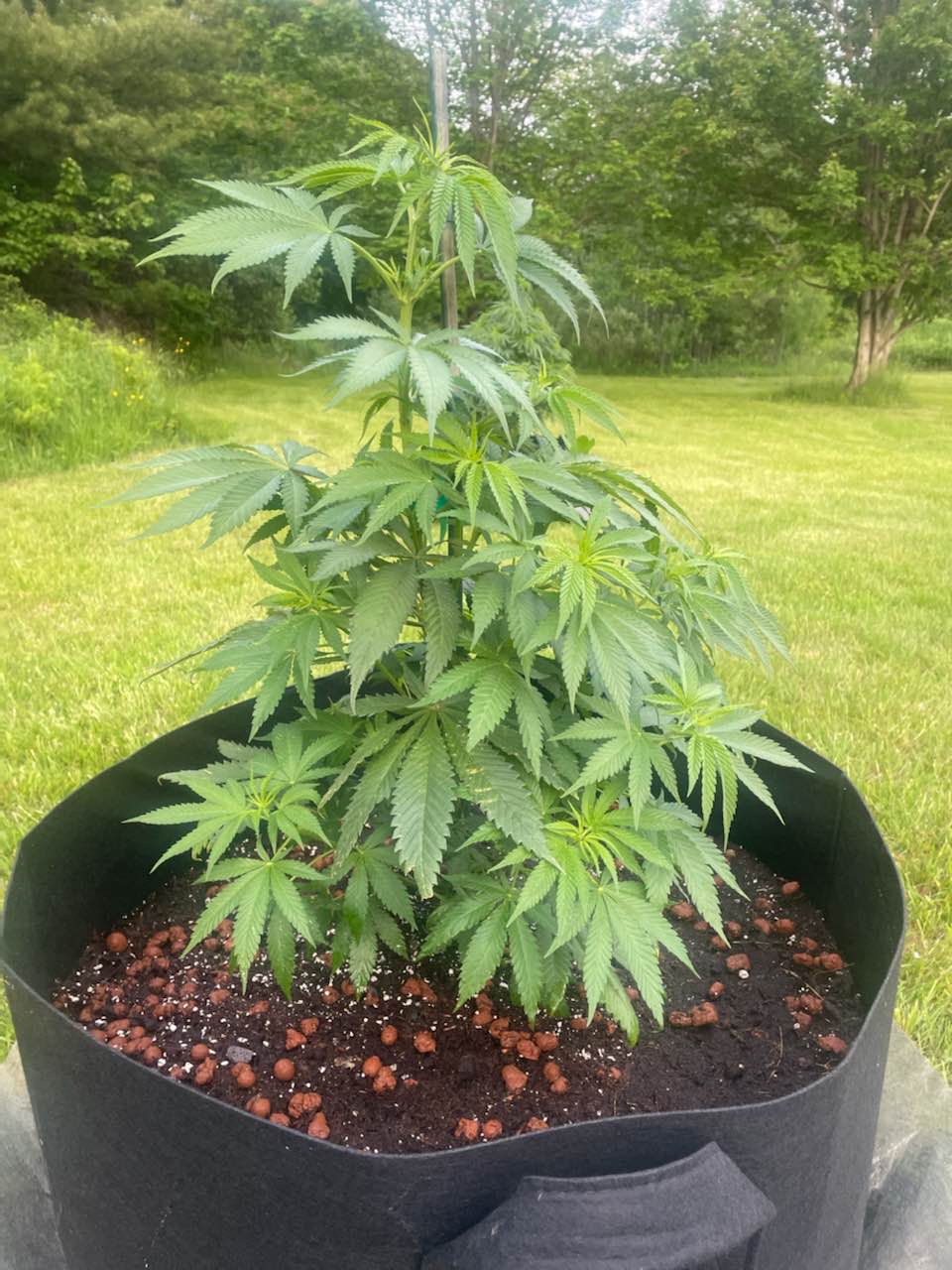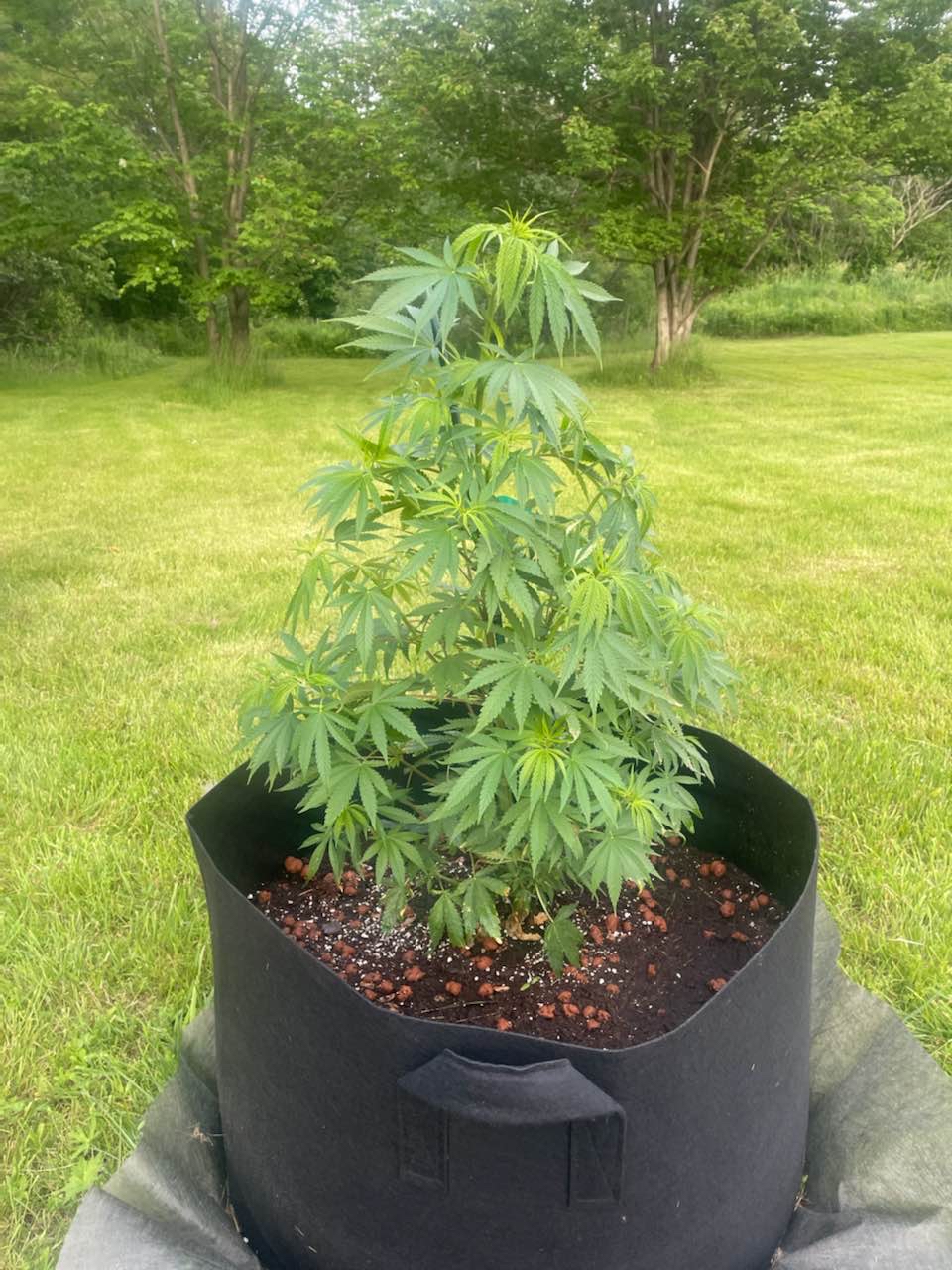 15 days outside. Measuring just about a foot taller than they were. Did some light defoliation today. Had a small caterpillar infestation that's now under control. This is going to be an interesting grow.
a year ago
Not quite 10 full days outside. In 100% direct sunlight until it gets dark. The shade from the trees doesn't reach them. Had to stake them down. Day one of being outside winds reached a steady 35-40mph and toppled the two little ones. Caterpillars are going to be a constant battle this summer already removed a good amount. PureCrop1 is on the way.
2 years ago
HammertimeAZ Lookin good for outside. Can you throw a small piece of mosquito netting over each one to prevent the flying critters?
BasementBuds That's a great idea! I could absolutely do that. I'll look into it
HammertimeAZ That's why we're here, to help each other out! I hope she grows big and is fruitful! 🍇
View 2 additional comments
Well. This is officially an outdoor operation. In 30 gallon cloth pots in the afore pictured organic soil and additives. Now it's all in mother natures hands.
2 years ago
@eaegifts I'm tuned in for this one…30 gallon pots gonna be a great run. Tomato cages or stakes?
BasementBuds I'm going to get 8 foot bamboo poles and use the "trellis the shit out of them" technique.
@eaegifts Nice, looking forward to the updates
View 11 additional comments
Still haven't made it outdoors been too cold at night recently. They're getting big fast. The clones didn't make it. Used Clonex and no root development in two weeks.
2 years ago
@eaegifts A easy yet slow way to clone is by sitting cuttings in a cup of water, change to water once a week and in about 3 weeks they'll usually have good roots 👍🏾
BasementBuds Yeah, I've heard that. I used clone x and went straight into soil for cuttings gave it two weeks and they slowly turned brown. Live and learn. Was a first attempt at cloning.
@eaegifts Did you keep them in a humidity dome? It's usually better to use peat pellets so you can see the roots
View 8 additional comments
Moved them outside for the first time today. The big one is sad. She's stressing hard. likely root bound and I took six clones the other day. Hasn't quite bounced back yet. Other three are doing well.
2 years ago
mystrain420 _@eaegifts She'll pop back fast but if they're all on the same watering schedule and she's getting thirsty more often then it's repot time imo
View 26 additional comments
Ladies are doing well. Both same strain, exhibiting different characteristics. The big one has longer more narrow leaves indicative of a sativa and the smaller one has the exact opposite shorter more wide leaves signs of being indica. Weird. Still too cold to put them outdoors.
2 years ago
The big one is still doing well, the smaller of the big one had negative gravitropism and isn't as full but is healthy, and the little two just exploded in the last few days. They're all going to need transplant sooner than later but IT SNOWED TODAY. Wtf.
2 years ago
Still gaining on it. Hoping they don't outgrow the 2 gallon buckets before it warms up. Next transplant is into 30 gallon fabric pots for outdoor use.
2 years ago
gpurps Wow, how big do they usually get in 30 gallon pots? Must be like a tree!
Both are loving the bigger buckets. No other changes have been made.
2 years ago
Bigger one got root bound in the 2qt pot, transplanted both to 2gal buckets. 30gal fabric pots on order. Will transplant to final grow space (outdoor) when it warms up a little. Still hard to believe these were planted three days apart.
2 years ago
A lot of growth to be seen since last update. Nothing has been changed.
2 years ago
Vermontijuana Yeah. They're taking off. Warming up, slowly hoping to be outside by may. We shall see. Popped two more too, they're just sprouts at the moment
Still chugging away, there may be hope for the little one.
2 years ago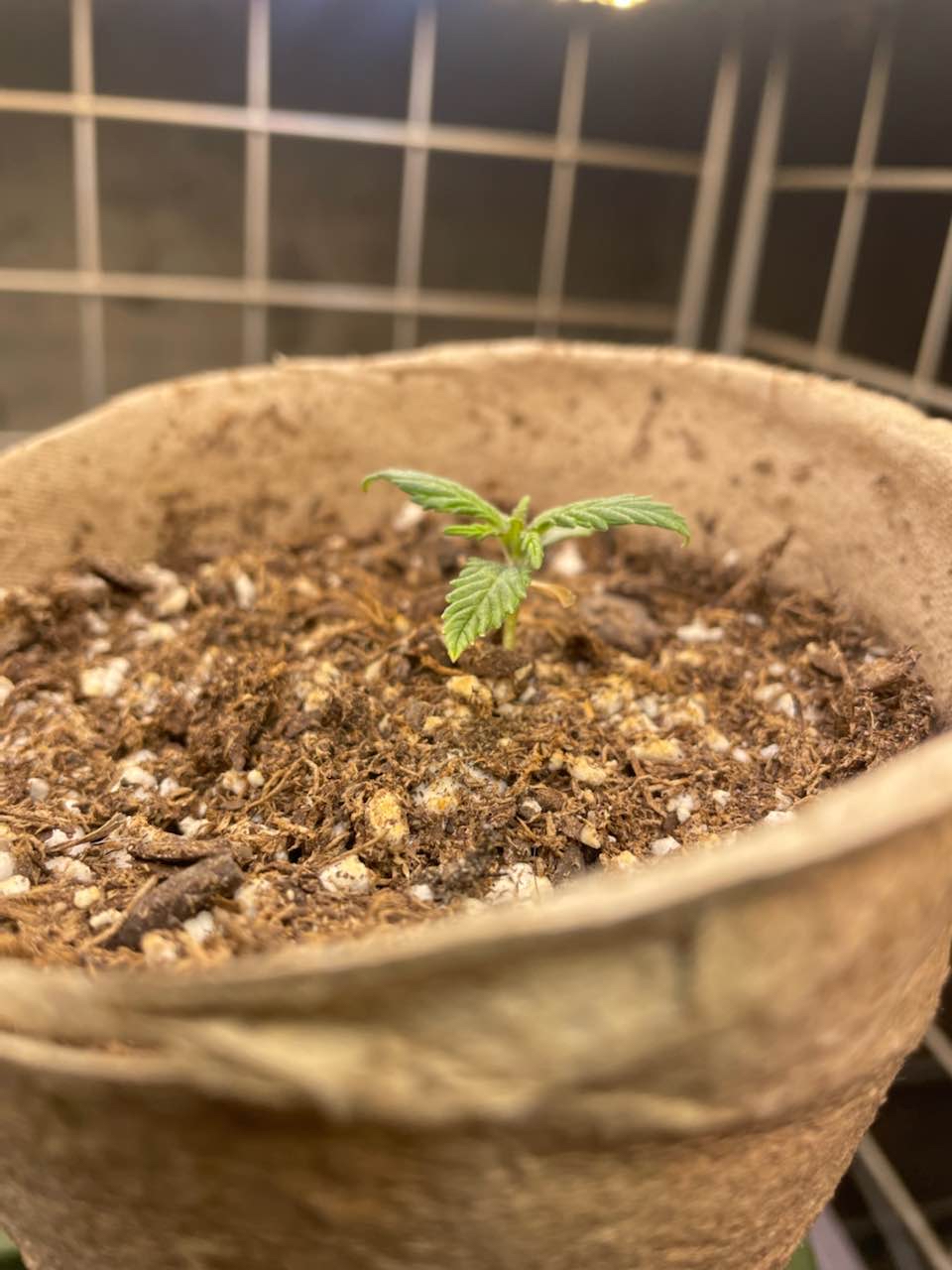 seems once the bigger of the two got out of nutrient lock she's absorbing and growing nicely. Appears the little one is deciding to become a cannabis plant, albeit slowly. Negative gravitropism really slowed this one down.
2 years ago
UPDATE: it's been Three days since transplant, got soil pH corrected and water pH corrected. Planted in ocean forest soil and flushed both with pH balanced water. Put a fan on to help draw out excessive moisture. The larger of the two's leaves have perked back up. The small one is still confused… Moved grow location, now under Ac infinity full spectrum light on a 20/4 schedule. Better light longer light cycle….now we wait.
2 years ago
Transplanted both to larger containers. First plant PH was off in the medium, second started showing signs of negative gravitropism and got planted deeper. Both are in fox farm ocean forest and receiving water at balanced at 6.5ph
2 years ago
Plant one still progressing nicely. Plant two on the other hand is still barely growing. What is the white part? A root growing up out of the medium?
2 years ago
Peng Looks like it, if it is then it's called negative gravitropism
Peng Not really sure, I've heard it mentioned in various places, it's how the roots are detecting gravity, so I'd reckon pretty hard to correct
View 7 additional comments
It's hard to believe these were planted only 3 days apart.
2 years ago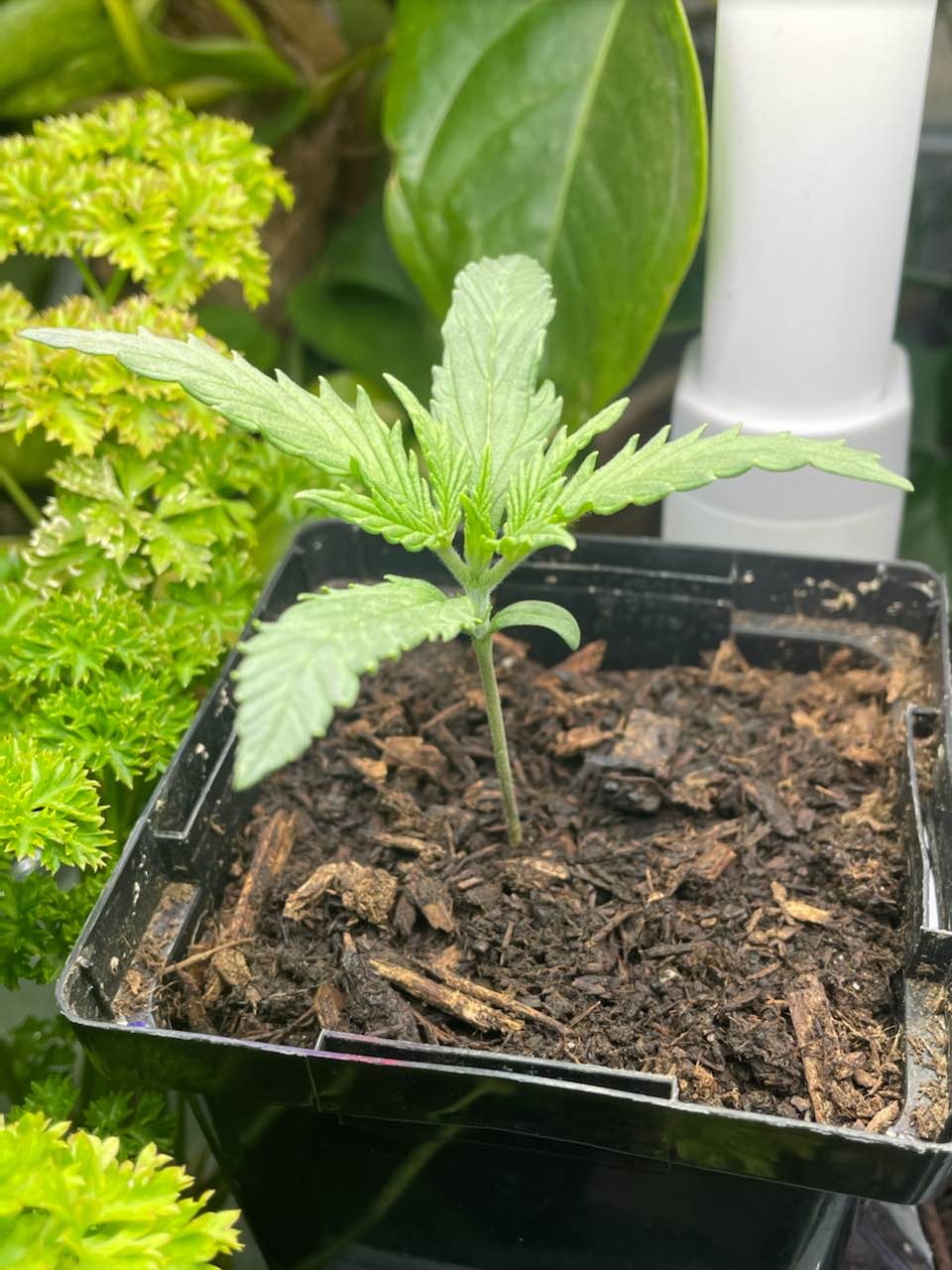 First plant is doing well, growing beautifully. The second plant is still limping along. Not entirely sure it'll make it.
2 years ago
First set of fan leaves are developing. The second seed doesn't seem know what the hell it's doing.
2 years ago
New growth has significantly increased in size. Progressing nicely.
2 years ago
First two leaves have more than doubled in size, showing signs of new growth.
2 years ago
harry koontz How old is that trying to see if mine is on the right track lol
harry koontz Can I dm you some pictures on here I'm kinda new on this app and am trying to get some guidance new to growing to really
View 4 additional comments
Growing well. Added nutrients to water. General hydroponics maxigro 10-5-14 solid fertilizer, Mixing at a ratio of 1/8 tsp to 16 oz water
2 years ago
Seedling broke the surface.
2 years ago
Day one of germination. Keeping soil damp. Under full spectrum indoor light 15:9 schedule. 68°F-70°F under humidity dome presumably 80%-85%RH
2 years ago
ganjaman420 That soil looks saturated not damp, don't give it anymore water untill it pops out then go slow on water
Vermontijuana Haven't watered since the initial. Was misted on with a spray bottle. Photo taken immediately after z
ganjaman420 👍🏼👍🏼👍🏼 other plants looking fire you have the green thumb