GMO x Turbulent Juice from Flavor Savior Seeds
Summer 2022
Turbulent Juice Lineage / Genealogy Turbulent Juice »»» PuTang x Prayer Tower Sativa pheno #9 PuTang F1 »»» Star Pupil x Tangie F1 Star Pupil »»» Thai x {Afghani / Pakistani} Afghani / Pakistani »»» Indica Thai »»» Sativa Tangie »»» California Orange x {Skunk x Unknown Strain} Skunk x Unknown Strain Skunk Skunk #1 »»» Afghanistan x Mexico x Colombia Afghanistan »»» Indica Mexico »»» Sativa Colombia »»» Sativa Unknown Strain California Orange USA, Kalifornien/Humboldt »»» Indica/Sativa Hybrid Prayer Tower Sativa pheno #9 »»» Lemon Thai F2 x Appalachia Lemon Thai F2 »»» Thailand Sativa x Hawaii Probably Thailand Sativa »»» Sativa Hawaii Probably »»» Indica/Sativa Hybrid Appalachia »»» Green Crack x Tres DawG Green Crack »»» Skunk #1 x Unknown Indica Skunk #1 Skunk #1 (specified above) Unknown Indica »»» Indica Tres DawG »»» Chem Dawg d x Double Dawg Chem Dawg d Unknown Indica »»» Indica Double Dawg »»» Chem Dawg d x {Chem Dawg d x Afghani #1} Chem Dawg d x Afghani #1 Chem Dawg d (specified above) Afghani #1 »»» Afghanistan x Afghanistan Afghanistan »»» Indica Afghanistan »»» Indica Chem Dawg d (specified above)
Turbulent Juice is an indica/sativa variety from MassMedicalStrains and can be cultivated indoors (where the plants will need a flowering time of ±55 days), outdoors and in the greenhouse. MassMedicalStrains' Turbulent Juice is a THC dominant variety and is/was never available as feminized seeds. MassMedicalStrains' Turbulent Juice Description Logo MassMedicalStrains Turbulent Juice is our latest intense, happy indica hybrid variety! Drawing from some of our best selected genetics, the PuTang and Prayer Tower Sativa come together for this incredible orange flavored plant. The high is heavy, enjoyable, and powerful with a deep indica body buzz along with an uplifted headspace. She induces intense munchies and is great for helping those who need to eat. Great for relaxing in one spot and being creative or enjoying a book or movie. Social yet lazy. A very medicinal end to your day, and a fantastic citrus flavor, with slight coffee like tones in the background! Very diverse and special. Mostly indica type effects, but a lot happier, mentally clear, and cheerful feeling compared to most generic indica plants these days. Flowers often appear green until ground up, where they can hide purple streaks all throughout the inside! Flavor: Sharp orange, citrus, skunk, subtle pupil and coffee undertones Effect: Physical relaxation with heavy body stone and couch lock with a happy and inspired, creative mental state. Extreme appetite enhancement. Flower Time: 7-9 weeks Stretch: Medium Yield: High Height: Medium High terpene content!
All jarred up ⬆️
a year ago
Getting ready to jar up and begin the cure on this garlicky, peppery, funky, burnt rubber smelling gal ☮️💚🧬
a year ago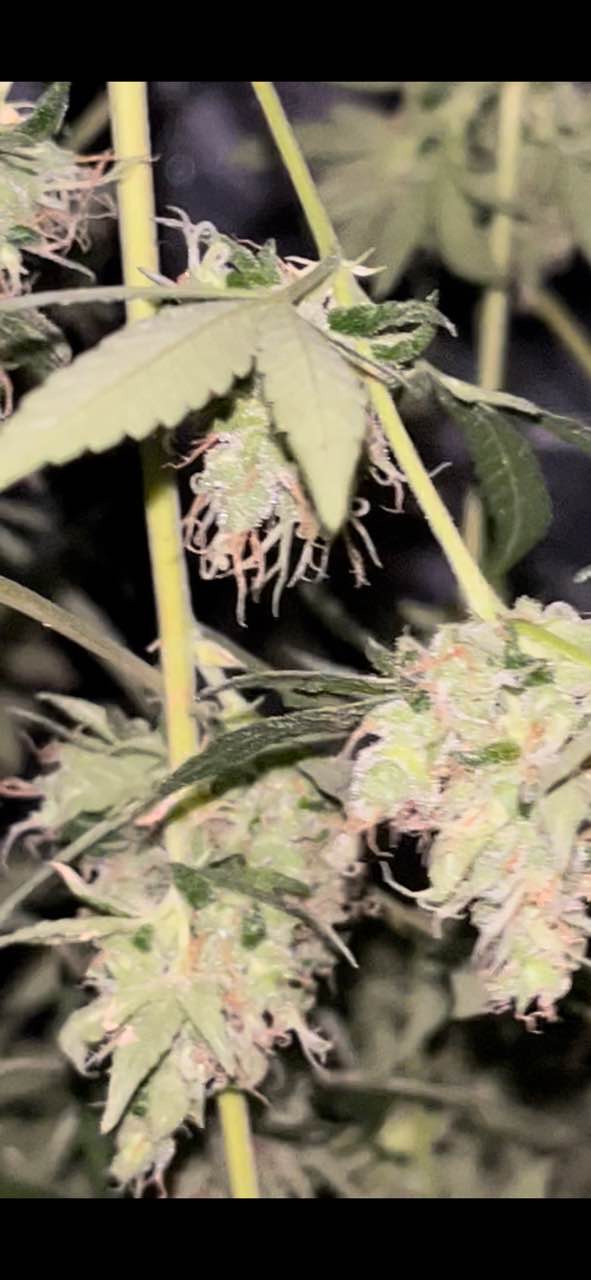 Some trichome shots
a year ago
Doing well! Giving off super gassy terps!!!🫠
a year ago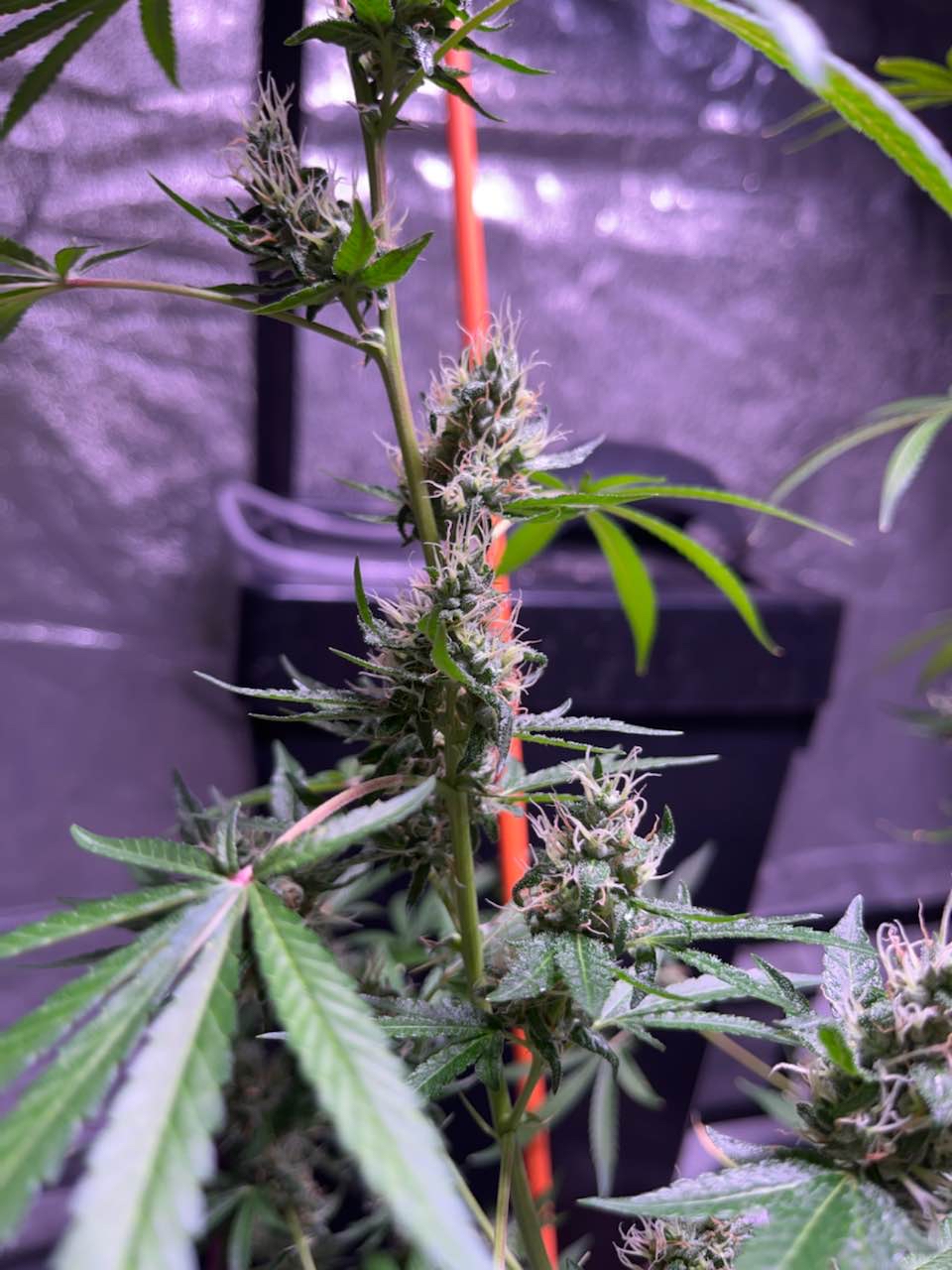 Since the heat has began to be not so hot these plants are so much happier!
a year ago
Gaia green 2-8-4 power bloom finally came in the mail so I added that yesterday!
a year ago
Looks good! Added compost with 4-4-4
a year ago
This is doing well in the auto pot. The only thing that I have fed this plant is from the soil from the original Coots mix, and water with silica and molasses! I'm not sure if anybody else or if anybody knows anyone that grows with living soil with a deep water culture I would love to know or hear about it obviously the reason to grow hydroponically is so plants can take the nutrients up quicker and what some people say is a more rational set up but I have really good water and I am a huge proponent of living soil so I don't see why I can't take advantage of the convenience of having one Reservoir all dialed in so I know every plant is getting the correct amount of natural minerals and trace minerals I would like to hear any feedback. Thank you all!☮️💚
a year ago
All plants fed today via reservoir
a year ago
Lost 4 that were males. Take the good with the bad I placed the remaining plant and a deep water culture part approximately 3.9 to 4.2 gallons and it is currently feeding from the reservoir. Silica only! This is a living soil grow so if I get any salt based nutrients it is just going to confuse the shit out of the plant. I can't wait to see how everything goes with the Coots mix I made!
a year ago
FatBuds101 Are the beans available on massmedicalseeds or in seed banks?
trichometheatre This is the website for mass medical strings if you are going to get anything from them I would suggest anything pupil https://www.massmedicalstrains.com/ I also go onto a website called C supreme and it has every single good company all in one place are you from Massachusetts if so definitely support mass medical great genetics and also great people☮️💚🧬
Flower: Day 2 Kicking ass! Final pic is the DWC (Deep Water Culture) plant 🌱
a year ago
Flipped to 12/12! See how they stretch? Adding /Gaia-Green-All-Purpose-4-4-4 and 2-8-4 flower amendments tomorrow.
a year ago
Feeding regularly ! One is in the DWC!!!
a year ago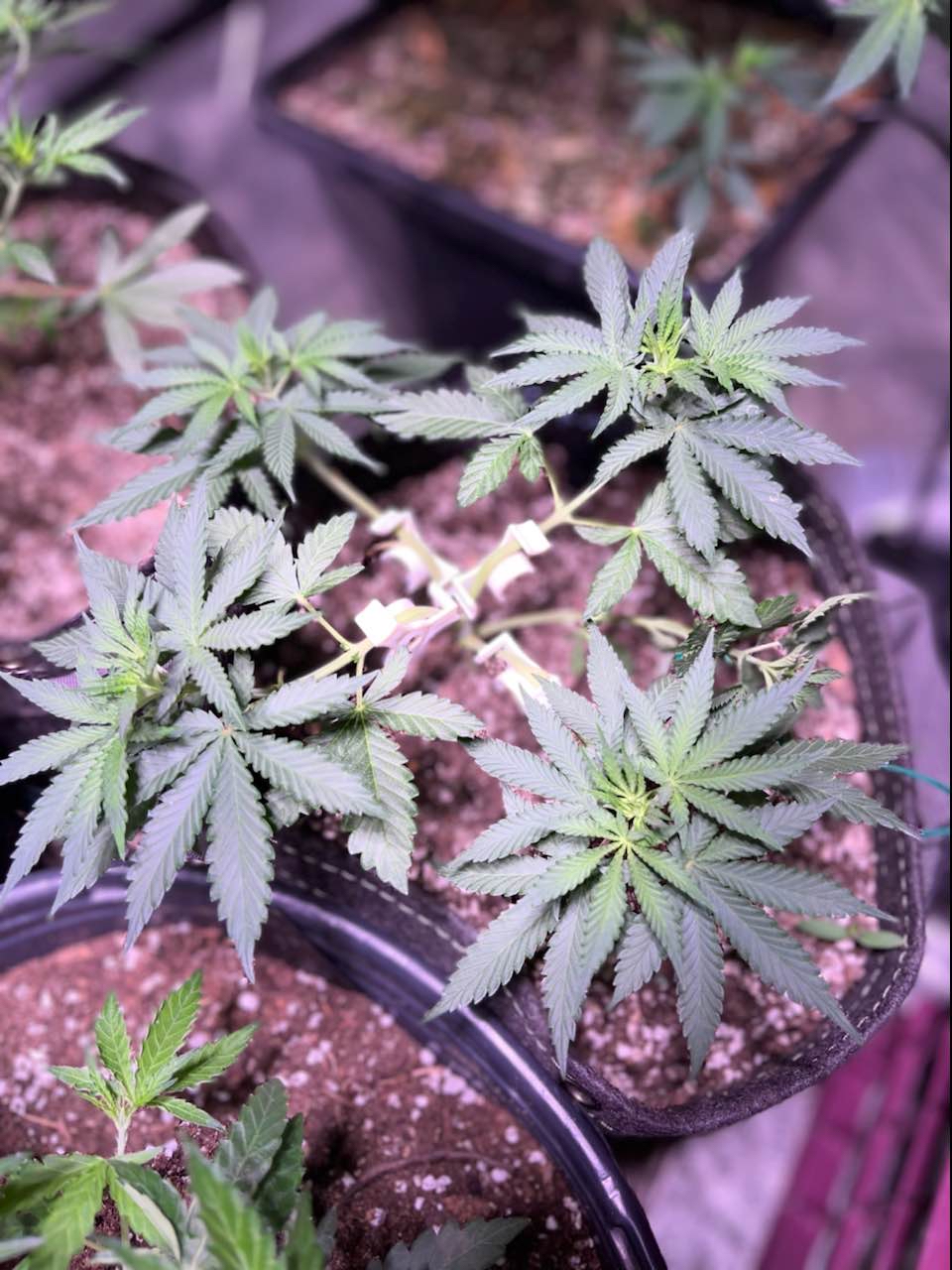 Only feeding silica. Sitting in Coots Mix!
a year ago
Growing very nicely
a year ago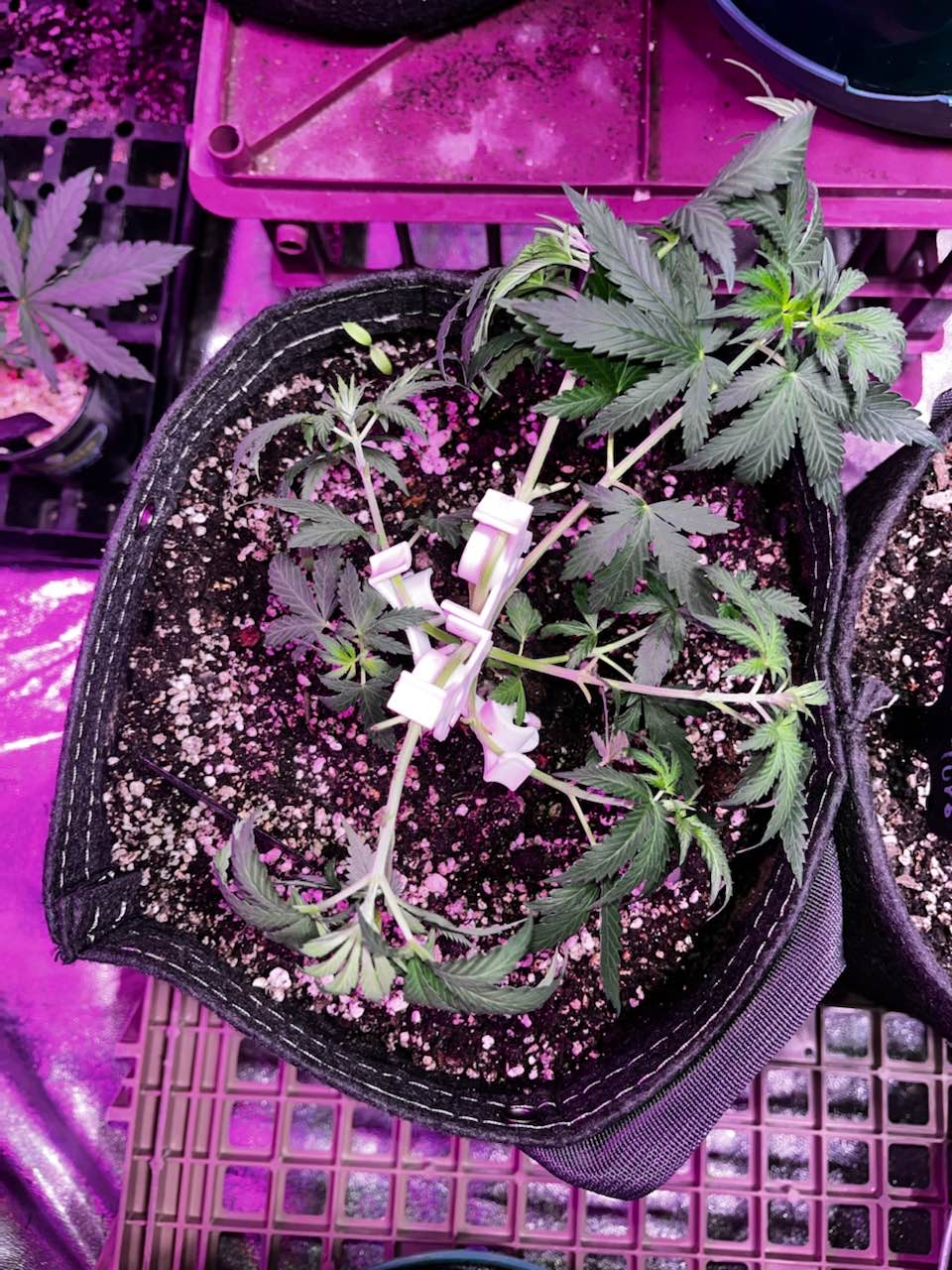 Doing well. Training hard! Two plants that are in solos will be transplanted this week.
a year ago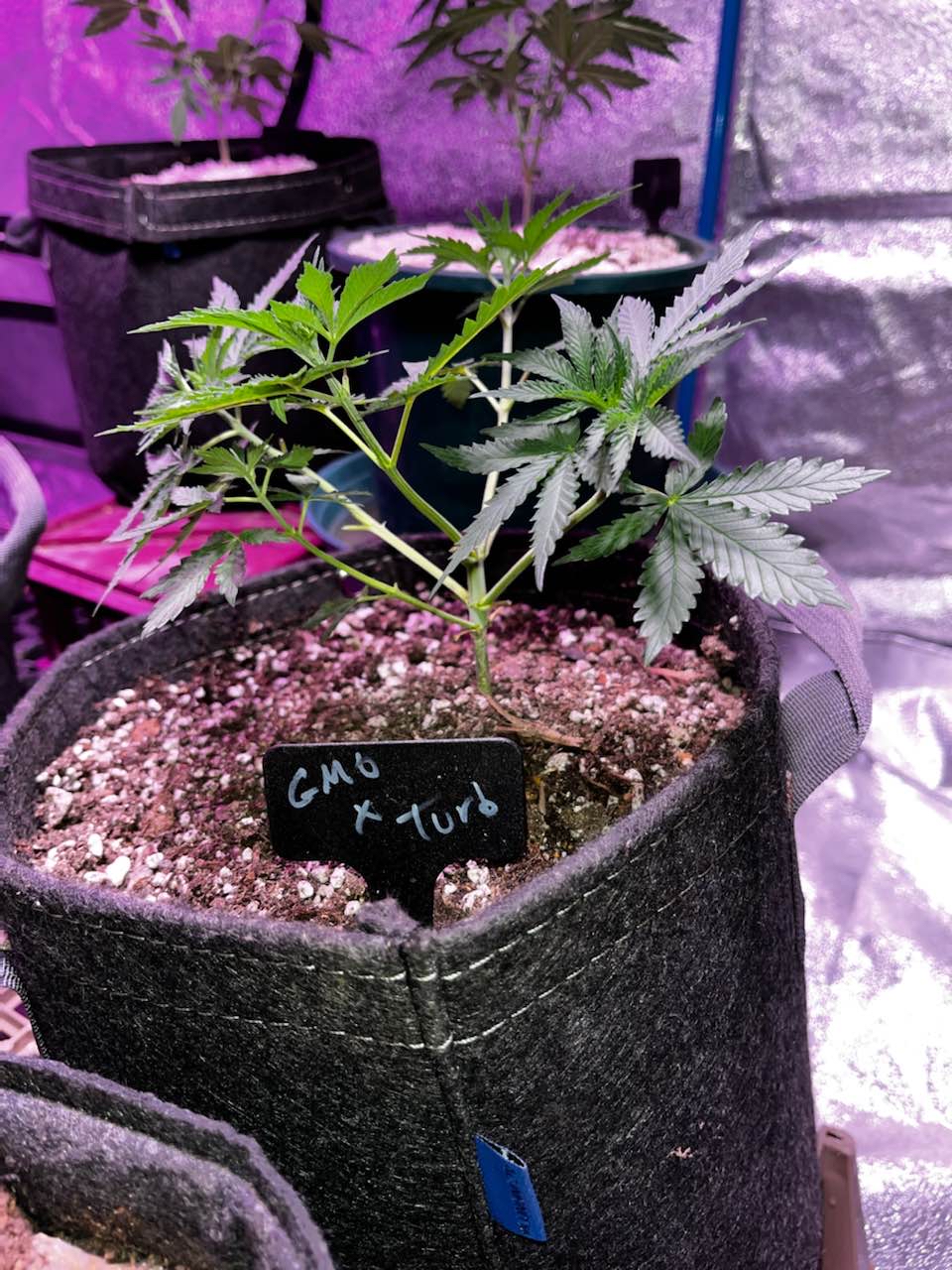 All transplanted except one. Doing terrific! Topped the second to last plant.
a year ago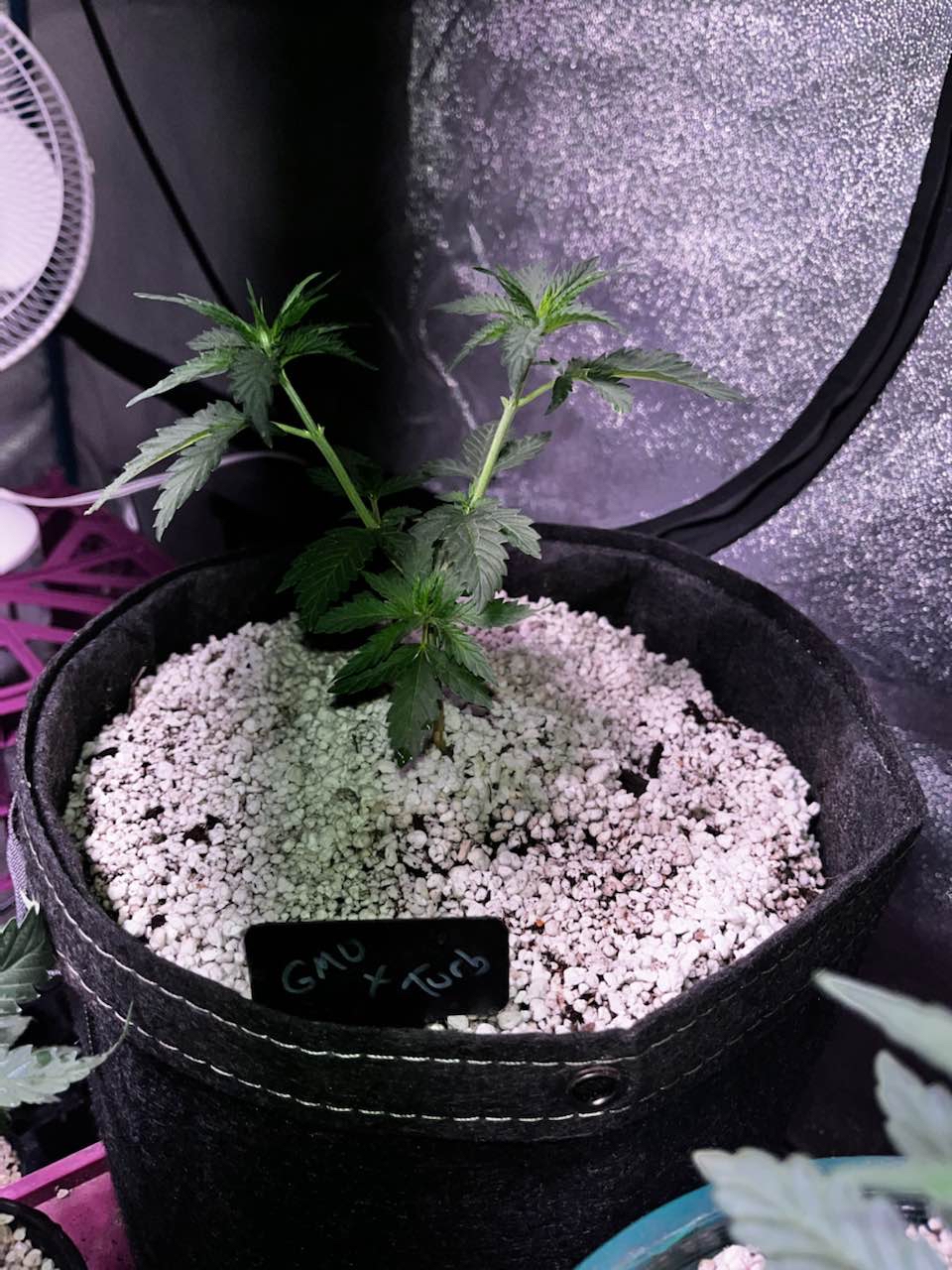 Transplanted all except two plants 🌱 Deciding what to place where?
a year ago
These are doing absolutely terrific underneath the California LightWorks solarXtreme 500. Transplanting into fabric pots this weekend!
a year ago
youcanthavethat1 Your shit always looks bomb bro, you said your using coots mix super soil, and that dope light, what kind of nutes you running sir? If you don't mind sharing
trichometheatre No you kidding me I don't care if it wasn't for questions then there wouldn't be answers and if there were in fur answers and there would be no education I ask questions all the time I think a lot of people in the cannabis industry have a huge ego and of course they all claim to be Psychonauts so their ego should've been dissolve years ago a.k.a. eaten a bunch of mushrooms and they don't know the true reason for doing so you know just basic shit bags cutthroat when is old trust fund babies but shit anyway I use Kloots mix in order to not use any salt-based nutrients I don't know if you've ever heard of Michigan mix but it's called a "on "only water soil which entails that the soil is holding all of the nutrients as well as the trace minerals that go into both veg and flour the idea being that the nutrients remain dormant until needed for example when the plant goes into flower more potassium will be released this is a sphagnum-based mix so it holds moisture extremely well I don't know if you have ever seen people right I have not watered this plant in 14 days they say that because they are trying to get across the point that the soil has remains moist not necessarily field capacity but moist enough to continue growth I personally don't agree with this because when you sit down to have something to eat you don't sit down on a Sunday and say I'm going to eat a meal that is going to last me till next Sunday chances are by Wednesday or Thursday you're gonna be fucking starving so are usually use auto parts so I can keep my soil at a constant field capacity which means when you squeeze the soil only a tiny drop of water comes out this can also be done by utilizing blue mats so to make a short answer longer it's all about living soil it's all about microbes and the soil food web you'll hear people say that this can't be done at a commercial scale but I think we both know with enough money and passion anything can be done The whole point of taking the time to build a super soil is first of all every good gardener will tell you that you grow the soil and then you grow the plant but this also cuts out your flash which they have found actually doesn't really make any difference and you trying to have a much cleaner smoke which leads to much cleaner Hash which means much cleaner Rosin I see some people saying what they are yield has been on a plant and I really could care less it's all about quality going to spend your time and money to grow something why do you want to grow a bunch of shitty weed when you can just concentrate on growing the best and that can only be done through living soil thank you so much for your compliments but it's really all in the genetics I can't speak for those! Haha
youcanthavethat1 🤓🤓 you really know you stuff bro thank you for elaborating I also agree Im trying to maintain a boutique size grow of the best I can get I feel when the nugs are really big the plant stretches it's genetic material over a larger canvas, keeping them compact or small makes danker, stronger and higher thc percentages. The strongest indicas I've gotten didn't have nugs bigger than an inch and a half, I also kinda feel like you are borderline sevant or mildly on the spectrum like Tesla.. I'm impressed bro trying to complement you again 😊
View 2 additional comments
Topped all with the exception of two.
a year ago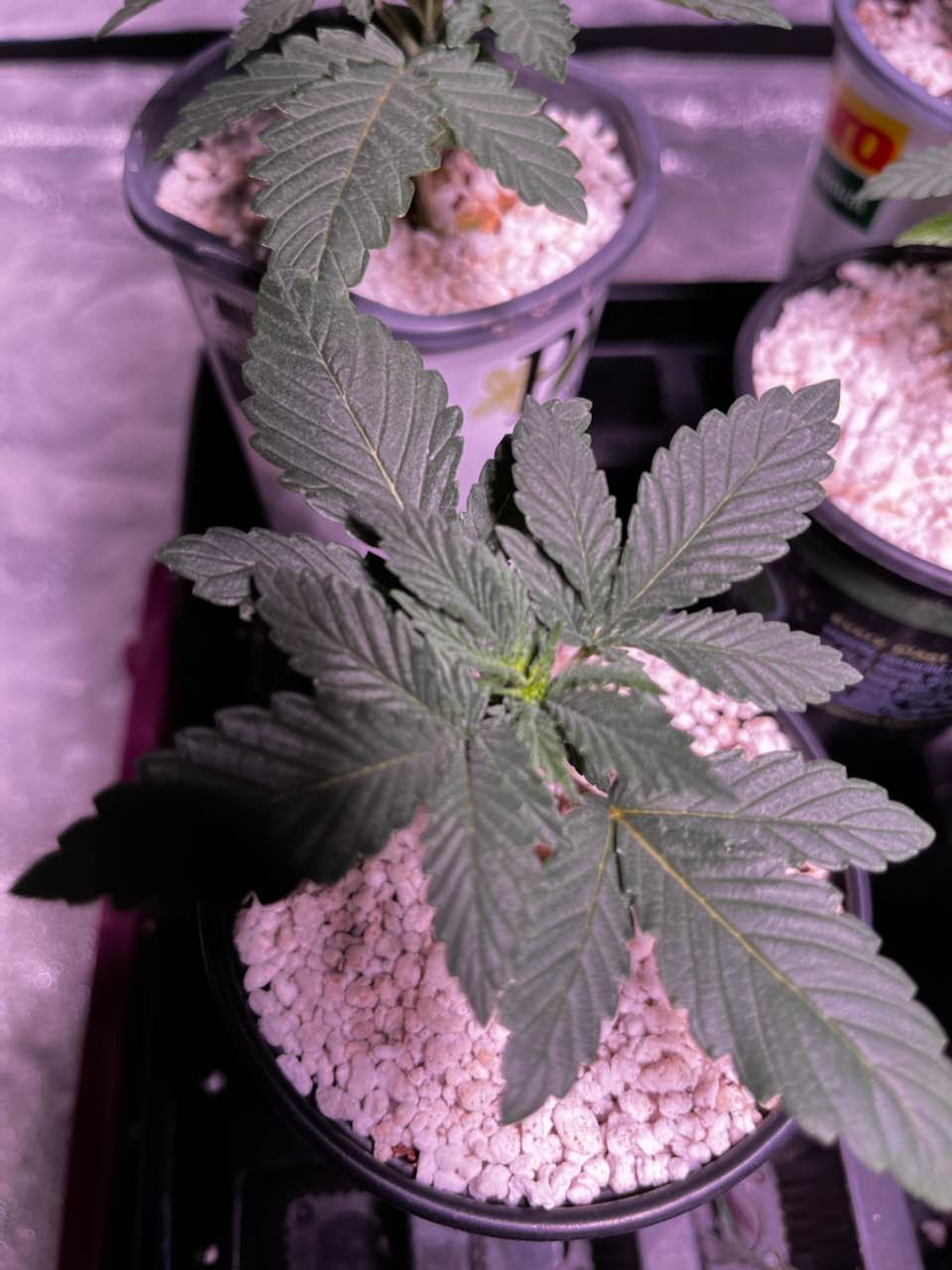 These genetics are fierce! Sitting in super soil (coots) mix. I topped two immediately!
a year ago
Germinated within a paper towel and plastic bag.
a year ago