1st indoor
Winter '21
Living soil notill methodology
Autos Mephisto Strawberry Nuggets (SN), Samsquanch OG (Sam), and Canna Cheese
Harvest tally: Strawberry nuggets- 81 days from seed in 1.5 gallon 25.9 g Samsquanch OG- 101 days from seed in 2.5 gallon 42.4 g Canna cheese- 101 days from seed in 12 gallon 131.1 g Grand total- 199.4 g Per 225 Watt (75% setting on 300W) 0.9g/W Good first grow, many lessons learned. Things to improve for next grow: Will use 2 earthboxes to grow 4 plants for bigger yield and easier watering Do a better job of defoliating lower third of plant, see if I can get denser, larger buds Collected good amount of pollen from reversed SN today. Will store in a desiccation jar in the freezer along with the canna pollen already collected for the next few grows.
10 months ago
Canna and Sam trichomes are starting to cloud up.
10 months ago
Canna just starting to fade at day 83 (pic1). Sam still has a lot of white pistils (pic2). Thinking two more weeks for Sam and 3-4 weeks for Canna.
10 months ago
I think I want to harvest SN tomorrow. She's getting a lot of dry, crispy brown leaves, and won't be very pretty if I let her go much longer. Used a paintbrush to transfer Canna pollen to Sam (bud in photo), so I'll let that branch go 5 weeks. Canna pistils just started turning red, figuring 3-4 weeks or more. Days from sprout: Canna- 78 SN- 80 Sam- 80
a year ago
WhenTheTerpsKickin What's the nose of sn & canna? I grew out both few grows ago and been thinking about putting them in the rotation.
jezmund Great fruity smells coming from the tent. I get more gas/funk if I rub the stems. Canna is supposed to be more of a savory smell, but I'm getting fresh pineapple. SN had a fresh fruit aroma earlier on, but now more rancid, skunky weed like.
Sam and SN starting to fade, and drinking less (400-500mm per day) Estimating two weeks left for SN, 3-4 weeks for Sam, and 4-5 weeks for Canna Stamens about ready to open on reversed cuttings.
a year ago
Canna just finished her stretch. Days from sprout: Canna- 60 days SN- 62 days Sam- 62 days
a year ago
Starting to get frosty and chunky on SN Raised scrog 6" Adjusted pot heights to level canopy In pic #2 below the scrog in the small pots you can see the advantage of air layer vs cutting-way more foliage, though to be fair the cuttings did not root so well Days after sprout: Canna-54 days SN-56 Sam-56
a year ago
Loving the variation in color, texture, smell Feb 8- potted air layer and cutting of Canna Feb 13- Foliar sprayed potted Canna cuttings with first application of STS solution (3mM STS @1:4 molar ratio AGNO3:Sodium thiosulfate). Application rate will be 2x/week for 2-3 weeks. Numerous surface feeder roots apparent on SN, first observed on Feb 9, 8 days after addition of topdress
a year ago
Watering daily 600-800ml Feb. 2- Took 7" cuttings of Sam and SN. Previous cutting of SN that was stuck in a peat jiffy on Feb. 1 has wilted. Trying different technique- just sticking cuttings in glass of water until they root. The air layer branch of Canna was cut and inspected-2 roots @ 3/8", needed to go at least another week-removed the peat and stuck in water. 2nd Canna cutting (from Jan. 25) in peat doing ok, probably ready to pot up in a few days. These are intended for reversal and pollen collection/storage. Canna going nuts! Light adjusted to 75% 76F 54-65% RH Exhaust cycle 2min on @speed 2 / 5min off
a year ago
jezmund Yes, in organic soil with coir, compost and pumice mixed in. The earthbox has a plastic cover over the top to retain moisture.
Raised net 3" Final application of dry amendments: 1/4c BAS craft blend 1/4c bokashi 3-4 handfuls BAS buildaflower topdress Watered in 300-400mL twice Adjusted light 18" @70% Took a cutting from SN Canopy starting to widen and flatten 77-80F 50-60% RH range with duct fan cycle (5min off/1min on @speed setting 2)
a year ago
Stretch is on! Tucking under scrog several times per day. Leaf tucking can be a rewarding hobby. Starting to clip fan leaves. Scrog poles are adjustable, so going to try raising the net 1-2" tomorrow. Water: SN-600mL, Sam-800mL
a year ago
Jan 23- Watered 3L Canna, 600mL SN, 500mL Sam Jan 25- Watered 300mL SN, 800mL Sam. Took 1 cutting from Canna, dipped in rooting compound, and stuck in a peat jiffy. Jan 28- Watered 600mL SN, 400mL Sam LST/leaf tuck a few times per day. Light at 50% @ 20" and will gradually ramp to 75%. 79F 52-62% RH, fluctuating due to exhaust cycle on/off program Exhaust cycling on for 2 min at speed 2, 10 min intervals. Will probably switch to 5 min intervals soon, so complete air changes every 5 min. Days from sprout: Canna- 35 days SN- 37 Sam- 37
a year ago
Pistil packing mamas! Beginning flowers observed today in all three. SN a dense, tangled mass of new shoots from FIM. Shoots are starting to elongate, so scrog will be put to good use in a few days. Canna developing nice structure. Air-layer performed on Canna (see pic). Not the smoothest operation, need to refine my technique. Used moist peat + rooting compound wrapped in plastic sleeve wrapped in foil. Hope to see roots in 10-14 days, then reversal time! Sam (untopped) had a lot of vertical growth the last few days. Still fairly pale- bad pheno or bad newb indoor grower? Watering and amendments: 18 Jan- 500mL SN, 200mL Sam 20 Jan- 200mL SN, 400mL Sam added 1/8Cup BAS craft blend & 3-4 handfuls BAS buildaflower topdress to both
a year ago
New growth post-top on SN looks more like it was FIM than a top, with at least 4 new shoots visible at the tip, possibly 6. Too bad she's not in an earthbox; growth will be more limited in the smallest of the three containers. Sam has resumed growth and starting to color up finally. Will do 2nd top dress in four days. Water added- 300mL to SN, 200 mL to Sam Days to sprout: SN- 25 Sam-25 Canna-23
a year ago
The_Cannabowlist Do you have room to grow the 4-6 new mains on the SN sideways like a manifold and then let them grow up into the scrog net?
jezmund I like that plan. So, pin the main stem down so it's more horizontal and let the new mains go vertical to the net? I think I can do that.
The_Cannabowlist Pretty much, pin the mains horizontal and then as she stretches to grow the next nodes wait till you got a couple inches and then bend down again till you have how many mains you want. Usually clip the odd number nodes so that the new shoots start sideways instead of up and down. Lol if you get a chance look up nebula manifold and a take on that basically. If I could share photos I would.
View 6 additional comments
Scrog deployed. Used jute for the grid, not sure how I like it. My thinking is the jute fibers will help hold branches in place, but sort of ratty looking. The frame poles are telescoping, so I should be able to raise the scrog as the plants grow. I decided the discoloration on canna's leaves was wind burn, so I've got the fan facing the walls as it rotates. Growth still stalled for Sam. Light fully dimmed to help Sam and maybe encourage some stretch on SN and Canna. Canna and SN tops have been pulled to the side. Watered-300mL to SN, 1 gallon to Canna earthbox, nothing for Sam.
a year ago
BoofMaster You won't notice it when they buds have filled it in. 🍻
CCWOY2209 Did you make the Scrog net? I need to make one next grow!
jezmund I made the scrog out of PVC, 3/8" screw eyes, and adjustable length (21"-67") monopods ($10ea off amazon). It wasn't the cheapest DIY, but it should be durable, and being able to adjust the height easily seems like it would be a useful feature. Find out after a couple grows I guess.
View 1 additional comment
Topped SN and Canna. Yesterday added water:1 gal. to earthbox, and 300mL to SN Nothing but thoughts and prayers for Sam. Canna leaves appear burnt. Too much light? Raised lights 21-23" @ 40% dimmer. Could also be windburn possibly? The tower fan is 12" away and puts out a decent breeze on its lowest setting. Moved Canna further from the fan. Something to learn from each of these plants for an indoor newb. Each one appears to be demonstrating a different ailment. SN has some mottling on the leaf tips. Could soil be a tad hot?
a year ago
Lights at 50% @18" Days from sprout: SN- 17 Sam- 17 Canna-14 Curious to see what Sam is going to do... Don't have any helpful elixirs other than some Superthrive juice-added a couple drops/500mL water, dribbled 50ish mL around Sam. Was also thinking Sam's soil was pretty much just black gold bag soil, so it didn't have much living soil inoculation, other than a few earthworms and Rootwise. Added several handfuls of garden bed compost topdress, which included more worms. Also oberserved mycelial mat forming on the buildaflower topdress from a few days ago. She may turn around yet Mr. Frodo. Still thinking to top SN and Canna @ 5th node in the next day or two, as growth seems vigorous enough. 78F 72% RH
a year ago
Humidifier arrived, now we're cooking with gas! Added 1/4c craft blend to SN and Sam, and 3-4 handfuls buildaflower topdress (1/2" depth) to all. Watered in 300mL to SN and Sam. 4 pairs of leaves visible in SN and Canna, 5 leaf pairs in Sam despite its issues. Sam may have suffered root damage during transplant, as the root tip was poking out the jiffy bottom 1/4". Sam may also be overwatered, so going to lay off on its water. Stunted and pale, so sad! Don't have any more Sam seeds, but not a difficult cultivar to re-acquire. Earthbox has not been watered at all. Will probably add 1 gallon to the reservoir in 4 days or so. RH 60%, temp 78F Light height 16-19" @25% dimming Photone app reading 60 ppfd. May increase light tomorrow to at least 100ppfd. The PAR chart shows 1100ish PPFD in the middle at 12" height based off the map for Mars-hydro FC-E3000. I'm at 16" @ 25%, so estimate that to be 225ish PPFD. Photone appears to be off, with its reading of 60. Maybe not measuring 400-450nm range?
a year ago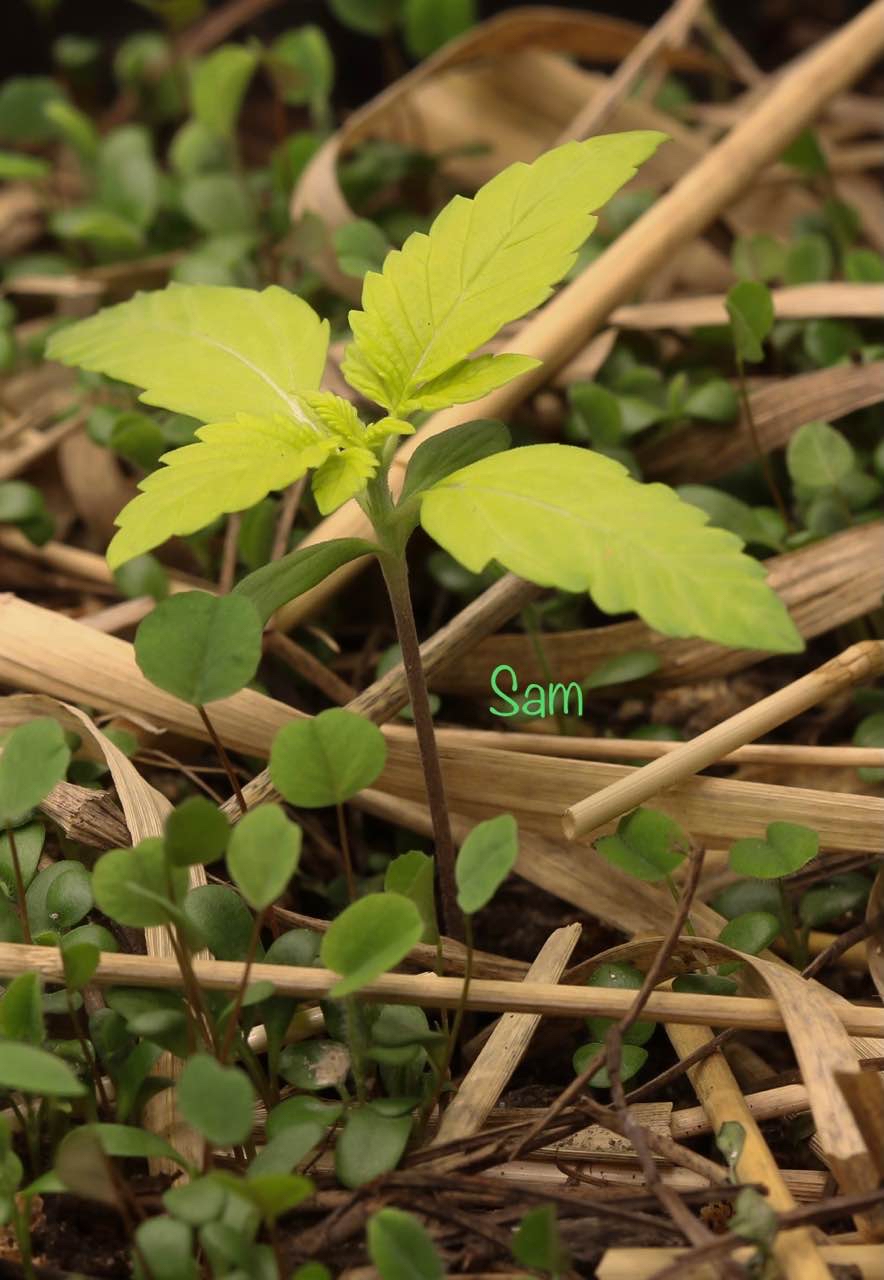 Watered 200ml to SN and Sam yesterday. Third pair of leaves showing for SN and Sam. Thinking Sam might be more light sensitive than other two. Plan going forward is to top Canna at 5th node, but only light LST on SN and Sam. I anticipate the biggest challenges may be SN's short and dense growth habit, keeping all three canopies the same height...and not running out of space...gulp. Starting to think about scrog designs. Humidifier delayed 2 more days. RH 35-45% with frequent misting of walls. Temp 75-80F. Leaf surface temperature as measured w/Infrared gun running ~3F cooler.
a year ago
Sam still yellow. Raised LEDs 17-19" above seedlings @25%. Added oscillating tower fan. Humidity 25-30%. Humidifier comes tomorrow. Added 1 T each greensand, azomite, and kelp meal to SN and Sam pot.
a year ago
mystrain420 _@eaegifts Most them with water in the meantime to increase rh. Same could use some good I think canna also
jezmund Ok, misted seedlings. Misting the sides of the tent several times/day also to keep it in the 35% range. Thanks!
mystrain420 _@eaegifts If you have a clear bowl that'd help keep rh up great. I use ziplock bags but that likely won't fit over your pots
Canna cheese moved to her new home in the earthbox. Soil mix was 1/2 cubic foot of BAS 3.0 + 1 cubic foot (pumice, coir, garden compost 1:1:1). Watered in not quite a half gallon of snowmelt + 1/2 tsp. Rootwise. Sam still looking a little pale. Watered 300ml to Sam and 250ml to SN. LEDs at 16" from seedlings dimmer 25%. Added earthworms, handful of compost, and 1/2 cup BAS craft blend around canna.
a year ago
SN on the left, showing nice, healthy color. Samsquanch on the right, and despite being 1 day younger than SN, showing more vigorous growth, albeit a bit yellowish. SN soil had addition of coir, compost, and pumice. Starting to topdress compost on both. Canna just emerged from its jiffy and shed its hull. Canna's earthbox delayed two more days.
a year ago
Samsquanch put in her final home (black pot). Little hussy had a root poking out the bottom of her jiffy-that's the sort of indecent exposure I like to cover up ASAP. Earthbox didn't arrive today, so I got her planted in the biggest pot I could find. Turned out a little bigger than SN's home. Soil was 2 gal. Black Gold organic potting soil + fert with added pumice (1/4 gal). Not wild about the soil, but it was available at the local nursery. Rich topdressing amendments on the way. SN has a start on her first leaves. Still waiting on canna to pop out of her jiffy. Looks like she gets the earthbox to herself with the BAS 3.0 soil that arrived today. I probably should have put Samsquanch in the BAS...regrets. Added sprinkling of red clover and alfalfa seed, and straw mulch to Samsquanch. Watered with Rootwise at recommended dosage 500ml to SN, 1.5L to Sam. Added a few handfuls of homemade compost with a few earthworms to each pot.
a year ago
We have lift off! Transplanted SN into the pot. Samsquanch also emerged today (back), even though she was started 1 day later. SN had trouble escaping her hull, had to coax her out. Earthbox supposed to get here in two days, then Samsquanch will get a home. Still waiting to see signs of life from canna.
a year ago
Soaked canna cheese (front) last night and added to jiffy this morning. SN (right) should pop some cotyledons any moment. Samsquanch (back) has a visible root tip.
a year ago
D B Following just for the Samsquanch!
Cover crop coming through.
a year ago
SN Root tip visible! Inserted into jiffy pellet. Cover crop germinating! Also started soaking Samsquanch OG earlier this morning as a backup, so now there's two plants in the making. Earthbox probably won't get here for another week, so I have created a dilemma. I have two 3 gal. pots I can put these into, but will there be room in my 3x3 for a 3rd plant in the earthbox? I was planning on putting canna cheese in the earthbox. SN is relatively small, but Samsquanch and canna could get big. Ideally, I would put Samsquanch and canna together in the earthbox if it comes soon enough. How many days can a seedling sit in a jiffy pot before it needs a new home?
a year ago
Started soaking SN in shot glass w/couple drops 3% H2O2 overnight. 4x3x6 tent (grow area 3x3) 300w LED 18/6 light schedule Screwing around while waiting for delayed shipment of BAS 3.0 soil, earth box, and amendments Semi-homemade soil for SN: 50% 1:1:1 leaf mold compost pumice coir 50% Black Gold natural & organic potting mix + fertilizer Added cover crop of ladak alfalfa, icicle winter pea, and mammoth red clover-sprinkled with mykos. Mulch is locally harvested straw, unknown species (maybe canary reed).
a year ago
keithlovesrach Congratulations! I'm finishing a strawberry nuggets x skywalker right now and I love mephisto genetics now. I did a forum stomper now and I started a mango smile and a forum stomper x skywalker. By far the best auto genetics I've done or seen. All have been super frosty and very dense with buds. I hope you enjoy!
jezmund Thanks! Saw your strawberry girl, she's a keeper! The mission with this girl is two-fold if she pops (my only SN seed). First is to obtain a clone by air layer. Second is to reverse the clone for long-term pollen storage. Sounded good on paper anyway. Trying to make the most of one seed.