Blueberry - Zamnesia Automatics
(Blueberry x Ruderalis) Yield: 64G GrowOp DONE❤️🌺
Yield: 64G GrowOp DONE#2❤️🌺
Chopped her with 10% Amber Trichomes (the pic is extreme bright), need that space tho🥺 Wet Weight: 58G, BB No. 2 will be chopped in a week
a year ago
View 3 additional comments
No2 stacking up nicely, 10 Bud Sites over here. No1 will be chopped in 2-3 days ⚔️
a year ago
Stalk Splitting experiment 🔬
a year ago
t.lightning08 What is the advantage of this? New grower here, I've never seen this before
CannaRabbit Theoretically, this and Ice Water Flushing shall trick the plant into producing more trichomes and so more thca, this happens due to the heavy stress the plant wants to rescue the Buds, the next thing I will try with her is a long dark period maybe 5 days instead of 24 hours also for the same effect :)
View 12 additional comments
ICE Flush Done on the first BB, lets see if this work out :) the second one (pic 3 is 1,5 weeks behind maybe 2)
a year ago
blacksunset Is the ice flush to shock the plant and trick it into increasing trichomes?
CannaRabbit Exactly buddy, but still i was not able to find real evidence on this if its working or not, just youtube growers and Forums, so i gave it a try here and will check the trichomes every 12 hours :)
blacksunset Nice! Either way you got some sweet frost all ready. Gonna follow. Have you heard about stalk splitting?
View 3 additional comments
Just casual updating
a year ago
All Topped, and allready recovered and growing, any ideas whats the best way to handle the budsides on a SOG? Tried the classical net buts to big for this box
a year ago
Booth looking better than every, getting smelly now 💭
a year ago
CannaRabbit It's unbelievable, 24 hours with the new Samsung Led Board and the leaves all going back to green the stem also from bloody purple to green :) i guess the other one which looks way more structured wont get any bigger :/
CannaRabbit That one was topped at all colas on 2 days wich stunned her, but looks geometrical very nice
Recovering in process after repotting and a good dosage of Alfa Booster. I repotted them from Plagron Royal to BioBiz All Mix, i guess i shouldn't add any nutrients expect Alga Bloom & Greens Sensation + Alfa Booster
a year ago
Needed to repot, the previous medium was oversoaked and didnt dried, now lets see what happens, gave them alfa booster to reduce stress
a year ago
Is this "curling" something to worry about? Also the yellow tops seems to show insufficiency's right? Still on Royal Mix, Water PH 6.5, after toppings used Plagron Alga Grow for one Watering buts a week ago. Blueberry Number 2 showing the same signs
a year ago
White Light Pics
a year ago
Peng How often do you water and what quantity
hempgeneration Wana split some predatory mites with me? I ordered a bunch of satchets too much for my indoor will send off at cost plus shipping
View 11 additional comments
A little bit of domination 😂
a year ago
Peng 😂 I always think the same when I do the lst
View 2 additional comments
Wonderfull regeneration after all the toppings
a year ago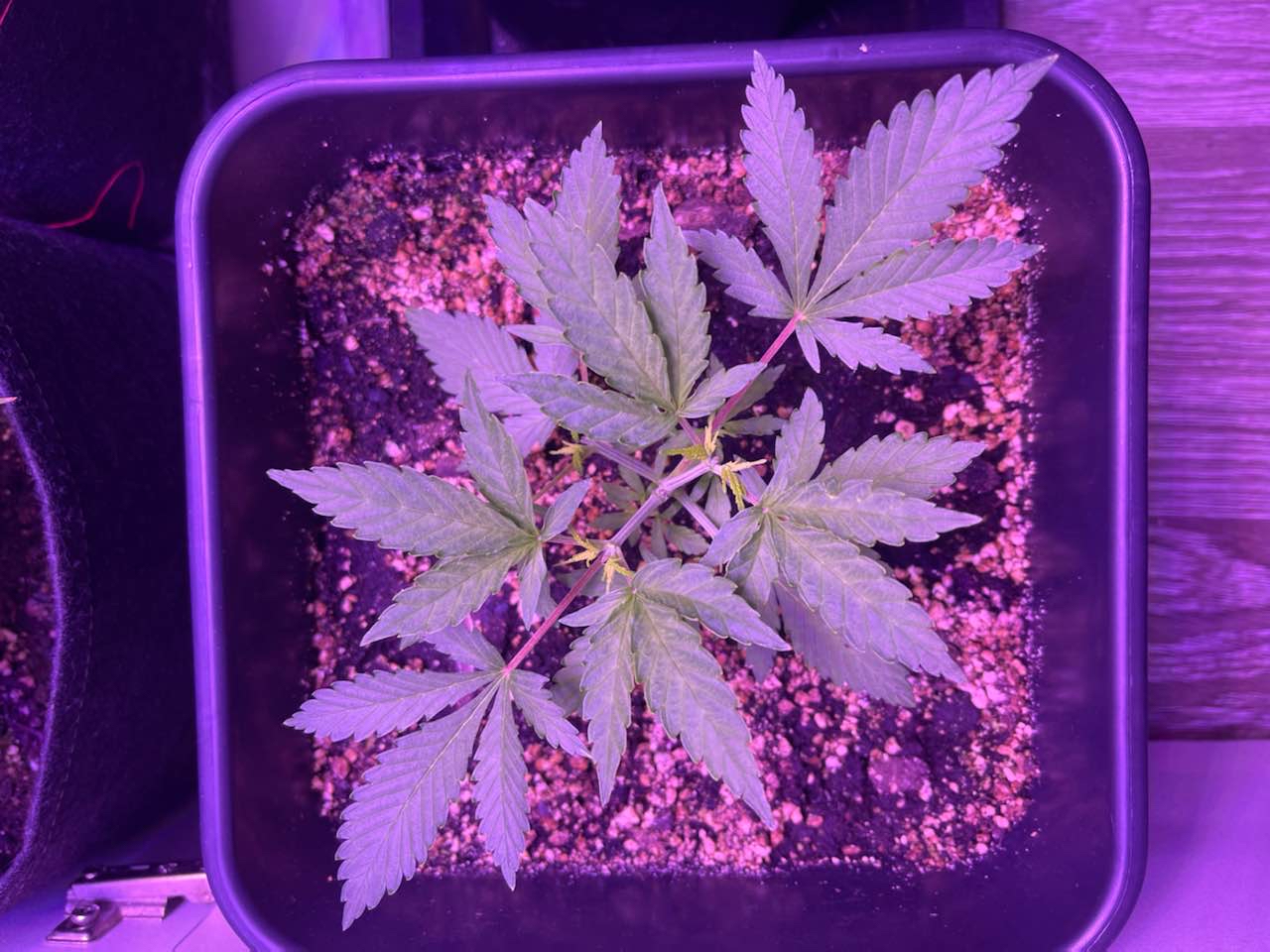 Topping was a sucess
a year ago
After toping her some days ago :) seems in good condiction
a year ago
Transplantation succeeded, will top it now and see :)
2 years ago
Directly Transplanted into 11L, Royal Mix, Molasses, 450W Full Spec > Scrog Dummy
2 years ago